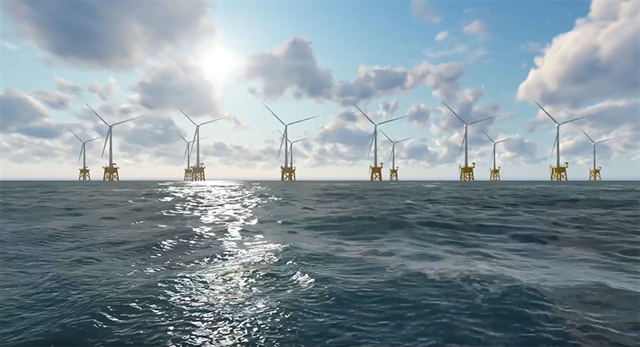 In Việt Nam, for the first time, offshore wind power has been defined in the Draft National Power Development Plan VIII as wind power projects in areas with a seabed depth of 20 m or more. — VNA/VNS Photo Đức Dũng
HÀ NỘI — Energy experts and companies have suggested Việt Nam increase its target for wind power generation, particularly offshore wind power, in the next 10 years to enable foreign investors to engage in major power projects.
Under a draft of National Power Development Plan VIII, by 2030 Việt Nam's demand for installed electricity capacity will be nearly 140 GW, almost double the installed electricity capacity in late 2020. By 2045, the demand will be nearly 280 GW, almost four times higher than at the end of 2020.
From now to 2045, the country will need a yearly investment of about US$13 billion for the power sector.
The proportion of renewable energy (not including hydropower) is set to account for nearly 30 per cent of total power generation by 2030.
However, by 2030, offshore wind power is expected to account for only 1.44- 2 per cent of the total installed electricity capacity or up to 3 GW.
In Việt Nam, for the first time, offshore wind power has been defined in the draft National Power Development Plan VIII as wind power projects in areas with a seabed depth of 20m or more.
According to a report of the Global Wind Energy Council (GWEC) released in March, in 2021-2030, the world's total installed capacity of offshore wind will increase by 700 per cent compared to the previous 20 years.
According to the GWEC's forecast, countries and territories including mainland China, India, Taiwan, South Korea, Japan and Việt Nam have the highest wind power potential.
Many countries have set offshore wind power development targets from 2020 to 2030.
For example, mainland China from 9 GW to 50 GW, India from 5 GW to 30 GW, South Korea from 0.145 GW to 12 GW and Japan from 0.62 MW to 10 GW.
Việt Nam has great potential for wind power and offshore wind power in particular. For example, according to a study by the World Bank Group (WB), Việt Nam's offshore wind power has a technical potential capacity of about 475 GW, though the Danish Energy Agency had a lower estimate at about 162 GW.
The WB's calculation also shows that if Việt Nam develops offshore wind power with a total capacity of 10 GW in 2030, 25 GW in 2035, 40 GW in 2040 and 70 GW in 2050 – corresponding to the percentage of electricity supply of 5 per cent, 12 per cent, 17 per cent and 27 per cent, it can achieve positive results including adding $50 billion to its economy (including exports) by 2035, creating 700,000 new jobs a year, attracting $500 million in investment capital, avoiding emissions of more than 217 million tonnes of CO2, a localisation rate of 60 per cent which means local enterprises could join in 60 per cent of the work of power projects.
The World Bank and Danish Energy Agency recommended Việt Nam increase offshore wind power target to 10 GW by 2030.
Realising the great potential of offshore wind power, some localities in Việt Nam have asked the Ministry of Industry and Trade and the Government to greenlight offshore wind power projects, most located in the central province of Bình Thuận – a locality with great potential for offshore wind power.
The People's Committee of the central province of Bình Thuận has proposed the Prime Minister consider adding the Thăng Long Wind project of the UK's Enterprize Energy Group to the list of power projects to develop in the National Power Development Plan VIII as well as offer support policies and special mechanisms for offshore wind power.
Thăng Long Wind project is carried out offshore of Bình Thuận, about 50km from Kê Gà Cape with a total designed capacity of 3,400 MW or 3.4 GW and a total investment of $11.9 billion, not including investment to connect to the national grid.
The first phase of the project is expected to be completed in late 2022 and early 2023, generating 600MW. Between 2023 and 2026, the four following phases of the project would go into operation, each generating 600 MW and the last phase would provide an additional 400 MW.
Ian Hatton, Chairman of Enterprize Energy Group, said the group signed agreements with some subsidiaries of the Viet Nam Oil and Gas Group (PVN) to survey project sites, manufacture and fabricate foundations and develop harbour services.
Enterprize Energy Group has proposed a plan to store electricity for the project with liquid air energy storage technology (LAES) in co-operation with Highview Power (UK).
LAES uses electricity to cool air until it liquefies, stores the liquid air in a tank, brings the liquid air back to a gaseous state and uses that gas to turn a turbine and generate electricity.
The group also plans to work with Germany's Tractebel Overdick Company to develop seawater electrolysis technology that would use electricity generated in the Thăng Long Wind project to produce hydrogen and ammonia to serve the green economy of Việt Nam in the future.
"With the wind potential of Việt Nam and advanced technologies, the Thăng Long offshore wind power project will ensure power generation and stabilise the power supply through the LAES energy storage system per Vietnamese regulations," Hatton said.
Trần Viết Ngãi, Chairman of the Việt Nam Energy Association, said with an investment rate of $2.5-3 billion/GW of offshore wind power, Việt Nam could attract hundreds of billions of US dollars in the next decade.
"The localisation rate of more than 50 per cent in power projects can create opportunities for Vietnamese enterprises to thrive in this field," he said.
International consulting companies have also recommended that Việt Nam should allow the implementation of several projects that are large enough to kickstart the field.
Mechanisms and procedures for selecting projects, investors and legal issues need to be issued and clarified to create a favourable environment to attract investment to offshore wind power. — VNS
Việt Nam recommended to set higher target for offshore wind power development have 1228 words, post on vietnamnews.vn at June 11, 2021. This is cached page on Talk Vietnam. If you want remove this page, please contact us.