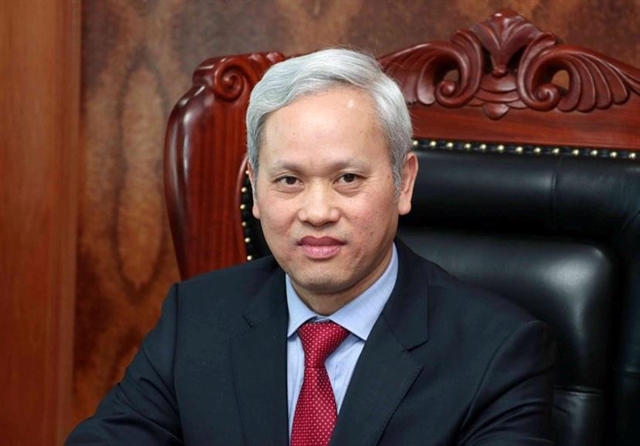 Economist Nguyễn Bích Lâm, former GSO director. Photo vneconomy.vn
Experts have urged the Government, economic managers and business leaders to change their thinking and act urgently to create a workforce suited to the development and adoption of digital technology.
Economist Nguyễn Bích Lâm, former director of the General Statistics Office (GSO), spoke to the Vietnam News Agency about this issue.
What are the challenges for developing countries like Việt Nam in digital adoption?
Digital adoption will make simple jobs relying on manual labour decrease sharply. That means unskilled jobs will reduce sharply and the workforce structure will change with higher demand for qualified workers.
In developing countries, digital adoption faces a number of employment challenges. The manufacturing industry, a driver of economic development and job creation, could become an obstacle for digital adoption because digital implementation will make productivity increase and reduce the need for a large number of workers so it will not create enough jobs for all the existing workers in this industry.
In many newly-developed countries, digital adoption has caused job shortages, leading to delayed industrialisation.
In addition, the application of robots and artificial intelligence in production in developed countries increases productivity, reduces costs, and improves the competitiveness of products compared to similar products manufactured in developing countries. Regarding cheap labour, this is a significant challenge for employment in developing countries in the context of globalisation and a free economy.
Along with that, digital adoption leads to transformation or job losses, causing inequality between groups of workers. Low-skilled workers face a very high risk of job loss when machinery and equipment are put into operation because they do not have enough qualifications.
According to the International Labour Organisation, Việt Nam is a country at high risk of job loss when applying the digital transformation, artificial intelligence and robotics in the fields of apparel and retail.
In the next decade, with the impact of artificial intelligence, an estimated 70 per cent of jobs in Việt Nam are at risk of being replaced by automation.
The COVID-19 pandemic is stalling many socio-economic activities, so what role does digital application play in arranging jobs during the pandemic?
In 2020, the world economy changed drastically due to the appearance of the COVID-19 pandemic, causing the global supply chain to be halted and labour mobility to be disrupted and changed.
During the pandemic outbreak, many countries have implemented strict restrictive measures to control the pandemic, such as lockdown, social distancing and restriction of unnecessary socio-economic activities.
COVID-19 has slowed socio-economic activities, but many important fields have returned to work thanks to digital applications, such as education, commerce, conferences and seminars.
In many countries, employment service organisations have promoted digital adoption to protect employees and customers from COVID-19 infection.
In the context of social distancing because of the pandemic, those organisations have been reducing the number of employees working at the office to work from home. They even do more work as many people are losing their jobs due to the negative impacts of the pandemic.
Digital adoption enhances the capacity and operational efficiency of employment service organisations.
With digital development, these organisations have enough information about employment via online communication to arrange jobs according to the needs of different types of workers, such as young workers, migrant workers, ethnic minority workers and disabled workers.
Many countries have set up online systems relating to jobs to help employers provide information about recruitment and also help them contact job seekers directly.
Digital is also a tool to promote effective co-operation and information sharing among partners providing employment services.
What solutions are needed for Việt Nam's workforce to meet requirements in digital adoption?
The development of digital applications in Việt Nam still has many difficulties and challenges.
According to statistics, the proportion of labourers working in the agriculture, forestry and fishery sectors in 2020 accounted for 33.06 per cent of the total employed labourers of the economy. This figure for the industrial and construction sector was 30.8 per cent.
The proportion of trained workers aged 15 years and above was low at 23.6 per cent, with the figure in the agricultural sector only 4.6 per cent.
The human factor determines the success or failure in the implementation of national development goals and solutions, especially in the development of the digital society and economy.
Việt Nam's highly-qualified digital human resources are still limited in both quality and quantity. Information technology training programmes have not met the development needs of the country.
To integrate into the global development in the context of the strong development of Industry 4.0, Việt Nam needs to innovate its fiscal policy to encourage the sectors' investment in new technology.
It should renew the public spending to get enough funding for implementing technological innovation and supporting the learning of the workforce.
Technology and digital application force Việt Nam to renew the education and training system at the primary, secondary, university and vocational training stages. That will train a qualified workforce meeting demands for skilled labour of all industries in each period.
The policy of training skilled workers must be under the strategy of improving the ability to provide jobs for all sectors of the economy.
Along with that, the Government needs specific goals and solutions for vulnerable groups of workers and to provide policies and mechanisms to support those who have little ability or are unable to do digital work.
The Government should also develop policies to reduce skill gaps between sectors and groups of workers in the economy because digital adoption will rapidly change the need for skilled workers. VNS
Việt Nam needs a workforce ready for digital development have 1101 words, post on vietnamnews.vn at June 24, 2021. This is cached page on Talk Vietnam. If you want remove this page, please contact us.