Thu Vân
HÀ NỘI — Independent Vietnamese researchers from the Woolcock Institute of Medical Research, Australia, have proposed four measures for a successful vaccination strategy in the face of the ongoing COVID-19 outbreak in Việt Nam.
Nguyễn Thu Anh, the country director of the institute, said vaccination is the key solution for the country to escape from the pandemic, get back to normal and be able to open its borders.
"A successful vaccination campaign is one that will be conducted widely, quickly, safely and effectively," she said.
Anh, together with her colleague, Ngô Hoàng Anh, recommended four key measures to launch a successful campaign.
Better capacity
First, they called for decentralisation, digitisation and improvement of capacity in handling vaccine-related side effects to speed up inoculation.
Vaccination speed is an important factor affecting the vaccine allocation decision of the COVAX Facility. In addition, the shelf life of vaccine batches provided through this programme is usually about half to two-thirds shorter than the shelf life specified by the company. Therefore, rapid vaccination not only protects people but also determines the number of vaccines the country receives.
The nation's biggest advantage in COVID-19 prevention and control is the grassroots health system, which includes about 11,000 ward/commune-level health stations.
To rapidly increase vaccination capacity, it is necessary to take full advantage of this by decentralisation of the inoculation programme to the grassroots level, training health workers on anaphylaxis management with the support of mobile ambulance from district or provincial hospitals, and digitising the vaccination workflow, Thu Anh said.
Digitisation is not only convenient for the future deployment of vaccine passports but also helps optimise resources.
People could access a vaccination registration website to declare personal information and make a medical declaration before vaccination. Healthy people with a low risk of side effects can be classified into the safe group and register for vaccination at the commune health station where they are residing. As a result, the commune/ward health station can prepare for vaccination sessions by contacting registered people via text message.
"People at risk of side effects of the vaccine such as a history of anaphylaxis, a history of blood clotting disorders, etc. could be classified into groups that need careful monitoring, and registered for vaccination according to the list of hospitals," said Thu Anh.
After vaccination, people could be provided with a certificate with full information such as the type of vaccine injected, number of shots, batch number, date of vaccination along with a QR code to access the electronic history. Vaccination information could also be linked to Government-issued anti-COVID applications such as Bluezone, VHD and the National TMCR system to issue vaccine passports.
"Looking at the data of developed countries, we find that after the first 2-3 months of the survey, these countries will vaccinate at an average rate of about 0.5-1 per cent of the population/day. Thus, with 11,000 primary health stations, eight working hours/day, five to six patients/hour and one injection course at a time, if there is no disruption to the supply chain, we have the capacity and facilities to inject about 0.5 per cent of the population or 500,000 doses/day. At this time, to get herd immunity, it will take us a full year, that is, until the third or fourth quarter of 2022," Thu Anh said.
Effective vaccines
The second recommendation is to use highly effective vaccines.
"The selection of the right vaccine directly affects the effectiveness of the vaccination campaign in controlling of the pandemic in the community. Early or late opening of the border depends on our choice," Thu Anh said.
Researchers suggested vaccines be divided into two groups.
Group 1 would feature vaccines that have been widely used, have clear clinical trial data, are deployed in many countries on a large scale, and have a full side effect record system such as Pfizer – BioNTech, Moderna, Vaxzevria (AstraZeneca), Novavax and Janssen (Johnson & Johnson).
Group 2 would have vaccines proven to be effective but need more evidence as well as testing with new variants such as Sputnik V, Sinopharm BBIBP – CorV and Sinovac.
"Priority should be given to vaccines that have been shown to be highly effective against the virus variants that have been reported as well as the variant of concern that have been reported elsewhere," she said.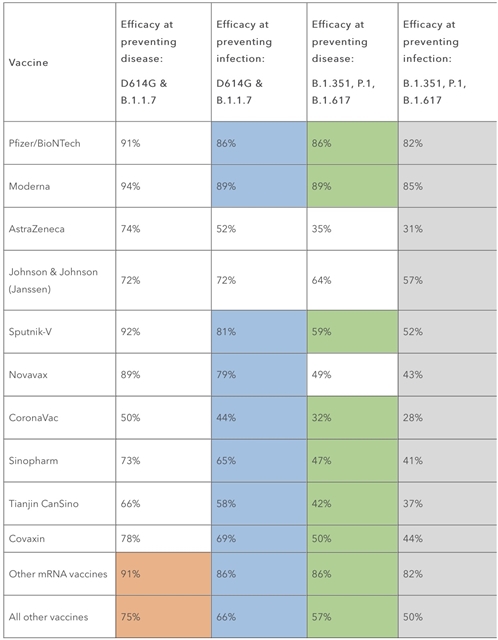 This table shows the final model inputs for vaccine efficacy at preventing disease and infection, by vaccine and variant type. Source: The Institute for Health Metrics and Evaluation (IHME), University of Washington.
According to the Ministry of Health, Việt Nam has agreements with at least 105 million doses of group 1 and 20 million doses of group 2 (accounting for 62.5 per cent of the population), including 70 million doses of Vaxzevria (38.9 million doses from COVAX Facility programme and 30 million doses from the contract with VNVC), 31 million doses of Pfizer – BioNTech, 20 million doses of Sputnik V and 5 million doses of Moderna.
Adjusting the plan
The third recommendation is changing the domestic COVID-19 vaccine distribution plan due to current inconsistencies.
According to Decision 1210/2021, issued on February 9, people over 65 years of age and people with chronic diseases are among 11 priority groups for vaccination against COVID-19 in Việt Nam.
However, in Decision 1624/2021 issued more than a month later, on provisional guidelines for pre-vaccination screening, these two groups were listed as subject to delay or caution in vaccination.
According to WHO recommendations, priority populations for vaccination include those at high risk of dying from the disease, such as the elderly and those with underlying/chronic medical conditions.
Therefore, in any country in the first phase of vaccination, in addition to staff involved in pandemic prevention, the old, the sick and pregnant women should be next.
Trials
The last recommendation is to conduct clinical trials in high-risk areas.
Locally produced vaccines are entering different stages of clinical trials, including Nanocovax in phase 3 in early June, and IVAC in phase 1/2.
While the current outbreak posing a significant challenge to the health system, this is also a "golden" opportunity for Việt Nam to see the effectiveness of vaccines researched in the country, Hoàng Anh said.
Testing at the epicentre of the outbreak also creates a real test for large-scale, mass-production capabilities before being approved for emergency use on a scale of up to tens of millions of doses.
"Conducting a vaccination campaign that can be said to be the largest in history can be very difficult. Just we take one wrong step, such as the selection of an ineffective vaccine, slow, unsafe vaccination, etc., the pandemic can completely return and erupt more violently. Therefore, we must at the same time be quick, but decisive and precise," Hoàng Anh said.
Việt Nam's preparation
Minister of Health Nguyễn Thanh Long said Việt Nam is promoting the purchase of technology, receiving technology transfer for vaccine production to be able to produce vaccines to serve domestic demand.
The clinical trials of Vietnamese COVID-19 vaccine candidate Nano Covax are set to enter Phase 3 this month, aiming to further test the safety and efficacy of the vaccine in humans before mass production.
Another domestic vaccine contender, Covivac from the Institute of Vaccines and Biological Medical (IVAC), is preparing for Phase 1 trial data to be reviewed by the Ministry of Health and could start Phase 2 around late June or early July.
Another locally-developed COVID-19 vaccine, from Vabiotech, is in pre-clinical trials on animals, and another from Polyvac (the Centre for Research and Production of Vaccines and Biologicals, under the Ministry of Health) is still under laboratory research.
Regarding plans for vaccine rollout when more doses are available, Phạm Quang Thái, head of the northern regional office of the National Expanded Programme on Immunisation, said the current system will be used.
"We have everything ready with the current national expanded programme on immunisation, so once the vaccines are here, we'll just apply the same model," he said. – VNS
Researchers propose measures for a successful vaccination strategy have 1528 words, post on vietnamnews.vn at June 12, 2021. This is cached page on Talk Vietnam. If you want remove this page, please contact us.