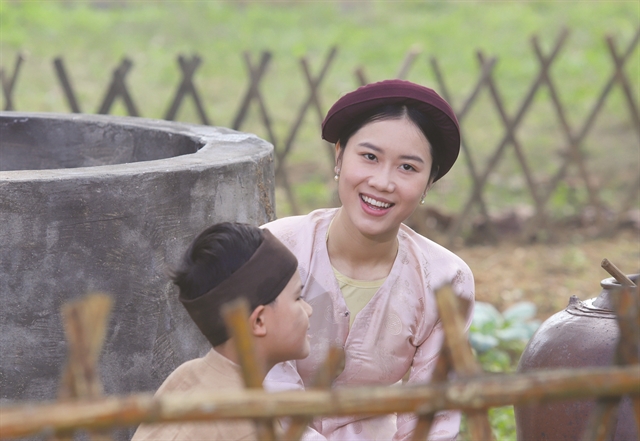 Child actor Đức Huy and actress Hồng Phượng appear as a young Nguyễn Du and his mother. Photos ngoisao.net
HÀ NỘI –  A documentary movie about celebrated 18th century poet Nguyễn Du will compete at the Việt Nam National Film Festival in Thừa Thiên Huế Province in September.
Called Đại Thi Hào Nguyễn Du (Great Poet Nguyễn Du), it was produced by Việt Media over three years.
Producer Phạm Xuân Mừng, who has 20 years of experience in film and literature, said that it will honour the poet and highlight the value and longevity of Nguyễn Du's masterpiece Truyện Kiều (The Tale of Kiều) as well as his significant role in promoting Vietnamese language.
"For Vietnamese people, Truyện Kiều and poet Nguyễn Du is familiar," said Mừng.
"However, not everyone knows nor profoundly understands the life and career of the poet and the context of the writing and creations of characters."
Key parts of the series used writings and studies from famous authors and cultural researchers.
The film script was penned by a group of writers including Mừng. It was directed by Nguyễn Văn Đức and features 50 actors from leading film studios and art schools and 1,000 extras.
The crew travelled to capture beautiful scenes of traditional culture and rural life in Hà Tĩnh, Hà Nội, Bắc Ninh, Thái Bình, and Huế.
Great Poet Nguyễn Du focuses on his life and career from his birth in Thăng Long citadel in 1765, his military service during the Gia Long dynasty through to his death in Huế in 1820.
His father, Nguyễn Nghiễm, a mandarin under the Lê dynasty, is also highlighted.
The 180-minute documentary film has three episodes: Gia Thế và Tuổi Thơ (Family and Childhood), Mười Năm Gió Bụi (Ten Years of Vicissitude), and Nghiệp Văn và Quan Trường (Literary Career and Mandarinate).
The first episode made its debut in Hà Nội and central province of Hà Tĩnh last year in celebration of Nguyễn Du's 255 birth anniversary and his 200th death anniversary. It made a deep impression on audiences.
"Our film aims to introduce and promote celebrated poet Nguyễn Du's masterpiece and other works to both Vietnamese people and foreigners," Mừng said.
"We hope it will inspire younger generations' patriotism and national literary pride."
The film also features poetic love between Nguyễn Du and female poet Hồ Xuân Hương — a beloved poet known for her sharp wit and sterling command of chữ Nôm (Nôm script).
Great Poet Nguyễn Du will be released next month and participate at the Việt Nam Film Festival, 22nd edition, from September 12 to 16. — VNS
Nguyễn Du film to shine at national film festival have 630 words, post on vietnamnews.vn at June 14, 2021. This is cached page on Talk Vietnam. If you want remove this page, please contact us.