by Nguyễn Mỹ Hà
Flowers
During Hà Nội's summer heat of up to 40 degrees Celsius and the current social distancing orders in place, shops and restaurants, tea houses and street-side coffee stalls have all switched to online ordering and delivery. Amusingly enough, someone even put up a sign at a barbershop that says 'Closed, delivery only!'
For your family or your own daily needs, in terms of food, you can have anything delivered.
Vietnamese families often buy a tray of assorted fragrant flowers to offer on their Buddha's or ancestors' altars. You can have them delivered by visiting 3up Garden site, and pick your own tray of flowers ranging from VNĐ120,000 – VNĐ150,000 per tray with choices of ylang-ylang, jasmine, magnolia alba, areca flowers, lotuses and ixora of different colours.
If you don't have a Buddhist or ancestor's altar, having a fresh flower tray in your home is another way to give your space a fresh start to the day, which can last a day or more.
Today many have learned about aromatherapy, which gives you a sense of relaxation and relief, a familiar scent that may bring you back to the past, memories of loved ones or your favourite experiences. The fragrance of the above-mentioned tropical flowers may, in many years to come, be associated with what you're going through now to survive the age of coronavirus.
At 3Up garden, they also have lotion concocted from grapefruit flowers, jasmine or ylang-ylang. But before getting any of these, make sure you're not allergic.
Snacks
Snacks, or in Vietnamese we use the word "quà" – a gift, a present – are finger foods that give you pleasure to have as food, but not necessarily make you full. Hà Nội, HCM City, Huế and Đà Nẵng all have tonnes of snacks that are both healthy and delicious. Distant regions and smaller villages or neighbourhoods also have their own special delicacies, that sooner or later found their way to big cities.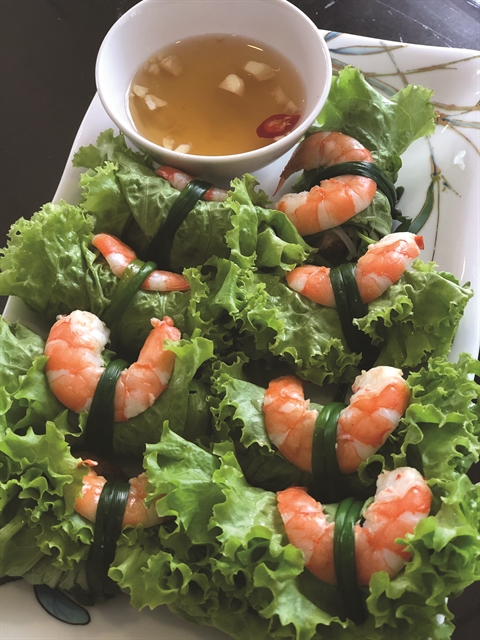 DELICACY: Fresh lettuce rolls with sauteed fermented rice. VNS Photo Mỹ Hà
Lettuce rolls are old snacks of Hà Nội, which elderly housewives only made at home and not for sale. But today, they are made by skilled chefs and good quality produce grown and bred locally, they are available to everyone. You can order lettuce rolls from Nhà Hàng Bể Cá at VNĐ150,000 and a delicious cold sour soup of escargots and coin-sized fresh vermicelli (VNĐ260,000 set for four people).
On cooler days, bite-size hot rolls like the Spinach Rolls from The Eastern and Oriental Tea House and Coffee Parlour (VNĐ40,000 apiece) can always be a good option. The crispy puff pastry may taste as if it was just taken from the oven, if you heat it up in your own mini oven or just put it on a pan with covered lid on a low heat. These rolls may be a good substitute for a mini sandwich during afternoon tea time.
On longer afternoons, when your sweet tooth comes calling, a Lemon Cheesecake Pot (VNĐ120,000) can bring you some relief. It's always a great pleasure if you have the time to set up an afternoon tea ceremony with your girlfriends on an early summer day.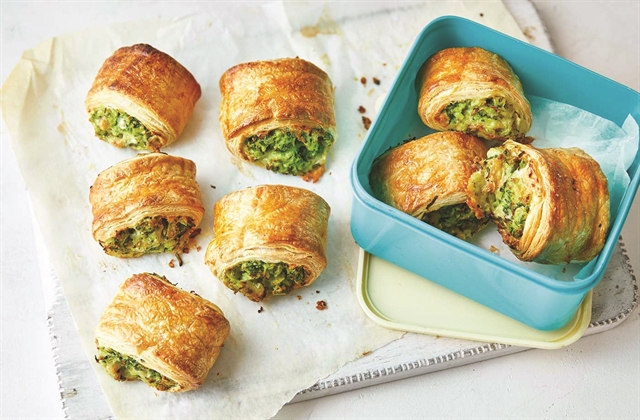 SUPER SNACK: Spinach rolls for VNĐ40,000 from the Eastern and Oriental Tea House and Coffee Parlour. Photo courtesy of the shop
Main course
The Korean wave, or Hallyu, has come to Việt Nam and made a lasting imprint. Kimchi has become so popular that it is made by traditional Vietnamese pickle makers and sold at markets across the city.
A large community of Korean people living in Hà Nội and HCM City also make Korean food more popular. Korean BBQ restaurants offering meat, kimbaps and other delicious Korean food have won over Vietnamese palates.
We ordered some dishes from Papa's Chicken Hanoi, including deep fried chicken (VNĐ160,000), rice balls (VNĐ60,000) or fried rice (VNĐ100,000). Our teenage dining companions loved their favourite food.
But to our older and more established palate, I didn't find the food so compelling. The chicken was actually white breast meat and it's from farmed chickens – not to my liking.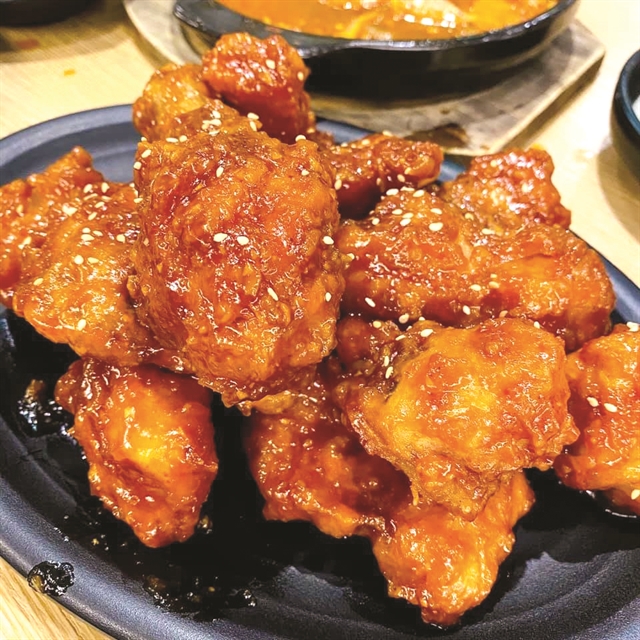 CRUNCHY: Deep-fried chicken nuggets with honey and sesame for VNĐ160,000 a portion. Photo courtesy of Papa's Chicken Hanoi
We've been to South Korea on a few occasions over the past 10 years, and our food impressions were lasting. From the roast meat to the various kimchi, from the ginseng chicken soup to mixed rice or vermicelli and noodles, the food was very different from what we ordered at home. Papa's Chicken has several shops in Hà Nội and it's available to order online on the Now app, a food app extremely popular among young professionals living in cities.
The good side of having not-very-great food, is that you do not consume too much, so you'll be on the safe side of not gaining weight, and you're content to have another meal in quite some time to come. VNS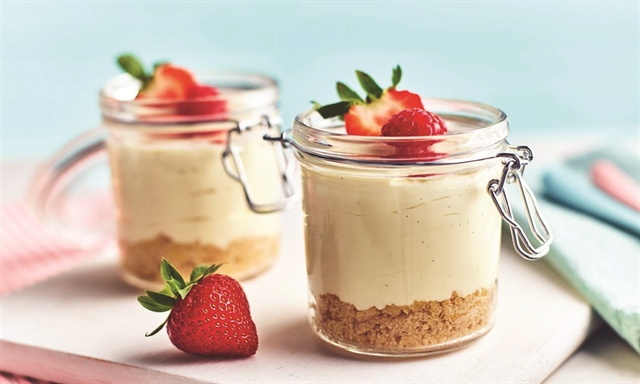 SWEET TREAT: The lemon cheesecake pot for VNĐ80,000. Photo courtesy of The Eastern and Oriental Tea House and Coffee Parlour
Having a world food tour while at home have 1194 words, post on vietnamnews.vn at June 13, 2021. This is cached page on Talk Vietnam. If you want remove this page, please contact us.