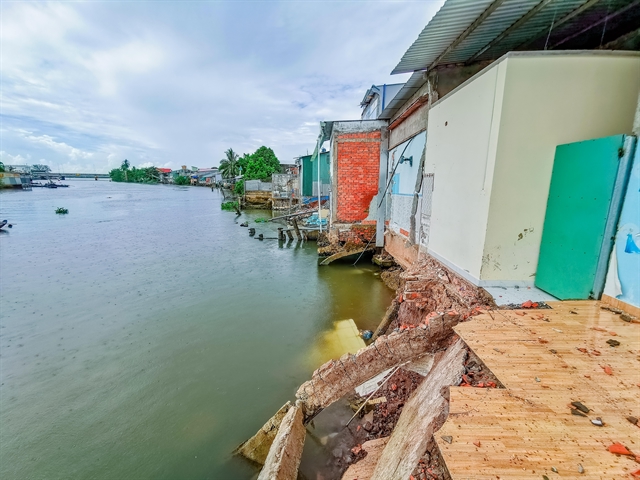 Houses along the Trà Nóc River in Bình Thuỷ District's Trà An Ward damaged by erosion. – VNA/VNS Photo Thanh Liêm
CẦN THƠ – Cần Thơ plans to build an embankment to prevent erosion along the Trà Nóc River at the Trà Nóc Bridge – Xẻo Mây Bridge section at an estimated cost of VNĐ531 billion (US$53.2 million).
After inspecting erosion that occurred recently along the river in Bình Thuỷ District's Trà An Ward on Wednesday, Nguyễn Ngọc Hè, deputy chairman of the Cửu Long (Mekong) Delta city People's Committee, said the embankment should be built soon to safeguard local people and their property and infrastructure.
The work will comprise building a 1.1km embankment and pavements, planting trees and erecting lights.
The 122 families living along that stretch of the river will be relocated.
The place has suffered erosion five times since 2020, affecting 40 houses.
The city is undertaking a number of erosion prevention projects, including an embankment along the Cái Sơn Canal in Ninh Kiều and Bình Thuỷ districts and another at the junction of the Ô Môn River and Rạch Tra Canal in Thới Lai District.
They will be 2.8km and 430m and cost VNĐ290 billion ($12.7 million) and VNĐ49 billion ($2.1 million).
Last month the city began building a 950m embankment on the right bank of the Ô Môn River in Ô Môn District at a cost of VNĐ114.5 billion ($4.96 million). – VNS
Cần Thơ to build embankment on Trà Nóc River to prevent erosion have 366 words, post on vietnamnews.vn at June 11, 2021. This is cached page on Talk Vietnam. If you want remove this page, please contact us.