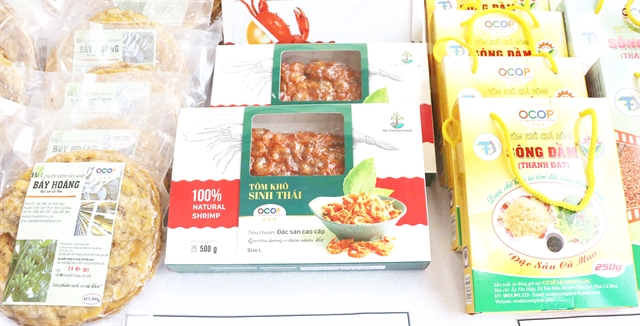 Cà Mau Province has a number of three-star and four-star OCOP products certified by the country's one commune – one product (OCOP) programme. – VNA/VNS Photo Huỳnh Anh
CÀ MAU – The southernmost province of Cà Mau is increasing its output of processed agricultural products and promoting trade activities to expand markets for its key products like shrimp, crab, rice and banana.
Châu Công Bằng, deputy director of the province's Department of Agriculture and Rural Development, said the aim was to increase value and attract investors.
Cà Mau, the country's largest shrimp producer, produces fresh, frozen and dried shrimp as well as shrimp chips. It exported US$163 million of shrimp products in the first quarter of the year, up 6 per cent year-on- year. The province's People's Committee plans to reach more than $1 billion in shrimp export value this year.
OCOP products
The province's products certified under the country's one commune – one product (OCOP) programme have improved the quality of its speciality products and increased income for OCOP producers.
Lê Văn Sử, deputy chairman of the People's Committee, said that 33 products were certified as OCOP in the 2018 – 20 period, including three four-star and 30 three-star products, out of a five-star system.
Last year, farmer Trương Ngọc Giàu, from Đầm Dơi District's Tân Tiến Commune, received certificates for two OCOP products: three-star instant shrimp flakes and Vietnamese caramelised shrimp. This year she plans to apply for OCOP certificates for her dried greasyback shrimp and fried shrimp cakes.
Her clean shrimp products with their good brand name have increased her income. "They have contributed to improving the general quality of the province's OCOP products," she said.
Other areas have high potential for export as well. In Thới Bình District, concentrated farming areas use the shrimp – rice farming model. The district, the largest shrimp – rice area in the province, has been granted a collective brand name for its clean rice under the name "Thới Bình clean rice" from the National Office of Intellectual Property.
The district plans to produce 10,000 – 20,000ha of clean rice each year. The rice, which sells at a high price, is guaranteed outlets by companies.
Lý Minh Vững, chairman of the Thới Bình People's Committee, said the district was developing its speciality products and encouraging local residents to produce them to improve their income.
It was also prioritising the development of co-operatives and small-size companies in order to turn speciality products into OCOP products, he said.
Bằng, deputy director of the province's Department of Agriculture and Rural Development, said the OCOP programme had gradually changed production by establishing linkages among stakeholders, developing large-scale production, and establishing key product systems.
The province planned to develop more of these products as part of its strategy to promote OCOP sales, he said.
Online sales
Many producers and trading businesses involved in specialty products are selling more of their products online to maintain revenue amid the COVID-19 pandemic.
The Tân Phát Lợi Co-operative in Ngọc Hiển District, for instance, is selling dried shrimp, shrimp salt, shrimp chips and shrimp flakes on its website.
Bùi Văn Chương, director of Tân Phát Lợi, said: "The co-operative has improved our website and increased our sales online."
The co-operative can sell 100 – 200kg of products a day, equal to the amount sold before the pandemic.
The Ngọc Hiển District Farmers Association said that two companies, two co-operatives, five establishments and 10 households in the district were now selling local speciality products.
Lê Ngọc Lâm, chairman of the association, said most of them had begun selling products online after COVID-19 broke out last year.
Lê Quân, chairman of the province's People's Committee, said that producers and trading businesses individually had begun selling their products online.
But the province wants to promote its key products on an electronic commerce exchange so that producers and trading businesses can have their own virtual shops to show products on the exchange, according to Quân.
To attract customers, producers and trading businesses must provide efficient and convenient delivery services and suitable selling prices for OCOP and speciality products. – VNS
Cà Mau ramps up production of processed agricultural products for export have 910 words, post on vietnamnews.vn at June 12, 2021. This is cached page on Talk Vietnam. If you want remove this page, please contact us.