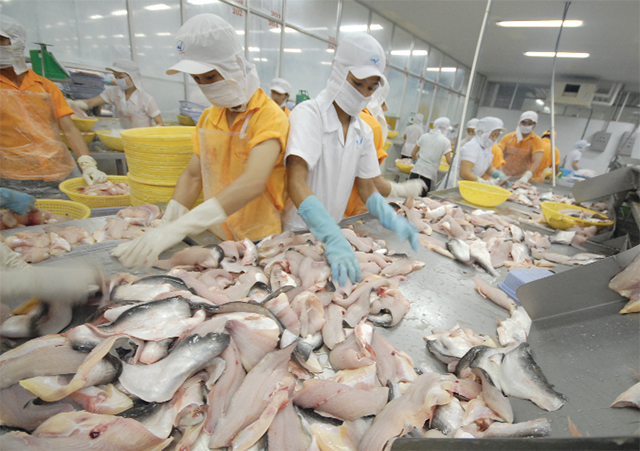 Việt Nam's seafood product export value reached US$3.24 billion in the first five months of 2021. Photo thuysanvietnam.vn
HÀ NỘI — Việt Nam saw a year on year increase of 30.3 per cent in agro, forestry and seafood product exports to US$22.83 billion in the first five months of 2021, reported the Ministry of Agriculture and Rural Development (MARD).
Of which, the group of major farm produce earned $7.78 billion, up 13 per cent.
Meanwhile, major forestry and seafood products brought home $7.06 billion and $3.24 billion, up 61.8 per cent and 12 per cent, respectively. The livestock industry recorded a 43.9 per cent-growth, earning $166 million.
In the reviewed period, many products and groups of commodities witnessed increases in export values, including rubber, tea, rice, vegetables, pepper, cashew nuts, cassava and products from cassava, livestock products, tra fish, shrimp, wood, rattan, bamboo and cinnamon.
Especially, although the pepper export volume decreased by 15.6 per cent, thanks to an increase in its average export price, the pepper export value still surged by 25.2 per cent to $387 million.
Other goods gained increase in export value mainly due to higher export volume such as livestock products, pangasius, shrimp, wood, rattan, bamboo and sedge mats.
However, there are two main export products decreasing in both export volume and value, which are coffee and rice.
The country spent $19.57 billion on importing agro, forestry and seafood products during January-May, up 51 per cent year-on-year, resulting in a trade surplus of $3.27 billion. This trade surplus fell by 28.3 per cent year on year.
The US remained the biggest importer of Vietnamese agro, forestry and seafood products in the last five months, accounting for a market share of 24.6 per cent, according to the ministry.
It was followed by China, Japan, and South Korea, with 22.6 per cent, 6.6 per cent and 4.9 per cent, respectively.
To promote exports, the ministry would organise seminars and forums to open more export markets.
It would work with Việt Nam's commercial counselors abroad, and support localities and agricultural export enterprises to boost exports of agricultural products.
The ministry continues to carry out bilateral cooperation activities with many partners such as China, Laos, Cambodia, Japan, South Korea, Indonesia, Israel, Norway, New Zealand, Russia, Hungary and Cuba.
It will also provide information on trade agreements for enterprises to export agricultural products and guide the businesses and localities to implement regulations of export markets during the COVID-19 pandemic.
In addition, the ministry continues to update notices and warnings from trading partners and the World Trade Organisation (WTO) member countries regarding Việt Nam's agricultural exports.
At the same time, Việt Nam is developing a project to improve effectiveness in implementing commitments on sanitary and phytosanitary measures according the WTO's Agreement on the Application of Sanitary and Phytosanitary Measures (SPS Agreement) and free trade agreements.
For the domestic market, the ministry continues to follow fluctuation of prices, production and supply of agricultural products in localities.
It also actively supports localities and sectors to implement solutions on promoting consumption of agricultural products amid the COVID-19 pandemic. — VNS
Agriculture sector gains high export value in five months have 558 words, post on vietnamnews.vn at June 1, 2021. This is cached page on Talk Vietnam. If you want remove this page, please contact us.