Vietnam's economy is witnessing an impressive rebound and is expected to be among the best recovering economies in the world despite Covid-19 resurgence in neighboring countries.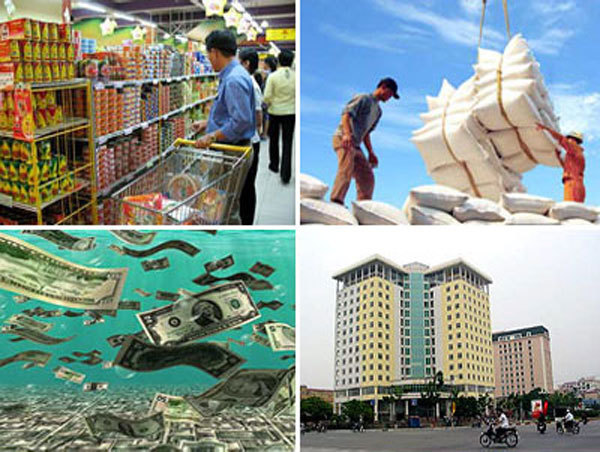 The newly released 2021 ADO (Asian Development Outlook) Report says Vietnam's economic growth will see strong recovery this year with a predicted GDP growth rate of 6.7 percent, while the growth rate will be 7 percent next year.
ADB (Asian Development Bank) experts attribute the strong economic recovery to success in controlling the spread of the coronavirus. They also believe that growth will be empowered by the export-oriented manufacturing and processing industry, investment increases, and trade expansion.
Economic growth is forecast to continue thanks to reform of the business environment and Vietnam's FTA (free trade agreement) memberships with most developed economies.
VEPR (Vietnam Institute for Economic and Policy Research) has raised its forecasted GDP growth rate to 6-6.3 percent in 2021.
Meanwhile, Vietnam has received a four-grade promotion on Bloomberg's list of the best-recovering economies, thanks to effective measures to fight the pandemic.
According to Bloomberg newswire, vaccinations will be not enough to deal with Covid-19. The most important factor is taking preventive measures and strictly applying other measures. A 7.3 percent GDP growth rate was predicted for Vietnam this year.
Prior to that, Fitch Ratings predicted that the GDP growth rate would be 7.5 percent this year despite the third Covid resurgence. If this occurs, the growth rate would be much higher than the 2.91 percent in 2020.
Experts from Oxford Economics also commented that Vietnam's success in fighting against Covid-19 will help the recovery of domestic demand to continue uninterrupted.

Vietnam has controlled Covid-19 outbreaks with the results among the highest in the world thanks to fast and large-scale traceability campaigns, as well as the mobilization of society's resources in the fight against the pandemic.
They said that trade and production activities are the driving force pushing up economic recovery in ASEAN-6. The consultancy firm said it was optimistic about the growth prospects of Vietnam and believes that Vietnam will see more benefits from global trade during the recovery.
Risks
Earlier, the Strifeblog in the UK published an article saying that Vietnam is walking the path of a rising middle power, especially in the realm of global supply and 5G technology development.
It said it was impressed with the openness of Vietnam's economy with a series of bilateral and multilateral agreements, including the more recent CPTPP (The Comprehensive and Progressive Agreement for Trans-Pacific Partnership) and RCEP (The Regional Comprehensive Economic Partnership).
In late March, Moody's raised Vietnam's credit outlook by two grades to 'positive', unprecedented since the Covid-19 outbreak.
Vietnam has controlled Covid-19 outbreaks with the results among the highest in the world thanks to fast and large-scale traceability campaigns, as well as the mobilization of society's resources in the fight against the pandemic.
Nevertheless, there are still high risks for a Covid-19 resurgence, especially because of the strong reoccurrence in India and spread in Vietnam's neighboring countries of Laos and Cambodia.
ADB believes that risks remain high this year and next year, because of the return of new coronavirus variants and the delays in the Vietnamese Government's vaccination program.
In a recent report, Forbes commented that the incredible growth of the Vietnam's real estate market shows the possibility of recovery during the pandemic. The brightest spot of the local real estate market is Industrial Zone development, which has benefited from the production boom.
According to Forbes, in recent years, many large corporations including Nike, Adidas and Samsung have relocated their production facilities out of China and made investments in Vietnam because of increasingly high production costs in China and the trade war with the US.
More recently, vendors for US large manufacturers have set up manufacturing facilities in Vietnam for projects worth billions of dollars.
However, economists have warned that the rapid private investment recovery, rapid increase in domestic consumption, and the global oil price surge may push inflation up. They also warned of an asset bubble if credit is not driven to production sectors.
The inflation rate is predicted to rise to 3.8 percent this year and 4 percent in 2022.
According to VEPR, Vietnam is facing great challenges in an uncertain global economic environment. The resurgence of Covid in many countries may prolong supply chain disruptions, which will weaken businesses' resilience.
According to Fitch, Vietnam needs to stabilize the macro-economy and diversify import/export markets.
ADB believes that Vietnam can sustain inclusive growth by mitigating the impact of the pandemic on poverty and income. It said the government should adopt a sustainable, long-term strategy to help the livelihoods of the poor and vulnerable through measures such as vocational training and improved access to microfinance for new businesses.
Vietnam has also been warned of a large fiscal imbalance, slow investment in development projects (especially in infrastructure), and low management efficiency.
Experts have mentioned risks for the banking system, which has been consolidated but remains vulnerable. Other risks include the reliance on the foreign-invested sector, and a lack of autonomy in technology and materials for production.
Duy Anh
Vietnamese strategy: overcoming the pandemic, maintaining high economic growth have 946 words, post on vietnamnet.vn at May 5, 2021. This is cached page on Talk Vietnam. If you want remove this page, please contact us.