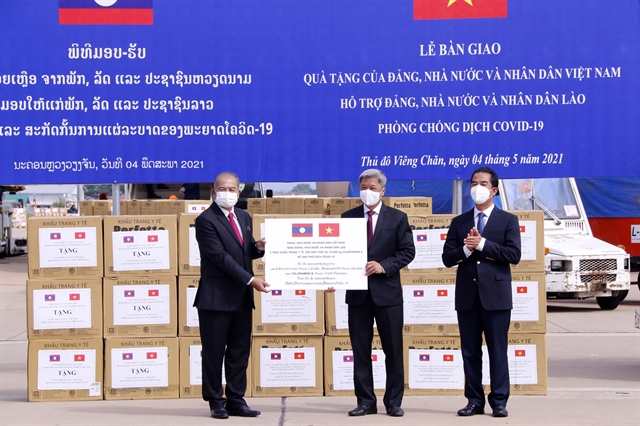 Lao Deputy Prime Minister Kikeo Khaykhamphithoune receives Việt Nam's medical assistance in a handover ceremony held at the Vattay International Airport on Tuesday. — VNA/VNS Photo Phạm Kiên
VIENTIANE — Thirty-five Vietnamese health workers arrived in Laos on Tuesday on a flight from Hà Nội in a bid to help the neighbouring country deal with its ongoing wave of COVID-19 infections.
Medical supplies for the effort were handed over at a ceremony held at Wattay International Airport in the country's capital Vientiane on Tuesday morning.
The support consisted of US$500,000 worth of financial aid and medical supplies, including 2 million medical face masks, 200 ventilators and 10 tonnes of the Chloramine B disinfectant.
The Party Central Committee's Commission for External Relations, the Việt Nam-Laos Cooperation Committee, and the Government Office of Việt Nam also presented Laos with 50,000, 500,000, and 20,000 medical masks, respectively.
Laos confirmed 60 new cases of COVID-19 on Tuesday, according to the Laotian Times newspaper.
At the handover ceremony, Deputy Minister of Foreign Affairs Tô Anh Dũng expressed the Vietnamese leaders and people's sympathies for Laos on the difficulties facing the country in COVID-19 prevention and control.
He said Việt Nam believed that under the leadership of the Lao Party and State and with the resolve of agencies and people, Laos will contain the coronavirus outbreak, recover the economy and society, and continue developing sustainably.
According to Vietnamese Deputy Minister of Health Nguyễn Trường Sơn, who accompanied the health workers along with Dũng, the group's mission is to support coronavirus testing and treatment, the building of treatment hospitals, and training for the use of Vietnamese-funded medical equipment.
They are expected to stay in Laos for between 15 and 17 days, which could be shortened or prolonged if appropriate. The expenses of their working trip are sourced from the State budget.
Per information from the Lao side, the Vietnamese delegation would undergo COVID-19 tests upon arrival in Laos and they then will begin their mission immediately without quarantine.
Earlier at a meeting on Monday, Vietnamese health minister Nguyễn Thanh Long said Laos needs to be assisted most in treatment work, including the building of hospitals for treating COVID-19 patients and that Vietnamese experts will help treat severe patients and guide Lao doctors and nurses on treatment methods.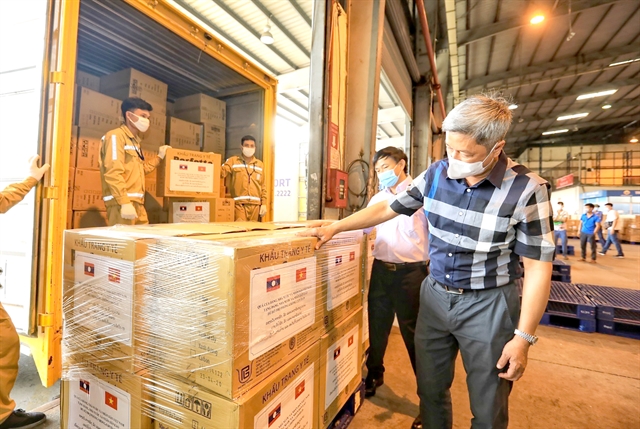 Deputy Minister of Health Nguyễn Trường Sơn checks out the medical supplies that would be sent to Laos to support the neighbouring country in the fight against COVID-19 on Tuesday. — VNA/VNS Photo
Laos also wants Việt Nam's assistance to establish its testing system for large-scale implementation, the minister said, recommending the experts share their experiences in sample collection as well as waste and environmental management at quarantine sites.
He told the group to ask to boost connections with Việt Nam's treatment system when they reach remote areas in Laos. The ministry has asked the Viettel Military Industry and Telecoms Group to help ensure the internet connection between Việt Nam and Laos.
Congratulating Việt Nam on its achievements in the COVID-19 fight, Lao Deputy Prime Minister Kikeo Khaykhamphithoune praised the assistance from the Vietnamese Party, State, and people to their Lao counterparts.
He described the aid as a meaningful and timely contribution to Laos' efforts to combat the pandemic and also a source of support for health workers and patients in the country.
The Deputy PM, who is also head of Laos' central committee for COVID-19 prevention and control, stressed that Việt Nam is the first country to provide financial, personnel, and material support for his country in the latest outbreak, which reflects the great friendship between Laos and Việt Nam.
Additional support
Earlier on Monday, A ceremony to hand over medical supplies to the Lao Defence Ministry and welcome medical experts from the Vietnamese defence ministry was held at Cầu Treo – Nam Phao international border gate on Monday.
Maj Gen Nguyễn Hùng Thắng from the Vietnamese defence ministry presented medical supplies worth VNĐ3 billion (US$130,400) to Lieut. Gen. Khamphet Sinanone, including 105,000 masks, 500kg of CloraminB, 5,000 sets of protective suits, 1,000 bottles of sanitiser, 1,000 sets of quick test kits and 1,000 hand-held thermometers.
The Vietnamese defence ministry also sent four medical experts to Laos on this occasion to share experience in how the military helps fight COVID-19 in Việt Nam.
Khamphet Sinanone hailed the move as vivid evidence of great friendship, special solidarity and comprehensive co-operation between the two fraternal nations.
He pledged to improve the capacity of medical staff in army hospitals and effectively use medical equipment provided by the Vietnamese side.
On Tuesday, the Văn Long education group of Việt Nam has delivered 100 ventilators to Laos, part of a programme to provide medical supplies for Laos and Cambodia in the COVID-19 combat.
Another 800 ventilators will be sent to Cambodia in the time ahead, according to the Ministry of Health.
The ventilator production was funded by the Văn Lang and Văn Thịnh Phát groups. — VNS
Vietnamese deputy health minister, health workers arrive in Laos to help battle COVID-19 have 1041 words, post on vietnamnews.vn at May 4, 2021. This is cached page on Talk Vietnam. If you want remove this page, please contact us.