Hai Phong to have new alternate airport
The Civil Aviation Authority of Vietnam has proposed a new international airport in Hai Phong City to support the Cat Bi Airport by 2050.
The Civil Aviation Authority of Vietnam said they had completed the evaluation report on airport network planning during the 2021-2030 period with a view to 2050. The report has been sent to the Ministry of Transport and the evaluation board for review. In the report, the Civil Aviation Authority of Vietnam suggested keeping all 28 airports until 2030. Cao Bang Airport would be built later by 2050. Vietnam would have a total of 14 international airports and 15 domestic airports.
In March, Hai Phong authorities proposed construction of a new international airport in Tien Lang District, Hai Phong City, as a major airport for Hanoi and to replace Cat Bi Airport in the future since Cat Bi Airport can't be expanded. The new airport will be 120 km from Hanoi and connected to the Hanoi-Hai Phong Highway.
However, the Civil Aviation Authority of Vietnam proposed to keep the plan in which an alternate airport would be built in Hai Phong to support Noi Bai and Cat Bi airports as per prime ministerial directives issued in 2011.
By 2030, the airports in Vietnam must be able to serve 278 million passengers and 4.1 million tonnes of cargo per year.
Vietnam reports 26 new COVID-19 cases on May 5 evening
Vietnam recorded 26 new COVID-19 cases, including eight imported and 18 domestically-transmitted infections in the past 12 hours to 6pm on May 5, the Ministry of Health (MoH) said.
The domestically-transmitted infections include one case in central Quang Nam province, one in the capital city of Hanoi, one in southern Dong Nai province, one in northern Hai Duong province and 14 others at the National Hospital for Tropical Diseases in Hanoi's Dong Anh district.
The new patients brought the total number of COVID-19 infections in the country to 3,022, including 1,626 domestically-transmitted cases. Of them, 56 cases were detected since the latest outbreak hit the country on April 27.
According to the MoH's Medical Service Administration, a total of 2,560 patients were given the all-clear from coronavirus SARS-CoV-2, while the death toll related to the disease remained at 35.
Among active patients undergoing treatment at medical establishments, 24 tested negative to the virus, 12 twice and 38 thrice.
As many as 40,736 people who had close contact with COVID-19 patients or entered Vietnam from pandemic-hit regions are currently quarantined across the country, including 560 in hospitals, 21,733 in state-designated establishments and 18,443 at their residences.
The MoH also decided to extend the compulsory concentrated quarantine period to 21 days instead of 14 days as previously, Minister of Health Nguyen Thanh Long said at a regular meeting of the Government on May 5 morning.
The decision came into force right on May 5, the minister said.
The local centres for disease control must be accountable for monitoring and medically supervising people who complete the concentrated quarantine period for the next seven days.
In a related move, the MoH's Medical Service Administration has asked the National Hospital for Tropical Diseases in Hanoi's Dong Anh district to take drastic measures to prevent transmissions among its staff after 14 of its members tested positive to the virus and the establishment was put under lockdown on May 5.
The hospital was requested to devise plans to maintain its medical checkup and treatment for inpatients who are currently quarantined and treated at the facility./.
Kim Chung facility of national tropical diseases hospital under lockdown
The Health Ministry has directed placing the second facility of the National Hospital for Tropical Diseases in Kim Chung commune in Hanoi's outlying district of Dong Anh under lockdown from 8am on May 5, after several medical staff tested positive to SARS-CoV-2.
After a doctor of the hospital was confirmed to have contracted COVID-19 on May 4, the hospital immediately collected samples of staff members and patients in certain departments for testing, some of which turned out positive. The hospital suspected that it is a cluster of infections from an inpatient treatment area.
During the lockdown period, the hospital will only admit new COVID-19 patients for treatment.
The Health Ministry instructed that only severe cases of COVID-19 should be moved to the Kim Chung facility, while patients who had received treatment at the facility within the past 14 days must be traced and put under quarantine./.
COVID-19 fight, NA election high on Cabinet meeting's agenda
The fight against COVID-19 and National Assembly election are among issues which are at the top of the agenda of a regular monthly Cabinet meeting held in Hanoi on May 5.
Dozens of infections have been detected in Vinh Phuc, Ha Nam, Hanoi, Da Nang, Hung Yen, Yen Bai, Ho Chi Minh City, Dong Nai, with some carrying the variant B.1.1.7 originating from the United Kingdom and the variant B.1.617.2 originating from India.
Prime Minister Pham Minh Chinh earlier criticized several cities and provinces for lax management that has led to fresh outbreaks in the community.
Cabinet members are scheduled to discuss drastic measures to halt the spread of the virus.
They are also set to examine preparations for the upcoming elections of deputies to the National Assembly and local People's Councils slated for May 23.
They will review national socio-economic development for April and the first four months of the year, while looking at measures to implement the dual goal of epidemic prevention and economic recovery.
Vietnam documents no COVID-19 infections on May 5 morning
Vietnam logged no new COVID-19 infections in the past 12 hours to 6am on May 5, making the nation's tally unchanged at 2,996 with 1,608 locally-transmitted cases, according to the Ministry of Health.
The ministry's Department of Medical Examination and Treatment Department said the country has seen 2,560 recoveries so far.
A total 40,736 people who came in close contact with COVID-19 patients or arrived from pandemic-hit areas are under quarantine nationwide, including 560 at hospitals, 21,733 other quarantine sites, and 18,443 at home.
Among patients under treatment, 24 have tested negative for SARS-CoV-2 once, 12 twice, and 38 thrice.
A total of 585,539 frontline medical workers and members of community-based anti-COVID-19 groups in Vietnam had been injected with COVID-19 vaccine as of 4pm on May 4. The country began its COVID-19 inoculation campaign on March 8.
In a bid to live safely with the pandemic, people should strictly follow the Ministry of Health's 5K message: khau trang (facemask), khu khuan (disinfection), khoang cach (distance), khong tu tap (no gathering), and khai bao y te (health declaration)./.
VFF: holding election campaigns in line with COVID-19 control regulations
The standing board of the Vietnam Fatherland Front (VFF) Central Committee asked localities to hold election campaigns in accordance with requirements of COVID-19 prevention and control.
In a guideline issued on May 4, Vice Chairman of the VFF Central Committee Ngo Sach Thuc urged standing boards of VFF chapters at all levels to coordinate with election committees at the same level to decide the number and the form for meetings with voters based on the situation in their respective localities.
Localities in normal state or under social distancing measures could hold conferences with voters either offline or online.
For localities under lockdown, local VFF committees should work with Party Committees and election committees at their corresponding levels to select the suitable methods to hold election campaigns, with priority given to campaigning via the mass media.
In case candidates are infected with COVID-19 or under quarantine, the standing boards must reach consensus with election committees on the way to organizing election campaigns, with priority given to campaigning via the mass media.
Throughout a five-step process with three rounds of close, democratic, cautious, and non-discriminatory consultations, the lists of candidates for the elections of deputies to the 15th legislature and all-level People's Councils for the 2021-2026 tenure have been finalised.
Voters nationwide will cast their vote to choose 500 out of 868 candidates for the 15th National Assembly on May 23./.
Vinh Phuc, Ho Chi Minh City police deal with illegal entries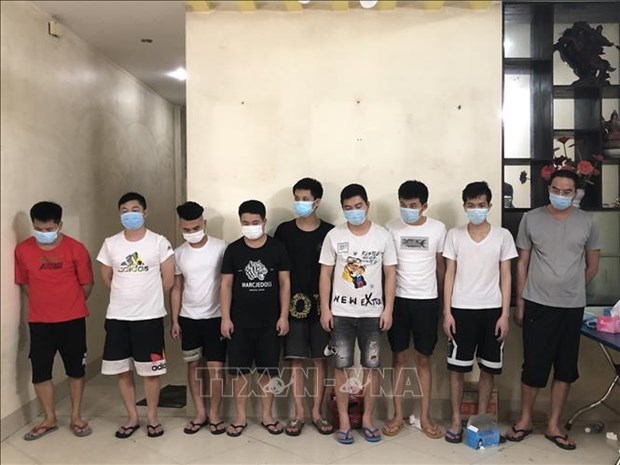 Illegal Chinese immigrants
Accordingly, Nguyen Thi Hong Hanh, 36, residing in the province's Vinh Yen city, was charged with organising the illegal entry and residence of 52 Chinese nationals in the locality.
The same day, the Ho Chi Minh City's police reported that they found 11 illegal immigrants, all foreigners, in the city, and detained two involved persons.
As many as 69 officers were also deployed to ensure security and order in two places under lockdown.
During the four-day holiday, local police also increased inspections to ensure traffic order and create favourable conditions for travelling./.
Up to 39 suspected illegal immigrants found in Vinh Phuc
Thirty nine allegedly illegal foreign immigrants were detected in Vinh Yen city in the northern province of Vinh Phuc on May 3 night as local police are stepping up efforts to contain coronavirus outbreaks which have become more complicated in recent days.
The foreigners were found residing in four locations in Khai Quang and Lien Bao wards.
Local authorities seized personal belongings of the foreigners for further investigation, and disinfect their lodging facilities.
Many foreigners are residing in Vinh Yen city, which houses a lot of industrial parks and lodging facilities.
Local authorities are examining and classifying foreigners with illegal entry and residence in the province so as to have effective settlement measures.
The Ministry of Health said on May 3 that Vinh Phuc province documented eight COVID-19 local transmissions, all making close contact with Chinese experts who earlier tested positive for the virus.
Provincial authorities have ordered a halt to meetings and other events with gathering of more than 20 people, as well as non-essential services such as karaoke and massage parlours, bars and dance clubs as part of COVID-19 prevention measures./.
Quiz on Army Games launched
The People's Army Newspaper together with the Ministry of National Defence's Department for External Relations held a press conference in Hanoi on May 4 to introduce a quiz on the International Army Games.
Speaking at the press conference, deputy head of the department Pham Manh Thang said the contest aims to promote the games, which encourage international defence cooperation between nations, and to honour the People's Army of Vietnam's achievements at previous events.
Vietnam is actively preparing itself to host a number of competitions within the games this year, he said, adding that meetings have taken place to discuss options for organising these activities at the Mieu Mon training centre in Hanoi in line with COVID-19 prevention and control measures.
Deputy Editor-in-Chief of the People's Army Newspaper Le Ngoc Long said the contest, held weekly from May 6 to August 8, features multiple choice tests and requires that contestants submit their predictions of the numbers of people with correct answers.
In addition to weekly prizes, there will be one first prize worth 20 million VND (865 USD), two second prizes worth 10 million VND each, three third prizes of 5 million VND each, and 10 consolidation prizes of 3 million VND each.
The International Army Games 2021 is scheduled for August 22 – September 4, with 13 host nations, including Russia, Armenia, Belarus, India, Kazakhstan, Qatar, China, Mongolia, Serbia, Uzbekistan and Vietnam. Of the 34 competitions, Vietnam will host the rescue and sniper events./.
Ba Ria-Vung Tau: Early voting held for soldiers, fishermen
Officers, soldiers and fishermen working for days at sea off the coast of the southern province of Ba Ria-Vung Tau cast their votes to elect deputies to the 15th National Assembly (NA) and People's Council at all levels on May 4 – earlier than scheduled.
The early voting was held in five constituencies in the provincial capital of Vung Tau for naval and coast guard officers and soldiers, fishery surveillance forces, workers on offshore oil platforms, and fishermen, nearly three weeks before the national polling officially takes place on May 23.
Two working groups were also dispatched from the wharf of Brigade 171 to organize advance polling for voters at offshore economic, scientific and technical service stations on the southern continental shelf, known as DK1 platforms, and on ocean-going naval vessels.
Bidding farewell to the working groups, Tran Dinh Khoa, Secretary of the municipal Party Committee and head of Vung Tau city's steering committee for elections, requested the groups to ensure all forces on duty at sea cast their votes and exercise their rights as citizens.
According to the Naval Region 2's High Command, there are 378 officers and soldiers on duty at 15 DK1 platforms and on naval vessels at sea.
The groups are set to return to the mainland before May 23./.
Foreign parliamentary leaders congratulate new Vietnamese NA Chairman
Parliamentary leaders of Switzerland, Chile, Saudi Arabia and Israel have cabled messages of congratulations to Vuong Dinh Hue on his election as Chairman of the Vietnamese National Assembly.
The messages were sent by President of the National Council of Switzerland Andreas Aebi, President of the Senate of Chile Yasna Provoste Campillay, Speaker of the Consultative Council of Saudi Arabia Dr. Abdullah Mohammed Ibrahim Al-Sheikh, and Speaker of the Parliament (Knesset) of Israel Yariv Levin./.
Long An's Asia-Pacific tourism membership funded
The Long An Golf Investment – Development JSC and Hoan Cau Group will fund the southern province of Long An's 130th membership of the Tourism Promoting Organization for Asia-Pacific Cities (TPO).
The contract signing ceremony took place in the province on May 4.
Accordingly, they will fund the membership cost of 500 USD and the annual fee of 3,000 USD during the province's membership.
Speaking at the event, Vice Chairman of the provincial People's Committee Pham Tan Hoa said via its membership, Long An could connect with other TPO member cities to develop tourism together through discussing strategies and grasping tourism trends in the region, amid the era of the fourth Industrial Revolution.
He asked relevant agencies and units to work closely with the provincial Department of Culture, Sports and Tourism to explore the possibility of expanding cooperation between the tourism sector and firms to tap existing potential and strengths.
Hoa also suggested paying attention to resort tourism and supplying tourism value chains.
TPO is an inter-city network aimed at promoting exchange and cooperation among major cities, with key projects such as information sharing, marketing tourist sites, developing new tourism products, and training human resources.
It now groups 130 member cities from 15 countries and 50 tourism organisations./.
Amnesty must be carried out strictly, transparently: State President
State President Nguyen Xuan Phuc has directed that the implementation of amnesty measures follows a strict, open, and transparent process in accordance with the law, to avoid any possible negativity.
He made the comments while working with leaders of relevant agencies on the enforcement of the 2018 Law on Amnesty, on May 4.
Amnesty is a major policy of the Party and State, demonstrating the humanity of the regime and holding great political, economic, social, and diplomatic significance, Phuc said, adding that it affirms the special policy of clemency held by the Party and State for inmates with good results in studying, training, and rehabilitation.
Amnesties on special occasions, holidays, or major national events aim to encourage prisoners to rehabilitate themselves and qualify for amnesty policies, and the implementation of the law on amnesty demonstrates the orientation towards building a law-ruled Socialist State of Vietnam, he stated.
The President asked the Ministry of Public Security and relevant agencies to propose major regulations on amnesty in the time to come.
According to an assessment from the Ministry of Public Security, the 2018 Law on Amnesty has basically addressed the shortcomings in the 2007 version in order to improve the effectiveness of amnesty work.
After the National Assembly adopted the Law on Amnesty in 2007, Vietnam's State President has granted seven different amnesties, under which a total of 87,000 inmates have been freed ahead of their scheduled release dates./.
Vietnamese students in Laos get support amid COVID-19
The Vietnamese Embassy in Laos on May 4 handed over gifts to Vietnamese students at the National University of Laos (NUOL) who are facing difficulties from the COVID-19 pandemic.
Presented by Vietnamese Counsellor of Culture and Education Tran Dai Thang and the officer in charge of community work, Vu Tu Oanh, the gifts include 1,000 medical masks and foodstuff.
Amid the complex developments of the pandemic, Lao medical staff in cooperation with the Vietnamese Association in Vientiane conducted COVID-19 testing on Vietnamese living and working in Thatluang, Naxay and Sisangvone wards and the area around the NUOL.
Those showing symptoms will be placed in quarantine and receive timely treatment./.
Journey to share love with border guards, policy beneficiaries, the poor
A programme entitled "A Journey to Share the Love" was launched in the Mekong Delta province of Long An on May 4.
Jointly organised by the provincial Ho Chi Minh Communist Youth Union, the Ministry of Public Security's Ho Chi Minh Communist Youth Union, and the Phu My Hung Development Limited Company, the programme targets border guards on duty in the fight against the COVID-19 pandemic, and also policy beneficiaries, the poor, and poor students with good academic results in Duc Hoa, Duc Hue, Can Giuoc, Ben Luc, Thu Thua, and Tan Tru districts.
With total capital of 2 billion VND (86,500 USD), the programme will present 230 gifts worth 500,000 VND each to policy beneficiaries, young workers, and the elderly, grant 120 scholarships worth 500,000 VND each to local students, and give gifts worth 1 million VND each to 12 Heroic Mothers.
Twenty-five houses worth 70 million VND each will be built and handed over to families living in extremely difficult circumstances, while daily necessities, solar lighting, and cash totalling 35 million VND will be presented to two border stations in Duc Hue district./.
Universities turn to online learning as pandemic continues
In light of rising concerns about the spread of Covid-19 and calls to contain the virus, a growing number of public and private universities in Vietnam have shut down in-person classes after April 30 and May Day holidays.
Specifically, Hanoi University of Science and Technology asked lecturers and students to use Microsoft Teams for online teaching and learning from May 4 to 9 while experimental sessions and practice are paused until further notice.
Similarly, Foreign Trade University required students in campuses in Hanoi and the Northern Province of Quang Ninh to take online classes from May 4 to 16. The school must ask for permission from the National Steering Committee for Covid-19 Prevention and Control if it opens in-person classes.
The management board of the Academy of Journalism and Propaganda also decided to switch to online learning from May 4 until there is a new announcement. Students at the Transportation University also made the switch to online classes instead of face-to-face classes from May 3.
The University of Transport Technology, the Faculty of Law of the University of Social Sciences and Humanities, University of Natural Sciences, University of Thuyloi, Hanoi University of Education 2, Banking Academy, University of Commerce, University of Business and Technology followed suit.
Prior, the Hanoi University of Natural Resources and Environment, Hanoi University of Finance and Banking, Ho Chi Minh City University of Technology and Education had announced teaching and learning via the internet to prevent and fight against Covid-19.
Hanoi strives to create 160,000 new jobs despite Covid-19
Strengthening cooperation and linkage in the development of tourism products with businesses, industries, localities in the country and foreign countries will be a measure to boost job generation in the city.
The Hanoi People's Committee will put effort into creating some 160,000 jobs for workers by the end of 2021 despite the negative impacts of Covid-19 pandemic on almost aspects of life, according to the city's job creation plan in 2021.
To accomplish the above-mentioned target, the municipal authorities will promote the application of science and technology and take a number of measures to tighten the linkage between vocational education and businesses to develop the labor market.
Hanoi will also apply new technologies to build a system connecting supply and demand for training model with the participation of schools, enterprises and students.
Under the plan, the city expects to effectively roll out industrial programs and projects, lure more investment projects into industrial zones as well as fostering craft villages in the direction of improving quality, efficiency and competitiveness.
Hanoi's authorities will step up industry restructuring, promoting the development of hi-tech agriculture and organic agriculture to stimulate consumption markets.
The city will also concentrate on improving investment environment, solving difficulties for production and business, and thoroughly addressing petitions of enterprises, especially those on administrative procedures reform.
"Hanoi will perform synchronous solutions to support the development of small and medium enterprises in the period of 2021-25, promoting start-ups and innovation," noted the plan.
Strengthening cooperation and linkage in the development of tourism products with businesses, industries, localities in the country and foreign countries is also a measure to boost job creation to be taken by Hanoi city.
Some achievements
In early 2021, the Hanoi Employment Services Center under the Hanoi Department of Labor – Invalids and Social Affairs launched Vietnam Employment Service Portal (ESIP) and the Information Technology (IT) Job Transaction Floor, with the expectation of helping local companies to find highly qualified human resources, analyze and forecast the market outlook in 2021 and the subsequent years.
The job transaction floor targets units and enterprises; vocational training schools; IT students from vocational facilities, and those who have the need for finding jobs, learning, and labor export.
"Hanoi is one of the largest labor markets in the country. With the launch of the ESIP, we highly value the city's creativeness in coordinating with the Ministry of Labor, Invalids and Social Affairs," said Vu Trong Binh, director of the Employment Department under the MoLISA.
Besides, the city used the Anti-Unemployment Fund to train employees working in enterprises. This is considered as a preventive solution to combat unemployment and ensure social security.
The city also provided more information on the labor market, supports job seekers to post job resumes, and helps enterprises to post recruitment announcement through website: vieclamhanoi.net.
Vietnamese students to compete at int'l science, engineering contest
Seven projects of Vietnamese students are to compete at the 2021 International Science and Engineering Fair (ISEF), which will be held virtually from May 16-21.
The projects all came first in their respective fields at the national high school Science and Engineering Fair for the 2020-2021 academic year recently held in the central province of Thua Thien-Hue.
The 2021 ISEF is to see the participation of 2,000 ninth through twelfth graders from over 80 countries and territories across the world, with about 1,500 projects in 21 fields.
The contest has a total prize value of over 5 million USD in the form of scholarships, internships and awards./.
Quang Nam's flood-hit residents receive new houses
The skinny woman trembled, seemingly unable to stand still because of her happiness to receive a house thanks to the work of the United Nations Development Programme (UNDP) in Vietnam and local people's generosity.
Luu Thi Phuong, 56, in Que Thuan Commune, Que Son District, Quang Nam Province, saw her house destroyed by a storm in October 2020.
She was one of the thousands of people who lost nearly all of their assets due to the storms of 2020 in central Vietnam.
Her husband died when she gave birth to her fourth child 16 years ago, so Phuong alone raised her four small children.
"Life is so hard. I work alone in the field as a hired labourer to support these children," she said.
Now, her two eldest daughters have their own families and work in a local factory. However, her two sons have health problems, so they still live at home and can only work as hired labourers around the commune.
In the new two-storey house, she reserved the most solemn area on the second floor as an altar for her husband. On the first floor, she presented a set of wooden tables and chairs bought from money saved by children.
"I give my thanks to the UNDP, the provincial People's Committee and the Red Cross. Without this support, I don't know when we would have been able to build such a house," she said.
"I will pick up local neighbours to live at my house if there are floods and storms in this area," she added.
The house with a ground area of 16sq.m and worth 110 million VND (5,000 USD) was one of more than 430 storm-resistant houses provided by the UNDP in five provinces in central Vietnam.
This assistance activity is part of the project 'Responding to natural disasters in Vietnam' funded by the United Nations Central Emergency Response Fund (CERF).
At the end of April, the UNDP handed over 10 houses to people in Quang Nam Province as part of the UNDP's 2021 plan to build flood-resistant houses.
In addition to building more than 430 new houses, the UNDP in collaboration with the People's Committees of central provinces that suffered heavy damage in the storms last October (Quang Binh, Quang Tri, Thua Thien-Hue, Quang Nam and Quang Ngai) and the Red Cross completed the repairs and reinforcement of more than 3,300 damaged houses.
Some 3,300 household kits have also been provided to poor households. Household items, including kitchen equipment, blankets, curtains, personal protective equipment, and chemical disinfectants were all necessary for people to get back on their feet.
UNDP Resident Representative in Vietnam, Caitlin Wiesen, said that more than ever, affected people, especially the poor, women and girls were in need of safe houses and essential items to deal with the damage.
"Our safe homes have saved thousands of people during the historic floods and storms that devastated central Vietnam," she said.
"However, there is still a long way forward to be able to assist those in need of safe homes."
Tran Van Tan, Deputy Chairman of the Quang Nam Provincial People's Committee, said there were still many poor households, lonely mothers and disabled people suffering difficulties in life and some had lost their homes in last year's floods.
"This makes the poor, who already struggle so much, in even greater difficulties without community support."
Tan said the local authorities appreciated the UNDP's efforts and timely support to build and repair the houses.
"It is very practical and meaningful support for local people. We hope to continue to receive this support so that people living in areas affected by storms and floods have a warmer life," he said.
At a house handover ceremony at Que Thuan Commune last week, Nguyen Van Tien, Deputy Chief of the Standing Office of the Central Steering Committee for Disaster Prevention and Control, said: "I appreciate the co-ordination of UNDP that help people in the disaster area.
"This assistance not only solves immediate post-disaster recovery but is also sustainable for local residents living in frequent disaster areas such as central Vietnam."
The UNDP is also organising a crowdfunding campaign titled 'Safe House, Peace of Life' to support the construction of 100 new safe houses in vulnerable locations in Quang Binh Province and further construction of safe houses in Que Son District, (Quang Nam Province) and Ly Son island district (Quang Ngai Province).
"In particular, our safe homes in Ly Son Island will have a new design and enhanced resistance to special wind conditions, and rooftop solar systems are capable of providing sufficient lighting systems for households," said Wiesen.
Central Vietnam was battered by strong storms and floods last October. According to the Central Steering Committee for Disaster Prevention, more than 230 people were killed or went missing. At least 380,000 houses were flooded, damaged or collapsed./.
Brazilian films to be screened in Hanoi
A Brazilian film week will take place in Hanoi from May 10 – 14, hosted by the Brazilian Embassy in Vietnam.
Five outstanding Brazilian movies, including Nise: The Heart of Madness, Jules and Dolores, Trinta, Rio 2096: A Story of Love and Fury, and Buddies, will be screened free of charge at the National Cinema Centre.
Through the event, the embassy wants to introduce unique characteristics of Brazilian culture to local audiences.
All the movies will be shown in their original language whilst featuring both English and Vietnamese subtitles./.
Newly established firms grow at fastest pace since 2017
The number of new enterprises established in the first four months of 2021 rose 17.5 percent from a year earlier, the fastest growth since 2017, and it increased in all economic sectors, according to the General Statistics Office (GSO).
Between January and April, nearly 44,200 new firms were set up with 627.7 trillion VND (27.2 billion USD) worth of capital and 340,300 employees registered, up 17.5 percent, 41 percent, and 7.8 percent, respectively, from the same period last year.
The registered capital averaged 14.2 billion VND per business, rising 20 percent year on year.
The total capital poured into the economy topped 1.42 quadrillion VND in the first four months, including 792.9 trillion VND of additional capital from 14,900 existing businesses.
Besides, nearly 19,300 enterprises also resumed operations, growing by 8 percent from a year earlier, the GSO reported.
In April alone, the number of newly established firms approximated 14,900, registering 179.9 trillion VND worth of capital and 94,600 employees. These figures respectively went up 33.1 percent, 59.1 percent, and 30 percent from the previous month.
The registered capital averaged 12.1 billion VND per business, rising 19.6 percent month on month and 1.7 percent year on year.
As many as 5,745 companies resumed operations in April, up 50.8 percent year on year.
The GSO held that these are positive signs for enterprise development in the time ahead.
To create further momentum, Director of the GSO's Industrial and Construction Statistics Department Pham Dinh Thuy said it is necessary to stimulate investment among export manufacturers so as to ready goods supply once global markets are reopened and to capitalise on chances generated by free trade agreements, especially the one between Vietnam and the EU.
He also pointed out the need to swiftly develop supporting industries to ease the burden on the import of input materials.
Businesses expect the Government will invest more in the transport system to boost the connectivity between key production areas and international ports of entry, develop the logistics network, set up technical centres to help companies meet export standards, and push ahead with strongly improving the business climate, Thuy added./.
Dong Thap striving to preserve intangible cultural heritage
The Mekong Delta province of Dong Thap recently released a plan on preserving and bringing into play the art of "Don ca tai tu" music and song and "Ho Dong Thap" (Dong Thap singing), both of which are national intangible cultural heritages, so as to improve awareness and raise a sense of responsibility in the community and the political system regarding the task.
Not only a national intangible cultural heritage, "Don ca tai tu" music and song was inscribed on UNESCO's Representative List of Intangible Cultural Heritage of Humanity in 2013.
Evoking people's lives and work on the land and rivers of the Mekong Delta, it is an indispensable part of spiritual activities and the cultural heritage of local people and helps to foster amateur cultural activities.
Meanwhile, "Ho Dong Thap" is a type of folk singing that reflects the thoughts and sentiments of local residents.
Authorities have worked on studying and revitalising the art. In particular, training courses have been held in all district-level localities, while classes and extra-curricular activities have been organised at all schools province-wide so as to inspire a love among students for the cultural heritage.
Ngo Hoang Viet, Deputy Director of the centre for culture, sports, and radio broadcasting in the province's Cao Lanh city, said 47 "Don ca tai tu" clubs with 530 members have been set up around town.
Vice Chairman of the Dong Thap provincial People's Committee Doan Tan Buu noted that local authorities are striving to have "Don ca tai tu" and "Ho Dong Thap" clubs established in 50 to 70 percent of all communal-level localities.
They are also encouraging each commune, ward, and township to form one club and maintain festivals on the arts annually at the provincial level and biennially at the district level.
The province is also stepping up communications in the media to help turn "Don ca tai tu" and "Ho Dong Thap" into typical tourism products of Dong Thap./.
Parents struggle to find semi-boarding schools for their children
Many parents want to enroll their children in semi-boarding schools, which keep students for a full day.
Mai Nguyên, whose child is in the first grade at Lê Văn Thọ Primary School in HCM City's District 12, said that she was looking for a full-day school as she had been suffering from hiring someone to pick up and take care of her child every afternoon.
Many parents in HCM City, especially from large migrant areas, are in a similar situation in which their children can only be at school for half a day.
Lê Anh Tuấn said that this was the second year that his family and other parents had had to rent a car together to pick up their children, who then would go to their teacher's house afterwards.
"The teacher is responsible for taking care of all of the students until late when their parents are then able to pick them up after work. I want to find a semi-boarding school which would allow my child to stay at school for the whole day in Bình Thạnh District," Tuấn said.
He said that his child was under stress from having to travel between different places during the day.
In the 2020-2021 academic year, many primary schools have given priority to two study shifts or a semi-boarding session for all first-grade students, while reducing the rate of two study shifts or semi-boarding sessions for second graders and upper grades.
According to the HCM City Department of Education and Training, 18 out of 24 districts are relatively stable in terms of arranging two study shifts per day for first graders.
Some districts such as Gò Vấp, Bình Tân, Tân Phú and District 12, however, are not able to do so, due to the large number of children entering the first grade.
At Lê Văn Thọ Primary School in District 12 which has over 4,500 students with about 90 classes, all students have switched to one study shift per day to avoid overcrowding.
In mid-May, many districts in HCM City and Thủ Đức City will announce early entry enrollment for students in the area. Parents should take note of each area's enrollment regulations to prepare necessary documents for their children.
Even though parents have the tendency to apply for resident registration in District 1, the number of students who are able to attend the first grade in this area is calculated based on the number of fifth graders graduating from the schools.
"Students' resident registration has been carefully reviewed in recent years. Children who are not from the area are not usually accepted to schools in District 1," a representative of District 1 said.
According to the city People's Committee's early enrollment regulations, parents need to pay attention to important timelines and submit documents on time for their children.
Reading culture promoted in Cầu Giấy District apartment building
For more than 20 years, the space under the stairs of the first floor in the A3 apartment building in Nghĩa Tân Ward of Hà Nội has been home to bookshelves.
Newcomers or those who first visit the building may be surprised as the bookshelves and reading materials there belong to no one. They are shared and look after by the residents of the building.
The mini library has bookshelves, tables and chairs and books of all genres shelved in different areas such as classics, fiction, non-fiction, history, healthcare, science, law, memoirs as well as daily newspapers.
Đào Thị Anh Tuấn, a resident of the building, has spent many years voluntarily arranging newspapers and books at the library.
Tuấn said before 1999, people usually parked their motorbikes, ran small business stalls or occupied the stair area for personal purposes.
"Some retired people and veterans living in the building had an idea to set up a public library there, making it the first special cultural stair in the city," Tuấn said.
It was then turned into a common cultural area for the community where people can go to read books, newspapers and talk to each other.
"We called on the residents to donate newspapers, books, tables and chairs," she said, adding they set some rules to ensure the reading corner runs effectively. For example, every household takes turns to clean the stair daily, remove advertisements or drawings on walls and funds are raised by the residents to buy more books and newspapers.
"For over 20 years, the stair has been a familiar place for the building's residents to gather and share their reading habit," she said, adding that such activities also helped tighten the relationship of the different generations, neighbours and solidarity of the community.
While the young find interesting or useful resources for their studies or reading pleasure, older people enjoy reading news and events from daily newspapers. Many of them come to read and discuss news and events together.
Đỗ Trung Minh, a retired official who helps run the library, said the space under the stairs at the A3 building was quite large – about 20 sq.m, so it used to be used for parking.
Some people even left garbage there, he said.
"Since we cleaned up and opened a reading corner there, the area looks much better and residents have a place to meet, read and talk," he said.
Another resident, Nguyễn Thị Hát, said she found many useful medical books and materials at the small library under the stairs.
"I usually read books and articles about how to stay healthy and avoid illness," she said.
Đào Tùng Dương, a secondary school pupil, said he usually went to the library to read after school.
"Reading printed books and magazines is better for my eyes rather than using a mobile phone," Dương said.
In the era of the internet, tablets and e-readers, reading culture is still maintained and promoted here, thanks to the "cultural stair".
From this model, many community activities have been organised such as the weekly cleaning of the whole building, fundraising for people suffering from natural disasters and cooking competitions.
The success of the "cultural stair" of the A3 apartment block has even been spread to dozens of other neighbouring apartment buildings in Nghĩa Tân Ward.
The ward's authorities have called on other buildings to implement the same model which has proved effective in promoting the reading culture and community connection.
Vietnam Airlines employees return about US$43,417 to passenger
Flight attendants of the flight VN7177 from Hanoi to the Central City of Da Nang on April 24 discovered and promptly returned valuable property to a passenger, Vietnam Airlines said yesterday.
Vietnam Airlines employees found a wallet in the seat 1A with US$45,000 and VND50 million, ATM card and other important personal papers with the total value of over VND1 billion (US$43,417). Flight attendants informed the lost-and-found counter which returned the wallet to the passenger.
The passenger later sent a thank-you letter to the flight attendants and employees of the lost-and-found counter.
Every year, Vietnam Airlines flight attendants and ground staff pick up and return many of valuable assets left on aircrafts to passengers.
The airline advised that passengers can go to the Lost and Found counter, or contact the airline's representatives and airport security for assistance if they leave their property in planes.
Thousands of new COVID-19 cases reported in Southeast Asian countries
The Philippines, Malaysia and Thailand on May 3 reported thousands of new COVID-19 cases, while Indonesia announced that it detected several new infections of a new SARS-CoV-2 variant in Jakarta.
The Health Ministry of the Philippines confirmed 7,255 new cases, lifting the country's tally to 1,062,225, including 17,525 deaths.
The Southeast Asian country started its COVID-19 vaccination programme from March, giving over 1.9 million doses of vaccine to its people. The Philippine government planned to vaccinate 70 million people this year to achieve the community immunity.
Meanwhile, the Malaysian Ministry of Health reported 2,500 new cases, including 2,496 domestic infections, bringing its national count to 417,512. As many as 1,551 deaths related to COVID-19 were confirmed in the country.
The Public Health Ministry of Thailand on the same day reported a new daily high of 31 deaths and 2,041 new infections. This took the total number of cases in the country to 71,025 since the pandemic began last year. The death toll stands at 276.
Prasit Watanapa, a professor of medicine, warned that the country faces a crisis if the number of deaths continues to rise. He urged people to be strict about wearing face masks, to follow all measures advocated to curb the latest outbreak and to accept vaccination.
Indonesian Minister of Health Budi Gunadi announced that his country recorded two cases in Jakarta infected the B.1.617 variant, which was firstly detected in India.
An infection of the SARS-CoV-2 variant found in South Africa was reported in Bali, he added.
So far, Indonesia has recorded 1,677,274 cases, including 45,796 deaths.
The Cambodian government has announced its decision to lift the lockdown in Phnom Penh and the city adjacent to the capital – Ta Khmao in Kandal province from May 6./.
Exhibition on National Assembly opens in HCM City
More than 200 photos and documents featuring the development of the National Assembly of Vietnam are being displayed at the Southeastern Armed Forces Museum in Ho Chi Minh City.
The exhibition, which opened on May 4, is to welcome the elections of deputies to the 15th legislature, and all-level People's Councils for the 2021-2026 tenure.
It gives visitors an insight into the formation of the legislative body, the first general election on January 6, 1946, the 75-year journey of the NA, and the leadership of President Ho Chi Minh in the legislature.
Among the documents on the display are those regarding regulations of the Constitution and laws towards the NA and People's Councils at all levels, as well as documents relating to the elections.
The exhibition also highlights contributions of the armed forces of Military Region 7 to preparations and organisation of the elections.
In his opening remarks, Colonel Thai Thanh Duc, Deputy Chief of the Department of Politics of Military Zone 7, stressed the significance of the exhibition, saying it aimed to raise the awareness of Vietnamese people, especially young officers and soldiers of Military Zone 7, about the NA and elections.
The event will last until the end of May./.
Hanoi detects new COVID-19 infection at Times City
An Indian expert, who works for local automaker Vinfast, has been confirmed with COVID-19 in Hanoi, the municipal Centre for Disease Control said on May 4.
The man, born in 1984, arrived in Vietnam on April 17 and was immediately put under 14-day quarantine at a hotel in Hong Bang district, the northern city of Hai Phong.
He tested negative for the coronavirus twice during the mandatory quarantine period, and left for Hanoi on May 1 to stay with his wife and children at Park 10, Hoang Mai district's Times City.
He visited Vinmec Hospital on May 3 for a commercial COVID-19 test and his test result turned out positive. He is now under treatment at the National Hospital for Tropical Diseases in Hanoi's Dong Anh district.
Authorities are actively tracing people having close contact with him for COVID-19 test and quarantine to prevent the virus spreading further.
A day earlier, Hanoi reported one case of COVID-19 in Bac Tu Liem District. He was on the same flight from Da Nang to Hanoi last week with two Chinese experts, who had later been found infected with COVID-19./.
Central region closes entertainment venues, schools to fight COVID-19
Local authorities in central Việt Nam shut down various entertainment venues from midnight on Monday after a community COVID-19 case was confirmed in the region.
All bars, discotheques, karaoke parlours, entertainment areas, internet, massage parlours and mass gatherings in public in the cities of Đà Nẵng, Hội An and Thừa Thiên-Huế, and Quảng Nam and Quảng Ngãi provinces were shut after a spa ticket salesman at a hotel in Đà Nẵng was found to be positive on Monday.
Since then, a massage therapist who works at the same hotel has also tested positive.
Health officials have been tracing the contacts of the two new patients and have listed 21 sites including restaurants, bars, karaoke parlours and bus stations in Hội An and Đà Nẵng that the salesman visited between April 21 and May 2 so people who visited them can submit health declarations.
Kindergartens, schools and universities in Đà Nẵng and Quảng Nam were also closed from Tuesday morning until further notice from education authorities.
Quảng Nam Province has asked all residents returning from Hà Nội and HCM City and Yên Bái, Hưng Yên and Hà Nam provinces to report their health status and destinations they visited during the four-day holiday (April 29 to May 3) through the national online health declaration system.
Đà Nẵng has also ordered all taxis and public buses to only carry half of their passenger capacity, while a safe distance (2m) and face mask-wearing is a must for all in public.
Medical staff of a lab in central Việt Nam tests samples for SARS-COV-2. Photo courtesy of Thiện Nhân Health Centre
Trade centres, accommodation sites and restaurants are still open, but strict virus prevention measures are required, including hand-washing stations, face masks and temperature checks.
Sunny Club staff in Vĩnh Phúc infected with Indian coronavirus variant: health ministry
Staff working at Sunny Club in the northern province of Vĩnh Phúc contracted the Indian variant of coronavirus, the health ministry said on Tuesday.
The National Institute of Hygiene and Epidemiology took samples of COVID-19 patients in Vĩnh Phúc, Hà Nam, Hưng Yên and Hà Tĩnh provinces to trace the origin of the virus.
Samples taken from three female staff of Sunny Club showed they had contracted B.1.617.2, the Indian variant, known as a 'double mutant', which has been found in at least 17 countries.
They are among six bar staff confirmed as having COVID-19 last week after being in close contact with a Chinese expert who came to the bar and tested positive earlier.
Six samples in Hà Nam, two in Hưng Yên and two in Hà Tĩnh (taken from two patients traveling from Laos to Việt Nam by road) showed they were infected with UK variant B.1.1.7.
The health ministry on Tuesday morning reported a man living in Hà Nội, who was on the same flight as two Chinese experts, tested positive for SARS-CoV-2.
Associate Professor Trần Đắc Phu, a senior advisor at the Public Health Emergency Operations Centre, said a case deemed to have had close contact with an infected person on a flight is someone sitting within two rows of that person. The man in Hà Nội indeed sat two rows from the two Chinese experts.
The environment on the plane is an enclosed space. If passengers do not strictly comply with protective measures, the risk of infection is high, he said.
Việt Nam has reported flight attendants infected with COVID-19. It is compulsory for passengers to wear masks on the plane, but sometimes they take off the masks. Coughing, talking, and sneezing on the place can spread the virus. Pathogens can be found on the surfaces of chairs and toilet door knobs. If a person touches those surfaces then touches their eyes, nose or mouth, they can be infected, he said.
In a related move, seven provinces and cities in Viet Nam have closed schools from Tuesday amid the high risk of COVID-19 community infection.
Children at kindergarten and students at primary, secondary and high schools in Hà Nội, Đà Nẵng, Quảng Nam, Hưng Yên have been off from schools since Tuesday until further notice after community cases were detected in these areas.
Most universities in Hà Nội have turned to distance learning.
Schools in Yên Bái City, Nghĩa Lộ Town, Văn Chấn and Trấn Yên districts of northern Yên Bái Province and Hà Nam Province will remain shut until May 9.
Schools in Vĩnh Phúc Province will be closed until May 8.
Border provinces step up efforts to stop spread of COVID-19
Provinces and cities across Việt Nam, especially border areas, are stepping up their COVID-19 prevention and control efforts.
Đồng Tháp provincial border guards are making efforts to prevent people from entering the province illegally from Cambodia to stop the virus from entering the community.
At about 4.30am on Monday, during patrol duty on the Sở Thượng River in Thường Thới Hậu A commune, Hồng Ngự District, the border guard discovered 14 people, including 11 adults and three children, on seven wooden boats, preparing to illegally enter Việt Nam.
Previously, on Saturday and Sunday, they discovered 55 people travelling in 23 vehicles to the border on the Tiền River to prepare to illegally enter the country.
On Đồng Tháp southern province's 50.5km long border with Cambodia, comprising 40km of the river border and 10.5km on the mainland, the border forces deployed 21 fixed posts and 18 mobile control teams on patrol duty.
Meanwhile, in the northern mountainous province of Hà Giang, hundreds of soldiers have been deployed on the Việt Nam-China border for border management and protection and COVID-19 pandemic prevention and control.
Colonel Lưu Đức Hùng, Political Commissar of the Hà Giang Border Guard Command, said the provincial border guards have worked with other forces to maintain operations of all fixed control posts, mobile teams on the border, supplement the establishment of posts when necessary to ensure tight control at the border gates and trails.
"We are determined to fight the pandemic from the border and carry out the 'dual task' of managing and protecting the sovereignty and preventing and combating the COVID-19 pandemic," he said.
Hà Giang has more than 277km of border with China. Due to the complex terrain and long border, illegal entry and exit activities are very complicated to handle.
Major Tạ Tấn Hoàng, director of the Xín Cái Border Guard Station in Méo Vạc District, said pandemic prevention has been activated at the highest warning level.
In all 69 medical posts across the province, in addition to measuring body temperature and sterilising surfaces, people from other provinces and cities entering Hà Giang are instructed to make a medical declaration.
On Monday, chairman of the Lạng Sơn Province People's Committee Hồ Tiến Thiệu checked prevention and control activities in a number of key units and areas in the province.
At the Hữu Nghị International Border Gate, Thiệu said the pandemic was developing in a complex manner with many cases of community infection in some provinces and cities. Therefore, the forces on duty at the border gate must uphold their sense of responsibility, promote vigilance and strictly comply with pandemic prevention measures.
At Tân Thanh Border Gate, many drivers still do not wear masks and many people gather at restaurants and yards with a potential risk of spreading the disease. Thiệu asked the forces on duty here to take measures to prevent and control the pandemic under the Ministry of Health's guidance.
He called for pandemic checkpoints on both access roads to the Tân Thanh bus station to ensure strict control of people and vehicles entering and leaving, and require all people entering and leaving the area to be medically examined, wear masks and keep a safe distance.
Source: VNA/VNS/VOV/VIR/SGT/Nhan Dan/Hanoitimes
VIETNAM NEWS HEADLINES MAY 5 have 8718 words, post on vietnamnet.vn at May 5, 2021. This is cached page on Talk Vietnam. If you want remove this page, please contact us.