Vietnam presents $500,000 to help Laos battle COVID-19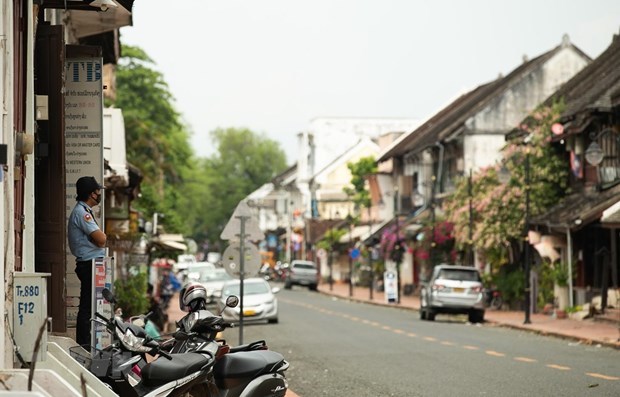 A deserted street during COVID-19 lockdown in Luang Prabang, Laos (Photo: Xinhua/VNA)
In his message, PM Chinh spoke highly of stringent preventive measures applied by the Lao Government, voicing his sympathy over the country's current hardships and challenges.
In addition to the aid grant, the Government leader of Vietnam requested the Ministry of Health and relevant agencies to promptly share experience in curbing the spread of the pandemic with Laos, along with sending experts and medical supplies that the neighbouring country needs in the fight against COVID-19.
The Vietnamese PM expressed his belief that under the leadership of PM Phankham Viphavanh, as well as determination and solidarity of Lao agencies and people, Laos will soon bring COVID-19 under control for socio-economic recovery and sustainable development.
During a virtual discussion with his Lao counterpart Bounfeng Phoummalaysith on April 29, Minister of Health Nguyen Thanh Long said that the Vietnamese Party and State had decided to present Laos with 200 ventilators, 2 million medical facemasks, 10 tonnes of chloromin, and other medical supplies.
The Vietnamese Ministry of Health will send experts to help Laos set up a system of testing labs as soon as possible, he said, adding that those with expertise in establishing COVID-19 treatment hospitals will also be dispatched to the neighbouring nation.
Immediately after the start of the latest COVID-19 resurgence in Laos in April, the Vietnamese Government offered 1,000 sets of protective clothing, 160,000 medical face masks, one RT-PCR machine and 7,150 testing kits worth about 300,000 USD in total.
Vietnamese sectors, localities and businesses, together with the Vietnamese community and firms operating in Laos have also provided support to Laos to help the country in the fight against COVID-19.
Laos had logged 85 new COVID-19 infections on April 30, raising the national tally to 757. Of them, 708 cases were recorded since April 18. The country reported zero deaths./.
Field hospital for Covid-19 patients set up in Ha Nam
A field hospital for Covid-19 patients is being set up in the northern province of Ha Nam as the province has reported some virus transmission cases in the community.
The field hospital with between 300-500 beds is being set up at the Bach Mai Hospital in Phu Ly City to support virus testing and treatment of Covid-19 patients in the area, said the hospital vice director, Dao Xuan Co.
Doctor Co said that the hospital will be equipped with high-tech devices including extracorporeal membrane oxygenation (ECMO) for Covid-19 patients.
"The hospital will be put into operation in the next two days and now we can deal with 5,000 tests a day," he said.
The northern province has so far reported eight Covid-19 infection cases which were connected to a man who recently returned from Japan.
Director of the provincial Centre for Diseases Control, Nguyen Thanh Duong said that the patients are being treated at the Ha Nam Provincial General Hospital where over 300 people who had come into close contact with him are being quarantined.
The province has also identified and taken samples of 920 other people for viral testing.
Speaking at an urgent meeting on the new locally-transmitted cases in Ha Nam, Minister of Health Nguyen Thanh Long noted that the transmission speed here was rapid.
Several other localities including Hung Yen Province, Hanoi, HCM City have also reported new infection cases that are linked to patients in Ha Nam.
13 die in traffic accidents on Reunification Day holiday
As many as 13 people died and 11 others were injured in 24 road traffic accidents on the Reunification Day holiday on April 30.
According to a report from the Ministry of Public Security, the figures showed a fall of two in the number of accidents, one in death toll, and one in injured people against last year's numbers.
The same day, police dealt with nearly 8,400 traffic violations and collected nearly VND 11 billion (USD478,261) in fines. Most of the violations were related to drink driving, using the wrong lanes and not fastening the seat belts.
Serious congestion was reported on some highways of Phap Van-Cau Gie-Ninh Binh, and Trung Luong – Long Thanh – Dau Giay.
The country has a four-day Reunification Day and May Day holiday which lasts from April 30 to May 3.
Vietnamese, Russian veterans commemorate National Reunification Day
The Vietnamese Veterans' Association in Russia organised an ceremony in Moscow on April 30 to mark Vietnam's 46th National Reunification Day and the association's fifth founding anniversary.
Speaking at the event, Vice President of the association Do Van Tieu expressed his profound gratitude for the martyrs who sacrificed for the country's independence and unification.
He also congratulated all veterans who had participated in the struggle for the liberation of the South of Vietnam and national reunification as well as those joining the wars to safeguard the country.
Forty-six years since the reunification, under the leadership of the Communist Party of Vietnam, Vietnam has grown unceasingly, with its per capita income up 30-fold, and its prestige in the international arena improving, he stressed.
Vietnamese Defence Attaché in Russia Colonel Tran Tien Phuong congratulated the association on its fifth founding anniversary, hailing the veterans' contributions to the sustainable development of the Overseas Vietnamese community in Russia as well as the national development.
Also on the occasion, former Russian military experts who helped Vietnam during the war, congratulated Vietnam on its great victory for national reunification on April 30, 1975 and highlighted the role of President Ho Chi Minh in this prolonged struggle.
In an interview with the Vietnam News Agency correspondents in Moscow, Nikolai Nikolaevicj Kolesnik, Chairman of the Association of Russian Veterans in Vietnam, said the April 30th triumph was a historic victory which reunified Vietnam. He expressed his pride that the Soviet Union made contribution to Vietnam's victory.
Major General Anatoly Pozdeev, Vice President of the Vietnam-Russia Friendship Association, said Vietnam's great victory over the American imperialists and the establishment of the Socialist Republic of Vietnam have great historical significance.
Colonel Alexey Skreblyukov, Chairman of the Russian War Veterans' Association in Saint Petersburg said there are no words that can describe the great victory of Vietnam. He said many Russian war veterans wished to have a chance to visit Vietnam, which they consider their second Fatherland./.
Tourist resorts tighten COVID-19 measures ahead of long public holiday
Major tourism sites nationwide have put additional novel coronavirus (COVID-19) preventive measures in place in the buildup to the four-day public holiday, starting on April 30 amid the increasingly complex nature of the pandemic in neighbouring countries.
The Hanoi People's Committee has requested that the cultural, sport, and tourism agencies ans local administrations devise plans to tighten control of cultural and relic sites, cinemas, museums, and festivals in order to nip in a bud a possible coronavirus outbreak in the community.
Nguyen Van Phuc, deputy director of the Thua Thien-Hue Tourism Department in central Vietnam, revealed that his agency has informed travel firms, especially hotels and restaurants in the region, to strengthen the deployment of epidemic prevention regulations. This should be done whilst sending inspection teams to provide further guidance to local firms.
Trinh Hang, director of the Ba Ria Vung Tau Department of Tourism in southern Vietnam, noted that the locality has not prohibited tourism activities, but has instead tried to swiftly deploy the 5K message alongside other anti-epidemic measures under the guidance of the Ministry of Health.
Meanwhile, Bui The Nhan, director of the Binh Thuan Department of Culture, Sports and Tourism, said that the province has asked tourist destinations and accommodation establishments to enforce a strict policy of guests wearing face masks, and to conduct mandatory medical declaration for visitors.
Traffic accidents kill 2,165 over four months
A total of 2,165 people have lost their lives and a further 1,455 others injured in traffic accidents during the opening four months of the year, according to a report released by the National Committee for Traffic Safety.
The total number of traffic accidents nationwide over the four-month period stood at 4,220, a drop of 290 compared to the same period from last year.
April alone witnessed traffic accidents kill 493 people and injure a further 727 others over 1,014 separate incidents, said the committee.
The corresponding numbers of deaths, injuries, and accidents decreased by six, nine, and 27, compared to the same period from last year.
In April, traffic accidents mainly occurred on roads, with 641 cases killing 488 people and injuring a further 388 others.
Four accidents were reported on rail, causing four deaths, whilst there were three accidents in waterways, causing one death.
Workers should get better care: President
President Nguyễn Xuân Phúc has asked ministries, agencies, localities, political unions and enterprises to take better care of and protect the legitimate rights and interests of labour union members and workers.
He was speaking during a ceremony to celebrate the 135th anniversary of International Labour Day (May 1) in Hà Nội on Wednesday.
President Phúc hailed initiatives raised by trade union members and employees nationwide for the development of their businesses, agencies, units and the nation as a whole.
He emphasised that the working class has grown stronger and is the pioneering force to realise national aspirations.
"We understand the difficulties of workers in Việt Nam and the world because of the COVID-19 pandemic. Workers have to cope with losing jobs, the decline in incomes, and face many difficulties in their lives," he said.
Phúc said that the Party and State have adopted effective measures to combat the pandemic and recover the national economy at the same time.
Incomes of labourers are expected to increase again and new jobs would be created in the future, helping to boost the rapid and sustainable growth of the country, he said.
In that spirit, he emphasised the need for the Vietnamese trade union to draw up an action plan to realise the Resolution adopted at the 13th National Party Congress, saying the plan must carry forward the core, pioneer role of labourers nationwide.
Trade union organisations at all levels should revamp their operational methods to better care and protect legitimate rights and interests of workers, the President said.
Addressing the meeting, Nguyễn Đình Khang, President of the Vietnam General Confederation of Labour (VGCL), highlighted the great contributions of the working class to the development of the Vietnamese revolution.
The VGCL has chosen the theme of "Solidarity, Creativity, Overcoming Difficulties, Development" for 2021, he said.
Khang said that more than 245,000 initiatives were created by labourers across the country under a programme launched by the confederation.
On this occasion, the VGCL launched the Workers' Month and the Action Month for Labour Safety and Hygiene. The purpose of the action month is to enhance labour safety and hygiene training at local businesses, helping them update necessary information to tackle labour-related accidents.
During the action month, there will be activities such as visiting victims of labour-related accidents, organising inspections at enterprises and holding discussions on labour safety and hygiene.
It aims to give employers more responsibility in caring for the health of the employees, while businesses with a high risk of labour accidents and diseases have invested more in equipment and technology to improve labour conditions.
According to MoLISA's occupational safety report for 2020, 8,380 work-related accidents were reported, resulting in 966  deaths and 7,644 injuries. The number of deaths fell by 13 persons (1.34 per cent) compared to 2019's figure.
The localities with the highest number workplace accidents are HCM City, Hà Nội, Đồng Nai, Quảng Ninh, Bình Dương, Hải Dương, and Nghệ An.
New play for children to be staged at dance school
The Dragonfly Youth Theatre will present a new production for children, The World's Worst Children, at the HCM City Dance School on May 9. Photo from the organiser's Facebook page
The play is based on the short story collection for children The World's Worst Children, by English bestselling author David Walliams.
The collection revolves around five beastly boys and five gruesome girls.
The performance will feature young actors from the Dragonfly Youth Theatre.
The show will begin at 3pm at 155 Nam Kỳ Khởi Nghĩa Street in District 3.
Tickets are VNĐ150,000 and can be bought at https://forms.gle/RMVEpMT7wmi1X2Fa7.
Third-tier football to begin in May, featuring 14 teams
The national second division football tournament will kick off early next month with the participation of 14 teams.
The third tier tournament, sponsored by the electronics firm Asanzo, will see teams competing in two groups in two legs in a round-robin format. The first leg is from May 4 to June 6 and the second from July 5 to August 4.
The opening match will be between Hòa Bình and Vĩnh Phúc of Group A.
The two top teams of each group will advance to the final round which is scheduled for August 12. The winners of the last-four stage will share top position, receive VNĐ150 million (US$7,500) each and be promoted to the V.League 2 next season.
Selected matches of the tournament, which is officially called the Asanzo Cup, will be live aired on media platforms of the Việt Nam Football Federation (VFF) and Next Sports.
According to VFF General Secretary Lê Hoài Anh, the support of partner Asanzo and other sponsors will be strong pushes for the tournament, clubs and players.
"The second division tournament is a competition to maintain and develop football movement in all national localities. Recently, the VFF has tried hard to carry out plans to improve the effectiveness of organisation activities and quality of the tournament," said Anh at the sponsorship signing ceremony on Wednesday in Hà Nội.
"We hope that the Asanzo Cup 2021 will lure people's attention and will become a basic element to evaluate the development of amateur football in particular and national football in general," he said.
Phạm Văn Tam, Asanzo's chairman of the board of directors, described his pleasure to support national football again, especially the second division event which is considered a transitional point between amateur and professional football.
It is the second time that Asanzo has supported the tournament, following the first time in 2019.
Tam said the company's support would be a strong foundation for the event and open the door for players to higher level tournaments in the future.
Cần Giờ District in HCM City recognised as 'new-style rural area'
Outlying Cần Giờ District has been recognised as a new – style rural area after meeting national criteria, Nguyễn Thành Phong, chairman of the HCM City People's Committee, said.
Phong spoke at a ceremony held on Tuesday to announce the Prime Minister's decision on March 30 to recognise the district as a new-style rural area and the Prime Minister's decision on April 1 to recognise Cần Giờ's Thạnh An as an island commune of HCM City.
Phong urged local farmers to continue to use advanced techniques to improve yield, quality, production efficiency and added value.
"The recognition of Thạnh An as a HCM City island commune will help local residents benefit from support policies and favourable conditions to develop the economy and catch up with other Cần Giờ communes," he said.
Thạnh An island commune is one of Cần Giờ's six communes and has an area of 13,000ha and a population of more than 4,500.
The commune is known as HCM City's most disadvantaged area.
After being recognised as a new-style rural area, Cần Giờ is now the fourth of the city's five outlying districts meeting new-style rural area criteria.
The city began implementing the national target programme on building new-style rural areas in 2010. The other three recognised districts are Củ Chi, Hóc Môn and Nhà Bè.
The national new-style rural area programme includes 19 criteria related to planning, transport, irrigation, electricity, schools, income, education and training, healthcare, the environment and food safety.
Nguyễn Văn Hồng, chairman of the Cần Giờ People's Committee, said the district had a low starting point as its infrastructure was incomplete and the land and natural resources had not been exploited effectively.
The district's rural areas have now improved significantly, he said.
Hồng said the district targets having all of its six communes recognised as advanced new-style rural areas and three of the six communes recognised as model new-style rural areas in the 2021 – 25 period, he said.
Poverty rate cut
Cần Giờ mobilised more than VNĐ5.8 trillion (US$251.4 million) from the State budget, companies and local residents to implement the new-style rural programme. The district has built 464 works related to transport, irrigation, culture, housing, education, healthcare and electricity.
The district's annual income per capita rose to more than VNĐ59 million ($2,560) last year, up 3.9 times against 2010. There are no poor households under the national poverty level.
With a population of 73,500 and 59 per cent of them of working age, the district has an employment rate of 96 per cent for labourers. More than 86 per cent of its employed labourers are being trained.
The district's 38 schools have met criteria set under the programme and 30 of them have met national standards.
All households in the district have access to hygienic water that meets national standards, and more than 95 per cent of the district's residents have heath insurance cards.
The district reached an annual production value of VNĐ365 million ($15,900) per hectare in 2019, up 22.9 per cent against 2015.
Located 50km from the city centre, Cần Giờ has a total area of more than 70,412ha, including more than 33,000ha of mangrove forests. The Cần Giờ Mangrove Forest was recognised as a biosphere reserve by UNESCO in 2000.
Cần Giờ holds an important position in the city's economy and national defence as it the city's only coastal district with a coastline of more than 23km.
The district has more than 20,000ha of sea surface for near-shore fishing, and 10,000ha of land and water surface that can be used for brackish and saltwater aquaculture production, and nearly 1,500ha for salt production.
Bac Ninh imposes strict punishments on businesses causing pollution
Bac Ninh authorities have fined firms and household businesses that are causing pollution VND2.23bn (USD96,700) in the area.
Bac Ninh People's Committee on April 29 issued the decision to fine six firms for violating environmental protection regulations. Viphaco Company which produces craft paper was fined VND695m (USD30,100). A household business of owner Nguyen Trong Du that specialises in making paper offerings was fined VND362.5m.
Nguyen Thi Hoan, an owner of a paper offerings business, was fined VND347.5m (USD15,000). Three household businesses of Nguyen Ba Chu, Nguyen Thi Hoa and Nguyen Trong Son were fined VND275m each.
All of the businesses lack environmental impact assessment reports and their wastewater discharged into the environment have indexes that exceeded the limited parameters. Besides the fines, the businesses were also suspended for nine months to fix the issues.
On April 27, during an inspection into the sources of the discharged wastewater into the irrigation constructions and Ngu Huyen Khe river system in Phong Khe Ward, of Bac Ninh People's Committee Deputy Chairman Vuong Quoc Tuan ordered to remove all violating wastewater treatment systems by April 30. The pipeline and pump that illegally took water from Phu Lam Reservoir must also be removed by May 7.
The police will seal up facilities that are suspended. Facilities that are suspended multiple times will have their entrances blocked. Facilities that are built illegally on agricultural land will be removed.
Tuan also agreed to set up a team and install cameras to monitor environmental violations along the local roads.
Vietnam Buddhist Sangha supports Cambodian Buddhists amid COVID-19
The Executive Councils of the Vietnam Buddhist Sangha (VBS) and the HCM City Buddhist Sangha recently presented 250 million VND (10,800 USD) to Great Supreme Patriarch of Cambodia Samdech Tep Vong and Buddhist followers in Cambodia to help them cope with difficulties caused by the latest COVID-19 resurgence.
In a letter dated April 27, Vice President and General Secretary of the VBS Executive Council, Venerable Thich Duc Thien expressed his sympathy to Great Supreme Patriarch Samdech Tep Vong over the hardship caused by COVID-19 in the lives of Buddhists in Cambodia.
Entrusted by the VBS, Vietnamese Ambassador to Cambodia Vu Quang Minh handed over the aid grant to Great Supreme Patriarch Tep Vong at Ounalom Pagoda.
Many Buddhist monks are running low on food as the lockdown in Phnom Penh capital and its surrounding city of Takhmao since mid-April prevent them from going out to collect alms while people cannot bring food to pagodas.
Cambodian Prime Minister Hun Sen previously instructed local authorities to ensure food supply for places of worship in lockdown areas.
Ambassador Minh on April 29 also delivered 250 million USD in aid from the Vietnam Buddhist Sangha to Chairman of the Khmer-Vietnam Association in Cambodia Sim Chy to support the Vietnamese community in the neighbouring country./.
Vietnam reinforces ties with Canadian province
The Consul General of Vietnam in Vancouver, Canada, Nguyen Quang Trung joined a working session with the Premier of British Columbia John Horgan on April 30.
At the meeting, the two sides discussed potential and opportunities of cooperation between businesses of Vietnam and British Columbia, especially in education, tourism, people-to-people exchange and labour. They agreed that the Comprehensive and Progressive Agreement for Trans-Pacific Partnership (CPTPP) has opened up chances in economy, trade and investment for them.
Despite the adverse impacts of COVID-19, trade between Vietnam and the Canadian province neared 2 billion CAD (about 1.6 billion USD) last year.
Horgan congratulated Vietnam on its successful COVID-19 prevention and control, voicing a hope to deepen the relationship between British Columbia and Vietnam in a pragmatic manner, towards the 50th founding anniversary of Canada-Vietnam diplomatic ties in 2023.
The Canadian province is zeroing in on plans on post-pandemic economic recovery and expansion of international cooperation, especially with the Asia-Pacific region.
Since 2017, Vietnam has maintained its position as the largest trade partner of Canada in ASEAN, with bilateral trade hitting 5.1 billion USD in 2020.
In April, Trung also held working sessions with Minister of Energy, Mines, and Petroleum Resources of British Columbia Bruce Ralston and Deputy Minister of the Intergovernmental Relations Secretariat Silas Brownsey, during which they compared note on specific plans for cooperation between Vietnam and the Canadian locality, particularly in economy./.
Vietnam convenes meeting to review Month of UNSC Presidency
Ambassador Dang Dinh Quy, Permanent Representative of Vietnam to the United Nations (UN), on April 29 chaired a meeting to review activities during the Month of Vietnam's Presidency of the United Nations Security Council (UNSC) in April.
This is the second time Vietnam has assumed the role as President of the UNSC during its non-permanent membership of the Council for the 2020-2021 tenure.
The event saw the participation of over 70 representatives from UNSC member states and UN observers.
During the month, Vietnam proposed and chaired four priority events on the role of regional organisations in enhancing confidence-building and dialogue in conflict prevention and resolution, mine action, protection of objects indispensable to the survival of the civilian population, and sexual violence in conflict. These topics all put people at the centre and aimed to build and maintain sustainable peace. Along with these events, Vietnam hosted the drafting of and promoted the adoption of three documents of the Council, including two presidential statements and one resolution.
The most important initiative of Vietnam was the High-level Open Debate on "Cooperation between the UN and regional organisations in enhancing confidence-building and dialogue in conflict prevention and resolution".
This was the first time the President of Vietnam presided over a meeting of the UNSC and also the first important multilateral diplomatic activity of President Nguyen Xuan Phuc since the 13th National Party Congress. After the event, the Council's member countries approved a presidential statement proposed by Vietnam on this topic.
The debates on mine action and protection of objects indispensable to the survival of the civilian population, chaired by Foreign Minister Bui Thanh Son, received attention and appreciation from UN member states. This was clearly reflected in the co-sponsorship of 65 UN member countries and the voting in favour of all 15 UNSC members for a resolution drafted by Vietnam. Resolution 2537 emphasises the importance of complying with international humanitarian law and ensuring humanitarian aid, especially in the context of the ongoing COVID-19 pandemic. The UNSC also approved the first presidential statement proposed by Vietnam on overcoming the consequences of bombs and mines. The debate on sexual violence in conflict was also welcomed by many UN member countries.
In addition, in the month of Vietnam's Presidency, the UNSC responded promptly to emerging issues that threatens international peace and security, including those in Syria, Palestine, Yemen, Mali, the Great Lakes, West Sahara, Sudan, Somalia, Libya, Abyei Area, Ethiopia, Kosovo, Colombia and Myanmar. Vietnam responded to all the initiatives and proposals of other countries and applied creatively the rules and practices of the UNSC, while promoting consultations and consensus-building for the Council to make timely decisions.
As the UNSC President, Vietnam has promoted the broadest possible participation in UNSC activities through the organisation of meetings and discussions with the UN Secretary-General, in-person meetings among UNSC member states, international press conferences, and many events informing UNSC activities to UN member and observer states, non-governmental organisations, and others.
During the month Vietnam acted as the UNSC President, as of April 29, the Council held 27 official activities, including five open debates, eight meetings to listen to reports, two others to vote on resolutions, and seven to negotiate resolutions. It adopted 12 decisions, including four resolutions and two presidential statements, along with five press statements and one press release.
The UNSC continues its activities on April 30.
At the review meeting, representatives of UN member states highly valued Vietnam's priority activities, especially its promotion of the UNSC's attention to the aspect of humanitarian assistance and civilian protection.
They congratulated Vietnam on successfully fulfilling the duties of the Council President in April, noting that the country smoothly chaired UNSC activities and managed to promote the Council's consensus and UN member states' participation and contributions./.
Vietnam Day at MGIMO returns to Russia
"The Vietnam Day at MGIMO" (Moscow State Institute of International Relations) returned to the Russian capital city on April 29 (local time) with a host of events on the eve of the 46th anniversary of the National Reunification Day (April 30).
The festival was hosted by Vietnamese students at the MGIMO in partnership with the institute's ASEAN Centre.
In her opening remarks, Vietnamese Chargé d'Affaires to Russia Nguyen Quynh Mai expressed her delight at the development of the Vietnam-Russia relations over recent years. She expected that younger generations of Vietnam and Russia will further nurture the friendship and multifaceted cooperation between the two countries.
On behalf of MGIMO leaders, Andrey Baykov, Vice-Rector and Director of the Academic Forum on International Relations, said today Vietnam remains Russia's important partner and the two countries have been cooperating in various projects in the fields of trade, economy, energy, technology, military and response to emerging threats and challenges, notably COVID-19.
He also stressed the significance of partnership in scientific research, cultural exchange, education and youth exchange to the bilateral ties, saying he hopes that this event will contribute to advancing the ties further.
A highlight of the festival was a workshop on Vietnam in today's international affairs, which attracted a large number of experts and students of Vietnamese studies from leading universities in Russia.
A trade fair of Vietnamese goods, a photo exhibition on Vietnam's people and nature, and events introducing Vietnamese culture and cuisine to Russian students were also held as part of the festival./.
ASEAN discusses fourth Industrial Revolution strategy
The Second ASEAN Sectoral Bodies and the Stakeholders Consultative Workshops on the Consolidated Strategy on the Fourth Industrial Revolution (4IR) for ASEAN took place on April 27 and 29, respectively, via videoconference.
In his remarks, Deputy Secretary-General for ASEAN Economic Community (AEC) Satvinder Singh noted that 'digital transformation is accelerating in the region, driven by our young demography, rising middle class, and fast-growing industry.'' Although representing only 7 percent of ASEAN's GDP, the region's digital economy is expected to accelerate, with uptake further boosted by the necessity during the pandemic, he added.
Welcoming the development of the Consolidated Strategy, supported by the ASEAN-Australia Development Cooperation Programme Phase II (AADCP II), Australian Ambassador to ASEAN Will Nankervis stated that ''Australia stands ready to assist the implementation of this critical piece of work, and look forward to exploring the potential for alignment between ASEAN and Australia's 4IR visions, policies, and initiatives.''
At the workshops, officials and stakeholders discussed the latest draft of ASEAN's 4IR Consolidated Strategy, including its visions, strategic framework, and priorities. Key to the development of the Consolidated Strategy is to ensure concrete, forward-looking, actionables are identified and implemented as the follow-up, focusing on providing for an enabling regulatory environment, boosting competitiveness, and promoting inclusion through skills and capacity development.
This workshop is part of ASEAN's consultation process organised towards the development of the Consolidated Strategy on the 4IR. Identified as one of cross-pillar deliverables of Brunei's ASEAN Chairmanship this year, the Consolidated Strategy is expected to contribute to the region's recovery efforts and its overall long-term resilience./.
Quang Tri: Flag-raising ceremony held to mark Reunification Day
A flag-raising ceremony was solemnly held by the central province of Quang Tri at the Hien Luong – Ben Hai special national monument on April 30 to mark the 46th anniversary of the Liberation of the South and National Reunification Day.
At 7:00am, the national flag was raised to the peak of the monument as the national anthem was being played.
This year, the ceremony was scaled down due to fears over COVID-19 spread, with side events such as a traditional boat race and "bai choi" singing events cancelled.
The Hien Luong – Ben Hai special national monument is located at the foot of Hien Luong Bridge across Ben Hai River.
Ben Hai River divided North and South Vietnam after the signing of the Geneva Accords in 1954. Though the river is just over 100m wide, it took 21 years for the Vietnamese people on the two banks to be united.
The river and the bridge are witnesses to the Vietnamese people's fierce but glorious struggle against foreign invaders and a reflection of their desire for and belief in victory.
Quang Tri was one of the most heavily bombed areas during the anti-US resistance war. The province was also renowned for the fierce 81-day-and-night battle at the ancient Quang Tri Citadel./.
Vientiane ceremony marks repatriation of Vietnamese martyrs' remains
A ceremony was held in Vientiane capital of Laos on April 29 to hand over and repatriate three sets of remains of Vietnam's volunteer soldiers and experts who laid down their lives while performing the international duties in Laos.
The event was attended by Maj. Gen. Siphone Chansomevong, Political Commissar of the Vientiane capital Military Command; Sen. Lt. Col. Ha Duc Hung, head of Ha Tinh province's team for searching remains of Vietnam's volunteer soldiers and experts; and Lao officials.
Participants laid wreaths and offered incense in commemoration of the martyrs.
The coordination in searching, collecting, and repatriating Vietnamese martyrs' remains has been carried out under the two governments' agreement, as well as the consensus between leaders of the two Parties and States.
From 2000 to 2020, the central province of Ha Tinh has worked with the Vientiane Military Command to seek and retrieve 124 sets of remains of Vietnam's volunteer soldiers and experts who fell during the resistance wars in Laos. Three sets of martyrs' remains were found and repatriated in the 2020-2021 dry season./.
Vietnamese in Laos donate relief supplies to aid local COVID-19 response
The Vietnamese association in Laos' Oudomsay province donated a total of 135 million LAK (14,363 USD) worth of COVID-19 relief supplies and cash on April 29 to help local authorities fight the COVID-19 pandemic.
The supplies included 600 boxes f instant noodles and 55,000 medical masks, worth 70 million LAK.
The donation was handed over to Oudomsay Governor Bounkhong Lachiemphong.
Speaking at the handover ceremony, Sommai Bouphaphi, President of the association, said Vietnamese in the Lao northern province feel the responsibility to stand side by side with the provincial administration and the Lao government at large in the COVID-19 fight.
Though small, the support is expected to help the province and its residents swiftly contain the spread of the virus, he said.
Lachiemphong, for his part, thanked the association for its gesture and pledged the donation will be used effectively in the COVID-19 response.
As of April 29 afternoon, Laos had confirmed 672 COVID-19 cases, including over 600 documented since the beginning of April./.
Muong Te border district prepares for elections
The election of deputies to the 15th National Assembly and all level People's Councils for the 2021-2026 term is one of the most important political events of the year. Given the significance, the border district of Muong Te in northern mountainous Lai Chau province quickly developed plans and conducted preparations to ensure compliance with regulations and promote propaganda efforts.
The election of the 15th National Assembly and all level People's Councils for the 2021-2026 tenure is a particularly important political event, when voters promote their citizenship and elect those who will represent their rights and interests. Given their will and aspirations for the National Assembly and People's Councils in the new tenure, the Standing board of the Muong Te District Party Committee quickly established a Steering Committee and Election Committee, assigning tasks to each. The district also established subcommittees in propaganda, security and social order, settlement of complaints and denunciations, and assistance for the committee.
In the 2021-2026 tenure, Muong Te district is entitled to elect 31 members of the district People's Council and 278 members of People's Councils in communes and towns. The number, composition, and structure must be according to regulations, helping voters choose candidates worthy of election who will represent the aspirations and will of the people. The introduction of candidates was strictly conducted by the district via five steps, in accordance with regulations./.
Cultural activities nationwide postponed due to COVID-19
A range of cultural, sporting, and tourism activities have been delayed in an attempt to prevent the further spread of COVID-19, while people across the country have been requested to deploy strict prevention and control measures.
The move comes following an urgent notice issued by the Ministry of Culture, Sports and Tourism to local authorities throughout the country.
Minister of Culture, Sports and Tourism Nguyen Van Hung states that due to the COVID-19 pandemic developing in a complicated manner, tightening preventive measures against the SARS-CoV-2 virus is vital. Indeed, the importance of following these measures is especially true during National Reunification Day on April 30 and May Day on May 1.
The management boards of various museums, relic sites, and festivals have been requested to follow the Ministry of Health's 5K message in Vietnamese of Khau trang (facemask), Khu khuan (disinfection), Khoang cach (distance), Khong tu tap (no gathering), and Khai bao y te (health declaration).
The Ministry of Culture, Sports and Tourism has therefore urged local authorities to inform residents about COVID-19 prevention and control measures, including wearing face masks in public places, regularly washing hands with soap or hand sanitizer, and remaining vigilant to fight against the COVID-19 pandemic.
The administration of cities and provinces nationwide has been asked to punish people who violate pandemic prevention measures in areas relating to culture, sports, and tourism.
Japanese metro trains shipped for HCM City metro line No1
Two metro trains designed for Ho Chi Minh City's metro line No1 are due to leave Japan's Kasado port on May 1 and will arrive at a port in the Vietnamese city on May 9 at the latest.
The remaining four trains are set to be shipped to Vietnam in June and July, said the MAUR, adding that following customs clearance, the trains will be taken to Long Binh depot of Thu Duc city.
Japan's contractor Hitachi will be responsible for the safety, quality as well as transportation costs of the trains.
Previously, the first among 17 trains of metro line No.1 arrived at Khanh Hoi port in HCM City's District 4 in October 2020.
In the first phase, the MAUR will receive and operate a three-car train capable of carrying 930 passengers and running at a maximum speed of 110 km/h overground and 80 km/h underground.
The first train is expected to be given a trial run on Long Binh depot track by the end of this year at the earliest. After evaluation, the metro train will continue to be tested on the main line.
The six-car train will be tested from Binh Thai station to Van Thanh station for the second phase and from Van Thanh station to Ben Thanh station for the final phase.
The metro line No1 construction project is underway in HCM City, linking Ben Thanh market in District 1 and Suoi Tien Amusement Park in District 9.
The US$2.05 billion line is the first of at least six to be built in the city, aiming to ease traffic congestion in its north-east gateway.
Gender equality in climate action amid COVID-19
Gender mainstreaming in climate change policies is crucial to promoting gender equality in Việt Nam, according to Deputy Director of the Institute of Strategy and Policy on Natural Resources and Environment (ISPONRE) Nguyễn Trung Thắng.
Thắng said that ISPONRE carried out research on the state of gender equality in climate change policies in Việt Nam, with focus on the four sectors of renewable energy, agriculture, water resources management, and garbage management.
On Wednesday, the ISPONRE, UN Women and UN Environment Programme (UNEP) launched the report entitled "The State of Gender Equality and Climate Change in Việt Nam" to support the integration of gender equality in the climate mitigation and adaptation policies of the country.
The report shows that Việt Nam has made efforts to complete policies on gender equality and climate change response but pointed out that women's participation in policy making and management is limited.
Additionally, a lack of information and data on climate change's impacts has affected the building and implementation of climate change policies with gender mainstreaming.
"Gender and climate change are cross-cutting issues that need joint effort of all nations and societies. This report aims to provide a fresh entry to promote gender integration in climate policies in Việt Nam which eventually contribute to implementation of both SDG 05 – Gender equality and SDG 13 – Climate change," Trung said.
The Vietnamese Government integrated gender equality and social inclusion in its updated Nationally Determined Contribution, which was submitted to the United Nations Framework Convention on Climate Change in September 2020.
Việt Nam is among six countries hardest hit by extreme weather that killed 286 people and resulted in economic losses of US$2 billion each year over the last two decades.
In a bid to cope with future challenges, Việt Nam should adopt more ambitious targets to evaluate the state of gender mainstreaming in climate change policies, according to Swedish Ambassador to Việt Nam Anne Mawe.
As mentioned in the report, the Government of Việt Nam submitted an updated Nationally Determined Contribution (NDC) to the UN Framework Convention on Climate Change (UNFCCC) last September, where it committed to increasing its targets for reducing greenhouse gas emissions by 2030.
"More importantly, the updated NDC integrated gender equality and social inclusion issue for the first time, making Viet Nam one of the few countries in the world that is addressing gender in its NDC. But doing more is always better," said Elisa Fernandez, UN Women Representative in Việt Nam.
The report provides a gender analysis of the impacts of climate change in Việt Nam, particularly in the sectors of agriculture, water management, waste management, and energy, which the country has prioritised. Various policies were also reviewed to determine what mechanisms currently exist to facilitate gender mainstreaming in policy-making and programme implementation.
Among the key findings of the report is that men and women have differentiated capacities as resource users and contributors to the implementation of climate policies.
In the agriculture sector, the gendered division of labour within the sector and additional responsibilities taken on by women as a consequence of gender norms prohibit their active participation in decision-making inside and outside of their households.
In the water management sector, many national policies see women as one of many vulnerable groups and mainly treat them as beneficiaries, so policies rarely focus on women as potential change agents to preserve water resources.
In the waste management sector, 90 per cent of street waste collectors are women whose jobs are not recognised by existing laws because they are considered part of the informal sector.
In the energy sector, most jobs in the manufacturing, construction, and engineering are traditionally seen as suitable only for men, thus women are significantly underrepresented.
Launched under the EmPower project that is jointly implemented by UN Women and UNEP, and supported by the Government of Sweden, the report also offers sector specific recommendations that could inform policies to strengthen gender integration in the implementation of the NDC and updating the National Strategy for Climate Change in Việt Nam.
At the workshop, Ambassador Anne Måwe, Ambassador of Sweden to Việt Nam, said that Sweden was recognised for being a global leader in advancing gender equality and women's empowerment, which was a centrepiece in its foreign and development policy.
"Sweden was the first country to implement a Feminist Foreign Policy, which was launched in 2014. This policy represents a shift towards a more systemic approach to addressing inequality, and focuses on enhancing the rights, representation and resources of women and girls globally. When gender equality increases, poverty decreases," she said.
"It is our hope that the key findings of the report as well as the recommendations for these key sectors will be useful for our government partners in ensuring that climate change mitigation and adaptation is gender-responsive, inclusive, and rights-based so we can build a truly sustainable future for this generation and the generations to come," said Mozaharul Alam, Regional Climate Change Coordinator of UNEP.
Cai Chanh Military Base recognised as national special historical site
Cai Chanh Military Base in Bac Lieu Province was recognised as a national special historical site on April 29.
Pham Van Thieu, chairman of Bac Lieu People's Committee, said Bac Lieu was proud to be able to contribute to the reunification of the nation as a key base in the south-western area.
"For this day, we are grateful for Ho Chi Minh and older generations who sacrificed for peace and union," Thieu said during a celebration for the Reunification Holiday.
During the celebration, the Ministry of Culture, Sports and Tourism transferred the certificate that recognises Cai Chanh Military Base as the national special historical site to Bac Lieu authorities.
Cai Chanh Military Base is located in Cay Cui Hamlet, Hong Dan District. From 1949 to 1952, high-ranking officials worked at the base to lead many movements in the southern region like Le Duan, Pham Hung and Nguyen Thuong Vu. Vo Van Kiet, then deputy party secretary of Bac Lieu also chose to work at Cai Chanh Base.
On January 26, 2011, Cai Chanh Base was already recognised as a national historical site.
Cai Chanh Base covers over 50,000 square metres and was invested VND32bn for renovation and conservation.
Source: VNA/VNS/VOV/VIR/SGT/Nhan Dan/Hanoitimes
VIETNAM NEWS HEADLINES MAY 2 have 7425 words, post on vietnamnet.vn at May 2, 2021. This is cached page on Talk Vietnam. If you want remove this page, please contact us.