COVID-19: Additional 48 cases detected on May 18 afternoon
An additional 48 cases of COVID-19 were detected during six hours to 6pm May 18, all in locked-down areas or concentrated quarantine facilities, according to the Health Ministry.
The total number of COVID-19 cases in the country now stands at 4,512, with 1,472 domestic infections recorded since April 27 in 28 provinces and cities.
On May 18, 19 patients were given the all-clear, raising the number of recoveries to 2,687. The death toll was 37.
Meanwhile, more than 122,000 people are being quarantined nationwide.
Among patients still under treatment, 37 have tested negative for the coronavirus once, 29 twice and 23 thrice.
A total of 4,398,533 people have been tested for SARS-CoV-2 since April 29. /.
Bac Giang and Bac Ninh launch social distancing measures
Bắc Giang and Bắc Ninh provinces have launched social distancing in several localities to stop the spread of COVID-19.
From Monday night, Bắc Giang Province temporarily closed Đình Trám, Quang Châu, Vân Trung and Song Khê-Nội Hoàng industrial zones.
It also put social distancing measures in place in Việt Yên District and three communes of Yên Dũng District including Nội Hoàng, Tiền Phong and Yên Lư until further notice from the provincial People's Committee.
Bắc Giang Province asked everyone in locked-down areas to stay at home, only go out in case of absolute necessity such as buying food, medicine, emergencies or to work in essential services.
People must keep a distance of at least two metres when communicating and not gather in groups of more than two people outside of offices, schools, hospitals and public places.
It has also suspended festivals, cultural, sports and entertainment activities at public places, religious, belief and worship facilities.
The province also set up checkpoints from Monday night to control locked-down areas.
Bắc Ninh Province also applied social distancing in Bắc Ninh City and Quế Võ District from 6am on Tuesday until the end of Thursday.
The social distancing aims to aid in the checking, testing and zoning of affected areas.
Bắc Ninh has recorded 294 COVID-19 cases since April 29. It has found 2,900 people who had close contact with the patients and quarantined them.
It has also strengthened the work of COVID-19 prevention and control community groups and is monitoring the number of workers entering and exiting the province.
In addition, Bắc Ninh has boosted pandemic prevention and control in industrial zones, tightened prevention and control at medical facilities and prepared human resources and medical equipment for various scenarios.
Those who have been in industrial zones in Bắc Giang Province from May 3 should immediately quarantine themselves at home and contact the nearest health agency or call the province's hotlines, which are available on the website bacninhcdc.vn, for advice and support.
Baby born in locked-down building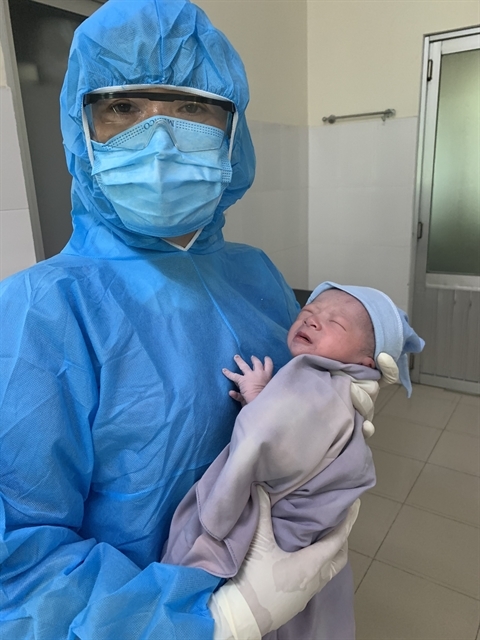 A nurse carries a new born baby at the health centre of Đà Nẵng city's Sơn Trà District during a lockdown. The mother and son are healthy.
A baby boy was delivered in a locked-down building in Đà Nẵng's Sơn Trà District on Tuesday morning, and both mother and son are healthy.
Doctors from the district's health centre said the woman, 20, needed a caesarean section to give birth to the 2.6kg son at about 6.30am.
The mother had tested negative for SARS-COV-2 in early May when the building was quarantined for 21 days after a COVID-19 patient was reported on May 3.
All residents in the building have tested negative.
It's the first baby born in a locked-down site in the city as nine apartment and living quarters have been quarantined for at least three weeks.
Also on Tuesday, the central city's People's Committee decided to donate COVID-19 test tools and medical facilities worth VNĐ6 billion (US$260,000) to support COVID-19 infection hotspots in Bắc Ninh and Bắc Giang provinces.
In February, Đà Nẵng sent a team of doctors and medical workers to help Gia Lai Province to fight the COVID-19 pandemic.
The COVID-19 outbreak has been well controlled in the city as thousands of employees resumed work at six industrial zones and parks from last weekend.
An extended test programme will be conducted for 276,000 households to eliminate possible community infections in the coming days.
Thu Duc locks down residential block due to suspected Covid-19 case
The entire Block A1 of the Sunview Town apartment building area in Hiep Binh Phuoc Ward in HCMC's Thu Duc City has been locked down after a man who lives in the block tested positive for Covid-19 once.
Competent forces this morning, May 18, cordoned off the block, while preventing the residents there from going out. The residents at Block A1 will have their samples taken for Covid-19 testing, the local media reported.
The man, identified as N.Q.N., aged 35, is an employee at Deloitte Company in District 3. He tested positive for the virus once on May 17 after visiting Vinmec Central Park International Hospital for a medical checkup as he developed symptoms of fever, cough and sore throat, according to a representative of the Thu Duc Healthcare Center.
His samples were sent to the HCMC Hospital for Tropical Diseases for a second Covid-19 test.
After the suspected case was detected, competent forces disinfected the apartment building and informed the HCMC Center for Disease Control of the case for quarantine and contact tracing operations.
The preliminary result showed that the man did not leave HCMC over the past 30 days, but came into close contact with an Indian expert.
Bac Giang shuts down four industrial zones due to Covid-19
The northern province of Bac Giang has temporarily shut down four industrial zones comprising Dinh Tram, Quang Chau, Van Trung and Song Khe-Noi Hoang in Viet Yen District as they are Covid-19 hotspots.
These industrial zones are home to hundreds of enterprises with some 136,000 workers.
In this current wave, Bac Giang is the biggest Covid-19 hotspot in the country with 411 Covid-19 cases as of May 17. Most of them are workers at industrial zones.
The Van Trung Industrial Zone has reported 208 Covid-19 cases, mostly at the Shin Young and SJ- Tech companies, while Hosiden Company at the Quang Chau Industrial Zone has reported 190 Covid-19 cases.
The province is quarantining over 36,000 people who came into contact with Covid-19 patients, including more than 6,000 people at quarantine centers and 30,000 others at home. The local authorities are taking samples from all workers and people living near the four industrial zones for Covid-19 testing.
Bac Giang has six industrial zones, which employ a total of more than 240,000 workers. They are located near residential areas, national highways and road systems that are connected with other provinces, posing a high risk of Covid-19 spread.
Bac Giang chairman Le Anh Duong said the closure of industrial zones will affect the production of businesses and livelihoods of workers. However, the situation would become extremely worrying if they continue operations. Besides, the safety of the community must be the top priority.
The provincial government has also decided to impose social distancing on the entire Viet Yen District and the Noi Hoang, Tien Phong and Yen Lu communes of Yen Dung District from May 18 to curb the spread of Covid-19.
People should stay at home and only go out in case it's really necessary such as to buy food or medicines and maintain a safe physical distance of at least 2 meters from each other. Festivals and cultural, sporting, entertaining and religious activities have also been suspended.
Bac Giang remains largest hotspot as cases surge
The northern province of Bac Giang which is close to Hanoi capital, recorded a further 63 out of 85 community infections confirmed by the Ministry of Health (MoH) at noon on May 18.
The new patients tested positive after having close contact with COVID-19 patients, the MoH said in its noon bulletin update.
They were all detected at Quang Chau, Van Trung and Dinh Tram industrial parks in Bac Giang.
Bac Giang, a gateway to Hanoi capital, has recorded nearly 500 locally transmitted cases, mostly at industrial parks, since the virus recurred in Vietnam in late April.
The provincial administration on May 17 decided to temporarily suspend operations of Quang Chau, Van Trung, Dinh Tram, and Song Khe-Noi Hoang industrial parks. They also moved to impose social distancing on several localities in the province in an effort to slow the spread of the virus.
Elsewhere, six more cases were recorded in Hanoi, four in Dien Bien, three in Bac Ninh, three in Hai Duong, two in Da Nang, one each in Hai Phong, Hung Yen amd Quang Nam.
One more case was also reported at the K Cancer Hospital No2 in Hanoi.
The MoH also confirmed an imported case in its noon bulletin. The 67-year-old man of the Republic of Korea entered Vietnam on May 16 and tested positive on the following day.
Vietnam has so far recorded 4,464 COVID-19 cases, including 2,668 recoveries and 37 fatalities.
Nearly 130.16 million USD allocated for COVID-19 fight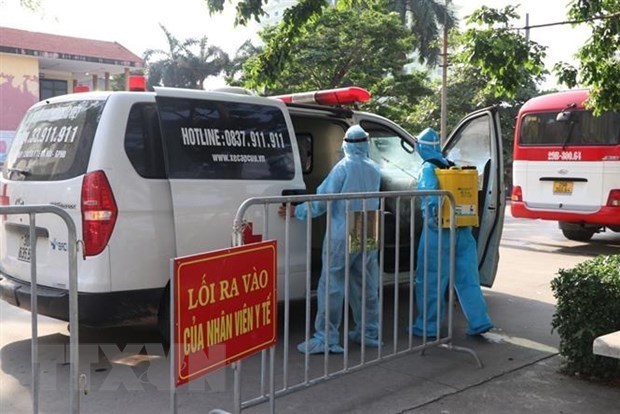 Health workers spray disinfectant in an ambulance
Of the figure, 1.74 trillion VND was allocated to the Ministry of Health to buy vaccines, medical materials and equipment, chemicals and biological products serving the fight against the pandemic.
According to the Ministry of Finance, budget spending tasks in the first four months of the year were carried out as planned and met schedule of the recipients, fulfilling requirements for socio-economic development, national defence and security, State management and due debt payments, along with social welfare.
Of the total 463.7 trillion VND disbursed in the period, 86 trillion VND was for development investment, 38.8 trillion VND for debt payments, and 338.1 trillion for regular expenditures, which is equivalent to 32.6 percent of the estimate./.
Hotline for Covid-19 information to be set up
The Ministry of Information and Communications has directed the network operators, the information team of the Steering Board for Covid-19 Prevention and Control in the next 24 hours to set up the hotline which is available 24 hours a day to receive calls from the public relating to the coronavirus outbreak.
The Ministry of Information and Communications, the Ministry of Health, Vietnam's Social Insurance, and the Ministry of Transport must complete data communication tools to receive people's data and additional information that has changed.
First of all, chairpersons of the People's Committees of Hanoi, Bac Giang, Bac Ninh, Vinh Phuc and Da Nang City must direct mandatory medical declaration for employees in centralized quarantine areas to have an immediate response in case that there is an epidemic related to industrial parks to prevent the spread.
The Steering Board noted that Bac Giang and Bac Ninh provinces, where more people have been sent to centralized quarantine facilities have to combine tests to prevent cross-infection in the isolation area.
Deputy Prime Minister Vu Duc Dam emphasized that big industrial zones are crowded places, directly affecting the country's production capacity; therefore, outbreaks in industrial zones in Bac Ninh and Bac Giang province must be under control to curb the spread of Covid-19 to other industrial zones in these two provinces.
The Ministry of Health confirmed 37 domestic cases of Covid-19 this morning in the northern provinces of Bac Ninh, Bac Giang, Vinh Phuc, and Tuyen Quang, taking the national tally to 4,212 patients, including 2,746 locally-transmitted infections.
STEM festival held online to mark Vietnam's science and technology day
A festival for science, technology, engineering and mathematics (STEM) is to take place virtually on May 18 as part of a series of activities to mark Vietnam's Science and Technology Day.
The event is jointly held by the Ministry of Science and Technology, the Vietnam STEM Alliance, the Youth Union, and Science and Technology Newspaper.
One of the festival's two main activities is a workshop on assessing the current state of STEM education in Vietnam and proposing measures to develop it further with voices from schools, educational institutions, clubs and education firms involved in STEM.
According to the organisers, about 15 units from provinces such as Bac Giang, Thai Binh, Lao Cai, Ha Nam, Hai Duong, Phu Tho and Tuyen Quang have registered to present their reports at the online workshop.
The reports will cover such topics as: implementing STEM lessons from the view of educational research, initiatives to help students form creative ideas for STEM projects, and developing reading culture and organising STEM clubs in primary schools.
The other is an online exhibition where schools, clubs and enterprises will showcase pictures and videos about their STEM activities.
To date the organisers have received applications for the exhibition from nearly 100 organisations across the country, from nursery schools to universities to enterprises.
Ho Chi Minh City launches tree-planting festival
On May 16, the Ho Chi Minh city authorities launched a tree-planting festival at Hung Long Secondary School in Binh Chanh District as a move to realise the country's project on planting 1 billion trees in the 2021-2025 period.
In response to the festival, 16 communes and towns in Binh Chanh District set the target of planting a total of 16,000 trees.
Speaking at the event, Vice Chairman of the municipal People's Committee Vo Van Hoan stressed that the Ho Chi Minh City always considers tree planting and forestation as a crucial part of boosting the city's comprehensive development.
Growing a tree is not just a start, he said, adding that it is even more important to protect and take care of trees, which is the responsibility of each citizen and the entire society in general.
He called on local authorities, sectors, and political and social organisations in the city to speed up communication campaigns to raise public awareness of the significance and benefit of the tree-planting festival and forestation.
In 2020, Ho Chi Minh City's newly planted concentrated forest areas reached around 50 hectares of coverage with more than 350,000 green trees.
COVID-19 vaccine procurement an urgent task: PM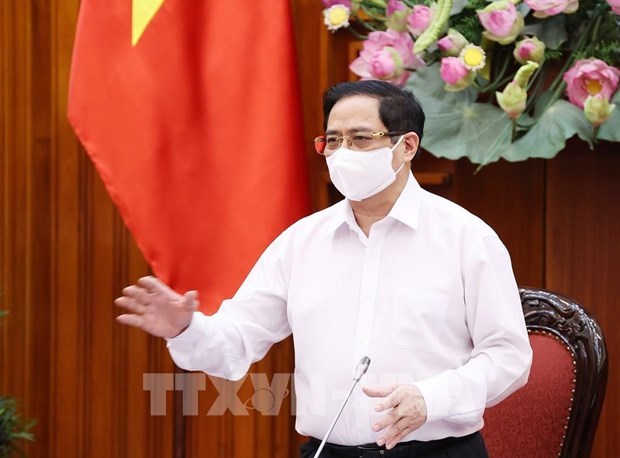 Prime Minister Pham Minh Chinh addresses the meeting on May 17
Reporting the Ministry of Health (MoH)'s plan to buy the Pfizer COVID-19 vaccine, Minister Nguyen Thanh Long said Pfizer did not agree to negotiate the price or contract conditions, and the Vietnamese side must reply to the company on May 18 at the latest.
PM Chinh said procuring COVID-19 vaccines is necessary and urgent as stated by the Politburo and the Party Central Committee's Secretariat in Official Dispatch No. 50-CV/TW, dated February 19, and the Government in Resolution No. 21/NQ-CP, issued on February 26.
In the spirit of "combating the pandemic is like combating the enemy" and facing the global shortage of COVID-19 vaccines, he requested the MoH and other ministries and sectors to uphold their sense of responsibility to carry out measures to obtain vaccines as soon as possible.
As this is an emergency situation, the vaccine procurement must be handled in line with legal regulations on special and urgent circumstances and conducted immediately, the Government leader added.
As of 6am on May 18, Vietnam had recorded 4,378 cases of COVID-19, with 2,668 recoveries and 37 deaths. They include 2,909 domestically-transmitted infections and 1,469 imported ones. As many as 1,339 new local infections were detected since the latest outbreak hit the country on April 27./.
PM urges swift, drastic approach to driving back COVID-19
Prime Minister Pham Minh Chinh has urged the entire political system and people to take a more swift and drastic approach to driving back COVID-19 pandemic because it could spread anytime if guard is let down.
During a meeting in Hanoi on May 17 between permanent Government members and ministries and agencies, PM Chinh admitted that during this outbreak, new variants are spreading more quickly in cities and provinces, especially in industrial parks, putting pressure on the country ahead of the upcoming elections of deputies to the 15th National Assembly and People's Councils for the 2021-2026 tenure.
He attributed that to limited management of immigrants, especially illegal entries, while several agencies and localities fail to stay vigilant and lack experience in coping with the disease.
However, he affirmed that authorities from the central to local levels have taken synchronous, drastic and timely actions to fight the pandemic. Commendation and disciplinary actions in the work were carried out promptly.
The pandemic is now under control nationwide without any new cluster with unclear origin, he said.
He highlighted the dual goal of promoting socio-economic development and effectively fighting the pandemic. As preparations for the upcoming elections are in the right place and on schedule, taking care of people's health is a foremost task, he added.
To meet such target, he asked agencies and sectors to adapt with the new situation in the spirit of "fighting the pandemic is like fighting the enemy", learn from experience from the previous three outbreaks, and continue following the 5K message as recommended by the Health Ministry.
Ministries, agencies and localities were required to pool resources to step up COVID-19 testing, carry out "vaccine strategy", use modern technology as instructed by the Ministry of Information and Communications to fight the pandemic, and prepare medical supplies and financial resources for the effort, contributing to protecting public health and national interests.
They were assigned to devise scenarios for any case, raise public awareness of the anti-pandemic work, and spread effective models in the regard.
The Government leader also directed agencies and localities to flexibly apply the State regulations considering their real situation, stay calm and not let guard down.
Participants at the event looked at mechanisms, policies and the efficiency of measures to fight the pandemic, reviewed the compliance with directions by the Secretariat, State President, Government, Prime Minister, the National Steering Committee for COVID-19 Prevention and Control, and the Health Ministry, as well as the involvement of ministries and agencies in the fight.
Health Minister Nguyen Thanh Long said as of 12pm on May 17, Vietnam recorded 4,242 infection cases, including 1,018 new ones from April 27, and 37 deaths./.
Leaders pay tribute to President Ho Chi Minh on birth anniversary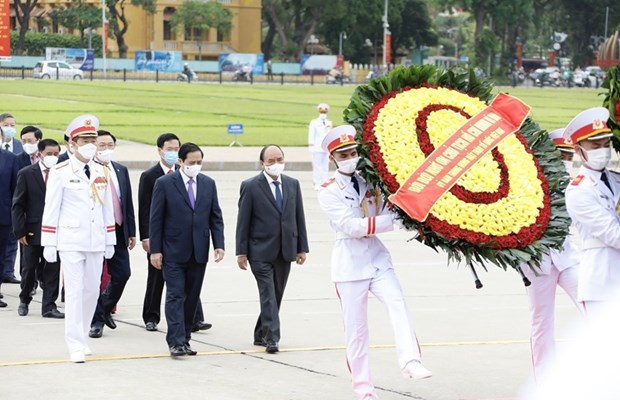 Top leaders pay tribute to late President Ho Chi Minh at his Mausoleum in Hanoi
A delegation of the Party Central Committee, State President, National Assembly (NA), Government and Vietnam Fatherland Front (VFF) Central Committee on May 18 paid tribute to late President Ho Chi Minh at his Mausoleum on the occasion of his 131st birth anniversary (May 19).
The delegation includes State President Nguyen Xuan Phuc, Prime Minister Pham Minh Chinh, NA Chairman Vuong Dinh Hue, and President of the VFF Central Committee Do Van Chien, among others.
They expressed their profound gratitude towards the late leader who had devoted his whole life to the nation's revolutionary cause.
The delegation then laid a wreath in tribute to fallen combatants at Heroic Martyrs' Monument on Bac Son street.
Also on the day, delegations of the Central Military Commission and Ministry of National Defence; Central Public Security Commission and Ministry of Public Security; and the Party Committee, People's Council and People's Committee of Hanoi, also laid wreaths in tribute to President Ho Chi Minh at his Mausoleum and fallen soldiers at the Heroic Martyrs' Monument./.
More Covid-19 patients face worsening health in Vietnam
About 16 Covid-19 patients are in critical condition and two people need ECMO (extracorporeal membrane oxygenation) machine to breathe, the Vietnamese Ministry of Health announced on May 17.
At present, a total of 1,449 Covid-19 patients are being treated at 61 medical facilities nation-wide in Vietnam, the ministry said.
A 65-year-old patient from An Giang Province and a 54-year-old patient from Thai Binh Province are now in critical condition and need ECMO machines to breathe because they have several underlying illnesses. Meanwhile, 15 other patients need ventilators and four patients are in serious condition.
Among the patients is a 25-year-old doctor who works at Phuc Yen General Hospital in Vinh Phuc Province. He is related to the outbreak at Sunny Karaoke Bar in the province. The CT-Scan results showed that his right lung had collapsed and only 10-20% of the lung is continuing to function.
The 65-year-old patient is being treated at HCM City Hospital for Tropical Diseases while other patients are being treated at the National Hospital for Tropical Diseases.
Bac Ninh Provincial General Hospital is treating 46 Covid-19 patients in which 23 cases need to use ventilators and two cases are in severe conditions.
A total of 289 patients are being treated at 10 medical facilities in Bac Ninh Province. Ga Binh Field Hospital has 71 patients and Thuan Thanh Medical Station has 62 patients.
As of Monday noon, Vietnam has recorded a total of 4,242 Covid-19 cases.
National futsal team ready for play-off round ahead of FIFA Futsal World Cup
The Vietnamese national futsal team touched down in the United Arab Emirates (UAE) on May 16 ahead of their crucial play-off match to qualify for the 2021 FIFA Futsal World Cup.
After all of the results came back negative for the virus, the team went to their accommodation before participating in their first training session led by head coach Pham Minh Giang at a nearby sports hall.
Moving forward, Vietnam are due to take on Iraq in a friendly game on May 17 in the UAE as part of the team's preparations for the play-off round in order to qualify for the 2021 FIFA Futsal World Cup.
The national team will then face Lebanon on May 23 and May 25 in a two-legged tie played in the UAE.
The UAE are hosting the play-off round which will see the participation of Thailand, Iraq, Lebanon, and Vietnam. The two best teams from this round will subsequently qualify for the 2021 FIFA Futsal World Cup finals which will be held between September 12 and October 3 in Lithuania.
Five years previously the national futsal team defeated Japan in the quarter-final round of the Asian Football Confederation (AFC) Futsal Championship, subsequently progressing to the FIFA Futsal World Cup for the first time ever.
At the 2016 version of the global competition, Vietnam were led by head coach Bruno Formoso and recorded a historical triumph over Guatemala, thereby making it through to the quarter-final round for the first time in the country's history.
Vietnam registers 181 local transmissions, 51 patients in critical condition
The nation has recorded a total of 181 new community cases of the novel coronavirus (COVID-19), with the majority made up of F1 contacts in quarantine facilities who had previously met confirmed COVID-19 patients, according to the Ministry of Health (MoH) on May 17.
Among the latest cases of local transmission recorded on May 17 afternoon in seven provinces, 61 were reported in Bac Giang , Bac Ninh (38), Da Nang (7), Hanoi (5), Phu Tho (2), Hung Yen (2), and Vinh Phuc (1).
In addition, Khanh Hoa province also confirmed one imported case from Japan the same day.
The latest cases therefore raise the national tally to 4,359. A total of 1,320 cases have been recorded since the fourth COVID-19 wave hit the country on April 27.
The MoH's Medical Examination Administration reported that among the active patients currently receiving treatment, as many as 100 have since tested negative for COVID-19 at least once, with many recording several negative tests.
Among the total figure, 2,668 patients have since been declared to be clear of the virus, while the fatality count relating to COVID-19 now stands at 37.
Meanwhile, the Central Hospital for Tropical Diseases in Hanoi said that, as of 7:00 a.m. on May 17, the hospital is treating 344 COVID-19 patients. This includes 52 critically-ill patients, with the majority relying on mechanical ventilation, one requiring EXMO (Extracorporeal membrane oxygenation), and four others suffering continuous hemodialysis.
Furthermore, the remaining patients had temporary stable clinical and para-clinical indexes and are continuing to receive treatment.
Health Minister: Fresh COVID-19 wave may last longer in Vietnam
Minister of Health Nguyen Thanh Long has warned the latest wave of the COVID-19 pandemic is likely to last longer, on a large scale, and the mutated virus is more transmissible.
Bac Giang has become the epicenter of the latest wave of the COVID-19 pandemic, recording more than 400 cases, or one third of the country's tally following the resurgence of the virus in late April.
Daily caseload broke the record, with most of the cases diagnosed at Hosiden Vietnam Co. Ltd., an electronic parts supplier, at Quang Chau industrial park.
The situation has been basically brought under control in Bac Giang, said Minister Long, adding new cases have all been detected in quarantine or lockdown areas.
However, he speculated that the latest COVID-19 wave may last longer and evolves in a complicated manner due to the emergence and rapid transmissibility of mutated virus.
Results of genome sequences by Vietnamese scientists show both variants B.1.1.7 originating from the United Kingdom and B.1.617.2 from India have been found in several Vietnamese localities during the latest outbreaks.
According to the minister, localities must strengthen inspection to ensure COVID-19 prevention and control measures are fully implemented at production lines, and those that fail to meet the requirements are forced to temporarily halt production.
He recalled the Prime Minister's recent conclusions that social distancing is only implemented in localities where the situation becomes serious and that widespread social distancing will exert an enormous impact on production and people's life.
Amid public concerns about the impact the new COVID-19 wave may have on the upcoming general election on May 23, the minister also said the MoH has sent detailed instructions to localities to ensure maximum safety for the election.
Vietnamese voters will go to the polls on May 23 to elect a new National Assembly and grassroots-level People's Councils for the 2021-2026 tenure.
Vietnam has recorded more than 1,400 COVId-19 cases in 27 cities and provinces across the country since the virus recurred less than three weeks ago.
Trade union supports pandemic-hit workers
The Vietnam General Confederation of Labour (VGCL) will splash out more than 2.5 billion VND (108,500 USD) to support workers affected by the COVID-19 pandemic, heard an online meeting between the VGCL and its provincial trade unions on May 17.
Of the amount, over 1.5 billion VND will be set aside to present gifts, each worth 1 million VND to workers with difficulties due to the ongoing pandemic. Meanwhile, 1 billion VND will be used to support medical workers of ten hospitals, which have been under quarantine.
VGCL President Nguyen Dinh Khang called on trade unions at all levels to stay vigilant, join hands with employers to carry out COVID-19 prevention measures at production and business facilities, as well as keep a close watch on the situation of trade union members.
Khang said the trade unions should give timely support to labourers who have suffered challenges because of the outbreak, while enhancing communication work to raise public awareness of the pandemic's developments, and the necessity to strictly follow the Ministry of Health's 5K message.
He added that the VGCL also assisted the trade union members who were infected with COVID-19 with 3 million each, as well as COVID-19 treatment hospitals and quarantine sites, each with 50 million VND.
Vietnam was hit by the fourth COVID-19 wave three weeks ago, and infections have been spread to 28 cities and provinces nationwide./.
Additional 19 COVID-19 infections logged on early May 18 morning
Vietnam documented 19 COVID-19 cases in the past 12 hours as of 6:00 am on May 18, all of which were recorded in quarantine sites, according to the Ministry of Health.
Of the total cases, Hanoi recorded 13, Ha Nam three, Dien Bien two, and Son La one.
The country has logged 2,909 domestically-transmitted infections, and 1,469 imported cases so far. As many as 1,339 new cases were detected since the latest outbreak hit the nation on April 27.
A total of 108,288 people who came in close contact with COVID-19 patients or arrived from pandemic-hit areas are being quarantined nationwide, including 1,611 at hospitals, 31,708 at other quarantine sites, and 74,969 at home or accommodations.
Among the COVID-19 patients, 46 have tested negative for the SARS-CoV-2 virus once, 26 twice, and 28 thrice.
The country has seen 2,668 recoveries, and 37 deaths.
Director of the ministry's Department of Medical Examination and Treatment Luong Ngoc Khue asked leading hospitals in terms of intensive care such as Bach Mai Hospital, National Hospital for Tropical Diseases and Cho Ray Hospital to improve lower-level facilities' capacity in resuscitation and intensive care.
Among more than 1,400 COVID-19 patients in over 60 medical stations, 71.6 percent showed no symptoms of COVID-19. There are 49 patients in serious conditions.
Since the pandemic has become more complicated, people should strictly follow the Ministry of Health's 5K message: khau trang (facemask), khu khuan (disinfection), khoang cach (distance), khong tu tap (no gathering), and khai bao y te (health declaration)./.
COVID-19: Hanoi capital dominates caseload on May 18 morning
The Ministry of Health (MoH) confirmed an additional 19 coronavirus cases in four localities, including 13 cases in Hanoi capital alone.
They tested positive for the SARS-CoV-2 virus during their stay in quarantine areas, thus posing no risk to the community, said the MoH.
Hanoi has so far recorded 239 locally transmitted cases, mostly closely tied to the ongoing COVID-19 outbreaks at the National Hospital for Tropical Diseases No.2 and the K Cancer Hospital No.2.
Elsewhere, three more new cases were recorded in Ha Nam, two in Dien Bien and one in Son La. Their test results were all confirmed in quarantine or lockdown areas.
Notably, the Son La case works for Hosiden Vietnam Co. Ltd. in Bac Giang, the epicenter of the fresh wave of the COVID-19 pandemic.
Vietnam has recorded more than 1,300 cases in 27 cities and provinces across the country since the virus recurred in late April, with one third reported in Bac Giang province alone.
The MoH and localities have provided additional assistance for Bac Giang to contain the outbreaks at Hosiden Vietnam and other plants at the province's Quang Chau industrial park.
Over 900 million SMSs sent to raise public awareness of elections
Telecom providers in Vietnam have sent over 900 million SMSs to mobile phone subscribers nationwide to call on citizens to wisely select deputies to the 15th National Assembly and People's Councils at all levels for the 2021-2026 tenure in the elections on May 23.
Viettel announced that it sent 480 million SMSs while Vinaphone conveyed 232 million and MobiFone nearly 210 million on May 14 and May 16.
The activity is in compliance with directions by National Assembly Chairman and Chairman of the National Election Council Vuong Dinh Hue under Dispatch No.858/VPQH-TT dated May 5, 2021 and the Ministry of Information and Communications (MIC)' Plan No.4711/KH-BTTTT dated November 26,2020.
Earlier, the MIC's Department of Telecom sent a dispatch to seven telecom providers, including VNPT, Viettel, Vietnamobile, Gtel Mobile, Itelecom and Mobicast requesting them to join hands in raising public awareness of the elections.
The first SMS delivery stage will take place on May 14, 16,18, and 20 while the second stage on May 21, 22, and 23./.
Online photo contest launched for Miss Eco Vietnam 2021
The organising board of the Miss Eco Vietnam 2021 pageant has launched an online photo contest with the aim of discovering local beauties who can help spread a positive message of environmental protection for the wider community.
Entrants must be Vietnamese girls aged between 18 and 26 who are above 1.65 metres tall. All hopeful candidates must send their profiles to the organizers at [email protected] before July 31, the Voice of Vietnam (VOV) reported.
Since the online photo contest was launched on the page https://www.facebook.com/hoahaumoitruong.vn/, the organizers of the competition have since received hundreds of entries from across the country.
The grand final of Miss Eco Vietnam 2021 is scheduled to get underway on October 20 in Ho Chi Minh City.
The winners will then take part in various environmental protection activities hosted by the Ministry of Natural Resources and Environment during the duration of the year and into 2022.
The beauty contest is organised on a national scale with the primary aim of responding to an initiative put forward by the Prime Minister to plant one billion trees between 2021 and 2025./.
Exhibition highlighting Vietnamese ceramic arts to be held in mid-October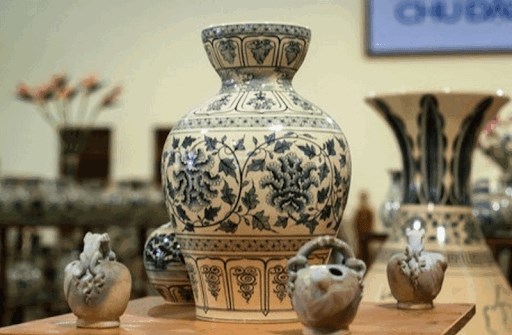 Illustrative image (Photo: nhandan.org.vn)
Hosted by the Department of Fine Arts, Photography and Exhibition under the Ministry of Culture, Sports and Tourism, the event is expected to provide an opportunity to review the achievements and difficulties in the operation of traditional pottery villages, thus helping design proper policies to support the development of the villages in the context of international integration, the Nhan dan newspaper reported.
The exhibition is open to Vietnamese citizens whose artworks must have been produced over the past five years and own the rights to the work. Each entrant is eligible to submit no more than five artworks in one of two categories including artistic ceramics and applicable ceramics.
Photos of the artworks should be sent to the Department of Fine Arts, Photography and Exhibition, 38 Cao Ba Quat street, Ba Dinh district from August 2 to 8. The jury will review the photos of the artworks before judging them.
Six prizes will be presented to the best entries across the two categories, each worth 20 million VND (nearly 870 USD)./.
Official: Vietnam attaches importance to youth development
Permanent member of the National Assembly's Committee for External Relations Dinh Cong Sy, who is also Vice Chairman of the NA's Young Parliamentarians Group, has said Vietnam attaches importance to promoting youth development.
Speaking at the virtual Forum of Young Parliamentarians, as part of the 142nd Inter-Parliamentary Union (IPU) Assembly, on May 17, Sy said last year, the Vietnamese NA adopted the revised Youth Law stipulating rights and interests of young people, State policies and management in the field.
Vietnam always encourages young deputies to join the NA's activities, he said.
Notably in 2015, the NA Standing Committee issued a Resolution on the establishment of Young Parliamentarians' Group, which now comprises 131 young lawmakers aged below 45, accounting for 26 percent of the total 14th NA deputies.
Young Vietnamese lawmakers engaged in discussions in analysing policy impacts on youths, joined the NA's delegations overseeing the implementation of policies affecting youths. Their feedback was also absorbed into the State laws and policies.
They also actively joined external activities at international and regional young parliamentarians' organisations. Last year, the Vietnamese NA initiated holding the ASEAN Inter-Parliamentary Assembly (AIPA)'s first meeting of young parliamentarians, which was seen as an important milestone in the AIPA's development.
Sy said Vietnam is moving closer to the elections of deputies to the 15th NA and People's Councils at all levels for the 2021-2025 tenure scheduled for May 23.
In accordance with the 2013 Constitution and relevant laws such as the 2015 Law on Election of Deputies to the NA and People's Councils, citizens aged 18 and above have the right to vote and those aged 21 have the right to seek seats at the legislature and People's Councils.
Among 867 candidates for 15th NA, 224 age below 40, or 25.81 percent, Sy said./.
Da Nang boosts production of clean vegetables based on high tech
Science and technology have been applied through various programmes over recent years to produce clean vegetables in the central city of Da Nang. Many agro cooperatives in Hoa Vang and Cam Le districts are now able to produce clean vegetables that meet VietGap standards, which has helped boost farmer incomes and satisfied local demand for fresh greens.
A hydroponic system producing organic vegetables was introduced at the Tuy Loan clean vegetable cooperative in 2019, with an area of 2,000 sq m. This not only enhances commercial and economic efficiency but also helps eliminate the difficulties posed by traditional planting methods.
Beside the hydroponic system, Tuy Loan cooperative has also used framed nets over some planting areas, funded by the city. Forty members of Tuy Loan cooperative can therefore take the initiative in production plans and have better control over product quality.
Almost all products from La Huong vegetable cooperative used to be sold at traditional markets. But since it began production under VietGap standards, around 20 percent of its vegetables are purchased by green shops and the figure is rising.
The application of science and technology in vegetable production is a priority within Da Nang's policy on building new rural areas. It is also aimed at providing a stable source of safe greens for the local market while ensuring farmer incomes./.
Senior-high school entrance exam in HCMC to have content adjustment
In the academic year of 2020-2021, there are 99,569 students graduated from their junior-high school. 83,324 of them register for the senior-high school entrance exam, including 75,854 examinees into regular classes, 6,485 into classes for the gifted, and 985 into integrated classes.
Since the numbers of registrants into integrated classes for the academic year of 2021-2022 in the four senior-high schools of Vo Thi Sau, Tran Hung Dao, Thu Duc, and Nguyen Huu Cau do not match the quantity requirement set by the HCMC Education and Training Department, those classes will be canceled.
Deputy Director of the HCMC Department of Education and Training Nguyen Van Hieu shared that the content of this year's exam will follow the same format, but the number of questions to categorize contestants will reduce. Instead, the quantity of questions for practical matters will increase.
This department has already issued an instructional document to its divisions in 21 districts and Thu Duc City regarding teaching and learning activities of Grade 9 and 12. Accordingly, students of these grades can come back to school for revision lessons as long as the corresponding schools are able to carry out disease prevention methods.
Besides observing the 5K rule, those schools must maintain a 2-meter distance between two students in the same room. The playground must be carefully use in schedule to avoid being over-crowded in break times.
In case the quantity of Grade 9 or 12 students is more than the regulated one, those schools must use both online and offline learning methods and let students take turn to come to school.
However, since learners of grade 6, 7, 8, 10, 11 follow the online learning mode, the schools are quite spacious for students of grade 9 and 12 to use.
Moc Chau aims to be recognised as national tourism site by 2025
The Moc Chau tourism complex spans 206,000 hectares in Moc Chau and Van Ho district in Son La province. Featuring wonderful natural landscapes and the diverse culture of local ethnic minority groups, the site is considered as an engine of tourism growth in Vietnam's northern mountain region.
Thanks to unique topographic and geologic conditions, Moc Chau has a rich ecosystem with cool steppe climate, ideal for resort tourism. Dai Yem waterfall, the pine forests of Ang village, the five underground caves in On village, the Xuan Nha national nature reserve, and Pha Luong peak are some of the top scenic spots in Moc Chau.
According to decisions issued by the Prime Minister in 2014 and 2019, the core of the Moc Chau national tourism site will encompass a resort, an eco-tourism area, and an amusement park. To gain greater recognition by 2025, the tourism site managers are stepping up promotion activities domestically and internationally.
The Moc Chau national tourism site welcomed 1.2 million tourists in 2019, one year ahead of schedule. In 2020, despite a lull in tourism as a result of the COVID-19 pandemic, 850,000 tourists visited Moc Chau./.
Vietnam attends IPU's virtual meeting on peace, security issues
Vietnam lauds efforts of the international community, including the Inter-Parliamentary Union (IPU), in raising awareness and actions of parliaments, governments and people about peace and security issues caused by climate change, said permanent member of the Vietnamese National Assembly (NA)'s Committee for External Relations Le Thu Ha.
She was speaking at a meeting of the IPU's Standing Committee on Peace and Security held virtually in Geneva on May 17, with representatives from 35 countries taking part.
In order to improve the efficiency of multilateral cooperation, especially increasing the role of parliaments and the IPU in face of threats and conflicts related to climate change, the Vietnamese side suggested parliaments continue maintaining strong political commitments and specific actions in the spirit of respecting international law, thus making practical contributions to global agendas on climate change prevention for the world peace and security.
Vietnam also highlighted the urgent need to provide support to developing countries to access financial resources, improve response capacity, develop new technologies and green energy, build effective and quality infrastructure in combination with generating jobs in adaptation with climate change.
She said Vietnam believes that responding to climate change needs to be suitable to conditions of each country, and be integrated into national development strategies and plans on the basis of inclusive development and equality, placing the people at the center, and further supporting the poor, disadvantaged people, women, and children. It is also necessary to have a national mechanism for monitoring and evaluating the implementation results and the improvement of climate change response capacity.
Parliaments of member countries need to make more efforts to establish specific, synchronous and substantive policies and laws for their national and global climate change issues. At the same time, Vietnam suggested the IPU set up global initiatives and programmes on developing a low-emission economy to create a foundation for policy dialogue, experience sharing and capacity building for countries, as well as the conditions to encourage private investment in sectors with low greenhouse gas emissions.
The Vietnamese NA call for participating parliaments to urge their governments to fulfil their post-2020 responsibility in reducing greenhouse gas emissions and making financial contributions, if they have yet to complete the mission; and to conduct post-2020 obligations.
The NA also recommended the parliaments actively restore economic development and relief activities to help those severely affected by climate change, ensuring that no one is left behind. Also the needed is the transformation of development models towards low carbon emissions to ensure sustainable recovery and create new jobs for workers via the promotion of digital transformation, renewable energy, smart agriculture, smart transportation and the establishment of a circular economy.
Participants at the event also adopted a resolution on parliamentary policy to improve peace and security against threats and conflicts caused by climate change and natural disasters./.
National water resource security scheme discussed
The Ministry of Natural Resources and Environment's Water Resource Management Department convened an online meeting with relevant units in Hanoi on May 17 to discuss building a scheme to ensure national water resource security.
Speaking at the event, deputy head of the department Nguyen Minh Khuyen said Vietnam has about 830-840 billion cu.m of water. However, about 60 percent are flowing from external sources. Meanwhile, water flow distribution is uneven, mostly in the Mekong Delta with around 57 percent, the Red River – Thai Binh nearly 16 percent and the remaining from other basins.
Underground water reaches about 63 billion cu.m while water for socio-economic development nears 84 billion cu.m each year. Domestic water demand is expected to rise by about 32 percent by 2030, leading to higher risk of losing water security.
In a 2019 report, the World Bank pointed out water-related threats on the gross domestic product unless timely measures are proposed.
The National Assembly's Committee on Science, Technology and Environment also made clear several challenges affecting water security in Vietnam such as the lack of water volume and quality, safety of water reservoirs, reliance on water from external sources and saltwater intrusion.
Concluding the event, Deputy Minister of Natural Resources and Environment Le Cong Thanh asked the department to collect public feedback on the draft scheme, saying that it must outline a landscape of water resources in the country along with tasks and measures to deal with basic issues./.
EVN donates 1.5 billion VND for localities to fight COVID-19
The Vietnam Electricity (EVN) has decided to donate 1.5 billion VND (64,944 USD) in support of COVID-19 prevention and control in Bac Ninh, Bac Giang and Da Nang, which have borne the brunt of the latest wave of the pandemic since late April.
The northern provinces of Bac Ninh and Bac Giang and the central city of Da Nang have so far witnessed an increasing number of new domestic infections.
So far, Vietnam has seen 2,890 domestic infections and 1,469 imported cases, according to the Health Ministry. The number of COVID-19 cases since April 27, when the new outbreak began, now stands at 1,320.
Among patients still under treatment, 46 have tested negative for the coronavirus SARS-CoV-2 once, 26 others twice, and 28 thrice. Up to 2,668 patients have recovered while 37 others have succumbed to the disease.
There are 108,288 people having close contact with confirmed cases or coming from foreign pandemic-hit regions under quarantine at present./.
COVID-19: Laos sets up colour-coded zones, Cambodia posts high recoveries
The authorities in Laos' Vientiane have divided the capital into colour-coded zones to limit future lockdowns to affected areas only, while neighbouring Cambodia has recorded 886 recoveries in a day.
Accordingly, certain villages in Vientiane have been designated dark red, red, and yellow zones in accordance with the number of their confirmed COVID-19 cases.
Dark red and red zones will be under lockdown for 14 days, with the residents prohibited from leaving their homes for work and markets and factories closed.
The new measures are aimed at preventing the spread of COVID-19 in residential areas without having to close the entire city. Under the rules, outdoor activities such as exercising will be banned.
The Lao Ministry of Health confirmed 47 new COVID-19 cases on May 17, bringing the national tally to 1,638, with 582 recoveries and two deaths.
Also on May 17, the Cambodian Ministry of Health said the nation logged 360 more COVID-19 infections, including 356 domestic ones. The number of recoveries on the day was 886, following the figure of 1,380 posted a day earlier.
Four deaths were also added to the total of 154 to date.
There were 22,544 infections confirmed in the country so far with 13,006 recoveries.
Meanwhile, on the same day, the Philippine Department of Health (DOH) reported 5,979 new COVID-19 cases and 72 related deaths, bringing the nation's total numbers of confirmed cases and deaths to 1,149,925 and 19,262.
The Philippines placed Metro Manila and its four adjacent provinces under strict lockdown on March 29 after the COVID-19 cases soared. The government eased the restrictions over the weekend./.
Vietnam's influence in ASEAN meetings in 2021: The Times of India
Vietnam, which held the chair of ASEAN in 2020, had set the agenda for future chairpersons of ASEAN, not only for 2021 but also for the next several years, said an assessment recently published by The Times of India, an Indian-based Indian English-language daily newspaper and digital news media.
The assessment, titled "Vietnam's influence in ASEAN meetings 2021", mentioned Vietnam's 'Cohesiveness and Responsive' theme for 2020. It said the theme highlights ASEAN's unity and solidarity in the face of increasing challenges. Brunei as Chair of ASEAN this year is continuing with the policies laid down by Vietnam by selecting the theme of "We care, We prepare, We prosper."
The article said Vietnam had stressed a need for leveraging the fourth industrial revolution, focusing on the requirements of not only capital but also raw materials. Hence in February 2021, the bloc discussed a plan to exploit mineral resources and developing the ASEAN Mineral Cooperation Action Plan in a time-bound manner. Vietnam's emphasis on economic development was further taken up by the chair in the ASEAN Leaders Meeting in April 2021. Brunei stressed the timely realisation of Priority Economic Deliverables (PEDs) under the ASEAN Economic Community Pillar.
Taking forward Vietnam's priorities for community development and unity were taken up in ASEAN meetings this year. In a March meeting, plans for ASEAN Community development in 2025 and ASEAN after 2025 were proposed. Brunei emphasised better care, effective preparations, and prosperity. The ASEAN chair also underscored the need to maintain the unity, centrality, and relevance of ASEAN in the region and to collectively address common challenges.
According to the assessment, COVID-19 health-related issues were in the focus of Vietnam last year. At the ASEAN level, under Vietnam's chairmanship, all channels of communications among member states were activated to share their problems and take appropriate actions. In April this year, Brunei convened the ASEAN Leaders Meeting to advance the bloc's community building, fasten post-pandemic recovery, strengthen ASEAN's external relations, and address pressing issues of common interest. Brunei stressed the commitment for the implementation of the Plan of the ASEAN Comprehensive Recovery Framework in a timely manner.
The article said Vietnam, last year, paid great attention to the policy moves on the Indo-Pacific and stressed the ASEAN Outlook for Indo-Pacific (AOIP), while engaging with other nations. This year, Brunei has highlighted the need for engaging ASEAN external partners through ASEAN-led mechanisms in order to build mutual trust and confidence as well as to reinforce an open, transparent, inclusive, and rules-based regional architecture with ASEAN at the centre./.
NA Chairman orders intensification of ombudsman work
National Assembly Chairman Vuong Dinh Hue on May 17 ordered the stepping up of ombudsman work, saying that the NA Standing Committee's Ombudsman Board should improve the quality of its supervision and consultation efforts.
During a working session with the Ombudsman Board in Hanoi, the top legislator asked it to focus on implementing the supervision programme in 2021 and to propose supervision activities for 2022 and the tenure as a whole regarding the settlement of complaints and denunciations.
He suggested the board coordinate with media agencies to provide information on the legislature's ombudsman work in an accurate and timely manner, and to issue special publications on the matter, especially policy dialogue.
Through supervising the settlement of complaints and denunciations from voters, the board will propose amendments to policies and laws, Hue continued.
Ombudsman work has helped promote accountability among State agencies, especially leaders of agencies, in handling complaints, denunciations, and petitions from voters, thus contributing to consolidating the public's trust in the NA, the Party, and the State.
It is a joint task of the legislature, he said, urging the NA Standing Committee, NA agencies, and delegations of NA deputies to coordinate with other agencies in the political system in performing the task./.
Personnel sub-committee of National Election Council meets
The personnel sub-committee of the National Election Council (NEC) held a plenary session in Hanoi on May 17 under the chair of Permanent Vice Chairman of the National Assembly (NA) Tran Thanh Man.
Man, who is also a Politburo member, Permanent Vice Chairman of the NEC, and head of the personnel sub-committee, said preparations for the elections of deputies to the 15th NA and all-level People's Councils, slated for May 23, have been made as planned.
The session aimed to finalise the matters to be reported to the NEC, which will organise a national teleconference on May 18, he noted.
Participants discussed a draft report on the sub-committee's performance since its inception and gave opinions on focal issues for the time to come.
Man spoke highly of the sense of responsibility among the sub-committee's members and the effective coordination between the NEC Office and specialised agencies of the NA Office.
While there are only six days left before the election day, there remain many important tasks to be completed, he stressed, and asking the personnel sub-committee to continue assigning members to stand ready to deal with any possible cases of disease outbreaks, natural disasters, security matters, or unavoidable circumstances.
The sub-committee must ensure that election results are collected in a timely and precise manner and publish the results as scheduled by the NEC, the Vice Chairman said.
He also told the sub-committee's members to coordinate closely in handling personnel issues and with other sub-committees to proactively share information to perform joint tasks, thus guaranteeing the success of the elections./.
HCM City's ethnic minorities looking forward to big national festival
The election of deputies to the 15th National Assembly and People's Councils at all levels for the 2021-2026 tenure is fast approaching. As part of preparations, local authorities in Ho Chi Minh City have been busy raising awareness among ethnic minority groups living in the city to ensure they exercise their right to vote.
The city's Hoa community numbers around 500,000, primarily in Districts 5, 6, 8, 10, and 11. As election day draws closer, diverse means of promotion have been strengthened to help local people, especially ethnic minorities, understand the importance of the election and of voting.
In order to promote citizen's right to vote, various means of promotion have been introduced. Promoting the role of influential people is one of many effective measures.
Election day is drawing near. Together with Kinh people, Hoa and Khmer voters and other ethnic minority groups living and working in Ho Chi Minh City are looking forward to the big festival. Voters are ready to participate in the election and select candidates who will represent the will and aspirations of the people./.
Source: VNA/VNS/VOV/VIR/SGT/Nhan Dan/Hanoitimes
VIETNAM NEWS HEADLINES MAY 18 have 8850 words, post on vietnamnet.vn at May 18, 2021. This is cached page on Talk Vietnam. If you want remove this page, please contact us.