S&P Global Ratings raises Vietnam's outlook to 'positive'
The S&P Global Ratings announced on May 21 that it has retained Vietnam's sovereign credit rating, improving its economic outlook to 'positive' from 'stable'.
The Finance Ministry said Vietnam is the only country in the world to have its outlook improved by Moody's, S&P and Fitch.
The S&P made the decision on the back of Vietnam's impressive economic achievements and continuous reform in policymaking amid COVID-19 pandemic.
It said after recording one of the highest growths worldwide, Vietnam will continue with solid recovery in the next 1-2 year thanks to the Government's effective measures against the pandemic, foreign investment attractiveness, stable export, strong domestic demand and solid external position.
This year and in subsequent years, the Vietnamese Government will continue pursuing the goal of consolidating macro-economic foundation, maintaining stable growth in production and trade, improving internal capacity of the economy, boosting institutional reform in combination with fighting the pandemic, contributing to realising the country's mid- and long-term goals and improving national stature.
In the near future, the Finance Ministry and the Government bodies will continue enhancing collaboration and information sharing with credit rating and international organisations to fuel socio-economic development and improve Vietnam's creditworthiness./.
Vietnam explodes in solar energy: BNN Bloomberg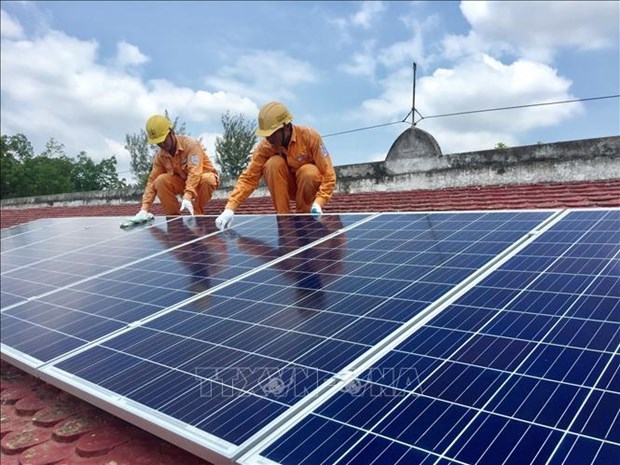 Vietnam now ranks seventh in the world in terms of capacity, according to clean energy research group BloombergNEF.
The Southeast Asian nation now ranks seventh in the world in terms of capacity, according to clean energy research group BloombergNEF, and in 2020 the only countries that installed more solar panels were the US and China, the article said.
"I have never seen a country explode like this in solar," Logan Knox, Chief Executive of Vietnam operations of UPC Renewables, which builds and operates wind and solar farms across Asia, was cited by BNN Bloomberg. "It's almost unbelievable."
Vietnam is an encouraging sign that global efforts to discourage the use of fossil fuels and boost the accessibility of clean alternatives are bearing fruit, the article said.
The government turned to the solar industry a few years ago as a growing number of power shortages threatened to sap its economic momentum. Years of rapid growth meant surging electricity demand from factories built by multinational giants including Samsung Electronics Co. and suppliers for Apple Inc.
A plan to meet that with an ambitious fleet of coal power plants has fallen behind schedule, due in large part to push-back from local leaders concerned about air quality and financing difficulties as global banks stopped lending for the dirtiest energy source.
That same shift to clean energy needs to happen in more developing countries if emissions worldwide are to be zeroed out by mid-century—a timeline needed to avoid catastrophic global warming, the article noted./
Central Retail invests $35 million in commercial centre in Binh Duong
Central Retail Vietnam, a member of the Thai-based conglomerate Central Group, will invest 35 million USD in a shopping mall in the southern province of Binh Duong.
The group and Becamex IDC Corp signed a cooperative agreement regarding the project in Binh Duong on May 20.
Covering 3ha in Ben Cat town, Binh Duong province, the GO! shopping mall is set to meet the demand of more than 300,000 residents and workers in local industrial parks.
According to the provincial People's Committee, despite COVID-19, foreign investors have still pumped capital into the locality, with the total funding exceeding 1.25 billion USD as of May 15, up 59 percent year-on-year.
Langlet Olivier Bernard, General Director of Central Retail Vietnam, said the project is expected to give a facelift to the province's commercial sector, and contribute to socio-economic development of Ben Cat and Binh Duong as well.
Binh Duong is one of the dynamic Vietnamese localities and takes lead in administrative reform, he said, adding that local agencies and leaders have adopted open policies to lure investments. /.
Vietnam leads CLMV countries in economic recovery: Maybank Kim Eng
Vietnam appears to be leading the economic recovery among four emerging economies in ASEAN known collectively as CLMV (Cambodia, Laos, Myanmar and Vietnam), with exports and manufacturing already "far above" pre-pandemic levels, according to Maybank Kim Eng.
In its recent report, the bank described recovery in the region as sluggish and uneven, noting that Vietnam now leads the region, Business Times of Singapore reported.
Vietnam had successfully averted a recession last year, with its export turnover expanding by 7 percent, it said.
In the first four months of 2021, the country's export turnover rose by 28.3 percent year-on-year, with strong gains in machinery, computer and electronic items. Maybank maintained its forecast of 2021 full-year GDP growth at 6.5 percent for Vietnam.
However, it is slashing its outlook for Cambodia to 4.2 percent from 5.9 percent. Meanwhile, Laos is expected to grow 4.8 percent instead of 6 percent, and Myanmar could contract 8 percent instead of a growth rate of 3 percent.
According to the bank, the pace of economic recovery in all the four countries hinges largely on vaccine rollout, but vaccine procurement has been a challenge./.
German media laud Vietnam's pandemic efforts and stock market potential
German financial newspaper Finanznachrichten ran an article on May 19 covering the upcoming election of deputies to the 15th National Assembly and People's Councils at all levels for the 2021-2026 tenure as well as the COVID-19 situation in Vietnam, expressing a belief that the country is controlling its latest outbreak.
The article quoted Director of the Germany Trade and Invest Office in Hanoi Frauke Schmitz-Bauerdick as saying that observers believe Vietnam is doing a good job in curbing the new outbreak and can continue with its economic strategies.
Despite COVID-19, she said, Vietnam was one of only a few nations to post growth last year, of 2.9 percent. The Asian Development Bank has forecast that growth may reach 6.7 percent this year and 7 percent next year.
Public investment, especially in infrastructure, as well as personal consumption by the country's growing middle-class and strong exports will propel growth this year.
As of late April, she added, newly-registered investment capital stood at 8.5 billion USD, up 24.7 percent year-on-year.
Meanwhile, the Handelsblatt newspaper spoke highly of the potential of Vietnam's stock market due to the high earnings on offer, especially in stocks and bonds.
It named several funds possessing a high ratio of Vietnamese bonds, such as Magna New Frontiers, MSCI Frontier Markets, the Xtrackers S&P Select Frontier Swap ETF, Global Investment Funds – Frontier Markets, and Frontier Markets Funds./.
Response scenarios required for increasing meat demand
As meat and poultry prices are fluctuating unpredictably, the national target of keeping inflation at below 4 per cent this year may not be so easy to reach.
The re-herding plan of the livestock industry has been hampered by expensive input materials and animal feed, while the price of some pig breeds is currently six times higher than before African swine fever (ASF) hit, rising from VND700,000 ($30) per pig to close to VND4 million ($173).
The latest data from the Ministry of Agriculture and Rural Development (MARD) showed that unpredictable developments in meat and poultry prices could impact the inflation-curbing target of less than 4 per cent set by the National Assembly for 2021.
Limited supply and strong demand are the reasons why chicken prices have also risen across the country in recent months. Particularly in April, the price of chicken increased from VND3,000 (13 US cents) to VND37,000 ($1.60) per kg, depending on the type.
Meanwhile, pork, which accounts for 70 per cent of the meat basket in Vietnam, is on a downward trend, despite a sharp drop in supply as many households were not able to re-flock their herds.
Last April, in the north, the price of live pigs decreased by VND1,000-2,000 (4-8 US cents) per kg compared to the previous month, while in the south and central Vietnam, the price also decreased by VND2,000 per kg.
Agricultural producers are being affected two-fold by global food prices rising for the 10th consecutive month. Ha Thu Hien, an analyst at VNDIRECT, commented that companies producing milk, feed, cooking oil, and meat may be negatively affected, as most firms in Vietnam have to import powdered milk, grain, and oil for production.
"These manufacturers may face challenges of higher raw material costs," Hien said. Rising feed prices harm meat production while live hog prices are forecast to decline 19 per cent on-year in 2021, compared with highs during the ASF epidemic.
Other analysts warned that the meat price instability in Vietnam will not end anytime soon. Global market researcher Ipsos estimates that the country may have a shortage of 500,000 tonnes of pork, equivalent to 20 per cent of the total market's demand as large-scale consumption has increased again.
"When the meat market falls into a price crisis, the biggest responsibility belongs to the MARD," said Hoang Trong Thuy, an agricultural expert.
Thuy remembered that in April 2017, when the supply exceeded the demand, the pig price dropped to a record low of only VND20,000-22,000 (87-95 US cents) per kg, the leaders of the agricultural sector were troubled to direct purification of roughly 50 per cent of the sows, down to the current two million heads.
"Importing live pigs from Thailand for slaughter could be convenient if they are transported by road but prices would still not be competitive," Thuy said. According to him, the current price of industrial live pigs from Thailand is about VND60,000 ($2.60) per kg, plus the cost of quarantine, transportation, slaughter, and other related costs, which can all rise to up to VND90,000 ($3.90) per kg.
"The MARD made false forecasts, miscalculations, and gave incorrect advice to the government, leading to the current meat price crisis," Thuy said.
The market is witnessing a structural change in the livestock industry, with a growth rate of 6 per cent since 2018 and an average production of five million tonnes of meat, reaching 60kg of meat per capita and an export turnover of about $41 billion per year.
However, MARD Minister Nguyen Xuan Cuong saw the "imbalance caused by the fact that raising pigs accounts for 70 per cent of the entire industry – outweighing the other stages of the livestock industry, processing and consumption."
In the strategy for the development of the livestock industry for 2020-2030, the MARD considers the change in people's needs as per capita income increased $3,000 per person and year. The Vietnamese economy is forecasted to recover and develop strongly, with production already showing signs of a strong recovery since the fourth quarter of last year.
The Asian Development Bank (ADB) on April 28 forecast that Vietnam's economic growth will be 6.7 per cent this year, higher than the National Assembly and government targets, and also higher than the 6.3-per-cent forecast made by the bank at the beginning of the year.
The average consumer price index (CPI) in the first four months of 2021 increased by 0.89 per cent on-year, the lowest four-month increase since 2016.
Andrew Jeffries, ADB country director for Vietnam, said that the nation's inflation is likely to rise to 3.8 per cent in 2021 and 4 per cent in 2022 due to increased domestic consumption and an upward trend in oil prices amid the global recovery.
Assoc. Prof. Dr. Dinh Trong Thinh, an economic expert from the Academy of Finance, said that controlling the inflation below the mark of 4 per cent in 2021 may not so be easy because, in the second quarter, consumer demand will likely continue to rise and be a factor driving inflation to an increased level. "The instability of meat products, as well as price increases in most other products, are putting more pressure on the CPI," Thinh told VIR.
He also noted, "price management and administration should be carried out openly and transparently, especially for stable items that are on the lists of goods priced by the state."
Many other analysts also recommend that Vietnam's government should have a response scenario with suitable solutions for each commodity group, especially when the domestic economy fully recovers.
Labour export businesses struggle amid latest COVID-19 resurgence
As there has not been much time to recover from losses caused by the pandemic last year, Vietnamese labour export enterprises and workers wishing to go abroad continue to worry over the situation.
Two months before the latest wave of COVID-19 broke out in Vietnam, 30-year-old Son from the northern province of Vinh Phuc borrowed more than VND100 million ($4,300) from relatives and friends for a brokerage to prepare the documents for his employment in Europe.
However, according to Son, many European countries did not accept foreign workers, and the broker closed its business and fled with money. Troubles mounted when Son had no job and could not repay his debts. When his wife was about to give birth, Son had no choice but to leave his hometown for Hanoi to find a job.
Two weeks afterwards with no success and little money, and nowhere else to stay the night, he had to sleep at a bus stop while constantly receiving calls and messages from people who wanted to collect debts.
Fortunately, a few days later, Son met a construction worker. The man promised to help and later accepted him as a worker at a facility he managed.
Son said that his wife had just given birth a few days ago, but he did not dare to return to his hometown. "I cried when I saw her face on the phone. Many people told me that I should arrange to visit my wife and daughter, but the debts are still there, and I can't return if I don't pay the debts," Son said.
Others like Son who dream of going abroad to improve their lives have also been driven into a difficult situation. For more than a year now, many labour export enterprises are also in a similar situation to Son's brokerage, struggling to send people abroad.
Before the pandemic, International Manpower Supply and Trade JSC (SONA) sent about 500 Vietnamese workers each year to Japan, South Korea, Romania, Poland, other European countries, and the Middle East. In 2020, the company sent only 195 people abroad. Currently, there are more than 20 people who have already received the vocational training necessary for their work abroad but still have to return to their hometown and wait as the company's partners temporarily stopped accepting foreign workers.
Nguyen Duc Nam, general director of SONA, said that to hold out and overcome the unprecedented difficult period, the company must reorient its business strategy, focusing on training and labour lease within the country.
Nam assessed that the situation will be prevalent until the end of 2021 or the beginning of 2022. Even when countries open to welcome foreign workers again, the recruitment demand may be lower and competition fiercer. Therefore, the company determines that it will have to balance the labour export with the new orientation.
Facing the concerns of many businesses and workers, the Department of Overseas Labour said that the demand for recruiting foreign workers in some markets has not decreased but increased in recent times.
Taiwan is a typical market recruiting many unskilled workers in fields related to agriculture, mechanics, and child and elderly care. Since Taiwan has controlled the pandemic, the number of Vietnamese workers going there to work has been at the forefront of labour export markets and is expected to increase soon.
For some other markets such as Japan and South Korea, recruitment is still carried out online and contracted workers will be able to work abroad as soon as possible, though the number of entry permissions is rather limited.
Fields and professions of recruitment in Japan are very diverse and include areas such as construction, nursing, agriculture, processing, electronics, and car maintenance.
In South Korea, workers are mainly employed for manufacturing, agriculture, construction, and fishing jobs. Particularly in the fisheries sector, South Korea is still accepting workers as sailors because this job does not require entry to the mainland, but workers will move by sea to the ships to work as soon as they are recruited.
Nguyen Thanh Nhat, director of GETRACO Co., Ltd.'s Branch in Ho Chi Minh City, said that although the pandemic affects many industries in Japan, in general the demand for recruiting Vietnamese workers has not changed much compared to before COVID-19 emerged.Specifically, the Japanese Technical Intern Training Program every month needs to recruit 30 labourers.
"Although it is currently difficult to leave the country, we are still regularly recruiting interns for various industries, getting ready so that as soon as the flight routes are reopened, people can go abroad immediately," Nhat said.
Director of Esuhai Co., Ltd. Le Long Son added that of the company's 2,200 current interns, up to half of them have been offered labour contracts to work in Japan and are waiting to leave the country.
Some businesses also said that their biggest worry right now is the workers' unwillingness to go abroad.
"Many workers have found other jobs to maintain their lives, so when the routes reopen, we will certainly not be able to call enough of these people back to work. Another group of workers includes those who waited too long and changed their minds. Last year, nearly 100 people paid a deposit then asked to withdraw, making it very difficult for the company," said Bui Hai Tan, general director of Viet Tri Company.
Meanwhile, many workers reported losing money to intermediaries but could still not work abroad, a representative of the Department of Overseas Labour said, adding that most foreign partners finance the cost of vocational training, so employees only must pay for their living expenses during their studies and expenses related to exit procedures if they are recruited.
However, Vietnamese labour export companies often require labourers to deposit a sum of money in advance for fear that they will give up partway. If they fully complete the training courses and are recruited, the labourers will be reimbursed for training costs. Labourers are also supported in the vocational training if the host country stops recruiting.
To avoid an unfortunate situation like Son's story, the Department of Overseas Labour recommends that employees carefully research information about both recruitment companies in Vietnam as well as their partners before making a deposit.
Warehouse demand swelling investment
Local and foreign investors are gearing up their efforts to develop warehouses amid demand surges.
Denmark's Maersk has strengthened its contract logistics and distribution capabilities in Vietnam with three new facilities coming into operation in the southern province of Binh Duong and the northern province of Bac Ninh. These warehouses, together with 11 other self-managed facilities in the country, will enhance Maersk's logistics capacity for future growth in Vietnam. The two facilities in Binh Duong cover around 10,000 square metres each. At around 18,000sq.m, the new facility in Bac Ninh is situated next to another Maersk distribution centre, scaling up the area here to a combined 29,000sq.m.
Marco Civardi, managing director of Maersk in Vietnam, Cambodia, and Myanmar, told VIR that the demand for warehousing in Vietnam has increased for both import and export cargo. Container shortages and vessel omissions due to the pandemic crisis has created a strong impact on international freight, therefore generating increase in the warehouse storage demand.
"We have also noticed strong growth in digital products and e-commerce/last-mile delivery. While landlords are trying to maximize yields by shifting away from dry-lease to self-operated models, substantial investments in industrial and logistics land are ongoing," Civardi said.
"Warehouse supply from new property developers was over 25 per cent in the north of Vietnam and over 28 per cent in the south last year compared to the same period of the previous year."
He stated that the ramping up of warehouse development is partly occurring in support of organic sourcing increases of Vietnamese-made goods, and also accelerating due to relocation of manufacturing activities from China to Vietnam where foreign direct investment in manufacturing needs more supportive logistics infrastructure.
Eager to tap into the market growth, Hong Kong-listed warehouse giant ESR Cayman Ltd. also announced a partnership with BW Industrial Development JSC to develop My Phuoc 4 Industrial Park in Binh Duong.
ESR's foray to Vietnam follows the moves of its two key competitors in the region. Accordingly, Australian warehouse specialist Logos Property established LOGOS Vietnam Logistics Venture in Vietnam last year. Just two months after launch, the venture made its first acquisition in Vietnam – a 13-hectare development site located in Bac Ninh's Vietnam-Singapore Industrial Park.
Also last October, Asia's largest warehouse builder GLP announced a joint venture to invest in and develop modern logistics real estate in Vietnam. The company quickly acquired two sites in the north and in the south with plans to develop 210,000sq.m of logistics facilities along with its local affiliate SEA Logistic Partners.
In addition to foreign players, local companies are also ramping up development in the field. Nhat Tin Logistics has developed 100,000sq.m of warehouse space across the country, including Van Giang warehouse in the northern province of Hung Yen and Song Than warehouse in the southern province of Binh Duong.
Nguyen Van Tu, general director of Nhat Tin Logistics, said that more logistics developers are increasingly investing in warehouses for various reasons including optimising operations to improve goods flow as well as providing high-speed delivery to consumers. In particular, there is a growing demand for third-party logistics fulfilment services including warehouse management/leasing and order fulfilment so logistics service providers are building large-scale warehouses to cater to the demand.
The Vietnam Logistics Market 2020 report by the Ministry of Industry and Trade revealed that Vietnam is home to 30,000 logistics service providers, of which warehousing and transportation companies accounts for 33.26 per cent. Warehousing services is one of the key segments for Vietnamese logistics companies.
According to real estate group Jones Lang LaSalle, the outlook of Vietnam's logistics industry is bright, drawing the interest of investors even in the midst of the pandemic. During the past year, nearly $3 billion was pumped into the warehouse system and modern logistics centres in the country.
Le Duy Hiep, chairman of the Vietnam Logistics Business Association, said that previously businesses developed small warehouses to serve their own purposes, but more recently they have developed more large-scale warehouses with multiple functions to form logistics centres.
The general director of Nhat Tin Logistics added that today, warehouse systems are built on larger space and higher space to optimise operations. Many logistics companies also install racking systems to increase storage space and capacity while reducing expenses for merchants. In particular, merchants in retail and electronic goods have a higher demand for warehousing and storage, which opens up opportunities for logistics services providers to invest in more modern facilities to accommodate this demand.
Another reason for warehouse expansion is Vietnam's low operating costs. A global report by Savills pointed out that the boom in e-commerce, especially amid the pandemic, is boosting warehouse demand in a majority of markets and, among them, Vietnam has the lowest warehouse operating costs. In Hanoi, costs can be as little as around $5 per square foot, and in Ho Chi Minh City under $10.
Tax filing extension a modicum of relief
While welcoming the government's new supporting policy, foreign-invested enterprises in Vietnam are seeking more assistance to survive the COVID-19 storm and spur recovery.
The government's issuance of Decree No.52/2021/ND-CP extending time limits for payment of VAT, corporate income tax (CIT), personal income tax, and land rental in 2021 was highly welcomed by international businesses, saying that the new policy comes at a right time to offer support.
Nakajima Takeo, director of the Hanoi Office of the Japan External Trade Organization (JETRO), told VIR, "The Japanese business community welcomed the initiatives by the Vietnamese government. Extended timelines for VAT and corporate tax payment will be helpful for the firms."
Similarly, Hong Sun, vice chairman of the Korea Chamber of Business in Vietnam (KorCham), added Decree 52 is still fairly new to South Korean businesses, but they are expecting much from it. "Vietnam's supporting policies are not as high as those in the United States, the United Kingdom, Japan, and South Korea where the governments give direct support for small firms. Vietnam, instead, offers an extension of time limits for tax payment so that businesses can be alive, stand firm and recover, and then they can make tax payments."
Not only Japanese and South Korean investors, other foreign-invested enterprises (FIEs) are waiting to benefit from the new supporting package which costs an estimated VND115 trillion ($5 billion). For Singaporean businesses which rank first among Vietnam's foreign investors in the first four months of 2021, making up 39.6 per cent of the country's total, it is seen as a good signal.
Jeffrey Wandly, vice president of the Singapore Business Association Vietnam said, "We support the Vietnamese government in their broad-based approach to supporting businesses during this difficult time, especially since Decree 52 covers foreign businesses across many sectors."
The new decree has wide coverage, including small- and micro-sized enterprises, easing their concerns over personal income tax and land rental. The extension is about 3-6 months depending on kinds of tax. Decree beneficiaries shall be applicable to enterprises operating in agro-forestry-fishery, food processing, manufacturing, textiles, crude oil and natural gas exploitation, water supply and treatment, and logistics among others.
However, FIEs are expecting some others to survive challenging times. Last year, a JETRO survey revealed that 20 per cent of Japanese investors wanted financial support from the Vietnamese government. Also, more companies wanted a "business as usual" policy if possible. Some 90 per cent of respondents hoped for the early lifting of the international flight and immigration restrictions.
Takeo fron JETRO admitted that recently, companies complained that visa and work permits are more difficult to obtain. "To promote foreign investment and grow the Vietnamese economy, the legitimate operation of allowing businesspeople to enter the country is indispensable," he insisted.
Sun of KorCham added that South Korean businesses have benefited from the Vietnamese government's supporting policies issued in the past. "However, a lot of small and medium-sized ones still find it difficult to enjoy the support."
He elaborated that since April, entrance into Vietnam has been more strictly controlled, and the extension of quarantine time also causes difficulties for South Koreans. Moreover, South Korean businesses in Vietnam who work in exports are facing a challenge due to a shortfall of empty containers. "We are expecting the government and the Ministry of Transport to have a solution to this so as to facilitate export activities."
Vietnam is an appealing destination for foreign investors, proved by strong business confidence among Europeans, South Koreans, Japanese, and others. According to JETRO, it receives hundreds of inquiries from Japanese businesses each year. In 2020, about two-thirds of contacts were from investors located in Vietnam, and the rest from Japan. In 2019, before the pandemic, two-thirds were from Japan.
"Although lower, we still keep receiving many questions from Japan about how to start a new business in Vietnam as Japanese investors maintain a strong interest in doing business here," Takeo said. "The purposes of Japanese investment are to set up a manufacturing base to export products to the global markets and to explore the growing Vietnamese market."
Regarding possible impacts of the pandemic on inflows of Japanese business and investment activities in Vietnam, Takeo said that international trade statistics show no apparent negative impact from the pandemic. Over the year, imports grew 27 per cent and exports 24 per cent.
Decree 52 is the third time the Vietnamese government has extended tax and land rent payment deadlines since the first COVID-19 cases were reported in Vietnam in January 2020. The government promulgated a decree in April 2020 to extend deadlines for tax and land rent fee payments, and a second decree after that on providing extension of time limits for excise tax payments for domestically-manufactured or assembled cars.
Time limit extension for tax and land rental payments
under Decree 52
A 5-month extension will be given to VAT of the assessment periods of March-June and the first/second quarter of this year. This means payment of VAT for the March assessment period shall be extended to September.
The timeframe for payment of VAT for July and August shall be extended by four and three months, respectively.
Payment of corporate income tax in the first and second quarters shall be extended by three months, while a six-month extension will be given to payment of land rent fees, starting from May 31, 2021.
Shrimp exports to Australia on the rise
The Vietnam Association of Seafood Exporters and Producers (VASEP) stated that shrimp exports in the first quarter exhibited impressive growth in some markets, one of which was Australia.
According to VASEP, by the first half of April 2021, the total value of shrimp exports to the Australian market reached US$47.4 million, 60% higher than the same quarter last year.
As a potential shrimp export market in the Comprehensive and Progressive Agreement for Trans-Pacific Partnership market, the export value of shrimp (especially whiteleg shrimp) in the past two years in Australia has been positive.
During the first quarter, there were over 20 businesses exporting shrimp to Australia. Shrimp products exported to Australia in the first quarter of this year were quite diverse, mainly consisting of frozen whiteleg and black tiger shrimp, fresh whiteleg shrimp, peeled and deveined; dried shrimp products have also recently been exported to Australia.
Vietnam, Thailand, China, Malaysia and Brunei are the top five shrimp suppliers to the Australian market, of which Vietnam is the largest, accounting for 65% of the total value of shrimp imports.
Last year, due to the impact of Covid-19, imports in Australia struggled as nationwide shrimp consumption plummeted as a result of social distancing.
However, as of the end of 2020 and the beginning of this year, many importers, suppliers and retail distribution channels have adapted to the pandemic and started doing business again.
Many sales methods switched to door-to-door delivery with priority for card payments as well as pre-ordering wholesale products purchased from a system of stores, restaurant chains and local seafood suppliers.
This led to a high growth rate from seafood consumption during the first few months of 2021, placing Australia fifth among the single markets importing Vietnamese seafood products in the first two months of this year.
Australia is currently only behind the United States, Japan, China and Korea in the top 10 markets for Vietnamese seafood. In particular, shrimp accounts for 66% of the total seafood export turnover to this market.
Owner of fuel firm in Dong Nai detained in major substandard-fuel ring bust
The police in Dong Nai Province this morning, May 19, arrested Bui Ngoc Toan, owner of Phuc Dai An Transport-Trading Company located in the province's Trang Bom District, to probe into his alleged smuggling activities.
The police also raided his house in the district. In the morning, another task force of the provincial Police Department cordoned off Petrol Station No.233, owned by Phuc Dai An Company, on the National Highway 1A section running through the district. The petrol station was suspended to serve the police raid.
After around three hours of raids, the police seized many boxes containing documents at the two locations.
According to a representative investigator, Toan was arrested for his alleged involvement in a massive substandard fuel ring co-led by Phan Thanh Huu and Nguyen Huu Tu, both aged 64.
The provincial police yesterday also detained Nguyen Thi Nhu My, aged 53, director of Viet Khanh Anh Company, for the same alleged violation.
The police raid followed the expansion of an investigation by the Dong Nai police into the 2.7-million-liter substandard fuel ring busted on February 6.
Up to now, the investigators have pressed charges against and detained 60 suspects involved in the massive fake fuel ring.
Proposal to remove airfare caps sparks controversy
The Civil Aviation Authority of Vietnam's (CAAV) proposal to remove the caps on airfares for routes with three or more airlines operating has sparked controversy.
At present, airfare caps are VND1.6 million per ticket for routes under 500 kilometers and VND3.75 million for routes of 1,280 kilometers or above.
CAAV said the airfare caps limit airlines from improving flight service quality, affecting their competency, an important factor in sustainable development.
According to Dang Anh Tuan, marketing director of national flag carrier Vietnam Airlines, besides Indonesia and Thailand, Vietnam is among a few countries that have set domestic airfare caps. The current airfare caps have been in force since 2006.
"For any types of service, ceiling prices are unnecessary if there is more than one service provider. Vietnam currently has six airlines, so airfare caps are unessential and unsuitable," he said.
Vu Duc Bien, general director of Vietravel Airlines, suggested CAAV work closely with the Ministry of Transport on the proposal to remove airfare caps. Recommendations from airlines, consumers and managing authorities must be carefully taken into consideration to ensure all parties benefit.
Dr. Dinh The Hien said aviation is a conditional industry. Therefore, airfare caps are essential for the Government to regulate airfares and ensure benefits for consumers.
Assoc. Prof., Dr. Ngo Tri Long, former chairman of the Market Price Research Institute under the Ministry of Finance, said Vietnam has six local airlines, but Vietnam Airlines, Vietjet Air and Bamboo Airways account for 80-90% of the market. For the Hanoi-HCMC route, which is the country's busiest air route, Vietnam Airlines and Vietjet account for more than half of the market. Therefore, CAAV's proposal to remove the caps on airfares for routes with three or more airlines operating is unsuitable under the current situation.
"I think CAAV's proposal violates the Price Management Law and Competition Law. Airfare caps will not prevent airlines from upgrading their services. For an industry that is dominated by a few enterprises such as aviation, the Government's most effective management method is the price management tool, alongside accounting and auditing tools," Long said.
Many customers worry that airfares could become costly during peak travel seasons such as the summer and holidays if airfare caps are lifted. They were also concerned about collusion among airlines to raise airfares.
Vietnam Airlines earlier proposed abolishing the caps on airfares for domestic flights in late 2019. However, the proposal was rejected by CAAV at that time.
Regarding the decision of Vietnam Airlines, Pacific Airlines, Vasco and Bamboo Airways to increase their management fees by up to VND100,000 per passenger, some air ticket agents said the increase is not suitable under the current situation. In the context of the Covid-19 pandemic, the increase will affect air travel demand and customers may turn to cheaper means of transport.
Fourth Covid-19 wave washes away hopes of domestic travel rebound in Vietnam
The local tourism industry was looking forward to the approaching summer season and the accompanying demand for travel from domestic tourists but the fourth Covid-19 wave has washed away their hopes, according to Savills Hotels APAC.
This year, the tourism industry was optimistic of hitting its target of 80 million domestic tourist arrivals, nearly the same as in 2019, before the pandemic. Compared with data from 2020, this translates to a year-on-year growth of over 42%.
The Reunification Day and International Labor Day holidays traditionally mark the start of the peak season in Vietnam. This year was no exception.
Since mid-April, hotels and resorts in Danang, Phu Quoc, Phan Thiet and Ho Tram were seeing a rush in long-weekend holiday bookings. Hotel occupancy of over 75% was expected, with some resorts anticipating an average occupancy of 80% and others, 100%.
The Civil Aviation Authority of Vietnam reported a surge in demand for the four-day holiday of almost 1.5 million bookings. Demand was up by 30% compared to the 2019 level.
On April 29, 2021, the Tan Son Nhat International Airport in HCMC set a record for the holiday weekend by processing over 108,000 passengers, a record made even more significant as borders remained closed, proving the growing demand for domestic travel in Vietnam.
However, the fourth wave of Covid-19 that started from late April immediately affected the hospitality industry, with any destinations requiring air travel, such as Danang and Nha Trang, being the most affected.
The Tourism Authority of Danang recorded 74,000 visitors during the national holidays, down 42% against pre-holiday bookings.
However, drive-by destinations such as Ho Tram, Vung Tau, and Dalat, perceived safer as they require private transportation, saw a rush of last-minute bookings.
"After a few months of demand steadily increasing for accommodation and conferences, the latest outbreak has hit the hospitality industry hard. Some projects have been forced into partial shutdown. City hotels and beach resorts have endured yet another wave of last-minute cancellations," said Mauro Gasparotti, director of Savills Hotels APAC.
Hotels in HCMC and Hanoi have seen several MICE (meetings, incentives, conferences and exhibitions) postponements or cancellations, under social distancing concerns and Covid-19 guidelines of avoiding crowded places. The emerging situation has cut off what would have been very welcome additional MICE income to compensate for the shortage in room revenues.
Resorts have also been hit hard with some properties seeing cancellations of 50% and others even as high as 80%, mainly from groups and corporate clientele.
"To limit the risk of contact, some resorts have decided to temporarily close down until the situation stabilizes. Amid all this uncertainty, several hotels announced that they would only accept guests who possess a negative Covid-19 test result, to avoid lockdowns or quarantining of staff," Gasparotti said.
The impact of surging community transmissions on tourism activities varies from location to location. Though the most affected destinations are those where outbreaks first started, the impact has been felt everywhere due to people postponing unnecessary travel, seeking to avoid airports and facing other health concerns.
Drive-by destinations such as Ho Tram or Dalat have also been impacted, but to a lesser extent.
"The long holiday was a fantastic example of how the market was recovering; most resorts were fully booked, with many commanding higher prices than during the same period in 2019. The latest outbreak is really a deeply unwelcome scenario for the industry, especially so close to the approaching summer season," Gasparotti added.
VND30 trillion proposed for elevated road project in HCMC
The HCMC Infrastructure Investment JSC (CII) has proposed developing an elevated road stretching from an intersection of Cong Hoa and Truong Chinh streets in Tan Binh District to Nguyen Van Linh Street in District 7, which requires an estimated investment of VND30 trillion.
The elevated road project is not included in the city's plan to develop five elevated roads, the local media reported.
The HCMC Department of Transport has sent the proposal to the municipal government, stating that it is in line with the city's approved plan to develop its traffic infrastructure.
The road will connect parts of the elevated road Nos. 1, 2 and 3 to the Ring Road No. 2, or the north of the city, the Tan Son Nhat International Airport area, the downtown area and the Saigon South Urban Area.
The 14.1-kilometer road was designed to run along the Cong Hoa and Bui Thi Xuan streets, Valley 656 of Cach Mang Thang Tam Street, Bac Hai, Ly Thai To and Nguyen Van Cu streets, the Ong Lon Canal and end at an intersection with Nguyen Van Linh Street. It will have four lanes and was proposed to be executed under the public-private-partnership (PPP) model with a build-operate-transfer (BOT) contract.
According to the HCMC Department of Transport, due to the tight city budget, the proposed investment model is appropriate, so it suggested two plans to develop the project.
Under the first plan, the Department of Transport will coordinate with the relevant agencies to prepare the prefeasibility and feasibility reports and hold a tender to choose the investors for the project.
As part of the second plan, the Department of Planning and Investment will instruct the investor to develop the project under the PPP format in line with the law.
Infrastructure Development Investment JSC has proposed using its capital to study the investment in the first phase of the elevated road No. 5 project under a BOT contract. The 21.5-kilometer road will have four lanes and start at an intersection with the Hanoi Highway in Thu Duc City and end at the An Suong Intersection in District 12.
The project, which requires an investment of over VND15.4 trillion, was planned to be executed in the 2021-2030 period.
According to the city's traffic development plan approved by the prime minister, HCMC must complete the development of the five elevated roads with a total length of 70.7 kilometers by 2020 at the latest. However, no projects have been executed since they were planned in 2005.
Taxman to propose raising income threshold subject to apartment tax
The General Department of Taxation will coordinate with other competent agencies to propose increasing apartment lessors' income level subject to value added tax (VAT) and personal income tax (PIT).
Ta Thi Phuong Lan, deputy head of the department's Tax Administration for Small and Medium Enterprises and Household Businesses, said the department would send the proposal to the Ministry of Finance so that the ministry can report it to the Government and the National Assembly, Tuoi Tre Online newspaper reported.
According to many experts, the taxable income threshold of VND100 million for apartment owners is low, while the VAT and PIT rate of 5% each is higher than that of many other services.
Dr Dinh Trong Thinh from the Academy of Finance suggested raising the threshold to VND120 million and halving the tax rates.
Lan said under the Laws on VAT and PIT, those with incomes of less than VND100 million per year are not subject to the taxes.
As for the proposal to deduct apartment lessors' costs before calculating their incomes, she said the proposal was unreasonable as lessors' long-term ownership of apartments and possible increase in prices of property products should be taken into account.
In reality, the leasing of real estate products has attracted many investors as they are assured of a stable money flow and the products are not devalued.
In addition, the tax rates for individuals are much lower than those for enterprises.
For example, individuals are subject to a PIT rate of 5%, while the corporate income tax rate is 10% for enterprises. The respective VAT rates for individuals and firms are 5% and 20%.
Electricity sector strives to reduce transmission losses to under 2.5 percent
With the one-step-ahead target to create motivation for the development of Thu Duc City, the electric power industry set a plan from now to 2025 striving to provide 6,000 kWh per person a year, an increase of 1.5 times compared with the current capacity.
Besides, the electricity sector strives to reduce electric power transmission and distribution (T&D) losses under 2.5 percent, average power outage for every customer under 0.3 times a year and the amount of loss time shall be under 30 minutes per year.
At the same time, electricity services will be continued to entirely enhance. From the third quarter of 2021, customers can easily monitor and keep track of the whole power usage process via the App of electric power industry customer services.
The electricity sector will continue to enhance the access-to-electricity index, contributing attracting more and more investments and ensuring 100 percent of investment projects through the 22kV medium voltage grid to supply electricity for customers within five days.
Thaco car maker acquires South Korean retail chain Emart
Emart expects the strategic alliance with Thaco will boost the growth and profitability of the South Korean retailer in Vietnam.
The Vietnamese car maker Thaco has reached a deal with South Korea's Emart to purchase 100% stake in its business in Vietnam and will operate it under franchise.
The deal will be completed this week, according to Thaco's representative.
Emart, owned by the South Korean retail giant Shinsegae, also disclosed the information in the Korea Times, citing the repeated obstacles to expanding its operations in Vietnam as the reason. As the deal takes effect, the South Korea's largest retailer will receive royalty payments from the Vietnamese buyer instead of directly operating the business.
The retail giant entered the Vietnamese market in December 2015 and opened its first discount store in Go Vap district, Ho Chi Minh City. It planned to open the second store in Hanoi but failed due to licensing issues.
The hypermarket chain also planned to open 50 stores in Vietnam by 2023.
Thaco, Vietnam's car assembler, is operating in the fields of automobiles, real estate, and agriculture, and owns a number of business sites and shopping malls.
Emart expects Thaco, which is engaged in the real estate business and runs several shopping malls, will open over 10 discount stores in its second major Asian market by 2025. Emart-branded products and a number of made-in-Korea items will be sold at the stores.
Vietnam's total retail sales are forecast to reach nearly $350 billion by 2025. It is believed to have the potential for domestic and foreign investors.
Container cargo growth in double digits this year
The total volume of goods passing through Vietnam's seaports reached nearly 296 million tonnes in the first five months of this year, up 5 percent year-on-year despite the serious impact of the COVID-19 pandemic.
The volume of container cargo going through seaports increased the most, rising 20 percent year-on-year to over 10 million TEUs. The volume of exported and imported container goods both posted double-digit growth of 12 percent and 25 percent, respectively.
According to the Vietnam Maritime Administration (VMA), seaports recording the highest throughput of goods in the first five months were Thai Binh (up 105 percent), Dong Thap (58 percent), and Kien Giang (40 percent), while those with the highest volume of container cargo included Quang Nam (up 106 percent) and My Tho (71 percent).
Head of the VMA Nguyen Xuan Sang said that during the pandemic, the administration has regularly issued documents urging its units and businesses at ports to strictly follow pandemic prevention and control measures.
The implementation of e-procedures has also been thoroughly applied to limit the risk of COVID-19 spreading via cargo loading and unloading.
For administrative procedures that have not been conducted online, the VMA has encouraged the submission of paperwork by post and enhanced the exchange of information relating to dossiers via email, Zalo, or Viber./.
Doosan Vina supplies 331 tonnes of steel structures to Japan
Doosan Heavy Industries Vietnam Company (Doosan Vina) on May 20 exported 331 tonnes of steel structures to IHI Transport Machinery in Fukushima prefecture in Japan.
The consignment was executed following a shipment of roughly 200 tonnes of Waste-to-Energy boiler equipment Doosan Vina delivered to Mitsubishi Heavy Industries Environmental & Chemical Engineering (MHIEC) in Kyoto city less than a week ago.
The latest shipment makes up part of the IUK Conveyor System project which was signed between Doosan Vina and IHI Transport Machinery in October of last year. This was done with the primary aim of supplying more than 3,000 tonnes of steel structures of coal handling conveyor systems for Onahama port, located in Fukushima prefecture.
The sixth shipment contained 331 tonnes of steel structures loaded on a ship at Dung Quat Port also marked the completion of the project undertaken over 15 months.
Japan represents a demanding market which has set stringent requirements in terms of product quality. Recent years has seen Doosan Vina's heavy industrial products made by Vietnamese engineers consistently penetrate the market.
Most notably, Doosan Vina has been implementing several projects for the Japanese market recently, including the Sodegaura Biomass Power project, the IUK Conveyor System project, and the Fushimi Kankyo Hozen project.
Since the start of the year Doosan Vina has successfully exported more than 260 shipments with a total weight of 13,000 tonnes to both the Thai and Japanese markets.
Investment in export EPZs, IZs in HCM City up nearly 23 percent
Export processing and industrial zones in HCM City have attracted 236.1 million USD in investment so far this year, including new and additional capital, an increase of 22.87 percent year-on-year.
Foreign direct investment (FDI) totalled over 125 million USD, double year-on-year, with three new projects and four adding capital, according to the HCM City Export Processing and Industrial Zones Authority (Hepza).
Of domestically-invested projects, 13 were new while six added capital.
For-lease warehouse construction attracted the most funding, accounting for 68.83 percent of the total, followed by pharmaceutical products, software, and food.
Hepza head Hua Quoc Hung said that as Vietnam and HCM City in particular have contained the COVID-19 pandemic, more domestic and foreign investment has come.
The municipal People's Committee and Hepza have adopted solutions to help investors overcome the difficulties caused by the pandemic and the impact of the global economic uncertainties, he added.
He also, however, pointed to challenges regarding the narrowing land fund, investment structure, environmental pollution, and technical and social infrastructure.
Given this, Hepza will step up solutions to increase the land fund and work to improve investment quality, focusing on sectors with high scientific-technological content and added value, particularly mechanics, he said./.
Source: VNA/VNS/VOV/VIR/SGT/Nhan Dan/Hanoitimes
VIETNAM BUSINESS NEWS MAY 22 have 8339 words, post on vietnamnet.vn at May 22, 2021. This is cached page on Talk Vietnam. If you want remove this page, please contact us.