Logistics enterprises grow strongly in Q1, boosted by FTAs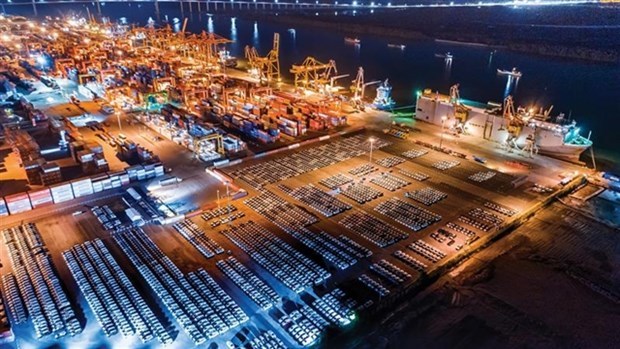 The Port of Hai Phong JSC recorded a growth of 41.7 percent in profit after tax in Q1. (Photo: haiphongport.com.vn)
In the quarterly financial report, Transimex Joint Stock Company (TMS) said that its net revenue jumped 104.9 percent year-on-year to nearly 1.1 trillion VND.
As cost of goods sold increased during the period, Transimex's gross profit rose 55 percent against same period last year to 112.56 billion VND. After diminishing expenses, its profit after tax reached 101.2 billion VND, up 75.7 percent.
Transimex is a logistics service provider with businesses in international freight forwarding, warehousing, domestic transportation and distribution.
TMS stock also witnessed impressive performance. On May 14, TMS shares, listed on the Ho Chi Minh Stock Exchange (HoSE), traded at 49,700 VND, up nearly 37.3 percent since the beginning of the year.
The leading enterprise in the seaport industry, Gemadept Corporation (GMD), also posted good results in the first quarter with net revenue of nearly 687.5 billion VND, up 14.4 percent over last year. Of which, port operation activities accounted for 85 percent of total revenue, with the rest from logistics and office leasing.
Higher revenue led to a strong rise of 40.2 percent in profit after tax to over 171.8 billion VND.
GMD shares, also listed on HoSE, finished May 14 at 36,400 VND per share, up nearly 10 percent compared to earlier this year.
In the first quarter, Dong Nai Port JSC (PDN) posted net profit of over 144 billion VND, up 48 percent year-on-year thanks to higher revenue from port operation activities as the COVID-19 pandemic has been contained. The Vietnamese economy is entering a state of operation under normal conditions. PDN shares, trading on HoSE, also increased slightly by 3.1 percent compared to the beginning of the year.
Meanwhile, Port of Hai Phong JSC (PHP) said that in the first quarter, the company's total cargo volume reached 7.126 million tonnes, exceeding 4 percent of its business plan. This led to an increase of 16.1 percent in revenue to 518.3 billion VND. The company's profit after tax also climbed 41.7 percent to 173.2 billion VND.
In March, the number of ships passing through Hai Phong Port reached 217, equaling 110.2 percent over the same period last year. As of March 31, the number reached 585 ships.
As the maritime channel in Hai Phong has its standard depth (-7.0m) published, shipping lines have increased the amount of goods imported and exported on each trip, especially for containers.
On the Hanoi Stock Exchange, PHP shares rose 6.8 percent from the beginning of 2021.
Another logistics company with good results in the first quarter was Petrovietnam Transportation Corporation (PVT).
During the period, the company recorded net revenue of over 1.7 trillion VND, with profit after tax of nearly 173.8 billion VND, up 8.8 percent and 94.6 percent, respectively. Its gross profit margin jumped from 14.3 percent to 15 percent.
On HoSE, PVT shares ended May 14 at 16,500 VND, a growth of 13.4 percent compared to the beginning of 2021.
Boosted by bright prospects of the industry, port stocks were also supported by bullish momentum.
According to SSI Securities Corporation (SSI), the port and logistics industry had very positive developments in 2020, with a growth of 42 percent.
This securities company assessed that the bullish sentiment in the port and logistics stocks was largely due to the expectation of Vietnam's trade growth, helped by the positive impact of signed free trade agreements, specifically, the European-Vietnam Free Trade Agreement (EVFTA) and the Regional Comprehensive Economic Partnership (RCEP).
Investors' expectations for growth in foreign direct investment (FDI) thanks to the wave of supply chain diversification and production is also supporting the industry./.
WB: Most of Vietnam's economic indicators in April good
The World Bank in Vietnam has recently announced its updated report on Vietnam Macro Monitoring in May 2021, which states that most of Vietnam's economic indicators in April were good.
However, it warns of several risks to the Vietnamese economy due to the most recent outbreak of the COVID-19 pandemic in late April.
According to the report, industrial production continued its strong growth momentum last month, increasing by 1.1 percent compared to March, 24.1 percent higher than the same period in 2020.
Revenue from retail sales in April also expanded by 2.3 percent month-on-month, after two consecutive months of decline. The consumer price index in April also recorded an increase of 0.5 percent compared to March, reflecting a recovery in household consumption.
In terms of exports, a double-digit growth rate was recorded in all major export items, with the fastest increase in the export revenue of machinery. This was attributed to the ongoing economic recovery in the US and China.
According to the WB, although foreign direct investment (FDI) decreased in April, reaching only 2.2 billion USD (53 percent lower than the previous month), it was generally stable.
The bank also valued the accelerated progress of vaccinations against COVID-19 in Vietnam with 506,000 doses administered in April compared with about 50,000 doses in late March.
However, it warned that Vietnam is experiencing its fourth COVID-19 outbreak from the end of April 2021, forcing the government to quickly respond by closing schools and applying new restrictive measures on travel. This will affect domestic economic activities, especially tourism, transportation and retail.
Therefore, the World Bank recommended that if it is necessary to maintain or tighten these new restrictive measures on health and travel, the Government of Vietnam should consider a new fiscal stimulus package, including a support package on a larger scale for people and businesses affected by the pandemic./.
Shares lose ground on heavyweights
Vietnamese shares dropped on Monday, weighed down by market heavyweights as profit-taking pressure increased significantly towards the closing minutes of trading.
The market benchmark VN-Index on the Ho Chi Minh Stock Exchange (HoSE) declined 0.60 per cent, or 7.66 points, to finish the trading day at 1,258.70 points.
The benchmark had increased 0.54 per cent last week.
The market breadth Monday was negative as 278 stocks declined while 141 rose and 41 ended flat.
The market's liquidity was high with over 758 million shares traded on the southern market, worth VND22.8 trillion (US$992 million).
The market witnessed strong volatility at the end of the trading session. A series of large stocks dropped sharply, extending the decrease of the VN-Index.
Masan Group (MSN), Vietjet (VJC) and Thanh Thanh Cong Bien Hoa JSC (SBT) were among the decliners, down more than 3 per cent each. Vinamilk (VNM), Phat Dat Real Estate (PDR), Bao Viet Holdings (BVH) and Khang Dien House (KDH) were among those that lost more than 2 per cent.
On the other side, Vinhomes (VHM) continued to lead this group with a gain of more than 3 per cent, Novaland (NVL) and Tien Phong Bank (TPB) advanced by more than 2 per cent.
At the end of the session, plastic-chemical production and food and beverage were the two sectors that dropped sharply, down over 2 per cent.
Agriculture-forestry-fishery, household appliance, insurance and many other industries decreased by more than 1 per cent. Seafood processing was one of the growing industries in the market with a growth rate of more than 1 per cent.
Many investors were confused as the VN-Index still had not shown any clear trend. The strong demand appearing whenever the market shook was a sign that investors are still confident in the stock market's uptrend, said news site cafef.vn.
However, the selling pressure was still quite strong. As the VN-Index was hovering at its historic peak, selling pressure is inevitable. Investors needed to observe and analyse whether the demand would be strong enough to create a new price level, it said.
The 30 biggest stocks tracker, VN30-Index, lost 0.63 per cent to finish Monday at 1,371.36 points.
Of the VN30 basket, eight stocks increased while 22 decreased.
Meanwhile, on the Ha Noi Stock Exchange (HNX), the HNX-Index rose 0.70 per cent to close Monday at 296.79 points.
The index posted a significant rise of 5.2 per cent last week.
During the session, nearly 196 million shares were traded on HNX, worth VND4.3 trillion.
MoU inked for enhanced capacity of support industry firms
Toyota Motor Vietnam Co., Ltd. and the Ministry of Industry and Trade's Industry Agency on May 17 signed a memorandum of understanding (MoU) on their cooperation project to improve the capacity of domestic enterprises operating in supporting industries and strengthen their linkages with automobile assemblers.
With its signing marking the second year the two signatories joining a collaboration to support Vietnamese firms, the project will be implemented in 2021 and 2022.
Per the project, the sides will work to find potential suppliers, connect with businesses operating in Vietnam, share experience in supplier development, build supply chains, and improve the capabilities of domestic suppliers.
President of Toyota Motor Vietnam Ueda Hiroyuki said via such activities as searching, evaluating, and selecting potential suppliers and helping them improve their capacity and competitiveness, Toyota Vietnam hopes to contribute to building a system of suppliers serving the development of Vietnam's auto supporting industry.
For Toyota Vietnam, the promotion of localisation is not only to increase the number of Vietnamese suppliers, but also, more importantly, to improve their capacity and quality, hence reducing production costs and raising competitiveness, he added.
Currently, the company has 46 suppliers, including six from Vietnam, with its total number of localised products exceeding 720./.
Despite CAAV rejection, Ha Giang determined to build airport
Although the proposal of Ha Giang and four other provinces to amend the national airport planning by 2030 has been refused, the province has not given up on its ambition of having its own airport.
After being rejected by the Civil Aviation Authority of Vietnam (CAAV), Ha Giang has submitted its airport proposal to the prime minister.
Accordingly, the province would like to add its own airport project to the master plan. The airport was proposed for dual use (military and civil), to be located in Tan Quang commune, Bac Quang district following level II military airport and level 4C civil airport standards.
The airport would span about 388 hectares of space, 70ha of which would be dedicated to military purposes.
In the document submitted to the government, the province affirms that once receiving the prime minister's approval, it would work on zoning, announce the planning, as well as management activities to prepare for the construction of the airport.
Ha Giang People's Committee made airport investment and development a major policy direction to create a breakthrough in local socioeconomic development.
Previously in early May, the Civil Aviation Authority of Vietnam (CAAV) requiring the MoT to reject proposals to build airports from series of provinces namely Ha Giang, Bac Giang, Ninh Binh, Ha Tinh and Binh Phuoc.
In its evaluation of the master plan to expand the airport network by 2030 with a vision to 2050, the CAAV proposed prioritising investment in building and upgrading major international airports in the next 10 years, as well as adding one more airport at Cao Bang by 2025.
According to Nguyen Anh Dung, deputy director of the Department of Planning and Investment under the MoT, there are six main criteria and 22 sub-criteria to add an airport project to the national development plan. The national development plan was built based on international experience, the natural condition, and the country's socio-economic situation.
"Currently, non-hub airports, which are serving less than two million passengers per year are making losses. It is not financially efficient to build airports if the distance between them is less than 100km," he said.
Thus, people in Ha Tinh can go to Vinh (Nghe An) and Dong Hoi (Quang Binh) airports, and people in Ninh Binh can go to other airports, either Cat Bi (Haiphong) or Tho Xuan (Thanh Hoa) within a distance of about 100km.
In addition, most domestic airports currently have not exploited the maximum designed capacity, some airports are often empty in the early stages such as Van Don and Can Tho. Therefore, the efficiency of airport investment needs to be carefully calculated.
Binh Dinh mulls steel mill, port complex project
The Chairman of the People's Committee of the south-central coastal province of Binh Dinh has approved the conduct of a feasibility study for a project building a steel mill and a port complex in My An commune in Phu My district.
The study will be carried out by the Ninh Binh-based Long Son Joint Stock Company.
The company has proposed the construction of its Long Son steel mill on close to 494 ha with investment of 48 trillion VND (2.09 billion USD), which is expected to produce about 4 million tonnes of steel annually.
Meanwhile, the 343-ha Long Son port complex will be built at a cost of nearly 8.9 trillion VND and is projected to have 14 wharves capable of berthing vessels of 50,000 to 250,000 tonnes and handling 29.5 million tonnes of cargo per year.
Binh Dinh's port network can currently only berth vessels up to 50,000 tonnes and the province has no steel mills./.
Local coffee sector set to face hurdles due to COVID-19
Vietnamese coffee exports are anticipated to encounter a myriad of difficulties over the short term due to the complicated nature of developments relating to the novel coronavirus (COVID-19) pandemic, according to industry insiders.
Statistics compiled by the General Department of Vietnam Customs indicate that the country exported 453,000 tonnes of coffee worth US$808.8 million during the first quarter of the year, representing a decline of 9.8% in volume and 5.5% in value compared to the same period from the previous year.
Most notably, the nation's coffee exports hit their lowest levels throughout the 2019 to 2021 period due to the negative impact caused by the COVID-19 pandemic, leading to reduced consumption demand and unfavourable conditions with regard to getting products through customs.
Furthermore, the blockage of the Suez Canal in March contributed to slowing the process of transporting Vietnamese coffee to markets in both Europe and the United States.
The nation's coffee exports to Asia during the first quarter experienced an upward trajectory, while exports to other continents decreased against the same period from last year.
The proportion of local coffee being sent to Asia accounted for 45.33% of the total export value, higher than the figure of 33.11% recorded during last year's first quarter. Meanwhile, the market share to Europe fell from 50.06% in the first quarter of last year to 41.12% in the first quarter of this year.
Moving forward, Vietnamese coffee exports are projected to face numerous difficulties due to the COVID-19 pandemic continuing to spread throughout several European countries, while some Asian countries continue to be at risk of becoming the latest epicentre of the pandemic.
Despite these predictions, the global high-quality instant coffee segment is forecast to enjoy an upward trend due to many people tending to work from home since the early stages of the pandemic, according to experts.
Industry insiders believe that although coffee exports to the EU face hindrances over the short-term, there are bright prospects ahead for the local coffee industry to exploit the potential market in the future.
This is the case following the enforcement of the Vietnam-EU Free Trade Agreement (EVFTA) which is expected to create favourable conditions for Vietnamese coffee enterprises to boost exports to the EU market moving forward.
Economists have therefore advised local firms to fully tap into niche markets in Eastern Europe, especially Poland, where there is a growing number of coffee shops.
Due to the positive developments brought about by the implementation of the COVID-19 vaccination programme in the US, coupled with favourable customs clearances, there continues to be a great potential for Vietnamese coffee exports to penetrate the demanding market in the near future.
Moreover, Japan's coffee imports from the nation last year increased by 17.3% to US$169 million compared to 2019, with the country's coffee market share making up 14.33% of Japan's total import value, marking a rise of 2.77% from the figure of 11.56% recorded in 2019.
Amid the recent decline in coffee exports to the both EU and US markets, the local coffee industry has strived to fully tap into markets throughout Asia, including the Japanese market, with export turnover to the fastidious market expected to rise in the future.
Investors warned about risks of real estate corporate bonds
In the last two years, real estate firms have been the group issuing the highest volume of bonds.
The warning has been given by many experts in the context that almost all real estate corporate bonds have no collateral, or if any, the real estate project itself is used as collateral. When the market freezes, most businesses will not be able to pay interest while the market liquidity is low, placing the risks on the investors.
Economist Nguyen Tri Hieu told Hanoitimes that the real estate businesses' demand for capital mobilization through the bond channel is quite high, especially those with limited collateral for loans. "Therefore, interest rates on real estate bonds may increase and will be more attractive than other bond groups."
"If the real estate bond market is not well controlled, it may lead to the bursting of a bubble," Hieu said.
He attributed the first reason to a bubble that the real estate bond market grew "hot" in a short time, while the bond issuance cycle was both fast and thick. The second reason is that enterprises usually issue real estate bonds with double and triple interest rates on savings. The risk of a bond bubble may occur if the enterprises have to refinance when they are unable to liquidate bondholders.
Nguyen Van Hung, an investor in the corporate bonds of real estate living in Hanoi, told Hanoitimes that the real estate corporate bond yields are much more attractive than deposit interest rates.
He said the deposit interest rate on the banking market ranges from 3% – 7% per year, while the corporate bond products being issued by real estate firms having doubled or even three times higher than that of the bank interest rate.
"This is the factor causing many people to turn to real estate corporate bonds," Hung said.
A number of companies have recently raised capital via real estate bonds including Sunshine Group issued a bond with an interest rate of 11% per year; Novaland at an interest rate of 10.5%; and Phat Dat at an interest rate of 14% per year. The most notable at present is Apec Group, which has recently offered Happybond with an interest rate of up to 13% per year guaranteed by high-end real estate in big cities.
According to the Vietnam Bond Market Association, the increase in the corporate bond issuance with high-interest rates shows the long-term capital needs of real estate developers, as well as the effects of the industry's prospects and the impacts of the pandemic.
Bonds of real estate firms have since the end of 2020 tended to last the bond maturity longer, at an average of about 3.8 years, one year longer than that of 2019. Meanwhile, the average bond interest rate has also increased by nearly 210 basis points, from 9.7% to 11% per year.
A report on the corporate bond market released by SSI Securities Corporation showed that the real estate firms mobilized a total of VND23.15 trillion via corporate bonds issuance in the first quarter of this year, decreasing by 5% year-on-year but accounting for 61.9% of total value in the market.
In March, it gained the largest proportion with the issuance size of VND4.45 trillion, up 42.4% compared to the previous month.
In the January-March period, the commercial banks issued VND1.24 trillion, accounting for 3.3% of the market's total value, while the securities companies and non-bank financial institutions launched VND2.54 trillion, occupying 6.8%. The rest came from other companies.
SSI forecasts that by the second quarter, real estate businesses will still be the largest issuers and their interest rates may increase.
In a move to tighten control over credit for potentially risky sectors such as real estate and securities, the State Bank of Vietnam has recently sent dispatch No. 3029/NHNN-TTGSNH to credit institutions and foreign bank branches, requesting them to take strict management in a number of high-risk credit areas including investment in corporate bonds, securities credit, real estate, traffic BOT (build-operate-transfer) and consumer loans.
HCMC aims to achieve disbursement rate of public investment at above 90 percent
According to Ms. Le Thi Huynh Mai, Director of the Department of Planning and Investment, Ho Chi Minh City plans to achieve a disbursement rate of public investment of above 90 percent this year.
She said that the disbursement of public investment capital last year is considered a positive bright spot, much higher than the same period in previous years. The city's total public investment capital in 2020 is 1.6 times higher than the previous year's plan.
Disbursement results in 2020 are 1.4 times higher in absolute value compared to the same period in 2019. If excluding the Government's on-lending ODA capital, the disbursement rate of public investment in 2020 of the city had achieved the planned target, from 90 percent upwards.
According to the confirmation of the State Treasury of Ho Chi Minh City, in 2020, the capital disbursement was more than VND35.11 trillion, and the disbursement rate reached 83.6 percent of the total capital plan of VND41.98 trillion assigned by the city. If excluding the Government's on-lending ODA capital, the disbursement rate was 92 percent of the city's total capital plan.
The above results were achieved thanks to the activeness and great efforts of the whole city. The People's Committee of HCMC regularly met with specialized departments and investors to review projects and propose tasks and solutions to remove difficulties and obstacles to speed up the implementation progress and disbursement of capital; the implementation of compensation, support, and resettlement for projects with land acquisition, piloting specific mechanisms and processes to shorten the time for compensation, support, resettlement, and site handover; study and review the provisions of the Law on Public Investment to send documents to the Ministry of Planning and Investment to guide and remove difficulties and obstacles.
Besides, the People's Committee of HCMC also issued an Action Program on promoting the disbursement rate of public investment capital in the remaining months of 2020 to ensure the effective implementation of Resolution No.84/NQ-CP dated on May 29, 2020, of the Government on tasks and solutions to continue to remove difficulties for production and business activities, promote disbursement of public investment capital and ensure social order and safety in the context of the Covid-19 pandemic for the executive management of the city's public investment plan.
As for the disbursement progress of HCMC this year, Ms. Le Thi Huynh Mai informed that HCMC is drastically implementing many solutions to overcome the consequences of the Covid-19 pandemic to stabilize the socio-economic situation, regain economic growth momentum, and stabilize people's lives. Therefore, accelerating the disbursement of public investment capital is considered as one of the key solutions that the city must deploy. The city has determined that promoting the implementation of the public investment plan is a key political task in 2021 of all levels of Party committees and authorities in the city, to boost economic growth, implement the highest socio-economic development targets in 2021 in the context that the Covid-19 pandemic is still developing complicatedly. With the current determination of all sectors and levels, the disbursement of projects will be implemented effectively, and the disbursement rate of the city's total investment capital plan by the end of the year is expected to reach 90 percent upwards.
The complicated situation of the Covid-19 pandemic has directly created difficulties affecting the disbursement progress of projects, especially for ODA projects because foreign experts, equipment, and machinery that serve projects cannot be imported into Vietnam; the project implementation progress is delayed because workers implement social distancing; difficulties lead to many disputes related to contracts, affecting the construction, acceptance, and disbursement.
To overcome and remove the above difficulties, besides the solutions that were implemented effectively in the past time, the city needs to speed up the implementation of compensation, site clearance, and resettlement for projects with the land acquisition; organize effectively the implementation of the Government's Resolution No.27/NQ-CP dated March 9, 2020, on allowing the pilot application of specific mechanisms and processes to shorten the time for compensation, support, resettlement, and handover of the site for projects with land acquisition in the city; at the same time, closely monitor the disbursement of the public investment capital plan of each project, propose capital reduction for projects with low disbursement rate to transfer to projects with high disbursement rate and likely to be completed within the year or projects with completed volume, avoid adjusting capital investment plan at the end of the year, affecting the disbursement progress of investment capital in 2021.
However, in the process of advising on the development of the medium-term public investment plan for the 2021-2025 period and the public investment plan in 2021, the Department of Planning and Investment always proposes to prioritize capital allocation on key projects with spillover effect and construction sites. Currently, the department has also submitted to the municipal People's Committee to issue an Action Program on promoting disbursement of public investment capital in 2021 to concretize tasks and solutions for agencies and units in the city to accelerate the disbursement of public investment capital.
HCMC will drastically carry out solutions to accelerate the disbursement of public investment capital plans to stimulate production, business, and consumption, create jobs, and ensure social security, contributing to the construction and completion of the necessary socio-economic infrastructure to improve competitiveness, support production and business activities of people and enterprises, and attract other sources of social investment capital. Of which, the Department of Planning and Investment assessed that the most important factor is the smooth and timely coordination with the responsibility of the relevant agencies in the implementation of the projects, especially, the coordination in implementing investment procedures and solving problems relating to the construction site. At the same time, local authorities also need to actively propagate, promptly inform, and resolve people's problems, thereby creating the consensus of people on the implementation of site clearance for the general development of the city.
Expert names reasons why foreign banks scale back operation in Vietnam
While western banks are having limited presence in Vietnam, their Asian peers have greater interests in the country.
Growing risk from bad debts and high capital mobilization rates are major reasons why some foreign banks, mainly those from the US and Europe, are scaling back their operation in Vietnam.
Banking expert Nguyen Tri Hieu told Hanoitimes while referring to the US-based Citigroup's announcement of exiting its retail business from the Vietnamese market.
"Foreign banks, especially those from western countries, have strict procedures on risk management, but in Vietnam, this could become a weakness as it is hard for them to attract local customers," he said.
Following the move, Citigroup said it would significantly scale back its presence in the retail banking business in 13 countries, including China, India, South Korea, and Vietnam, while shifting focus towards wealth management.
"Capital mobilization rate in Vietnam at 5-6% per annum is much higher than that in the US at 1%, while bad debts remain a major issue in providing loans for individual customers and businesses," said Hieu.
Meanwhile, Citigroup's CEO Jane Fraser said the bank does not have the scale it needs to compete in all 13 markets, but will continue to offer products in those markets to customers of its institutional client groups, which houses private banks, cash-management arm and investment-banking and trading businesses.
Lai Minh Thuy, acting General Director of Citigroup Vietnam, said the decision would not affect the bank's long-term commitment at Vietnam, as well as in the Asia-Pacific.
"There would be no immediate changes to our operation after Citigroup's announcement of exiting its retail banking business in Vietnam," Thuy stated, adding the transitional period would take a few months or longer.
"Citigroup's decision may prompt other partners to acquire our retail business," she continued.
In April 2017, the Australia and New Zealand Banking Group (ANZ) also made the same move by withdrawing from the retail business in Vietnam, which was later sold to South Korea's Shinhan Vietnam.
Expert Hieu added decision to exit Vietnam's market normally come from western banks. "Deutsche Bank, one of Germany's major banks, also has limited operation in Vietnam," he said.
"However, Asian banks from Japan, South Korea, Singapore, Malaysia or Indonesia have much greater interests in the Vietnamese market," Hieu asserted.
"It could be that they share the same business culture here," he argued.
Hieu, nevertheless, pointed out a positive point that in overall, the Vietnamese banking sector is on the rise and remains an attractive sector for investment.
"It is not like they would walk away from the market, as its high growth rate could convince them to return as investment banks," Hieu suggested.
Since the acquisition of ANZ's retail business, Shinhan Vietnam has been recording high profit growth of over 24% during the 2017-2019 period.
Last year, despite the severe Covid-19 pandemic, Shinhan Vietnam posted pre-tax profit of VND3.07 trillion (US$133.7 million), an increase of 8.4% year-on-year.
Bac Kan launches OCOP e-commerce floor
Authorities in the northern mountainous province of Bac Kan signed a deal with the Kim Nam Group on May 17 to launch the backanmarket.vn e-commerce floor, to boost the sustainable consumption of local One Commune, One Product (OCOP) goods.
The deal is aimed at realising the Ministry of Industry and Trade's national programme on helping firms tap the EU – Vietnam Free Trade Agreement (EVFTA) via e-commerce.
Bac Kan now has 131 OCOP products, 13 of which meet four-star standards, contributing to improving the rural economy. They still meet difficulties navigating the market, however, especially supermarket chains.
Speaking at the signing, Vice Chairman of the provincial People's Committee Pham Duy Hung said e-commerce has become an indispensable trend and will help companies and cooperatives explore markets and promote products among domestic consumers.
Chairman of the Kim Nam Group Nguyen Kim Hung said transactions on the floor will be free for one year. The group will later hand it over to the locality to manage.
It also offers training to companies and cooperatives./.
Swiss-Vietnamese Business Gateway to establish representative board
The non-profit Swiss-Vietnamese Business Gateway (SVBG) decided at a meeting on May 15 to establish a representative board comprising those working in various fields in Vietnam, to promote bilateral trade, cultural, and educational ties.
The board's chief representative will take charge of developing ties with domestic and foreign enterprises, the deputy chief representative will be responsible for fostering bonds with businesspeople and intellectuals with close ties to the two nations, and two members will hold events and external affairs in Vietnam.
Luong Van My Thien, a Vietnamese-Swiss who has worked for Nestlé for nearly 30 years and helped bring the corporation to Vietnam in the early 1990s, takes on the role of the SVBG's Honorary Chairman and Chief Advisor.
The SVBG also discussed its development strategy at the meeting, adopted an internal code of conduct, and upheld the principles of information confidentiality, intellectual property, the responsible use of social media, and the management of conflicts of interest.
At the SVBG debut ceremony in late February, Vietnamese Ambassador to Switzerland Le Linh Lan spoke highly of its establishment at a time when the two countries are celebrating the 50th anniversary of bilateral diplomatic ties. She stressed that it is the first association established by Vietnamese in Switzerland to boost bilateral trade.
The ambassador added that the Vietnamese Embassy and Trade Office in Switzerland support the SVBG's activities, therefore making a practical contribution to ties between the two countries' small and medium-sized enterprises (SMEs).
Founded by journalist Nguyen Thi Thuc (pseudonym Thuc Minh), former chief of the Thanh Nien (Young People) newspaper's Singapore bureau, and two Vietnamese-Swiss businesspeople in Lausanne, the SVBG focuses on updating enterprises from both countries on economic potential and opportunities via seminars, forums, and bulletins, providing guidance and support, facilitating technological transfer, introducing experts, skilled workers, and outsourcing services, and holding socio-cultural activities to support business activities.
Switzerland is now Vietnam's sixth-largest European investor, with total capital of around 2 billion USD, primarily in manufacturing and processing and electricity. Meanwhile, Vietnam is Switzerland's fourth-largest ASEAN trade partner, with two-way trade topping 3.6 billion USD in 2019. Vietnam and the European Free Trade Association, comprising Switzerland, Norway, Iceland, and Liechtenstein, have been officially negotiating a free trade agreement since 2012./.
Binh Dinh gives in-principle approval to urban, eco-tourism project
The People's Committee of the south-central coastal province of Binh Dinh has given in-principle approval to a project on developing the Diem Van urban and eco-tourism area in Tuy Phuoc district.
The project is estimated to cost nearly 5 trillion VND (almost 217.5 million USD), funded by a joint venture between the Binh Dinh Tourism JSC, the Silk Path Hotel Co., Ltd, and the Xuan Cau Co., Ltd.
A modern urban and eco-tourism complex with comprehensive architecture and technical and social infrastructure will be built on an area of 130 ha in Phuoc Thuan commune, in line with local urban and housing development programmes approved by local authorities.
The project is expected to help Binh Dinh utilise its potential and strengths for tourism development.
Completion is expected in the fourth quarter of 2025./.
Phu Yen province attracts billion-dollar resort project
The central province of Phu Yen is emerging as an attractive market for real estate investment, especially in large-scale hospitality projects.
Early last month, Indochina Kajima, a joint venture between local property developer Indochina Capital and Kajima Corporation, a Japanese general contractor and property developer, completed the process of buying and restarting a 1-billion-USD resort real estate project at Bai Nom to be managed by world-famous brand Four Seasons.
Peter Ryder, General Director of Indochina Capital, said it would be an iconic tourism project, one that would contribute to the development of Phu Yen into a world-class resort "paradise."
"We believe that, inspired by beautiful nature, this project will be recognised world-wide with many prestigious awards."
Also in April the province saw the start of the construction of two luxury resorts, Xuan Dai Bay and Crystal Holidays Marina Phu Yen in Xuan Dai ward, Song Cau township.
Built by Everland Group at a cost of 2.2 trillion VND (95.1 million USD), they will provide nearly 1,000 hotel rooms and 200 villas to the hospitality market.
In recent years the province has promoted investment in infrastructure and tourism. The Tuy Hoa Airport has been upgraded and expanded to handle five million passengers a year and wide-bodied aircraft.
Last year, the province attracted investment of 8.8 trillion VND (383.7 million USD) in 43 new projects./.
Binh Dinh mulls steel mill, port complex project
The Chairman of the People's Committee of the south-central coastal province of Binh Dinh has approved the conduct of a feasibility study for a project building a steel mill and a port complex in My An commune in Phu My district.
The study will be carried out by the Ninh Binh-based Long Son Joint Stock Company.
The company has proposed the construction of its Long Son steel mill on close to 494 ha with investment of 48 trillion VND (2.09 billion USD), which is expected to produce about 4 million tonnes of steel annually.
Meanwhile, the 343-ha Long Son port complex will be built at a cost of nearly 8.9 trillion VND and is projected to have 14 wharves capable of berthing vessels of 50,000 to 250,000 tonnes and handling 29.5 million tonnes of cargo per year.
Binh Dinh's port network can currently only berth vessels up to 50,000 tonnes and the province has no steel mills./.
Thailand speeds up process to submit RCEP ratification to ASEAN Secretariat
The Thai Ministry of Commerce on May 17 said three State agencies of this country are speeding up issuance of related regulations to submit the ratification of the Regional Comprehensive Economic Partnership (RCEP) to the ASEAN Secretariat in October.
Local media quoted Auramon Supthaweethum, director-general of the ministry's Trade Negotiations Department, as saying that the Customs Department is working to issue regulations on customs tariffs to be collected from RCEP members.
Meanwhile, the Foreign Trade Department is upgrading the system to issue certificates of origin, and the Office of Industrial Economics plans to issue an announcement about the conditions of auto parts imports under the pact.
The ministry previously estimated Thailand has a total of 40,000 products that will benefit from the duty reduction, with 29,000 to enjoy zero tariffs in the first phase.
The remaining of the exports are scheduled to see their tariffs gradually reduced to zero in 10-20 years, based on the conditions of each RCEP member.
RCEP was signed by 15 nations in Asia-Pacific including Thailand last November. It requires ratification from at least nine countries (at least six from ASEAN and three non-ASEAN countries) to take effect. The world's biggest free trade deal is making good progress with Singapore and China already submitting their ratification./.
Drastic measures needed to stabilise steel prices
Ensuring the balance of supply and demand in the local market following steel prices enduring a recent sharp rise of between 40% and 50% compared to last year should be made a priority, according to the Ministry of Finance.
The purpose of this move is to prevent the escalating prices of input materials from raising steel prices unreasonably.
Dang Cong Khoi, deputy director of the Price Management Department, said previous rises in the price of construction steel can largely be attributed to fluctuations occurring in the price of steel billets in the global market.
Furthermore, increasing demand from the Chinese market has forced the price of raw materials for steel production, including scrap steel and steel billet, to continuously increase since mid-October of last year.
Moreover, the imbalance which has occurred between supply and demand can largely be attributed to recent abnormal fluctuations in steel prices.
Khoi emphasized the need to make amendments and supplements to the Law on Prices in order to meet the requirements of the market economy whilst developing a green economy in a sustainable manner, thereby improving the efficiency of state management over prices.
In terms of tax policy, Truong Ba Tuan, deputy director of the Tax Policy Department under the Ministry of Finance, said the nation is likely to consider adjusting its safeguard tax policy for steel billets and construction steel products. This can be done in order to reduce the cost of input materials for steel manufacturers and lower the price of construction steel sold within the domestic market.
Tuan also underscored the importance of devising solutions aimed at balancing supply and demand as a way of enhancing the domestic steel production capacity.
Pepper exports soar over four-month period
Vietnam exported 92,000 tonnes of peppers worth US$274 million during the opening four months of the year, with the export volume in April reaching a total of 30,000 tonnes worth US$94 million, according to data released by the Ministry of Agriculture and Rural Development.
This figure represents a decline of 21.3% in volume and a rise of 10.3% in value compared to the same period from last year, with the country's largest pepper export markets being the United States, the United Arab Emirates, and Pakistan.
Furthermore, the average export price of peppers during the reviewed period surged by 31.7% to reach US$2,883 per tonne compared to last year's corresponding period.
Meanwhile, the pepper prices have seen fluctuations in the global market with the price of country's black and white peppers over the past week falling 1% and 2%, respectively from the previous week. Indeed, the average price was at US$2,651 per tonne for black peppers and US$4,222 per tonne for white peppers.
The price of India's Malabar black peppers remained stable at US$5,037 per tonne, while the price of Indonesia's black peppers increased by 1% to an average of US$3,345 per tonne from the previous week.
Furthermore, the price of white peppers from Indonesia dropped by 1% to US$6,021 per tonne compared to the previous week, while Malaysia's black and white peppers rose by 1% and 2% to reach US$3,333 per tonne and US$5,027 per tonne, respectively, from last week.
In terms of the domestic market, the price of peppers ranges from VND63,500 to VND68,000 per kilo in localities, a decline of between VND6,000 and VND10,000 per kilo compared to two months ago.
World Economic Forum cancels 2021 annual meeting
The World Economic Forum (WEF) has cancelled its annual meeting which was slated for August in Singapore due to the complex developments of the COVID-19 pandemic.
The WEF said in a statement that it impossible to realise a global meeting with representatives from businesses and governments because of uncertain travel outlook, differing speeds of vaccination roll out and the uncertainty around new variants.
The event, which attracts VIPs from the worlds of politics and business, has been held since 1971. Last year, nearly 3,000 participants from 130 countries attended the WEF in Davos, Switzerland, which discussed global, regional and industrial agenda.
The WEF's next annual meeting is scheduled to take place in the first half of 2022, with its location and date will be determined later this year.
Founder and Executive Chairman of the WEF Klaus Schwab said the decision to cancel the meeting had been difficult but ultimately the health and safety of everyone concerned is the highest priority./.
Source: VNA/VNS/VOV/VIR/SGT/Nhan Dan/Hanoitimes
VIETNAM BUSINESS NEWS MAY 18 have 7013 words, post on vietnamnet.vn at May 18, 2021. This is cached page on Talk Vietnam. If you want remove this page, please contact us.