A natural wonderland in Binh Thuan Province right by the ocean, an increasingly prosperous people focused on leisure and looking to invest in a second home, a developer's innovative vision of a luxury experience based on sustainability – Thanh Long Bay is all of these things and much more.
The fastest growth of wealth in the world
That perfect escape from the pressures of city life, a place to step out of regular routine and recharge the spirit is the dream of many Vietnamese. Viet Nam's explosive growth in wealth has turned that dream into a reality for many. From 2007 and 2017, according to market research company New World Wealth, Viet Nam's wealth grew 210 per cent and will continue growing another 200 per cent in the next 10 years. This kind of explosive growth in wealth can be seen in the rise of leisure spending as reflected by internal tourism numbers, and in real estate prices. Real estate in HCM City and surrounding regions have appreciated immensely. Major vacation destinations such as Phu Quoc and Nha Trang have seen prices skyrocket. But the investment potential for Vietnamese real estate is just beginning. As international business consultant Grant Thornton noted just last year: "Viet Nam has a huge advantage over Thailand in terms of price attractiveness and the huge number of potential locations."
A luxury development like no other
These two fast-rising trends of investment in real estate and leisure time meet at Thanh Long Bay, a luxury urban development and marine sports centre on the coast of Binh Thuan Province.
It is a 90 hectare, mixed-use luxury development that will offer all the amenities of urban living such as high-end shopping, restaurants, coffee houses, walking street, entertainment centres and a night market. It will feature an international standard 5-star hotel, condominiums named Wyndham Coast, elegant garden homes named The Song, and fashionable townhouses named The Sound.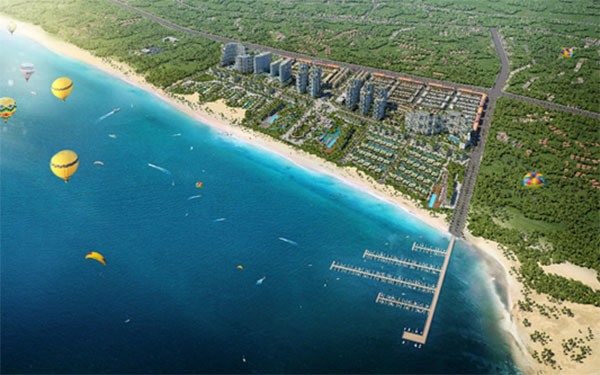 Thanh Long Bay – a luxury urban resort and marine sports complex situated along 1.7km of beautiful coastline in Binh Thuan Province.
Life at Thanh Long Bay will centre around relaxation and leisure. For anybody who loves the water, it will be heaven. There is the ocean with its gentle waves, and beaches that will be pristinely maintained. The array of watersports include kayaking, windsurfing and jet skiing. There is even an area for glamping. All aspects of Thanh Long Bay will be managed by experienced professionals such as Accor, JLL, Wyndham and H20.
Beyond the joys of the sea, there is also wonderful Binh Thuan Province itself to experience. There are the Cham archaeological sites, fishing villages, hiking in the hills and forests, numerous local cultural landmarks, and the spot that deserves a special mention all its own – the historic lighthouse at Ke Ga Cape with commanding views for miles around.
What will set Thanh Long Bay apart and give it a distinctive identity is its connections to the natural environment, to the ocean that it is alongside, to the unique people of Binh Thuan. It is not a closed community to be shut in, nor a bunch of concrete structures that will deface a natural wonderland. The designers and planners strove to give Thanh Long Bay a sense of being a natural outgrowth of the land. This is done in many little and big ways. An example is the development's dedication to a simple guiding rule – for every person, there will be a tree. Because Binh Thuan Province is still about 50 per cent forested, Thanh Long Bay's development will not lower that number. Trees will be a ubiquitous part of its identity.
The epitome of green design and luxury
The Wyndham Coast condominiums are the finest example of Thanh Long Bay's commitment to being green. They were designed by MIA Studios, a practice based in HCM City with numerous international projects and awards to its name, and is much admired for its modern thinking and commitment to green design. Rather than being simply a concrete edifice towering into the sky, Wyndham Coast has the innovative look of blocks being placed on top of each other, with each block at a slight angle and spaced from the adjacent block. This creates plenty of space above ground for trees, gardens and common areas for residents to enjoy the outdoors. The greenery is such that to look at a Wyndham Coast condominium is to think of a garden and all the tranquillity that a garden entails.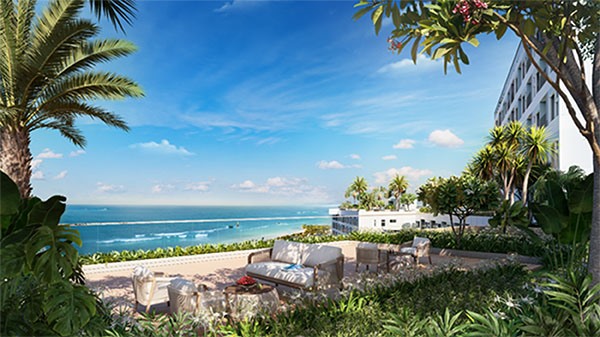 Mini Garden – A place to relax and enjoy spectacular views at the Wyndham Coast Condominiums
Seen from above, the buildings of Wyndham Coast form an S. This S shape allows for two concaves of the S to have plenty of space for swimming pools, plays areas and green landscape for outdoor enjoyment. The condominiums offered are one, two or three bedrooms, and each reflects MIA's principle of fluid spaces. The floor plans are airy and open. The hues, design spaciousness and panoramic views maintain that connection between inside and outside, what MIA calls the "integration of interior and exterior".
Kenneth Atkinson of Grant Thornton Vietnam noted that from the perspective of international investors, the luxury second home market is built upon good location, strong management, good infrastructure, especially proximity to an airport, and value that offers a strong return on investment. Thanh Long has that beautiful location and strong management. With the construction of airports in Long Thanh and Phan Thiet, and various highway projects close to completion, Thanh Long Bay also has that strong infrastructure. And while real estate prices in Binh Thuan have appreciated significantly, they are still at a discount compared to HCM City and its environs. But that difference is fast closing. Now is the perfect time to discover tomorrow's premier destination for luxury, relaxation and water sports.
Website: www.wyndham.thanhlongbay.vn
THE DREAM OF THE PERFECT ESCAPE have 1306 words, post on vietnamnews.vn at May 27, 2021. This is cached page on Talk Vietnam. If you want remove this page, please contact us.