After 12 rounds of the V-League 2021 tournament, Hoang Anh Gia Lai (HAGL) football club has become the most prominent phenomenon, as it ranks top thanks to Thai coach Kiatisuk Senamuang's talent.
SMM Sport of Thailand has just posted an article praising the success of HAGL FC and the contribution of Thai coach Kiatisuk, who was dubbed "Zico Thai".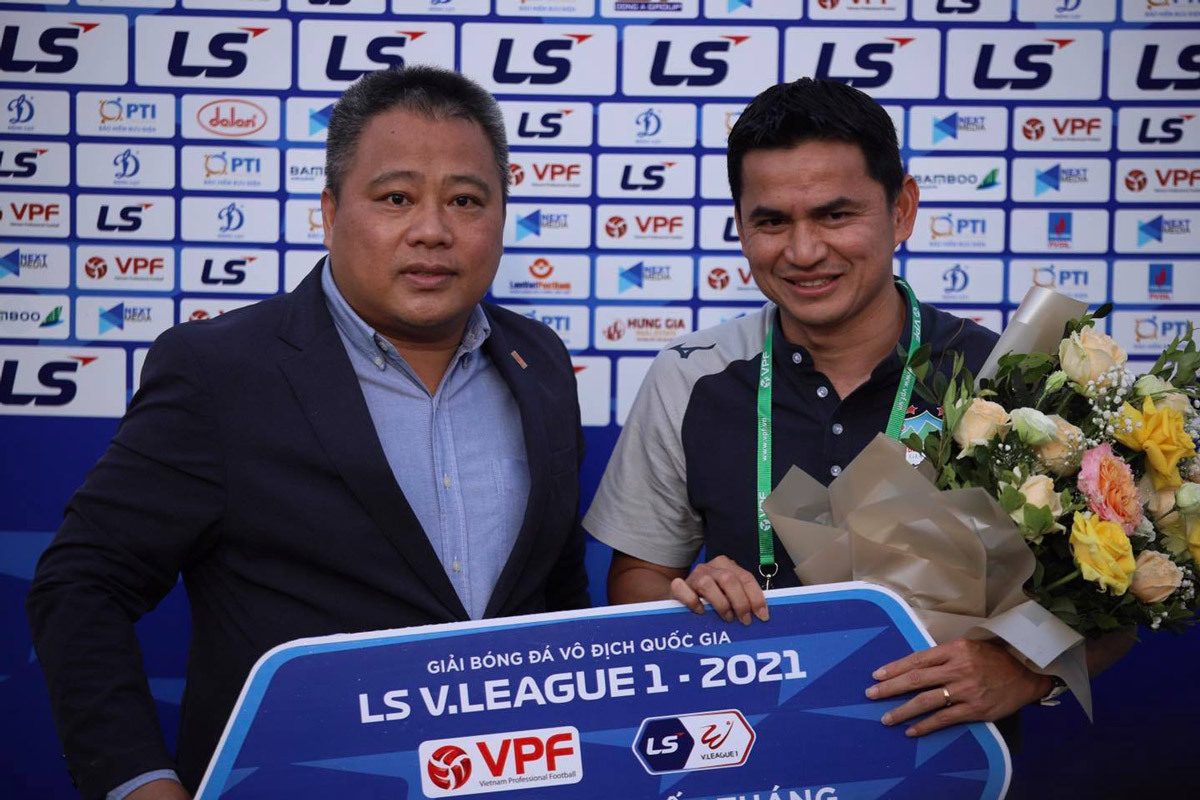 Thai coach Kiatisuk of HAGL football club (right).
Ranking first with 29 points, 3 points more than defending champion Viettel FC, HAGL has balanced between attack and defense, the Thai website wrote.
"Kiatisuk has awakened giant HAGL after a long sleep," wrote SMM Sport.
The Thai League has ended. During the time national teams are preparing for the 2022 World Cup qualifiers, Thai fans are very interested in the V-League, mainly because of the Thai coach Kiatisuk.
Under the guidance of Kiatisuk, HAGL FC is the best attacking team (23 goals, equal to that of Nam Dinh FC), and has the most solid defense (losing 9 goals, equal to that Viettel and Binh Dinh).
SMM Sport said that with this momentum, Kiatisuk's HAGL FC could completely win the V-League championship this year.
"The last time HAGL won the V-League title was 2004, almost two decades ago, with Kiatisuk as a team member. 'Zico' returns to HAGL once again to conquer the championship title," it wrote.
SMM Sport described: "Kiatisuk transformed into a hero of HAGL, and captured the special affection of Gia Lai people." (HAGL FC is based in the Central Highlands province of Gia Lai).
Previously, Kiatisuk was the leader who brought HAGL to the V-League championship in 2003 and 2004.
"If HAGL ends the season with the championship title after 17 years, surely the name Kiatisuk will once again be written in history, not just for the club," SMM Sport wrote.
T. T
Thai newspaper: HAGL football club can win V-League 2021 with Kiatisuk have 483 words, post on vietnamnet.vn at May 11, 2021. This is cached page on Talk Vietnam. If you want remove this page, please contact us.