Huu Tiep lake, where the wreckage of a B52 aircraft has been lying for 50 years, is being rehabilitated.
The Ministry of Culture, Sports and Tourism has sent an official dispatch to the People's Committee of Hanoi regarding the appraisal of the project to rehabilitate Huu Tiep lake and the wreckage of a B52 plane shot down on December 27, 1972.
Specifically, this project includes building a pedestal, preserving and displaying wreckage of the B52 aircraft; rebuilding the fence and embankment around the lake (demolishing and rebuilding 34.6m of the pockmarked embankment and 152.2m of the fence, handrail of the embankment, and the door and the ladder to the lake); dredging mud in the lake bed; and renovating and embellishing the 2-story ancillary building and other amenities.
The Ministry said that construction units need to clear mines cautiously, research and survey according to archeological methods, and propose solutions if other debris of the aircraft in the lake bed is found.
For nearly 50 years, the wreckage of the B52 aircraft has been lying in the middle of the lake. The lake is currently fenced with canvas on all sides for safety. After the water was drained out and the remaining mud was dredged, parts of the B52 aircraft after decades of being underwater appeared clearer than ever.
Huu Tiep lake is located in Ngoc Ha ward, Ba Dinh district, Hanoi. This site is where the wreckage of a B52 aircraft – shot down in the sky of Hanoi on December 27, 1972 – has been lying. The place has been recognized by the state as a national historic site.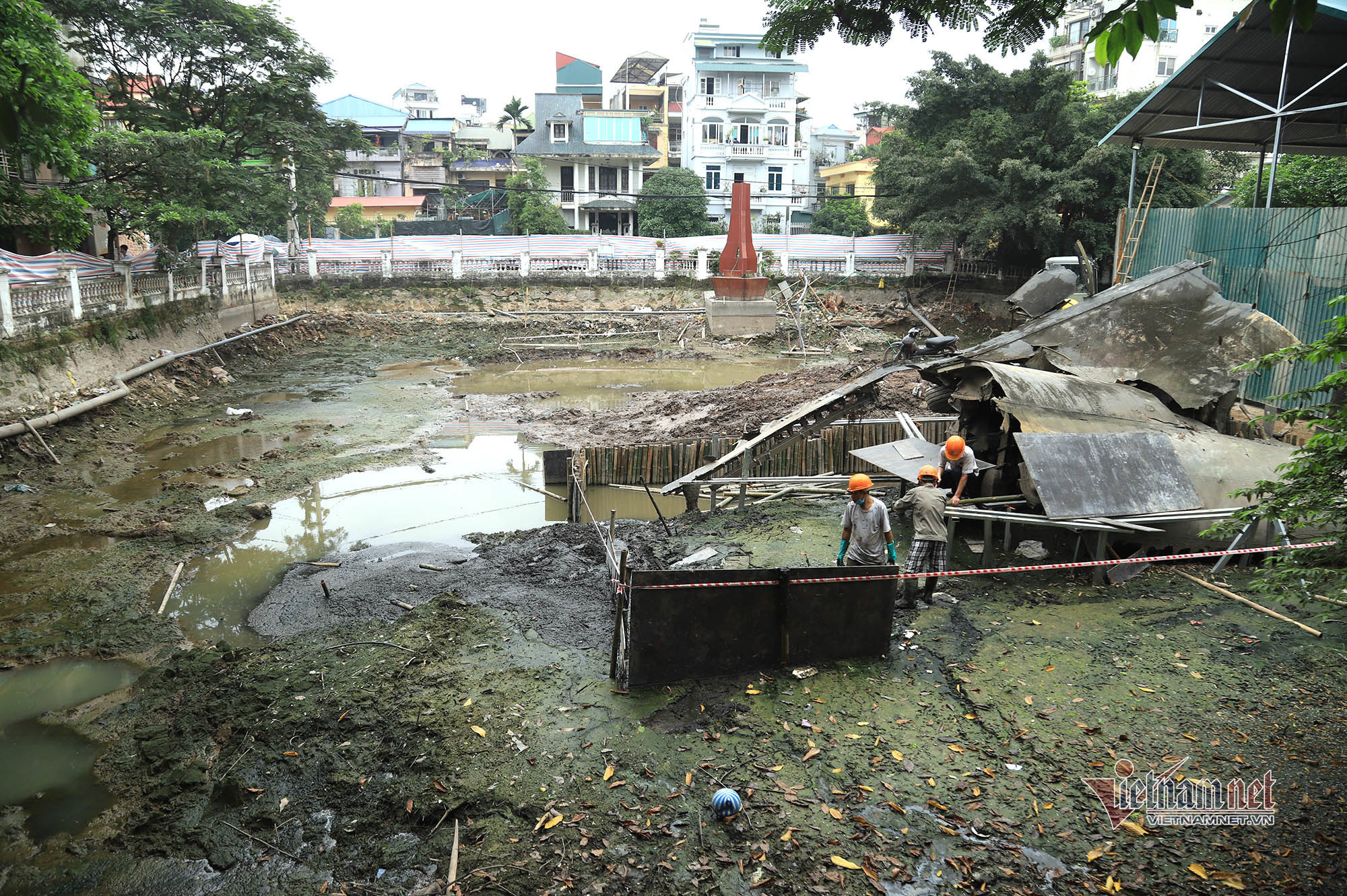 The fence around the lake has degraded badly. There are many cracks on the embankment, posing a danger to surrounding households.
Huu Tiep lake is polluted with many parts of the B52 aircraft in the mud and domestic waste.
Workers are disassembling the aircraft's parts. A 100-square-meter tent built on the edge of Huu Tiep Lake is used to store parts of the wreckage and for inspection and maintenance purposes.
Huong Quynh
Parts of the wreckage of B52 aircraft in Hanoi appear clearer than ever have 371 words, post on vietnamnet.vn at May 4, 2021. This is cached page on Talk Vietnam. If you want remove this page, please contact us.