Cambodia has obtained the go-ahead to export mangoes to China, becoming a new rival for Vietnam in the 1.4 billion consumer market.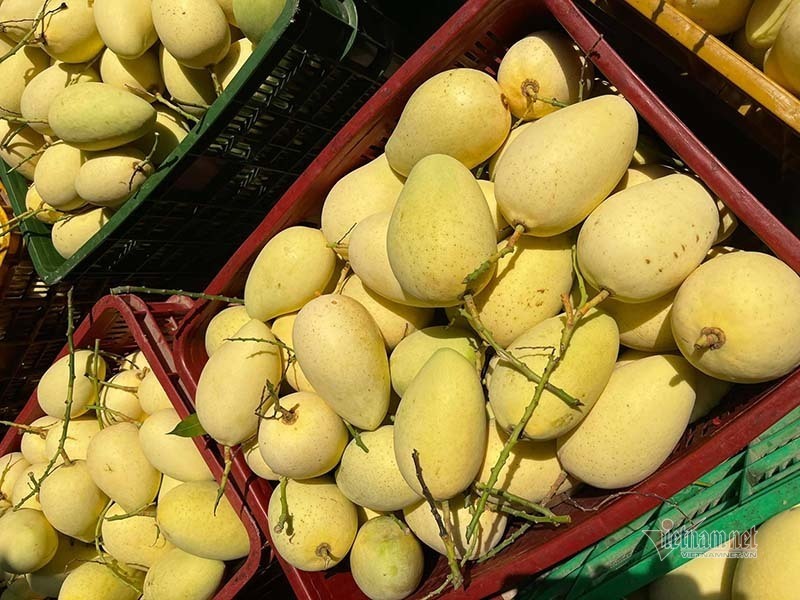 The Chinese General Administration of Customs has released a list of 37 Cambodian mango farms and five packaging plants allowed to export mangoes through official channels.
The mango farming area in Cambodia has reached 100,000 hectares, mostly in the provinces of Kampong Speu, Kampot, Battambang and Banteay Meanchey, with an average output of 1.5 million tons a year.
The Chinese Embassy in Cambodia in June last year announced that Chinese and Cambodian agencies were discussing an agreement on allowing Cambodia to export 500,000 tons of mangoes a year to China.
Some experts say the high number of orders for mangoes from China will give a push to Cambodia's economy as it did with bananas. In 2018, only 10,000 tons of Cambodia's bananas were exported to China. After obtaining a license to export to China, the figure soared to 157,000 tons in 2019 and 210,000 tons in 2020.
Experts say that Vietnam will have one more strong rival in the Chinese market. In recent years, Cambodia has exported mangoes to Vietnam at low prices.
According to a report presented at a workshop on Vietnamese mango exports in mid-April, Vietnam exports 160,000-170,000 tons of mangoes a year, with 94 percent heading for China.
Of this amount, only 0.08 percent, or 141 tons, is exported through official channels. This means that more than 99 percent of Vietnam's mango goes to China across the border gates.
According to the Ministry of Agriculture and Rural Development (MARD), mangoes and bananas are two of the major tropical fruits grown in Vietnam.
Vietnam, with a total mango growing area of 87,000 hectares, is the 13th largest mango exporter in the world. Its total mango output in 2020 was 893,000 tons, up by 6.5 percent over 2019.
However, Vietnam's mango export turnover in 2020 was $180.8 million, a decrease of 9 percent compared with 2019. The fall was attributed to the Covid-19 pandemic, which caused a disruption in global goods circulation.
Of this, exports to China brought $151.8 million in revenue, or 84 percent of total export turnover, but the export volume to the market fell by 4.18 percent compared with 2019.
Meanwhile, Chinese agencies in mid-August 2020 said that 220 consignments of Vietnam's mangoes, or 3,300 tons out of total 750,000 tons exported to China in 2019-2020, violated quarantine regulations.
The Chinese side has temporarily stopped importing mangoes from these mango growing areas and packaging establishments in order to pursue an investigation. These include two out of 82 mango growing areas and one out of 12 packaging establishments in Dong Thap province.
T. An
Mango exports: Cambodia has become Vietnam's rival in the Chinese market have 580 words, post on vietnamnet.vn at May 8, 2021. This is cached page on Talk Vietnam. If you want remove this page, please contact us.