With just a saddle-sized kit of tools, Wiibike can turn a normal bicycle into an electric bike easily.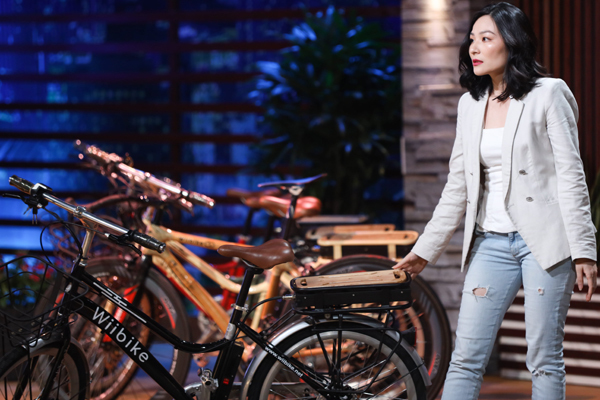 Nguyen Thi Thu Hang, co-founder and manager of Wiibike
Wiibike, which introduced itself as a "technological startup in the field of green transport" is one of the technology startups calling for capital at Shark Tank TV Show Season 4. Its major products are electric power-assist bicycles (EPBs) which use lithium batteries.
Wiibike's chassis is made of different materials, including bamboo, an environmentally friendly material. The company also provides Wiibike kits that can turn normal bicycles into EPBs within 15 minutes.
Nguyen Thi Thu Hang, co-founder and manager of Wiibike, said the startup began making products in 2017. Its gross profit is 51 percent and it has had turnover of VND2.3 billion over the last nine months, since last July.
"We have not run any media and advertisement campaigns for this product, but we have had 300 buyers," Hang said.
The company manufactures kits that can turn normal bikes into electric bikes.
Lai Thai Phong, in charge of developing Wiibike products, said that these kits are made by the company and can be customized for any bicycle, including models with different wheel sizes.
"The most important thing of the kit is the way the battery is made. To have high performance, the kit needs to use high-capacity cells and have good connectivity," Phong said.
The company is currently under a consultation process, and is preparing to register for a patent.
Investors have been impressed by the project, but they tbought the business valuation method was unclear.
According to Hang, Wiibike is worth VND150 billion and the startup hopes it can call for VND1.5 billion worth of capital from Shark Tank, in exchange for 1 percent of its shares.
The figure was calculated based on a discounted cash flow (DCF) valuation method. From now to 2030, Wiibike plans to sell 2 million bicycles, worth $600 million and make a post-tax profit of $67 million.
Wiibike's CEO said that she saw a similar case at Shark Tank with a valuation of $6 million.
But investors at Shark Tank expressed doubts about the high value.
According to Shark Hung, this is not a new business model and it may not be considered an invention, but just a new industrial design or utility solution. The design of the bike is not good enough and not stylish, while the released figures are unconvincing.
Hung and the other two sharks of the program, Lien and Viet, refused to invest in the startup.
Meanwhile, Shark Phu offered VND1.5 billion for 10 percent of Wiibike's shares and the offer was accepted by Hang.
Trong Dat
'Green' startup produces electric power-assisted bicycles have 625 words, post on vietnamnet.vn at May 15, 2021. This is cached page on Talk Vietnam. If you want remove this page, please contact us.