It was very cold at that time. Commander Le Quang Dao in person brought bottles of warm ginger water to every unit of the frontier post. After that, he quietly walked along the railway to explore the terrain…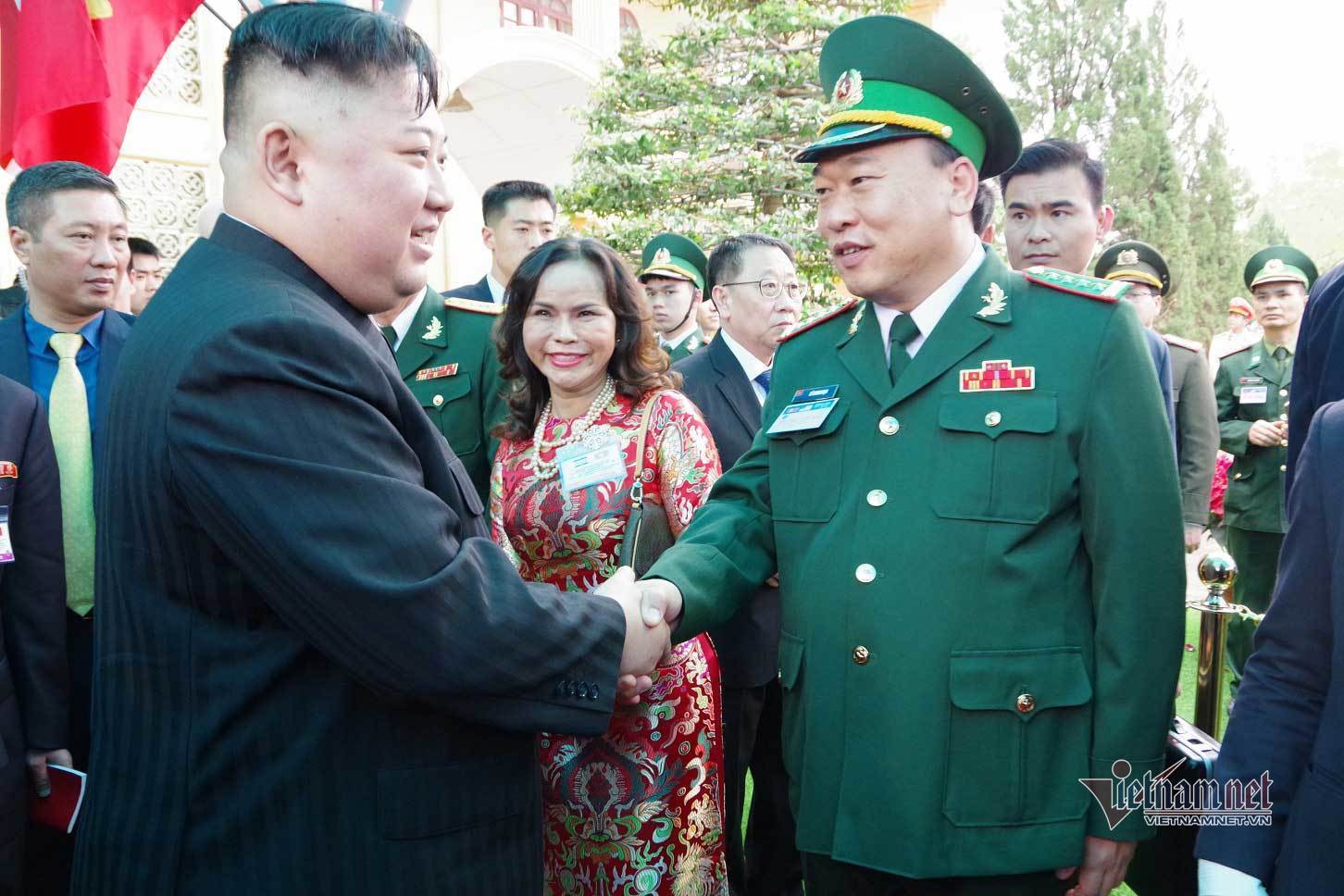 Major General Le Quang Dao (right) and DPRK's President Kim Jong Un in March 2019
Born in 1971 and gaining significant achievements in more than 30 years of military service, Major General Le Quang Dao, Deputy Commander and Chief of Staff of the Border Guard, is one of the young generals rich in energy and highly trusted by the army.
In March 1989, at the age of 18, he set out to join the army. After one year of serving as a soldier at Ha Nam Ninh provincial border guard, Dao went to the Border Police Officer School (now Border Guard Academy).
In September 1993, the young border guard officer set foot on Lang Son, starting a period of 27 years serving in the frontier area. At that time, he was head of the border guard team for Thanh Loa Frontier Post.
Proud image of border guards
"In my mind that day, the image of border guards was wonderful. They looked proud on horseback when going on patrol. They were good at martial arts and they gained great victories recorded in history when guarding the frontier land, hunting down bandits, protecting leaders and headquarters. Also, they made great contributions in the foreign relation front and assisted ethnic groups in border areas," he said.
In the early 1990s, after Vietnam and China normalized relations, Lang Son became the first Vietnamese province to start cross-border trade.
Dao, who was then one of the first young border guard officers carrying out duties in the Lang Son border area in that period, together with his army companions discovered and got rid of many subjects who attempted to exploit the situation and incite people to cause uncertainties in the border area, thus harming national security.
After leaving the Thanh Loa frontier post, Dao spent five years serving as deputy head of Coc Nam Station belonging to the Tan Thanh Frontier Post (1995-1999).
The then Lieutenant Le Quang Dao was determined and ingenious in protecting every inch of the frontier land and would not let the boundary marker be displaced or encroached upon. Together with his comrades, Dao effectively fought crimes of different kinds, especially money counterfeiters and human traffickers.
Building border area of peace and friendship
In the posts of Deputy Head and Head of Huu Nghi International Border Gate Station, and then Head of Tan Thanh Frontier Post (2005-2011), he left a prominent imprint on the Lang Son frontier strip of land.
He advised the Lang Son Provincial Headquarters on the pilot implementation of joint patrols on the Vietnam-China border line.
His sharp senses and practical experience told him that apart from regular conversation and information exchange, nothing would be as effective as a joint patrol, which allowed to solve problems together.
"When we put forward the question, the Chinese side was unassertive. But later, with sincere arguments, we successfully persuaded them to cooperate for the optimal purpose of building a border line of peace, friendship and mutual development," Dao recalled.
Joint patrol activities have brought efficiency in border management and protection, and have helped create confidence and understanding among the border soldiers of the two countries.
Major General Le Quang Dao is also one of the cadres who made important contributions to promoting border guard foreign relations on the Lang Son (Vietnam) – Guangxi (China) border.

His sharp senses and practical experience told him that apart from regular conversation and information exchange, nothing would be as effective as a joint patrol, which allowed to solve problems together.
Vietnam's Huu Nghi international Frontier Post (Lang Son Provincial Border Guard) and China's Friendship Pass became the first twinned units with the slogan 'Friendship Check-points, Peaceful Border" in 2013.
This was followed by the village-village twinning model between the localities of Lang Son and localities in China's border areas. This helps protect the fatherland and from a distance, with peaceful measures.
Gaining popularity
In 2008, when he moved to Tan Thanh Frontier Post, Dao, together with his soldiers, had many new victories.
The area under the management of the post, including 15 kilometers of border line and 26 villages belonging to two communes of Tan Thanh and Tan My, was a hot spot in terms of security and social order.
Under the decisive command and ingenuity of the commander, the Tan Thanh post became an exemplary bright spot in the entire Lang Son – Guang Xi border.
Some officers laid down their lives, or were injured in the struggles, including Captain Ngo Van Vinh, leader of the drug and crime prevention team.
With the motto "people as the foundation", during his service time in Lang Son, General Dao proposed and implemented many new models and movements that brought practical benefits to local people.
Following his ideas, many generations of ethnic minority border guards have been admitted to the Communist Party before being discharged from the army.
They also created favorable conditions for vocational training, so that they could contribute to serve their homeland. And many teenagers who took false steps into drug use have been helped by Lang Son Border Guard to rebuild their lives.
Before the programs "Nang buoc em toi truong" (cherishing students' steps to school) and "Con nuoi don bien phong" (Adopted children of frontier posts) were launched, General Dao sponsored three young people who were in extremely difficult circumstances.
Later, one of the three teenagers became the head of the Thanh Loa Commune Police (Cao Loc district), while the other two now have stable jobs.
Warm ginger water brought to every soldier
In late February and early March 2019, the world watched Hanoi, where the US-DPRK Summit and the DPRK President Kim Jong Un's visit to Vietnam took place.
On March 2, at the 60th anniversary of the traditional Border Guard day, Prime Minister Nguyen Xuan Phuc said: "In recent days, the Border Guard has cooperated closely with ministries, branches, localities and appropriate forces to fulfill the task of securing conference safety.
The image of border guards on duty at the Dong Dang border station, Lang Son province, welcoming the DPRK's leader Kim Jong Un to Vietnam by train has left impressions and good feelings in international friends."
Recalling this event, General Dao said the Lang Son Border Guard force only had 48 hours for the preparation work to receive the DPRK leader.
At that time, the Commander of the Lang Son Border Guard Le Quang Dao stayed up all night to give instructions for the preparation.
"In the Dong Dang station area, the border guard was assigned the task of ensuring security in the area of nearly 4 square kilometers of the core zone (the most important area). Half of the troops of Lang Son Border Guard with hundreds of elite soldiers were selected to perform this particularly important task," he recalled.
Understanding that the area where Kim Jong Un's train passed and stayed before boarding the convoy moved to Hanoi had complicated terrain, he commanded his troops to coordinate with army forces and the police to thoroughly detect bombs, mines and obstacles.
It was very cold in Lang Son. In order to help soldiers on duty protect their health, in addition to ensuring food, drinks and clothes to keep them warm, the army medicinal unit was asked to prepare ginger water. Commander Dao in person brought the bottles of ginger water to the soldiers.
After that, he quietly walked along the railway to explore the terrain to fix problems and even minor mistakes in the environment.
"I am honored to be the first Vietnamese border guard to shake hands to welcome President Kim Jong Un to Dong Dang station. I said when he got into the train going back to his country that I wished I would once again welcome the leader back to Vietnam and go through this road. And I would be his protector then, too," he said.
Son Khang
General guards Lang Son border area for 27 years have 1394 words, post on vietnamnet.vn at May 1, 2021. This is cached page on Talk Vietnam. If you want remove this page, please contact us.