The Gateway Tower attracts the foreign tenants due to its prime location
Located in a prime position in the heart of the Western region, which is an area with dynamic development and good traffic infrastructure in Ha Noi, the Gateway Tower (Vinhomes Smart City, Nam Tu Liem, Ha Noi) is the best option for foreigners working in the capital.
Possessing a perfect regional connection
According to a quick survey of real estate brokers around Nam Tu Liem (Hanoi), in the past two weeks, on average, 1 out of 3 clients is interested in the Gateway Tower, especially foreigners living and working in Ha Noi. This is the first serviced apartment building in Vinhomes Smart City that has just opened for sale.
"The Gateway Tower contributes to slake the "thirst" for luxury apartments for clients who are foreign experts, increasingly gathering in the Western region. This building possesses utilities and high-quality infrastructure. Moreover, it is located in a favourable position, at the gateway of the project and with busy downtown shops that foreigners are extremely interested in," Mr. Nguyen Thanh Phu, a real estate broker in Ha Noi, said.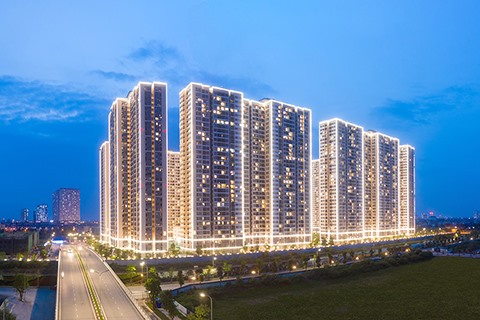 With a prime position in the capital, the Gateway Tower especially attracts tenants who are foreign experts working in Ha Noi.
Located in Vinhomes Smart City, the Gateway Tower has a position in the key area in the West of the capital. This is also considered a prerequisite factor to help the Gateway Tower attract foreign tenants, bringing sustainable profitability to the investor.
Accordingly, the Gateway Tower fully enjoys the perfect regional connection of the great smart urban area with a scale of 280 hectares.
When renting an apartment here, residents only take about seven minutes by car on Thang Long Avenue – the most beautiful road with a width of 140m in Viet Nam – to get to the My Dinh National Convention Center. Along with the whole project, the first serviced apartment building of Vinhomes Smart City is closely connected with a series of arterial thoroughfares such as Le Trong Tan Street, Road No. 70, Ring Road No. 2, Ring Road No. 3, which makes it easy to move to the Lang Hoa Lac hi-tech park or the My Dinh center where a lot of foreign experts work.
In fact, the favourable location of Vinhomes Smart City is one of the reasons why this project has been chosen by a large number of international residents to live in peace since it started to operate. The great urban area in the West of Ha Noi is the residence of thousands of foreigners, mainly the families of experts working in Ha Noi, from more than 20 countries and territories around the world.
Enjoying billion-dollar infrastructure
Six months ago, Katashi Saitou, a Japanese expert, moved to live in Vinhomes Smart City. He said that this was a rare urban area in the West of Ha Noi with adequate investment in the material foundation, infrastructure and utilities to make the life of foreign experts like him more convenient after a working day.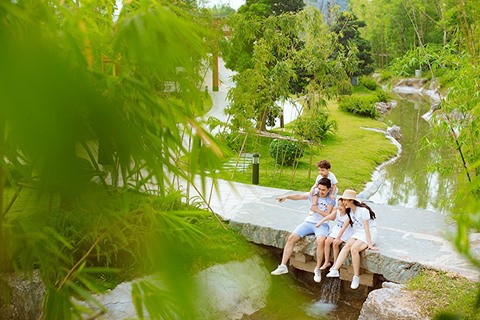 Japanese Zen Park – a million-dollar highlight exclusively for the residents of Vinhomes Smart City
"I walk in Zen Park every day. The Japanese park is constructed carefully, making me feel at home," Mr. Saitou said. The 6.1-hectare Zen Park is one of three parks, including the Sportia Park equipped with exercise machines with more than 1,000 functions and the Central Park with a 4.2-hectare lake, white sandbank, and many other utilities.
These three parks are one of the favourite places for the residents in general and the foreign community in particular in Vinhomes Smart City. The chain of parks has a total area of 16.3 hectares, stretching 3 km along the project, with thousands of green areas such as internal parks, sports fields, children's playgrounds, swimming pools, outdoor BBQ areas, etc., creating a special "healthy" living value for the great urban area with a construction density of only 14.7% – the lowest rate among current real estate projects.
Also, like other famous "city in the city" urban areas of Vinhomes, Vinhomes Smart City possesses a standard living ecosystem, meeting all needs of residents, from entertainment and shopping at Vincom Mega Mall, studying at Vinschool, healthcare at Vinmec International Hospital to the Vinhomes' standard operating system.
In addition, a special characteristic in this great urban area is the application of many intelligent features in operation. For example, the Smart Parking system helps the residents save time when looking for spaces to easily park; multi-layer security system with 24/7 camera, protection and patrol can detect and promptly handle all problems, providing an ideal living environment for all residents.
Katashi Saitou said he was extremely satisfied with his life in Vinhomes Smart City and introduced it to his colleagues to rent at the Gateway Tower.
"The urban area 3 key metro lines 5 – 6 – 7 is going to run through the urban area and the VinBus internal and external system is about to go into operation, we will move to the central place of Ha Noi quite conveniently. In the near future, there will be a direct road connecting Vinhomes Smart City to My Dinh stadium, the shortened distance is just over 2km, extremely ideal," Mr. Saitou said.
As noted, the special attraction of the Gateway Tower – Vinhomes Smart City to the foreign community has initially created a fever when this serviced apartment building opened for sale. More especially, the preeminent sales policy launched by the investor makes clients extremely excited, including the policy of advance payment with only 20% of the value of the apartment (equivalent to VND274 million) to be handed the house with basic furniture for immediate lease. For the loan for the 80% remaining value shall receive 0% interest rate support for up to 12 months. Besides, Vinhomes also commits to a profit of 7%/year for 18 months, giving investors peace of mind when holding a profit higher than the bank's interest rate for a relatively long time.
Enjoying billion-dollar infrastructure have 1132 words, post on vietnamnews.vn at May 5, 2021. This is cached page on Talk Vietnam. If you want remove this page, please contact us.