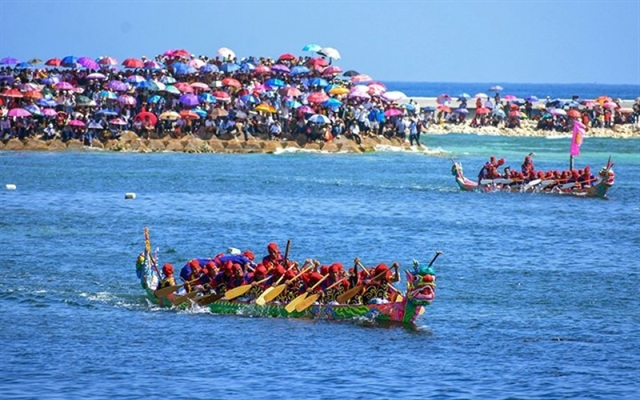 The Tứ Linh boat race festival on Lý Sơn Island in 2020. It has been been recognised as a national intangible cultural heritage. Photo truyenhinhdulich.vn
HCM CITY   The boat race festival in Quảng Ngãi Province's Lý Sơn Island, first held in 1826, has been designated a national intangible cultural heritage.
The Tứ Linh boat race is held to pay homage to the island's ancestral inhabitants and soldiers who fought for national sovereignty over the Hoàng Sa (Paracel) and Trường Sa (Spratly) archipelagos.
The event is also an opportunity for local fishermen to pray for prosperity, peace and a smooth voyage at sea.
Eight boats in the race are decorated with the images of four holy creatures, including dragon, unicorn, turtle and phoenix. Before the festival opens, teams typically worship their specific gods.
Lý Sơn islanders believe the winning team will enjoy the most peace and prosperity during the year.
Participants should be healthy, skilled men. In the past, the boats could carry only 14 people but in recent years, they have been designed to carry 24. VNS
Boat race festival recognised as national intangible cultural heritage have 266 words, post on vietnamnews.vn at May 7, 2021. This is cached page on Talk Vietnam. If you want remove this page, please contact us.