With a history of 132 years backed by a series of iconic projects across Asia, Hongkong Land is continuing to write its chronicle with luxury real estate projects in Viet Nam, and The Marq certainly cannot go without mention.
More than 130 years ago, Sir Catchick Paul Chater, who was orphaned just before his ninth birthday, moved to Hong Kong to build a bullion and land trading business. Little did he know that he would become one of Hong Kong's most famous real estate tycoons. The young Sir Paul surveyed the Victoria Harbor by dropping a maritime plumbline to measure its depth and successfully persuaded the colonial government of Hong Kong to reclaim the land at the riverbank, marking his first step in the real estate business. In 1889, Sir Paul formed a real estate company, The Hongkong Land Investment & Agency Company, Limited, together with Jardine, Matheson & Company's Scottish businessman, James Johnstone Keswick, laying the first bricks to build the famous Hongkong Land empire of today.
Hongkong Land – its 132-year history illustrated by a series of iconic projects
The asset of long-standing history and heritage has traditionally been associated mostly with luxury maisons. Hongkong Land breaks the norm with its 132-year legacy expressed through the creation of architectural masterpieces in major capitals of Asia.
Since its establishment in 1889, which instigated the famous Praya Reclamation Scheme that turned 65 acres of wasteland into Hong Kong's leading commercial centre, Hongkong Land has grown to be one of Asia's most familiar and trusted property investment, management, and development groups. Hongkong Land currently owns and manages more than 850,000 sq.m of prime office and luxury retail property in key Asian cities, principally in Hong Kong, Singapore, Beijing and Jakarta. The Group also has a number of high quality residential, commercial, and mixed-use projects under development in cities across Greater China and Southeast Asia.The addition of Singapore's prosperity symbol, Marina Bay Financial Center, and Jakarta's architectural marvel, World Trade Center, underscore Hongkong Land's leading position in the region.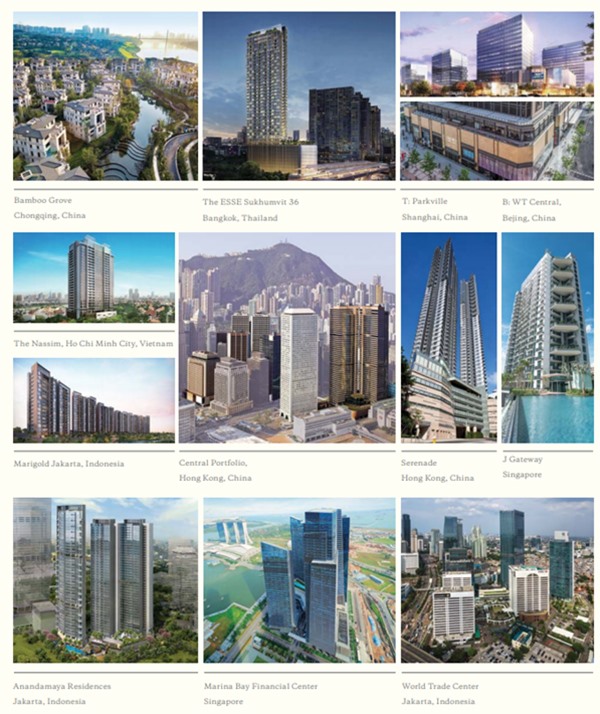 Hongkong Land owns and manages many prime offices and luxury retail properties in key Asian cities
Hongkong Land's impressive mark in Viet Nam
In the Vietnamese market, Hongkong Land is one of the few pioneering brands in the field of investment and development of luxury real estate projects.
In HCM City, Hongkong Land marked its presence with the completion of The Nassim – a luxury apartment project located at the much-coveted Thao Dien peninsula. For the first time in Viet Nam, the private elevator concept was introduced via this project. A highly-sought privacy perk for wealthy residents, it was certainly a cherry atop a series of other top-notch facilities.
The Marq, Hongkong Land's latest luxury apartment project in the heart of District 1, is another interesting addition to Hongkong Land's collection of luxury residential projects in Viet Nam.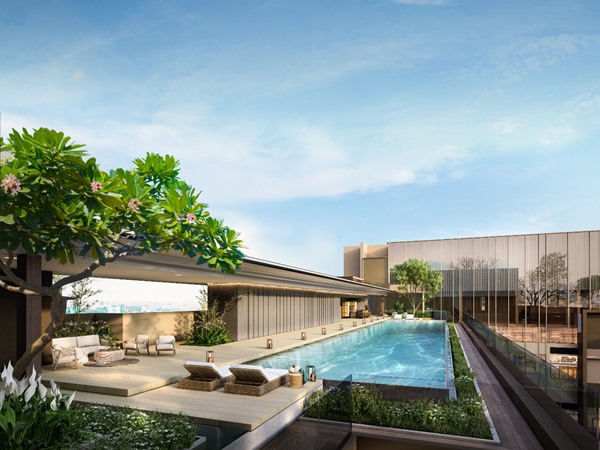 Luxuriate in the upscale in The Marq
The Marq – Refined Luxury Living
Situated along the dreamy street of Nguyen Dinh Chieu, a peaceful avenue hidden under a canopy of trees, where heritage is imbued with modern lifestyles, The Marq enhances its surroundings with its refined contemporary touches. Not just on the outside, modern elements run inside, from the soaring high ceilings to top-of-the-line appliances, private lift lobbies, and a wealth of recreational facilities crowning the rooftop. This masterpiece is dedicated to wealthy lifestyle connoisseurs seeking true value of life. As Hongkong Land's latest gem, The Marq is set to be another trademark of Hongkong Land, staying true to its name (The Marq is combining the word Mark – meaning imprint – and the letter Q – an abbreviation for Quintessence).
While Hongkong Land focuses on developing high-end real estate, its parent company, Jardine Matheson Group, owns a well-diversified portfolio in various sectors of the Vietnamese market, from finance (ACB Bank) to automotive manufacturing (THACO), infrastructure (REE), and food and beverage (Vinamilk, Starbucks, KFC).
Both Hongkong Land and Jardine Matheson will certainly bring a lot of synergised value to their projects in Viet Nam, including luxury real estate projects like The Marq.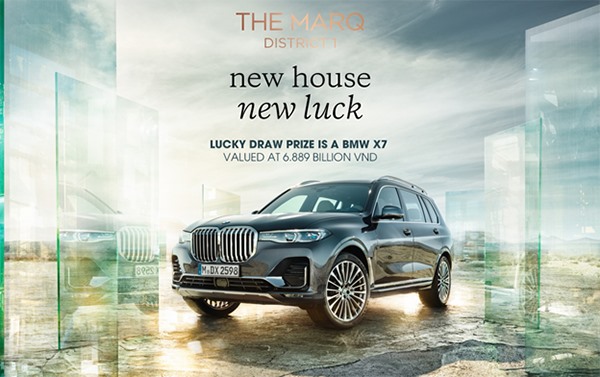 A collaboration between The Marq & BMW (THACO)
The launch of The Marq's new show unit and the release of a new selection of units for sale will be held in April 2021, right at the project site. Customers who register their interest will be granted 1 Starbucks voucher worth VND2,000,000. In addition, all customers who successfully sign the sale or lease agreeement will be eligible to take part in a special lucky draw and stand to win a BMW X7-xDrive40i-Pure Excellence valued at VND6,889,000,000. Don't miss your chance with "New home, new luck" by The Marq.
Developed by Hongkong Land, The Marq is a luxury residential high-rise building located in the heart of District 1. The development will provide 515 opulent residences comprising 1- to 4-bedroom condominiums and penthouses offering stunning views of HCM City and a true luxury lifestyle for discerning investors.
For more information, visit www.themarq.com.vn or http://www.facebook.com/themarqdistrict1 .
Hongkong Land continues its 132-year legacy in Viet Nam have 1025 words, post on vietnamnews.vn at April 19, 2021. This is cached page on Talk Vietnam. If you want remove this page, please contact us.