Biến chủng Ấn Độ có mức độ lây lan mạnh hơn, tử vong nhiều hơn. Việt Nam đang gấp rút giải trình tự gene 4 ca mắc Covid-19 là chuyên gia Ấn Độ.
The Indian strain of Covid-19 is more contagious and more fatal. Vietnam is rushing to sequence the gene in Covid-19 infections in four Indian experts who are currently in Vietnam.
Prof. Nguyen Van Kinh, President of the Association for Infectious Diseases, told an online meeting on Covid-19 prevention and vaccination safety on April 28 that the B.1617 virus strain in India is more dangerous than the current ones.
"This strain has a double mutation in the protein S segment, so it spreads very quickly and the fatality is high," said Professor Kinh.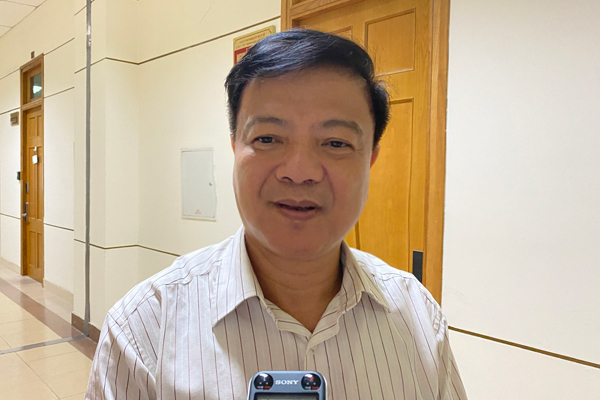 Prof. Nguyen Van Kinh
In Vietnam, four Indian experts who recently entered Vietnam and were under quarantine in a hotel in the northern province of Yen Bai were confirmed to be positive to Covid-19. A hotel employee who had close contact with them was also positive. All of the five patients are being treated at the Central Hospital for Tropical Diseases in Hanoi.
To determine whether or not these patients are infected with the Indian strain, Vietnam is urgently sequencing the genes of these cases. Results are expected in the next few days. The patients are in stable condition.
The results of genetic sequencing will be the basis for Vietnam to strengthen preventive measures and have sufficient information for health workers to have appropriate treatment plans.
If the India strain is detected, Vietnam will have five strains of SARS-CoV-2, besides the mutant strain B.1.1.7 from the UK, B.1.351 in South Africa, D614G in Europe and the original strain in Wuhan.
According to Prof. Kinh, the Indian variant is being noticed by the whole world because it spread faster than the British variant.
"The new strain spreads faster than all other strains that India has seen before. India has to face the variant, but the whole world is also very concerned about how to prevent it from spreading to other countries," Prof. Kinh said.
However, since many countries have not yet closed their borders, the new strain has appeared in at least 17 countries.
"With the current context, experts are afraid that in the next 10 days India will peak in the number of deaths, from 2,000 to 13,000 cases a day. It will be a tragedy for India if there are no timely response measures," Prof. Kinh added.
As of the morning of April 28, India had recorded nearly 18 million cases of Covid-19, ranking second in the world, and more than 201,000 deaths. In the past 24 hours, the second most populous country in the world had nearly 363,000 new cases and more than 3,200 deaths.
Thuy Hanh
Concerned about Covid-19 strain in India, Vietnam urgently decodes genes have 548 words, post on vietnamnet.vn at April 29, 2021. This is cached page on Talk Vietnam. If you want remove this page, please contact us.