Three new COVID-19 cases, 29 recoveries reported on March 15 afternoon
In the past 12 hours to 6pm on March 15, Vietnam recorded three new cases of COVID-19, all Vietnamese citizens returning from abroad and being quarantined, according to the Ministry of Health.
These new patients brought the country's total count to 2,557, including 1,594 domestically-transmitted cases.
As many as 39,613 people who had close contact with confirmed COVID-19 patients or entered Vietnam from pandemic-hit regions are being quarantined across the country.
The Medical Examination and Treatment Department under the Ministry of Health said that 29 patients were given the all-clear on March 15, bringing the total recoveries to 2,115. The fatalities remained at 35.
Among the active patients undergoing treatment, 42 tested negative for the coronavirus SARS-CoV-2 once, 22 twice and 110 thrice.
In a bid to live safely with the pandemic, people should strictly follow the Ministry of Health's 5K message: khau trang (facemask), khu khuan (disinfection), khoang cach (distance), khong tu tap (no gathering) and khai bao y te (health declaration)./.
Two people suffer allergic reactions after receipt of Covid-19 vaccine
According to the National Steering Board for Covid-19 Prevention and Control this morning, more people received Covid-19 vaccine and two of them suffered allergic reactions including anaphylaxis.
The National Expanded Program on Immunization yesterday reported two people had allergic reactions including anaphylaxis after receipt of Covid-19 vaccine during the recommended postvaccination observation periods ( either 15 or 30 minutes).
Yesterday, some 1,382 frontline health workers received Covid-19 vaccines in Vietnam bringing the country's total to 11,605 people.
Vietnam started its national vaccination drive on March 8, using doses from the first batch of 117,000 doses of Oxford/AstraZeneca that arrived in the country on February 24.
Vietnam has gone without new infection cases of Covid-19 as of March 15. The country's Covid-19 patient tally stands at 2,554 infection cases including 1,594 locally transmitted cases.
On the same day, the Treatment Sub-Committee said that the health condition of patient 1,536 who is being treated in the Lung Hospital in the Central City of Da Nang has been better. This is the worse Covid-10 case in the country. The second severe case, patient 1,823, who is staying in the National Hospital for Tropical Diseases has also shown signs of abating.
Huong Pagoda receives over 20,000 pilgrims on its reopening day
The Complex of Huong Son Historical Relic Site in Hanoi's My Duc District received more than 20,000 pilgrims in its reopening day on March 13.
Three Covid-19 monitoring and control stations have been established at entrances of the historical site to ensure that all people strictly implement prevention measures, such as wearing masks, measuring body temperature and washing hands.
The local volunteer force consisting of 35 members is always in the pagoda to remind people to strictly implement prevention measures and provide face masks to visitors.
Vietnam's tourism promoted in India's northern city
The Embassy of Vietnam in India, together with ASIA DMC Vietnam and India's Allena Group, held a conference on March 12 to promote Vietnam's tourism and images in Chandigarh – the capital city of both northern Haryana and Punjab states.
The event, themed "Vietnam – A dream destination", introduced high-end resort tourism products suitable for customers from Chandigarh city, which has the highest per capita income in India.
Vietnamese Ambassador to India Pham Sanh Chau informed participants of Vietnam's potential and capacity to host major events, citing that several grand weddings of Indian nationals were held in the Southeast Asian country.
He voiced his hope that the event would help connect businesses of the two countries and prepare for the recovery period this year.
In addition to tourism and medical tourism, the diplomat also wished the two nations would bolster further cooperation in the fields of highly-skilled workers, information technology and education.
The participants expressed their delight that Vietnam and India have opened many direct flights, as well as spoke highly of bilateral economic and trade collaboration.
Some businesses voiced their hope that a direct air route linking Chandigarh and Vietnam will be launched in the coming time to capitalise on potential in economic and tourism development.
The event was held in both forms of in-person and video conference amid travel restrictions triggered by the COVID-19 pandemic. It aimed to attract international holidaymakers once tourism is reopened in the post-pandemic period, especially as couples in India are planning their weddings at the year's end./.
Prime Minister asks Nghe An province to lure big, strategic projects
Nghe An province should work harder to attract major and strategic projects, thus creating remarkable changes, Prime Minister Nguyen Xuan Phuc told local key officials at a working session on March 14.
PM Phuc lauded the central province's efforts to achieve a growth rate of 7.2 percent and budget collection of over 17 trillion VND (739.72 million USD).
The government leader urged Nghe An province to promote the spirit of innovation and creativity, as well as traditional cultural values, both tangible and intangible, in the time ahead.
A drastic and specific action programme is needed to implement the resolutions adopted at the 13th National Party Congress and the provincial Party Congress, he said.
PM Phuc asked Nghe An to pay more heed to urban expansion and development, which, he said, holds significance to the province.
As the centre of the north central region, Nghe An needs to develop further and form hubs of education-training, culture, entertainment and tourism, the PM said.
He suggested mobilising different economic sectors to spur service development and production, ensure security and order, and attract more talents and rich people to the province.
Also on March 14, the PM attended the inauguration ceremony of Cua Hoi bridge linking Nghe An and Ha Tinh provinces.
Construction of the bridge, spanning Lam River, began in February 2019, with total cost of 950 billion VND, with 450 billion VND from government bonds and the remainder from the two provinces.
The bridge is of significance as it contributes to completing the coastal route connecting the two provinces and facilitating the development of maritime tourism and economy.
The same day, he attended a ceremony in response to the programme on planting 1 billion trees jointly held by the Ministry of Natural Resources and Environment and the province at the Truong Bon national historical relic site.
The PM also paid tribute to President Ho Chi Minh at the Kim Lien special national relic site in Nam Dan district, and to heroic martyrs at the Truong Bon national historical relic site that witnessed the sacrifice of Vietnamese soldiers and people, especially young volunteers, during the war against the US imperialists./.
Vietnam logs another imported COVID-19 case on March 14 evening
Another imported COVID-19 case was reported on March 14 evening, bringing the total number of infections in the country to 2,554, the Ministry of Health said.
The new patient is a Japanese expert who has been quarantined since his arrival at Ho Chi Minh City's Tan Son Nhat International Airport on March 10. His sample showed a positive result and he is now treated at Cu Chi COVID-19 treatment hospital.
Of the total number, 1,594 are domestically-transmitted cases, including 901 infections since the third outbreak hit the country on January 27.
According to the Treatment Subcommittee under the National Steering Committee for COVID-19 Prevention and Control, a total of 2,086 patients have recovered from the disease, while the death toll was kept at 35.
Among active patients undergoing treatment at medical establishments nationwide, 48 tested negative to coronavirus SARS-CoV-2 once, 48 twice and 91 thrice.
As many as 39,613 people who had close contact with confirmed COVID-19 patients or entered Vietnam from pandemic-hit regions are being quarantined across the country, including 503 in hospitals, 16,056 in state-designated establishments and 23,054 at their residences./.
Support to overseas Vietnamese students, youths enhanced
The Secretariat of the Ho Chi Minh Communist Youth Union (HCYU) Central Committee on March 13 held an online meeting with the Vietnamese Students' Association, the Vietnamese Youths and Students Association, and representatives of the HCYU abroad.
Although the COVID-19 pandemic affected the organisation of major activities connecting youths and students last year, relevant associations rolled out suitable activities, the meeting heard.
The associations, notably those in the Republic of Korea (RoK), Singapore, the Netherlands and Australia, have taken specific actions to support young people in startup.
They have also contributed to promoting Vietnam's image to the world and established groups of volunteers to assist overseas Vietnamese students.
Standing Secretary of the HCYU Central Committee and President of the Vietnamese Students' Association Bui Quang Huy lauded the operation of Vietnamese students' associations in foreign countries.
The associations should play a more active role in strengthening solidarity between Vietnamese students abroad, he said.
Huy also urged students to raise awareness of COVID-19 prevention and control measures, and observe recommendations of competent agencies./.
Vietnam, Laos pay tribute to fallen soldiers of public security forces
The Ministries of Public Security of Vietnam and Laos have paid tribute to their fallen soldiers and officers at a former revolutionary base of the Lao People's Revolutionary Party's in Viengxay district of Houaphanh province.
A requiem was held on March 13 at Santilat cave, which served as the headquarters of the predecessor of the current Lao Ministry of Public Security and the workplace of Vietnamese public security experts from 1961 to 1973.
Addressing the event, head of the Vietnamese Ministry of Public Security's representative agency in Laos Major General Hoang Quang Huong said that the first group of public security experts from Vietnam was sent to Laos on March 22, 1961 to support the neighbour's public security force at the request of the Parties and Governments of both countries, marking the start of official cooperation between the two public security forces.
The two countries' public security forces have since then stood side by side and supported each other to fulfil all tasks assigned by the Parties, States and peoples, he underlined.
Huong expressed his gratitude for the support of the Party, State and people of Laos, and the country's public security force, for the Vietnamese experts over the years, affirming that Vietnam's public security force will continue cooperate with its Lao counterpart to ensure national security, order and happiness of people of the two nations.
On the occasion, the Vietnamese Ministry of Public Security's representative agency in Laos presented office equipment to the public security forces of Houaphanh province and Viengxay district, along with 100 aid packages to disadvantaged families in Viengxay./.
HCMC Transport Dept proposes building small airport in Can Gio
The HCMC Department of Transport has proposed building a small airport in Can Gio to boost the outlying district's socioeconomic development.
Speaking at a meeting on the plan for HCMC's road, railway and airport system in the 2021-2030 period, with a vision toward 2025, on March 12, a representative of the department said Can Gio District is set to be one of the four new urban areas of HCMC. A new airport will facilitate rescue and fire prevention activities as well as the district's development.
The plan also includes the construction of a road connecting Tran Quoc Hoan and Cong Hoa streets and updates about metro lines connected to the Tan Son Nhat International Airport and the Long Thanh International Airport.
In June 2020, the Government approved HCMC's proposal to expand the Can Gio sea encroachment tourist urban area from 600 hectares to 2,870 hectares.
The project is located in Long Hoa Commune and Can Thanh Town, Can Gio District, and requires an investment of more than VND217 trillion. The Can Gio Tourist City Corporation has invested in the project and is expected to contribute some VND3 trillion per year to HCMC's budget once complete.
The HCMC Department of Planning and Architecture has proposed developing the Can Gio sea reclamation project into one of the city's four new urban areas, together with the Hiep Phuoc Port, the Northwest and the Binh Quoi-Thanh Da urban areas.
Work on new terminal of Tan Son Nhat Airport to begin in October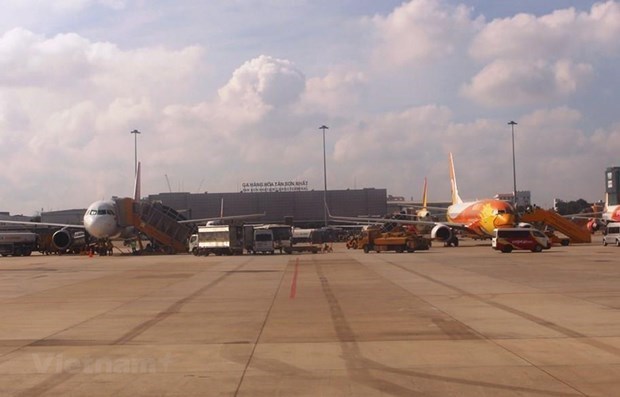 The cargo terminal of Tan Son Nhat International Airport (Photo: VNA)
The construction is expected to complete in 24 months so as to help raise the capacity of Tan Son Nhat – the largest airport in the country, address traffic congestion in its vicinity, and fuel economic and tourism development in HCM City and other southern localities.
The project is invested with a total of about 10.99 trillion VND (478 million USD) by ACV.
Once operational, Terminal T3 will be able to serve up to 20 million passengers annually, according to the Prime Minister's Decision 657/QD-TTg, dated May 19, 2020, that gave the green light to the project.
The new facility will handle domestic flights, thus helping to ease pressure on Terminal T1 that is currently overloaded and to improve service quality./.
New road near Tan Son Nhat International Airport to ease traffic congestion
HCM City plans to build a new road to link Trần Quốc Hoàn Street and Cộng Hòa Street in Tân Bình District to reduce traffic congestion around Tân Sơn Nhất International Airport.
Construction of the 4.4km-long road with six lanes is expected to start in December 2021 and finish in 18 months.
The city will also add underground tunnels at the intersections of Phan Thúc Duyện and Trần Quốc Hoàn streets, and Trường Chinh and Tân Kỳ Tân Quý streets, as well as a flyover in front of the airport's new terminal T3.
More than VNĐ4.8 trillion (US$208.4 million) will be spent on construction and site clearance work.
To speed up the project, the Ministry of Defense needs to hand over more than 1,100 square metres of land to arrange resettlement for 33 affected households.
The project is one of six proposed by the municipal Department of Transport to cope with the 50 million passengers the airport is expected to handle annually by 2030 when the T3 terminal is completed.
The city has recently completed three projects, including a flyover on Trường Sơn Street in front of the airport gate, a flyover at the intersection of Nguyễn Kiệm, Nguyễn Thái Sơn and Hoàng Minh Giám streets, and the widening of Hoàng Minh Giám Street.
Province takes back 10,000 sq m for public beach in Nha Trang
The authority of Khánh Hòa Province has taken back 10,000 square metres of sea and beach area of Nha Trang Bay to make it a public beach for locals and tourists.
The area was previously allocated to hotel businesses for commercial purposes, said Nguyễn Tấn Tuân, chairman of the province's People's Committee.
The move aims to protect the environment of Nha Trang Bay, which has been recognized as "the most beautiful bay in the world", Tuân said.
The area is located at Bãi Dương Beach on Trần Phú Street in Lộc Thọ Ward. The area was previously leased by Sovico Khanh Hoa Company Limited to do business and serve guests at the resort and hotel Ana Mandara.
According to the province's Department of Natural Resources and Environment, the area will be assigned to the People's Committee of Lộc Thọ ward to manage as a public beach.
Saltwater intrusion to affect crops in Mekong Delta, farmers take preventive measures
Saltwater intrusion will affect about 40,000ha of fruits and 5,000ha of rice in the Mekong Delta this month, according to the Ministry of Agriculture and Rural Development's Irrigation Department.
The fruit areas are in Tien Giang, Ben Tre, Vinh Long and Soc Trang provinces, while the rice areas are in Tra Vinh province.
The level of saltwater intrusion in the ongoing 2020 – 21 dry season is higher than average, but lower than the dry season in 2015 and 2020.
Saltwater intrusion from sea through river mouths began occurring at the delta's main rivers on January 24, nearly one month earlier than the average of many years.
Before the beginning of the 2020 – 21 dry season, local authorities in the delta took various measures to protect agricultural production and households from saltwater intrusion.
The measures include building and upgrading irrigation works, dredging irrigation canals, and restructuring crop cultivating schedules.
Seawater with a salinity rate of four grammes per litre is expected to enter 50 – 85 kilometres deep into the mouths of the delta's main rivers this month.
At the Ham Luong River, for instance, saltwater intrusion will enter 65 – 70 kilometres deep into the river mouth.
Most crops can only tolerate a salinity rate of up to one gramme per litre.
Saltwater intrusion will gradually fall in April and May, according to the Irrigation Department.
The high level of saltwater occurs during high tides when seawater rises and enters deep into river mouths.
In previous high tides this year, saltwater entered deep into river mouths on January 10 – 14, January 24 – 30, February 12 – 16 and February 24 – March 2.
The delta had heavy rains in January and February, but local farmers stored irrigation water in their orchard ditches, so the orchards and daily-use water have not been affected.
Farmers in the delta, the country's rice granary, have harvested 400,000ha of 1.51 million hectares of the ongoing 2020 – 21 winter – spring rice. The winter – spring rice was sown earlier than normal to avoid a shortage of irrigation water at the end of the crop.
To secure irrigation water for the upcoming summer – autumn rice crop, the Irrigation Department has told localities to only grow crops in areas that have enough irrigation water. If they do not have enough, farmers should only start growing a new rice crop when the rainy season starts, it said./.
Nearly 26 million USD spent on upgrading drug detox facilities in 2016-2020
A total of 600 billion VND (25.9 million USD) was allocated from the State budget during the 2016-2020 period to 38 cities and provinces to upgrade and repair drug detoxification facilities, the Ministry of Labour, Invalids and Social Affairs (MoLISA) announced on March 12.
Deputy Minister Nguyen Thi Ha said nearly 173,000 people were weaned off drugs at detox facilities during the period.
Further efforts will be made to improve the quality and efficiency of drug detoxification programmes over the next five years.
The ministry has set a target of 100 percent of detox facilities and other facilities that provide detox services in the community to receive investment to ensure detoxification efforts are successful.
There are currently 97 public drug detox facilities around Vietnam./.
Relic site in Hoa Binh demonstrates Vietnam-Laos solidarity
The Military Command of the northern mountainous province of Hoa Binh has organised a ground-breaking ceremony for a project to upgrade a revolutionary historical relic site associated with the Lao People's Revolutionary Party (LPRP).
The project aims to preserve and uphold the values of the site, thus demonstrating the solidarity, time-honoured relations, and comprehensive cooperation between Vietnam and Laos, said Colonel Nguyen Quoc Toan, Commander of the provincial Military Command.
The site is located within the headquarters of the Military Command in Hoa Binh city, where the Lao People's Party (now the LPRP) held political training and a preparatory session for its second congress in December 1971.
Covering an area of nearly 1,000 sq.m, the project will upgrade a traditional house and hall as well as other facilities, with funding of around 47.1 billion VND (2 million USD) sourced from local and central budgets.
The provincial People's Committee has assigned the Military Command as the main investor.
Once open, the site will help educate the younger generations about the revolutionary traditions and the friendship between the two countries./.
Wholesale markets see a drop in waste
The volume of waste relative to the total agricultural produce reaching focal points in Ho Chi Minh City has tended to decrease thanks to partial processing at source, according to the city people's committee.
Since 2018 city authorities have been exhorting shopkeepers at wholesale markets and relevant authorities in the provinces of Lam Dong and Ben Tre, the two major suppliers of agricultural produce to the city, to ban unprocessed agricultural products.
The people's committee said the waste that came with meats, vegetables and fruits to the Binh Dien wholesale market in Binh Chanh district, Thu Duc wholesale market and Hoc Mon wholesale market last year was 173 tonnes per night, 60-65 tonnes less than in 2018.
Over 9,200 tonnes of goods are delivered to the three markets daily.
The managements of the three markets have to spend a combined 8.5 billion VND (more than 365,000 USD) a year to collect, clean, decontaminate, transport, and treat the waste.
Le Huynh Minh Tu, deputy director of the city Department of Industry and Trade, said the city would continue with the programme of partial processing at source by working more closely with related departments of Lam Dong province and tightening regulations on the supply of goods to wholesale markets to reduce the amount of waste being dumped in the city./.
Organic farmers faces challenges due to a lack of stable market
While the demand for organic agricultural products is increasing, farmers in Việt Nam are struggling to sell and get a decent price for their produce.
Nguyễn Văn Chung, owner of Chung Thủy Farm in Thanh Hóa Province's Thạch Thành District, is an example.
Chung's family now has 73 hectares of organic farm land.
His farm is certified to meet Global Good Agricultural Practice (GlobalGAP) standard, which means he is eligible to export to European countries and other demanding markets.
According to Chung, fertilisers and pesticides are the two decisive factors for organic agriculture. Fertilisers must be of organic origin and pesticides must be of biological origin and not harmful to the environment. It's a must to follow strict procedure while caring for the plants.
Chung now has 6,000 square metres dedicated to raising earthworms (Perionyx excavates). Each year he collects 3,000 tonnes of fertiliser – the main source of organic fertiliser for his orange and pomelo crops.
Besides earthworm fertiliser, he also uses soybeans, corn and fish which were ground into flour, together with bio-products to provide nutrients for plants, he said.
He makes homemade pesticide by combining crushed garlic and chili with Chinaberry tree leaves to get rid of insects.
"The greatest benefits of organic farming is to ensure the safety of agricultural products and minimise the impact on the environment as well as having high yield potential.
"The plants grow healthy and their harvesting cycle is longer than traditional farming," Chung said.
Thanks to the adoption of organic farming, he has continuously harvested orange trees with a yield of 60 tonnes per hectare per year over the past five years. He said the productivity might be up to 80-90 tonnes.
"Organic fertiliser helps plant roots be healthy and penetrate deep into the ground to absorb necessary nutrients. Earthworms and sea fish are high protein sources that provide essential nutrients to ensure crop productivity."
Challenges
Although it is costly to produce and requires strict management in all processes, organic products are still undervalued.
"All of our products are bought by traders who transport to the wholesale market but no company signs contracts with us in distributing agricultural products in a sustainable way," Chung said, adding that each year his farm supplied 800-1,000 tonnes of fruits a year to the market.
Currently, orange is sold at VND14,000-15,000 per kg (about US0.60 cents) – the same as the average market price.
This means farmers like him get little profit or just enough to cover the expense for production.
Chung said other organic producers were in similar situation.
Despite obtaining GlobalGAP standards, all products cultivated in the locality are not on sale at supermarkets, plus it's not easy to export to foreign markets.
In theory, organic agricultural products ensure benefits for both producers and consumers in the long term, but in the short term farmers are suffering losses.
"It's more difficult to wipe out insects and harmful organisms without using pesticides, so farmers have to be more diligent to keep the plants healthy.
"Because we can't find sustainable outlets for our products at the moment, we have to sell them to traders at the same price as non-organic products on the market," he said, blaming consumers for low awareness of organic products.
Profits from organic agricultural production were not as high as expected, Chung said.
Cao Văn Cường, director of Thanh Hóa Province Agriculture and Rural Development said in order for organic agriculture to thrive, it was vital to strengthen activities relating to branding, market development and promotion of organic products. Focus should be on domestic market and exporting the products to foreign markets.
The province would drastically enforce the provisions of the Law on Product and Goods Quality and Law on Standards and Technical Regulations in the production, processing, certification and supervision as well as the sale of organic agricultural produce.
"Thanh Hóa will continue to improve institutions and policies to encourage the development of organic agriculture and increase the application of biotechnology in the production," he said.
The use of varieties with high yield as well as resistant to pests and diseases and adapt to climate change would be encouraged.
Cường said in the future, Thanh Hóa Province would intensify dissemination about organic farming to raise awareness for businesses, producers and consumers about the compliance of organic agricultural production processes.
Information on how to select the key products which are suitable to local natural conditions would also be provided, he said.
Young men launch organic farm after studying in Israel
Three years ago, the sugarcane growing area in Ninh Hòa Town, the south-central province of Khánh Hòa, was a barren land lot.
Now, it is covered with green space of orchards and medicinal plants thanks to the organic farming model developed by a group of young men.
The four young men, coming from different areas and with little farming experience, chose Ninh Hòa to start up the organic farm after training in Israel, the world's leading country in agricultural technology and exporter of farm produce.
Nguyễn Tá Đông, 31 years old, hailing from Đắk Lắk Province, leader of the group, studied logistics while Nguyễn Mạnh Tiến, 26, studied marketing; Trương Hoàng Nam, 26, learned food technology and Phạm Minh Thông, 25, majored in economics.
These different backgrounds are also advantages for the group because operating a high-tech organic and large-scale farm requires knowledge in various fields.
Thanks to the knowledge and experience of the operators, Moshave Farm has orchards on 56ha with different kinds of fruits such as coconuts, pomelos, guavas, grapes, jackfruits, mangos and plants for herbal medicine as well as bred chickens and sheep.
The short-term organic herbs are harvested to make herbal products such as hand sanitiser, cleaning liquids, cold-dried ginger powder, pennywort powder, peppermint oil, mineral mud mask and butterfly pea tea.
The farm's products have been distributed to more than 100 retail and wholesale channels nationwide and received positive feedback from customers.
The farm has received capital of VNĐ24 billion from investors and attracted hundreds of trainees.
Behind Moshave Farm's success are the inspiring stories of the four founders.
Nguyễn Tá Đông, the team's leader, left the city to work at a farm in the rural area, hoping to build an organic farm combined with ecotourism.
After earning his logistics degree, Đông was in charge of farm produce records at an import-export company and realised the value of Vietnamese farm produce was too low compared to the farmers' efforts, so he went to Israel to learn about farming.
"The harsh studying time in Israel helped me absorb effective professional working methods. These practical experiences have given me the mindset about high-quality organic agriculture," Đông said.
Returning to Việt Nam after a year in Israel, Đông met three other young men who shared the dream of developing an organic farming model and had also studied in Israel.
"Israel is different from Việt Nam in soil and climate conditions so we had to select suitable methods that we learned in Israel to apply in Việt Nam instead of copying 100 per cent of Israeli models," he said.
Starting up on a 10ha land lot bought from local people, the team made short-term profits to feed long-term plans.
"In the first days, the profits collected from products were the main income of the farm to pay wages for workers and maintain operations," Đông told the Vietnam News Agency.
Nguyễn Mạnh Tiến, one of Moshave Farm's founders, said: "I was quite shocked on the first days in Israel due to their high working intensity in hot weather conditions. The traineeship time helped me learn from the mindset and working spirit of the Jewish people."
"Israeli people working on the farm do not have the mindset of farmers but the mindset of businessmen in the agricultural sector. They grow plants, at the same time, find the output for their farm produce so they can sell a lot," Tiến said.
Moshave Farm also promotes communications to let customers know about the farming process while fruits and vegetables are still being grown.
The founders of the farm said getting customers involved in the production chain would urge producers to be more responsible for their products and ensure the rights of customers.
The farm saves operation costs by dividing plants into different zones marked with numbers to manage them on the computer and uses automatic drip irrigation, mist spraying and automatic organic fertilising.
Farmers submit daily, weekly and monthly reports on the management software.
The farm has 30 farmers and officers working on the 56ha, but with traditional methods, up to 60 people would be needed.
Nguyễn Mai Hùng, a worker of the farm, said: "We don't use pesticides but make organic compost and water the land. The barren land on which local people grew sugarcane and used pesticides has become gradually chemical-free. Farmers working here also have stable incomes."
Moshave Farm's founders said they wanted the farm to be not only an organic model but also a community project which offers stable jobs to local people.
The team has shared start-up experience including both successes and failures with local young people.
Nguyễn Trần Ngọc Hòa, secretary of Ninh Thượng Youth Union, said the farm created many job opportunities for people inside and outside the commune and given young people motivation that they too can start a business.
Back to old times at Xưa Coffee
At Xưa (Old) Coffee,  visitors can find hundreds of antiques, most of which are in working order.
The coffee house located at Lý Chính Thắng Street in HCM City's District 3 boasts an attractive collection of antiques.
Nguyễn Quốc Dũng, the owner, said that just like his father, he collects antiques, especially those that still work.
His favourite item is a mini sewing machine produced between 1940 and 1960. It is capable of adding fine details on small pieces of fabric.
The shop also displays fans, lamps, clocks and record players. All operate on a separate 110 voltage current.
One of the special items is the stereo system, including a manual vinyl player from the 1930s and a 1950s AKAI reel-to-reel audio tape recorder.
The cafe can serve 80 to 100 customers. Its menu features coffee, fruit tea, juice, and smoothies, all priced at VND30,000-60,000 (US$1.3-2.6). Opening hours are from 6:30 am to 6 pm daily.
Former fitness coach says Vietnamese football improving day by day
Vietnamese football is improving day by day and attracting great attention from other countries, according to former Việt Nam national team fitness coach Bae Ji-won.
The South Korean made the statement based on the movement of Vietnamese players to play football in other countries as goalkeeper Đặng Văn Lâm joining Cerezo Osaka in Japan earlier this year.
In addition, in July, midfielder Cao Văn Triền of Sài Gòn FC and striker Trần Danh Trung of Viettel will move to Japanese side Ryukyu FC in the J2 League on loan.
"Vietnamese football is now very attractive in international's eyes," Bae told thethao247.vn.
"In the development of professional football, integration is a must and Vietnamese football is doing great.
"From the fact that Vietnamese players have opportunities to play in other countries and there're big clubs in the world that want to work with Vietnamese football clubs for youth academies to train young potential players, the Vietnamese football background and basics are getting stronger and stronger. I believe Vietnamese football will be further developed," he said.
Despite that, according to the Korean, Vietnamese players are still not ready to play in Europe, even for reserve teams, making the Japanese or South Korean leagues more suitable.
Vietnamese footballers have struggled to make their mark abroad, with Nguyễn Tuấn Anh, Lương Xuân Trường, Nguyễn Công Phượng and Đoàn Văn Hậu all returning home after short spells abroad spent mostly on the bench.
Bae Ji-won is a former fitness coach of the Việt Nam national football team under Park Hang-seo.
After winning the AFF Suzuki Cup 2018, Bae Ji-won left the national team to focus on his own coaching career.
Quang Hai nominated among best midfielders in AFC Cup
Leading Vietnamese footballer Quang Hai has been put forward to competein the category for the best central midfielders in the AFC Cup's All-time XI, as nominated by the Asian Football Confederation (AFC).
"The then 22-year-old was simply devastating throughout the tournament, setting up a hatful of goals in the group stage and scoring two screamers in the Inter-zone play-off semi-final against Altyn Asyr, with only an away goals defeat to 4.25 SC preventing Hanoi from becoming the first Vietnamese club to reach the final", outlines the AFC's website.
The year ahead is set to see the return of Quang Hai to the competition as his club side Hanoi FC have qualified for the 2021 version of the AFC Cup.
The other Southeast Asian football players among the nominees include Therdsak Chaiman of Thailand, Stephan Schrock of the Philippines, Hariss Harun of Singapore, and Safiq Rahim of Malaysia.
Russia grants 1,000 scholarships in 2021 to Vietnam
The Russia Government has granted 1,000 scholarships in 2021 to Vietnamese citizens to pursue study at universities and research institutes in the Russian Federation.
The Vietnamese Ministry of Education and Training and the Russian Cooperation Agency represented by the Russian Centre for Culture and Science in Vietnam announced that they have begun to recruit candidates for the scholarship programme.
Beneficiaries are those who want to do a bachelor's degree, master's degree, doctor's degree or to serve an internship at hospitals. Candidates are required to attend a pre-sessional course on the Russian language before undertaking training.
Education is one of the effective cooperation areas between Vietnam and Russia. Tens of thousands of Vietnamese people have studied in Russia, and many of them have held key posts in State agencies upon their return to the homeland.
During high-level meetings, leaders of the two countries have agreed to increase education cooperation, including the exchange of students and human resource training in the areas of Russian strength and Vietnamese needs.
Last year, Russia granted 965 scholarships to Vietnamese students.
Vietnam to welcome back foreign travelers under right conditions
Amid increasing concerns about losing out to foreign rivals, the Vietnamese tourism industry is in the process of devising ways in which to welcome back foreign travelers, providing that they enter the country with a vaccine passport.
As a number of countries, such as Thailand and Singapore, look to welcome back international visitors on the condition that they have a vaccine passport, there could be a chance for the Vietnamese tourism industry to follow suit and move past the damage done by the COVID-19 crisis. As such the industry has been advised to take advantage of this chance and revitalise its market.
"It's time now to get down to work on this idea," says Vu The Binh, vice president of the Vietnam Tourism Association (VITA).
Thailand recently announced plans to open its borders for foreign travelers in a number of its key tourist destinations, providing that arrivals show their vaccine passport. Similarly, Singapore has also accepted foreign visitors on the condition they have an immunity health passport.
"We will be left behind if we run after regional countries in receiving back foreign travelers," says Binh, adding that the VITA is drafting a scheme aimed at welcoming the return of foreign visitors.
If the scheme gets approval from the Government, Binh believes it will be carried out at an appropriate time on a pilot basis launched by the VITA.
The Vietnam National Administration of Tourism is currently considering reopening borders for foreign tourists on a conditional basis, with priority given to safety. Several health experts have even claimed that a vaccine passport cannot completely protect the recipient from virus infection, especially when factors such as the efficiency of the vaccine and mutations of the virus are considered.
According to Hoang Nhan Chinh, an official of the Vietnam Tourism Advisory Board (TAB), many countries will only accept tourists who have been vaccinated against COVID-19 for at least 28 days and will also require a negative COVID-19 test three day before departure.
In searching for the most effective solution, Chinh suggests that Vietnam form a group or an organisation that is comprised of experts across all fields, such as health, diplomacy, police, defence, culture, and tourism in order to discuss the criteria for welcoming the return of international tourists.
Using Singapore as an example, Chinh says they have classified foreign travelers into three categories, with those travelling from Vietnam set to be given top priority.
The move will see travelers placed into quarantine for just one or two days upon arrival as opposed to the normal time of 14 days, and all visitors are required to have a quick COVID-19 test. They will be accepted providing the test turns out to be negative, or they will be forced to return to Vietnam and pay for the quick test if it is positive.
"Vietnam should learn from Singapore's experience in reopening its borders for vaccinated travelers," suggests Chinh.
With the latest COVID-19 outbreak which recurred in late January being brought under control nationwide, only Hai Duong, a locality in the north, is now sporadically recording cases. Indeed, the number of infections has now fallen to a few per day compared to dozens which were recorded a couple of weeks ago.
Quang Nam rebuilds lives after 2020 flooding
Authorities in Quang Nam Province are trying to help residents settle down following the historic floods of late 2020.
The people in Village 3, Phuoc Loc Commune, have raised bees for generations and earned good money. Other families work in the fields and raising medicinal herbs. However, the flood in late 2020 swept away everything and destroyed their fields.
For the past five months, Ho Van Duc and other families have to live in a temporary home and depended on government support.
"We hope the authorities will allocate us different patches of land for agriculture. Without fields, everyone will stay poor," Duc said.
Phuoc Loc is one of three hardest-hit mountainous communes in Phuoc Son District. The flood swept away the houses and belongings of 43 households while killing three people. As of now, only half of the families have been able to rebuild their houses.
Luu Huyen Thoai, chairman of Phuoc Loc People's Committee, said their problem was the long-term livelihoods for the residents since agricultural land and equipment were destroyed.
"We had over 32ha of rice fields that could provide food for our commune for one year. But now we only have 7ha. The government is still distributing rice to local households. We all hope to work on the fields again," he said.
Doan Van Thong, party secretary of Phuoc Son, said the provincial authorities had allocated over VND65bn to deal with the damage. Many roads have been rebuilt but there are still many damaged bridges and sewer system. The mountainous terrain also poses many difficulties for the rebuild as they have to raise the fund, spend more time on evaluation to find the safest locations to set up new villages.
"Phuoc Son is a poor district with many poor households," he said.
Quang Nam started the programme to rearrange the mountainous population in association with the construction of a new village model very early. In 3 years, 6,500 households were moved into new resettlement areas. After last year's flooding, Quang Nam authorities are planning to revise the mountainous development investment policy.
Le Tri Thanh, chairman of Quang Nam People's Committee, said, "We'll review the development plans for mountainous areas and make it more sustainable with infrastructure and projects that can withstand landslides and erosion. We'll focus on reforestation and long-term livelihoods for the locals in our 10-year development plan."
Quang Ngai's district vows to protect garlic reputation
The central province of Quang Ngai's Ly Son District has vowed to protect the reputation of its garlic brand due to the threat of fake products.
Ly Son garlic has received the certificate of geographical indication. However, a large amount of the garlic from the southern central province of Khanh Hoa's Ninh Hien are being brought to the island and faked as Ly Son garlic.
According to vice chairman of Ly Son District People's Committee, local authorities have asked Vietnam Posts and Telecommunications Group (VNPT) to help to deal with the problem.
Thanh added that the Ninh Hien garlic is transported to Ly Son by post and sea. Local authorities set up task forces to prevent the Ninh Hien garlic transportation by sea. But it is quite difficult to supervise and manage the garlic transportation by post.
So authorities of Ly Son District have asked VNPT to instruct post offices of Khanh Hoa and Quang Ngai provinces to refuse the Ninh Hiep garlic transportation into Ly Son.
The move is necessary to protect the Ly Son garlic brand, Thanh emphasised.
Ly Son District is home to 330 hectares of garlic which generates jobs for around 60% of local residents. The locality proves around 1,800 – 2,200 tonnes of dry garlic to the market.
Light railway connecting Thu Thiem, Long Thanh airport proposed
The HCMC Department of Transport has proposed developing a light railway between the Thu Thiem New Urban Area in HCMC's District 2 and the Long Thanh International Airport in Dong Nai Province in the 2021-2030 period.
On March 12, the HCMC Department of Transport consulted with the Departments of Transport of HCMC's neighboring localities, including Binh Duong, Dong Nai, Binh Phuoc, Tay Ninh and Ba Ria-Vung Tau, and traffic experts over a road, railway and airport development plan in the 2021-2030 period with a vision to 2050, Tuoi Tre Online newspaper reported.
A representative of the Dong Nai Department of Transport encouraged the development of the light railway as the airport will be put into operation in 2025.
Vuong Quang Hung, head of the HCMC Department of Transport's Construction Division, asked the consultant of the plan to add expressways and connecting roads to develop the traffic system in the southeastern region, especially those linking to the Long Thanh International Airport.
The department proposed expanding the HCMC-Long Thanh-Dau Giay Expressway to eight lanes before 2025 and developing elevated road 25C crossing the Dong Nai River and connecting the Tan Son Nhat International Airport with the Long Thanh International Airport.
Hung said the Tan Son Nhat International Airport is located in the city center. It should be relocated to the outlying district, such as Chu Chi, so that it will be better connected with expressways.
In Can Gio District, services and tourism will be developed, so the department suggested developing a small airport in the district.
Cu Chi District and Thu Duc City also need small airports for rescue operations.
The Dong Nai Department of Transport's representative said the Departments of Transport of HCMC, Dong Nai and Binh Duong in 2018 agreed to extend the first metro line in HCMC to Binh Duong and Dong Nai and asked the project consultant to make updates.
Many traffic experts also shared the view that work on the Long Thanh International Airport has started and it is important to develop roads connecting to the airport.
High-end instrumental album released in Vietnam
Nguyen Duc Music Company and guitarist Hoang Minh have released a high-end instrumental album called "Night without sleep", applying modern recording technology of the electroluminescent optical methodology and analog techniques, making the album the first of its kind in Vietnam.
The modern recording technology was aimed at leveraging the effect and quality of the instrumental album, said Nguyen Duc Music Company.
The "Night without sleep" album features nine pieces of music, including Ha Trang, Muoi nam tinh cu, Buon oi chao mi, Tu giong hat em, Khuc thuy du and Mot minh, which are among Vietnam's immortal songs and familiar to audiences, but have been remixed.
Nguyen Duc Music has invested heavily in the album by recording a live band and inviting renowned artists such as saxophonists Pham Thien Thanh and Le Hoang Thi, violinist Nguyen Ta Thien, pianist Nguyen Khoa Dang and drummer Le Tai to participate in the album.
Songwriter Nguyen Duc, general director of Nguyen Duc Music, which produced the "Night without sleep" album, said that high-end instrumental albums are popular in the global market. However, they face a lack of investment in Vietnam, though the demand for high-end albums is high in the country.
Hà Nội beat Hải Phòng to get off the mark in V.League 1
Hà Nội FC secured their first win in the V.League 1 this year after beating Hải Phòng  2-0 at Lạch Tray Stadium in the northern port city of Hải Phòng on Saturday.
Đỗ Hùng Dũng and Ngân Văn Đại scored the goals for Hà Nội, after goalie Bùi Tấn Trường had kept out a Hải Phòng penalty in the 24th minute.
"If we conceded first, it would have been difficult to come back. Trường's save helped the team have the morale to bounce back. It was the turning point of the game," said coach Chu Đình Nghiêm of Hà Nội.
In the 24th minute, Jermie Lynch of the hosts penetrated Hà Nội's penalty area and went down after a soft challenge from Bùi Hoàng Việt Anh of Hà Nội. Referee Ngô Duy Lân gave the questionable penalty to the hosts, but Lynch's tame effort was comfortably saved by Trường.
"It was a situation that changed the game. Winning is important because we had not won any points in the last two games. The team's spirit was very heavy, after this victory, it is relieved," said Trường.
Hải Phòng's normal penalty taker is striker Andre Fagan, but this time his fellow Jamaican Lynch stepped up to the spot.
"Lynch wanted to score. He wanted a goal to clear his mind after two unsuccessful matches. If I had another chance, I would still let Lynch take the penalty," said coach Phạm Anh Tuấn of Hải Phòng.
"However, our loss to Hà Nội is not a big deal. They have a very good team. They have many national team players. Their bad performance is temporary, their level will gradually return. They are a big team," Tuấn added.
In Saturday's other match and the first since the resumption of domestic football after the recent COVID-19 outbreak, SHB Đà Nẵng defeated Hồng Lĩnh Hà Tĩnh 1-0.
Vietnam starts new week without new COVID-19 infections
Vietnam logged no new COVID-19 infections in the past 12 hours to 6am on March 15, the Ministry of Health announced.
The country has recorded 1,594 domestically-transmitted infections, including 901 cases since the latest outbreak hit Hai Duong province and some other northern localities on January 27.
As many as 39,613 people who came in close contact with COVID-19 patients or arrived from pandemic-hit areas are under quarantine nationwide, including 503 in hospitals, 16,056 int other quarantine sites, and 23,054 at their residences.
The Treatment Sub-committee under the National Steering Committee for COVID-19 Prevention and Control said that 2,086 patients have been declared to be clear of coronavirus SARS-CoV-2 so far.
Among the patients under treatment, 48 have tested negative for the virus once, 48 twice, and 91 thrice.
According to the National Expanded Immunisation Programme, a total of 11,605 frontline medical workers and members of community-based anti-COVID-19 groups in Vietnam had been injected with COVID-19 vaccine as of 4:00 pm on March 14. The country began its COVID-19 inoculation campaign on March 8.
Quang Ninh, Dien Bien and Dong Thap provinces are to start COVID-19 vaccination this week.
Vietnam is to begin human trials of COVIVAC candidate vaccine, developed by the Institute of Vaccines and Medical Biologicals (IVAC) on March 15 at Hanoi Medical University.
This is the second made-in-Vietnam candidate vaccine tested on humans. Earlier, Nanogen Pharmaceutical Biotechnology Company completed the first phase of human trials of its Nano Covax, and began the second phase on February 26.
In a bid to live safely with the pandemic, people should strictly follow the Ministry of Health's 5K message: khau trang (facemask), khu khuan (disinfection), khoang cach (distance), khong tu tap (no gathering) and khai bao y te (health declaration)./.
Source: VNA/VNS/VOV/VIR/SGT/Nhan Dan/Hanoitimes
VIETNAM NEWS HEADLINES MARCH 15 have 8404 words, post on vietnamnet.vn at March 15, 2021. This is cached page on Talk Vietnam. If you want remove this page, please contact us.