Shares cut early gains to end lower as bank stocks decline
Vietnamese shares trimmed early gains on Monday with the VN-Index closing lower as banking stocks came under selling pressure towards the final minutes of trading.
The benchmark VN-Index on the Ho Chi Minh Stock Exchange edged down 0.04 per cent to close at 1,168.27 points.
It had risen 0.02 per cent last week.
More than 652.7 million shares were traded on the southern bourse, worth VND15.6 trillion (US$673.9 million).
Market breadth was positive with 274 gaining stocks and 183 losers.
After the lunch break, the market fluctuated in a quite negative direction as many banking stocks dropped sharply and pushed the VN-Index down to the reference level.
Asia Commercial Bank (ACB) fell 2 per cent to VND31,800 per share, VPBank (VPB) lost by 1.1 per cent to VND41,350 per share, Vietcombank (VCB) declined by 1.5 per cent to VND95,200 per share and Techcombank (TCB) dropped by 0.9 per cent to VND38,850 per share.
On the opposite side, the oil and gas sector increased, becoming one of the best-performing sectors in Viet Nam on Monday, data on vietstock.vn showed.
Vietnamese oil and gas stocks grew well, including PetroVietnam Gas JSC (GAS), Viet Nam National Petroleum Group (PLX), PetroVietnam Drilling & Well Services Corporation (PVD), PetroVietnam Power Corp (POW), and PetroVietnam Technical Services (PVS).
"The market was moving sideways around 1,168 points. Liquidity increased slightly from the previous session and market breadth was positive, showing that investment cash flow is spreading," said BIDV Securities Co.
"Foreigners were net sellers on both HoSE and HNX. The VN-Index is likely to consolidate in the range of 1,160-1,200 points in the coming sessions," said the company.
Foreign investors net sold VND1.25 trillion on HOSE, including PVPower (POW) (VND212.8 billion), Vinamilk (VNM) (VND203.9 billion) and Hoa Phat Group (HPG) (VND171.5 billion). Foreigners were net sellers on the HNX to the tune of VND9.56 billion.
The large-cap tracker VN30-Index gained 0.33 per cent to stay at 1,170 points.
Seventeen of the 30 large-cap stocks in the VN30 basket decreased while 12 climbed.
In the VN-30 basket, Masan Group (MSN) was the biggest decliner with a 2 per cent drop, Vinhomes (VHM), Vietcombank (VCB), VPBank (VPB), Mobile World Group (MWG) and Khang Dien House (KDH) all lost more than 1 per cent.
In contrast, PVPower (POW) maintained its uptrend momentum of a more than 5 per cent increase, PetroVietnam Gas JSC (GAS) advanced 2 per cent, while Novaland (NVL) and The Refrigeration Electrical Engineering Corporation (REE) both climbed 1 per cent.
On the Ha Noi Stock Exchange, the HNX-Index rallied 1.39 per cent to end Monday at 263.42 points.
More than 144.7 million shares were traded on the northern market, worth VND2.1 trillion.
Vietnam continues slapping safeguard duty on fertilizer imports
The trade ministry is coordinating with relevant units to closely monitor the price fluctuation in the world fertilizer market, prices of input materials and the business performance of domestic enterprises.
The Vietnamese Ministry of Industry and Trade (MoIT) has continued to slap safeguard measures on diammonium phosphate (DAP) and monoammonium phosphate (MAP) fertilizers imported to Vietnam, rejecting proposals by some importers to temporarily cancel the decision due to a recent shortage and the increasing price of the items in the domestic market.
The ministry's temporary safeguard duty is based on a trade defense agreement of the World Trade Organization (WTO) and after a comprehensive investigation and assessment of the impact of those items to the Vietnamese market in accordance with the relevant regulations. Safeguard measures will be applied as a substantial increase in imports causes serious injury for the domestic sector.
According to the ministry, DAP price fluctuations are mainly due to external factors such as the increase in the prices of some input materials and transportation costs. The domestic demand for DAP has basically not increased compared to the previous years.
The safeguard duties are applied at a lower rate, with an application time shorter than the one permissible under WTO regulations, the MoIT said, adding that relevant ministries and branches have carefully considered the current situation of the domestic fertilizer market, the impact of the safeguard measures on local producers and farmers, and the impact on the costs of rice cultivation, according to the MoIT.
At the time  the decision to apply safeguard measure takes effect, the safeguard duty is only equivalent to a maximum of 0.66% of the total cost of rice production. This rate may be even lower because the safeguard  tariff would be  gradually reduced along the roadmap while many other costs of rice production increase.
The imposition of the safeguard tariff under a gradual reduction creates a fair environment for domestic production, and bring benefits to fertilizer users. For an agricultural country like Vietnam, reducing dependence on imported fertilizers is an important issue, the MoIT emphasized.
The ministry said that the current law does not provide temporarily canceling safeguard measures according to temporal changes. The MoIT will continue to coordinate with the Ministry of Agriculture and Rural Development and related units to evaluate and review the application in accordance with the provisions of law.
Women in banking leadership: an exciting challenge
Working in the financial field, particularly the banking sector, is not only challenging, but also interesting for Vietnamese women as it affects many aspects of their personal lives as they pursue higher positions.
More and more women are taking part in banking work now since the businesses are growing stronger in Vietnam and around the world.
Dang Chau Giang, head of Small and Middle Enterprise (SME) Marketing and Customer Service Department at VPBank, said that many female employees work for banks now, and more and more are promoted to middle management as they tend to be more careful and have unique ideas.
"It provides decent jobs, decent incomes, and also an interesting experience. In this field, women are more careful and even more decisive," Giang added.
Research on listed companies in Asia and China conducted by International Finance Corporation (IFC) showed that companies with at least 30 percent of women on the board of directors see rates of return that are 2 percentage point higher than companies with all male boards.
"We know that diverse leadership teams make better decisions. Diverse teams have a better ability to assess risk and a stronger record of innovation, leading to better business results," Amy N. Luinstra, Gender Lead in East Asia Pacific of IFC, said.
But not many get to senior positions and the board of directors. Women account for approximately 60 percent of banks' entry-level workforce, and as they progress along the career ladder, women hold one-fifth of top executive positions.
"We face a lot of pressure. As entry-level employees, we have to finish our tasks on time. As managers, we have to reach business targets without violating internal regulations and creating conflicts," Giang, who has 17 years of experience in banking and 11 years in management, said.
"In general, the workload is always high so it is normal for employees to go home at 7 – 8pm. Not to mention if you work in sales, you have to go out often to interact with customers.
"This makes things difficult for women, especially married women, as they can not spend time with their families.
"If they cannot manage to strike a balance between personal lives and work, they might struggle and it prevents them from reaching higher positions."
The 'leaky pipeline' of women in leadership is hurting the banks, Luinstra said.
Another key factor influencing female workers' ambitions in pursuing leadership roles is the working environment.
"If you work in organisations which are open to changes, new ideas and initiatives, you also have a mindset for changing and improving your value," Giang said.
"Employees, especially women, who work in that environment are motivated to grow and strive for new challenges.
"And of course, female employees will have a feeling of being satisfied if they work in quiet and safe environment. They might easily be pleased with their current jobs and positions."
This will be a challenge for both banks and women themselves, Luinstra noted.
"To find solutions and answers for these questions, IFC is cooperating with the State Bank of Vietnam (SBV) to promote innovative, impactful initiatives to open doors for women into leadership positions in banks," Luinstra said.
The partnership includes three phases. The first is to research the current status of women and men in banks, what barriers prevent more women from being in leadership and what are some promising practices among banks.
In the second phase, IFC and SBV will sponsor an awards programme to acknowledge individual high achieving women in banking as well as prominent banks working to promote gender equality in their hiring and promotion practices.
And the last phase is a peer learning platform that brings together private-sector banks to exchange knowledge on the best practices in talent development, leadership and succession planning, and creating more flexible and inclusive workplaces for women and men.
Gender diversity in leadership brings another advantage, Luinstra added.
"When there are more women in decision-making roles in finance, they tend to lend more to women-owned businesses, who are currently underserved by banks in Vietnam," Luinstra said.
"This contributes to the growth of the economy as whole and is good for the bank. In emerging Asia, loans to women-owned SMEs had a 3.2 percent non-performing loan (NPL) ratio compared to 4.5 percent NPL for the SME segment."/.
WB helps drive on efficient energy investments in Vietnam
The World Bank (WB), acting on behalf of the Green Climate Fund (GCF), has signed a US$11.3 million grant with the State Bank of Vietnam to support the development of a commercial financing market for industrial energy efficient investments, with the total financing support from the GCF also including a US$75 million guarantee.
Of the total, a sum of US$8.3 million from the grant will be used to build capacities for the private sector in order to identify, appraise, and execute energy efficiency projects. This will also provide technical assistance to the Ministry of Industry and Trade, along with relevant agencies aimed at strengthening policy frameworks and regulations whilst creating an enabling environment that can accelerate the domestic energy efficiency market.
The remaining grant and the guarantee will subsequently be used to establish a risk sharing facility that can provide partial credit guarantees to support local banks, many of whom may risk potential defaults on loans by getting involved in energy efficiency projects. By reducing lending risks, the facility is therefore expected to mobilise approximately US$250 million of commercial financing that will be provided to industrial enterprises and energy service companies at competitive rates along with low collateral requirements.
"Scaling up energy efficiency is the single best and lowest cost option to achieve multiple goals at once by meeting energy demand, preventing pollution and reducing greenhouses emission while also increasing industry competitiveness," said Carolyn Turk, country director for Vietnam of the WB.
"Against the context of limited public financing for energy, the risk sharing facility is an innovative financial instrument to crowd in private sector investment financing for a greater uptake of industry-wide energy efficiency measures," Turk noted.
The grant and guarantee will be executed under the Vietnam Scaling up Energy Efficiency Project which aims to support the nation in meeting its various energy efficiency targets set out in the Green Growth Strategy, as well as emission reduction objectives pledged under the National Determined Contributions. Boasting a level of energy intensity and emission intensity which is among the highest in the region, Vietnam is actively embarking on a green energy transition and decarbonisation pathway.
The WB's Low Carbon Study estimates that Vietnam could save up to 11 GW of new generation capacity by 2030 providing that comprehensive demand-side energy efficiency investments are carried out. Indeed, the energy efficiency investment need for key domestic industries was estimated to be at roughly US$3.6 billion.
Vietnam gold market freezes as global prices set to plunge
"Never before have the gold market been such quiet in the first few months of the year," said a representative of SJC.
While the global gold prices for the first time in months fell below the US$1,700 per ounce, the domestic market of this precious metal came to a standstill as result.
At the final trading session of last week, selling and buying prices for gold bars quoted by Doji, Vietnam's largest jewelry company, stood at VND54.95 million (US$2,376) and VND55.5 million (US$2,400) per tael.
Vietnam's largest gold and gold jewelry production and distribution Saigon Jewelry Company (SJC) listed the gold selling and buying prices at VND55.1-55.5 million (US$2,382-2,400). As a result, domestic gold prices last week were down by VND700,000 (US$30.27) against last week.
Such decline came as the global gold prices fell below the US$1,700-per-ounce-mark to a nine-month low of US$1,695, equivalent to VND47.2 million (US$2,041) per tael [a tael is 37.5 grams or 1.2 ounces].
Chief Currency Analyst at HYCM Giles Coghlan attributed the Covid-19 vaccine roll out to the trend of  selling out gold at the moment.
Meanwhile, the fact that a hike in prices of Bitcoin (surpassing US$50,000) and crude oil on the global market to nearly US$61 per barrel, has been luring investors into the cryptocurrency and the oil market.
Chief Market Strategist at Blue Line Futures Phillip Streible said if the gold price could not hold on to the US$1,675 per ounce this week, there is a high chance that the price will further go down to the US$1,600 per ounce mark.
Despite a bleak outlook for global gold prices, the domestic price for gold remained high and kept the difference at nearly VND8.2 million (US$354.87) per tael.
Director of the New Partner Jewelry Company Nguyen Ngoc Trong said there were almost no gold-related transactions for the past few days.
"Investors were supposed to sell gold  when the prices remain high, but in fact, this was not the case," said Trong.
When the domestic gold prices were around VND56-62 million (US$2,422-2,682) per tael, or a difference of up to VND8.5 million (US$367.77) per tael from world prices, people were still buying in gold.
Therefore, at this present, many are suffering losses of around VND5 million (US$216.38) per tael.
Those buying golds at high prices are forced to wait and keep monitoring the market situation, while the risky nature of a big gap between domestic and global prices is keeping new investors from coming in.
"Never before have the gold market been such quiet in the first few months of the year," said a representative of SJC.
Amid suggestion that the central bank should issue license for importing gold from abroad and thus narrow the price difference from international and domestic markets, experts urged local authorities to be cautious as the market is at a standstill at the moment, not to mention potential impacts to inflation and current exchange rates.
State budget revenue up in first two months
State budget collections were estimated at 286.7 trillion VND (12.4 billion USD) during January and February, or 21.3 percent of the annual estimate and up 0.6 percent year-on-year, the Ministry of Finance reported on March 8.
Domestic revenue stood at 246.65 trillion VND, equivalent to 21.8 percent of the estimate and marking a year-on-year rise of 2.8 percent.
After conducting 3,400 inspections and checking 16,500 corporate tax filings, tax agencies proposed 3.4 trillion VND in fines be imposed, including 780 billion VND for the State budget. Some 345 billion VND has been collected, together with 5.1 trillion VND in tax debts.
State budget expenditure reached 207.3 trillion VND in the first two months, or 12.3 percent of the estimate and down 6 percent year-on-year. Of this, 23.49 trillion VND was for development, or 4.9 percent of the estimate and down 32.4 percent.
According to the ministry, debt interest payments fell 14.3 percent to 21.88 trillion VND while regular expenditure was up 1.2 percent year-on-year to 161.8 trillion VND.
Some 12,760 tonnes of rice from the national reserve were provided for residents in disaster-hit areas. Up to 27 trillion VND worth of Government bonds were issued.
In the remaining months of this year, the ministry will continue using the national reserve, as requested by the Prime Minister, and implement bids to buy rice for the reserve./.
Agricultural co-operatives benefit hugely from investment in technology: experts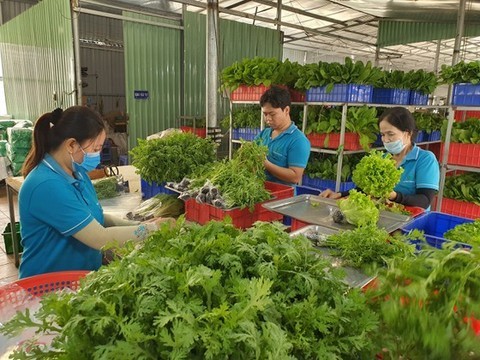 Preliminary processing of hydroponic vegetables at Tuan Ngoc Agriculture Cooperative in HCM City's District 9.
According to Lam Ngoc Tuan, chairman of the Tuan Ngoc Agriculture Cooperative in HCM City's District 9, his members use hydroponic vegetable cultivation techniques and achieve high yields, are not afraid of inundation during rains and high tides, grow plants evenly compared to those grown in soil, and plant the next crop right after harvest without waiting to prepare soil, increasing the number of crops in a year.
The average yield of hydroponic vegetables is VND500 million (US$21.500) per hectare per year, 45 per cent higher than soil.
Experts say new technologies are key to advancing the agriculture sector since they could boost value to make produce more competitive in the global market.
In recent years there has been increasing investment in advanced farm technologies, resulting in aquaculture farms breeding high-quality and high-yield fish varieties like crayfish and tilapia and flower and fruit farms using net houses, greenhouses, hydroponics, and microbiological fertilisers and pesticides.
But farms find it hard to expand due to the lack of agricultural land in HCM City amid the rapid urbanisation.
Besides, many are stymied by the Land Law, which does not allow any construction on agriculture lands.
Huynh Van Thanh, director of the Can Gio Tuong Lai Cooperative in Can Gio District, said that he proposed the competent authorities to allow cooperatives to construct on agricultural lands.
Viet Nam seeks to be among the 15 top agricultural countries in the world by 2030 and top 10 agri-processing countries.
To achieve them, the Government issued a resolution in 2019 with measures to encourage businesses to invest in effective, safe and sustainable agriculture to integrate globally.
Farm exports are expected to reach US$50-51 billion by 2025 and $60-62 billion by 2030.
To implement the target, the Ministry of Agriculture and Rural Development will recommend policies to attract investment in the agricultural and fishery processing industries.
Ha Van Thang, chairman of the Viet Nam Agriculture Businesses Association, said most businesses want a clear legal framework for high-tech farming, incentives such as simplifying loan procedures to easily borrow from banks.
Experts said to attract investment in agriculture it is necessary to drastically cut administrative procedures and improve the business environment.
Vietnam a strategic destination for Samsung's R&D activities
Samsung Vietnam plans to expand its investment in Vietnam by setting up a research and development (R&D) centre, strengthening cooperation with domestic enterprises, and taking part in public infrastructure projects, its General Director Choi Joo Ho has said.
In an interview with "Tuoi tre" (Youth) newspaper, Choi said Samsung launched the construction of a new R&D centre in Hanoi in March last year, which is scheduled for completion in December 2022.
This is Samsung Electronics' first R&D centre outside of the Republic of Korea and the largest of its kind by a foreign-invested enterprise in Vietnam, Choi said.
Vietnam is not only an important global production hub but also a strategic destination in Samsung's R&D activities, he added.
Looking back on 2020, Choi said it was a memorable year for Samsung. Due to the COVID-19 pandemic, it suffered a fall in exports in the first half before recovering in the second half. In the year as a whole, it posted some 57 billion USD in export revenue, a little below its target of 60 billion USD but a positive result amid the pandemic.
He said that, in 2021, the company will continue to strictly implement COVID-19 prevention and control measures set by the Vietnamese Government and the Samsung Group, thus completing the twin target of ensuring safety for the company and maintaining production stability while fulfilling its export goals.
Regarding the movement of multinational groups in global supply chains to Vietnam, Choi held that Vietnam's advantages in abundant skilled workers, stable socio-political situation, smooth investment environment, diverse infrastructure networks, and effective and successful pandemic prevention and control measures have had a positive impact on such movements.
Samsung is now operating six factories in Vietnam, with about 130,000 employees. According to Choi, since the pandemic broke out Samsung Vietnam has abided by pandemic prevention and control regulations defined by the Vietnamese Government and Samsung has applied prevention principles in factories worldwide.
Noting that Vietnam has won global praise for its fight against COVID-19, Choi believed it will continue to successfully control the current outbreak and become a global model in the effort./.
Rice exports to see bright outlook this year
Increasing global demand, stable domestic production, and better rice quality count among the reasons Vietnam can be confident its rice exports will prosper again in 2021 and surpass the 3.1 billion USD in revenue posted in 2020, despite a significant decline in the first two months of this year.
According to figures from Vietnam Customs, Vietnam earned 192 million USD from shipping nearly 348,000 tonnes of rice overseas in January, down 34.2 percent in value and 36.4 percent in volume against December and 2.4 percent and 15.4 percent, respectively, year-on-year.
As the Lunar New Year (Tet) holiday fell in February, the month's export turnover is expected to be down.
Nguyen Van Don, Director of Tien Giang province's Viet Hung Limited Company, said the beginning of the year is never the peak time for trade, as consumers have already purchased rice for the long holiday period at the end of the previous year. Rice prices in the Mekong Delta are also at a high level, so purchasing businesses and foreign customers are all waiting for them to fall.
General Director of the Trung An Hi-tech Farming JSC Pham Thai Binh said that transportation problems have also hampered rice exports in recent times. He pointed out that the country is facing a serious shortage of empty containers and cargo ships for exports.
According to the Vietnam Food Association (VFA), there are high hopes being pinned on Vietnam's rice exports in 2021, with major export markets such as the Philippines and Africa continuing to sign contracts, while many others have significant demand for fragrant rice and sticky rice, in which Vietnamese enterprises hold an advantage.
VFA Vice President and General Secretary Nguyen Trung Kien said that bilateral and multilateral free trade agreements (FTAs) such as the EU-Vietnam FTA and the UK-Vietnam FTA, which contain preferential tariffs, will create favourable conditions for Vietnamese rice to compete with foreign exporters.
Eurasian Economic Union (EAEU) countries have pledged to provide a tariff quota of 10,000 tonnes of rice from Vietnam in 2021 under the Vietnam-EAEU FTA, while the EU's quota of fragrant rice from Vietnam is 80,000 tonnes each year under the EVFTA.
The UK-Vietnam FTA, which came into effect at the beginning of this year, cuts tariffs to zero and has no quotas.
Binh said that rice exports this year will not only sustain the value growth seen in 2020 but also increase in volume.
Saying there are reasons for optimism, he noted that the country's policy of intensive and extensive integration into the world has created a number of competitive edges for its economy via multilateral and bilateral FTAs.
Under the integration policy, Binh said, the rice sector has gradually restructured itself towards higher quality rather than primarily focusing on output, and is growing more diverse varieties, with high-grade grains meeting demand among both domestic and foreign consumers.
Vietnam exported 6.15 million tonnes of rice worth 3.07 billion USD in 2020, down 3.5 percent in volume but up 9.3 percent in value against 2019, according to the Ministry of Agriculture and Rural Development./.
Southern provinces attract FDI as existing investors vote with their feet
The southern key economic zone is increasingly attracting investments from foreign investors who have already tasted success there.
Most of the investment is in hi-tech and supporting industries.
In Dong Nai Province, dozens of foreign businesses have been expanding or investing in new projects.
Some of the notable ones approved this year include two electronic part and component factories by Korean companies Hansol Electronics Viet Nam and Platel Vina at a cost of US$100 million and $30 million.
The two already have successful projects in HCM City and Dong Nai.
Cao Tien Dung, chairman of the Dong Nai People's Committee, said there are around 372 projects from Korea and 253 from Japan in local industrial parks.
Companies from the two countries have been investing anew and expanding in the province in a wide range of industries such as footwear, textile and garment and supporting industries, and this is expected to continue, according to Dung.
Binh Duong Province has attracted $301 million, including $253 million in existing projects.
In HCM City, US giant Intel Products is set to invest an additional $475 million in its existing plant to increase production of 5G products and Intel Core processors.
With the availability of land shrinking, the HCM City Hi-tech Park is focusing on the expansion of existing projects rather than new ones, according to its management.
It plans to build a 160ha science and technology park in the future to attract investment in hi-tech.
Hua Quoc Hung, head of the HCM City Exporting Processing and Industrial Zone Authority, said the aim is to attract $550 million worth of FDI, especially in key sectors and supporting industries.
The first two months of the year saw $5.46 billion worth of FDI coming into Viet Nam, a 15.6 per cent drop from the same period last year.
Japan, Singapore and South Korea have been the three largest investors.
Total retail sales of goods and services up 5.49% in two months
Total retail sales of goods and services in the first two months of this year reached VND904.5 trillion, an increase of 5.49% over the same period in 2020.
According to the Ministry of Industry and Trade, the seven-day Lunar New Year holiday and the outbreaks of the COVID-19 pandemic in several localities in February 2021 slowed down trade and service activities in February compared to the previous month.
Total retail sales of goods and services in February was reported at VND439.7 trillion, down 5.4% from the previous month but up 8.2% over the same period in 2019.
During the two-month period, total retail sales of goods was reported at VND722.1 trillion, up 7.8% over the same period last year, accounting for 79.8% of total retail sales of goods and services in two months.
Meanwhile, total retail sales of accommodation, catering, travel and tourism services all decreased in the first two months of this year, with a 4.3% decrease in the revenue of accommodation and catering services and a 62.1% decrease in the revenue of tourism and travel services.
Retail sales of other services was posted at VND91.5 trillion, up 3% over the same period in 2020, accounting for 10.1% of the total retail sales of goods and services.
Bringing Vietnamese goods into foreign distribution channels
For Vietnamese products to enter foreign distribution channels, it was necessary to be more professional and stable in product quality, said experts.
Foreign supermarkets such as Aeon, Lotte or MM Mega Market, which are operating in Viet Nam, are effective distribution channels to help consume and export Vietnamese goods. However, it seems that Vietnamese businesses have not taken advantage of it.
In order for Vietnamese products to be sold through foreign distribution channels, the criteria for product quality and food safety and hygiene are a priority.
In addition, goods put on supermarket shelves need to be supplied in a large quantity, uniform quality and high stability, however, many products of domestic companies have not met these criteria, according to experts.
Consumers around the world are interested in many Vietnamese agricultural products, such as mango, banana, lychee, longan, and dragon fruit. However, in order to get into foreign supermarkets like Aeon or Lotte, it was quite difficult, said experts.
For example, Viet Nam's bananas, according to Lotte Mart, are popular among Korean consumers, but the criteria for bananas of Vietnamese farmers to put on the shelves of the supermarket systems are to be uniform in quality, and must be delivered continuously and steadily.
However, the factors were difficult to implement not only for Vietnamese banana but also for many other agricultural products, according to experts.
Although Vietnamese agricultural products have many delicious varieties, which are popular among both domestic and foreign consumers, the country could not produce them in a chain to ensure safety and stability as well as other factors related to international standards, therefore, it was very difficult to enter foreign supermarkets.
Data of the Ministry of Industry and Trade showed that Central Group exported goods of Vietnamese enterprises through this system only reached US$21 million in 2012 but soared to over $200 million last year.
Japanese Aeon has also contributed to the export of Vietnamese enterprises from $200 million in 2017 to over $500 million last year.
Market expert Vu Vinh Phu said in order to increase the amount of Vietnamese goods consumed through foreign distribution channels, Vietnamese enterprises had to improve their production capacity to be able to supply products that meet the criteria and standards of partners.
"This is the challenge of the globalisation game that forces every Vietnamese enterprise to strive to assert themselves," Phu told Dai Doan Ket (Great Unity) newspaper.
HCM City to keep land prices unchanged for next 5 years
The HCM City People's Council has kept the official land prices unchanged since market prices did not change between 2019 and last year.
The price list, which is adjusted every five years, serves as a basis for calculating land-use rights fees, administrative sanctions, fines, and paying compensation for land the city acquires.
According to Nguyen Toan Thang, director of the city Department of Natural Resources and Environment, this is the first time the framework remains unchanged.
The price coefficient is adjusted annually.
Anyone seeking land-use rights or change the purpose of land use has to pay a fee based on the prevailing coefficient.
In the list, the highest land prices of VND162 million (US$7,000) per square metre are in Nguyen Hue and Le Loi streets in the downtown area but this is only a fifth of the estimated market price of around VND800 million.
The lowest rate on the list is VND1.5 million.
The prices of land for commercial purposes are 80 per cent of residential land prices, while non-agricultural lands used for purposes such as healthcare and education cost 60 per cent.
The highest rate for agricultural lands used for rice, annual crops or aquaculture is VND205,000, and VND300,000 in the case of perennial crops.
The People's Council has increased the coefficient at the High-Tech Park in District 9 and Thu Duc new City.
District 9 is a property hotspot where land prices are climbing daily.
The district People's Committee is always packed with people coming to complete administrative procedures related to land like adjusting and extending land-use rights, according to media reports.
Many also crowd notary offices to mortgage their lands to borrow from banks or sell them.
Land plots that have the certificate of land-use rights are being traded at a brisk pace at high prices, attracting many speculators, real estate agents said.—
Map for national innovative startup ecosystem makes debut
In the middle of the map is the part for 30 outstanding startups with impressive achievements lately. Around it are five sectors of network, talent, capital, support, and service.
The map is expected to help international partners easily locate and contact prominent organizations in the current ecosystem. It is frequently updated to precisely reflect the sustainable growth of the national ecosystem in the upcoming year.
At present, National Program No.844 is aiding intermediary organizations in their activities to support startups like incubation, business promotion, investment attraction, necessary service provision (media coverage, human resources training).
ISEV is formed in accordance with Decision No.844/QD-TTg by the Prime Minister, clearly affirming that innovative startup is a new business model based on exploiting Intellectual Property, advanced technologies, and with an operation time of less than 5 years from the first business permit certificate date.
This national program aims at creating a favorable environment for the creation and growth of new enterprises with high growth potential based on Intellectual Property, technologies, new business models; quickly perfecting the legal system to support innovative startups; and forming a national innovative startup portal.
The program estimates that in 2025, there will be 2,000 startup projects incubated, 600 startup businesses created, and 100 enterprises successfully attracting investment from venture capitalists via purchasing or merging, with a total value of around VND2,000 billion (approx. US$86.8 million).
Statistics from Echelon Magazine (Singapore) reveal that in 2020, Vietnam owns 3,000 innovative startups, a double of the quantity in 2015.
High-tech park incentives under review
Despite enjoying special incentives, foreign investment flows into Hoa Lac High-tech Park are yet to meet expectations – and possible moves to align all such parks with the same policies will only increase the competition between them as they try to persuade investors to pour money into  digital transformation ventures.
While the figure is higher than that of 2019, when the park lured in just four domestically-invested projects registered at VND7.46 trillion ($324 million), it was far lower than 2018, when it attracted 11 projects registered with VND17 trillion ($739 million), a record high over the past 20 years. Notable names involved included Nidec, Mitsubishi, and Hanwha Group.
The result is lower than expected though the HHTP itself enjoys Decree No.74/2017/ND-CP which came into effect in 2017, governing special mechanisms and policies for the park only. Few social infrastructures such as workers' housing, hospitals, trade centres, and other services have been licensed there.
Industry insiders said that in the context that the country is promoting high-tech foreign investment and the trend of making business and investment in the local market among technology groups, the lacklustre foreign investment attraction of the HHTP has raised questions over how attractive it actually is. While COVID-19 is an obvious reason, others should be included, some added.
Established in 1998, the filling rate of the park is now 40 per cent of its over 1,500 hectares. The HHTP boasts the longest history among the country's three high-tech parks, and has the advantages thanks to Decree 74, which includes unique incentives such as the 10 per cent corporate income tax (CIT) within the first 30 years for a new investment project of at least VND4 trillion ($174 million).
Looking to the south where Saigon High-tech Park (SHTP) is located in Ho Chi Minh City, Nguyen Anh Thi, head of its Management Board said that it has licensed two foreign-invested projects early this year – the $19.5 million US-invested Arevo 3D printer factory and the $1 million office for lease project by South Korea's SNST & Finger Vina.
"Due to the land funds left for new projects, the park plans to attract $200 million worth of investment this year, and the production value of high-tech products hit $25 billion, while disbursement of the capital there is $700 million," Thi said.
In 2020, the SHTP lured over $35 million worth of foreign investment, meeting half of the yearly target due to COVID-19 impacts and limited land funds left.
In the central region, Danang High-tech Park (DHTP) lured in $150 million worth of foreign investment and $108.7 million of domestic funding in 2020. Established in 2010, the fill rate in the park is now at 30 per cent.
Similar to the HHTP, the government issued Decree No.04/2018/ND-CP in 2018 on incentive policies for the DHTP, making it a motivation for the park to increase its attraction.
Competition among the three high-tech parks is expected to increase as the Ministry of Science and Technology is working on a draft decree in which incentive policies should be applied commonly for all three. Thus far the draft decree has received differing opinions, with some saying that the highest incentives in the decrees should be kept for certain parks, while others recommended that the policies should indeed be applied for all.
If the latter option gets the go-ahead, the high-tech parks will no longer have their own specific advantages and will be required to improve themselves and build other advantages to make them more attractive to investors.
For Hoa Lac, the groundbreaking of the National Innovation Centre (NIC) in early 2021 will be a new driving force. According to the project's draft plan drawn up by the Ministry of Planning and Investment's (MPI) Central Institute for Economic Management, the NIC will be developed with the total investment of VND1.9 trillion ($82.6 million), including VND1.7 trillion ($73.9 million) for the physical construction and VND200 billion ($8.7 million) for operating capital. The NIC is expected to lure 40 big technology companies, 150 startups and small- and medium-sized enterprises, and 15 venture investment funds, thereby creating more than 5,000 jobs.
Government policies are in place to accelerate digital transformation across sectors, thus promoting domestic businesses and international ventures to make more investment in the sci-tech sector in the months to come.
As shown in statistics from the MPI, sci-tech was the fifth-biggest sector for overseas investors last year, and the fourth-biggest in the first two months of 2021.
Securities firms rake in revenues after bumper year
Foreign and local stock brokerages closed 2020 with a blast, turning around the nosedive that opened the year due to optimism over vaccines, low interest rates, and appealing commission fees.
The momentum is expected to expand substantially this year, given the promise of Vietnam's equity landscape. In the early part of last year, market volatilities and aggressive broad-based sell-off crippled the stock market, with the total after-tax profit of Vietnamese securities companies dropping 77 per cent on-year. However, hopes of an economic recovery have boosted brokerages' profits, with the year seeing the highest number of new account openings.
Viet Dragon Securities Corporation recorded a record loss of VND88 billion ($3.83 million) in the first quarter of 2020, mainly from proprietary trading. However, the prospect of effective vaccines returning life to normal is injecting hope into the global and domestic equity market.
By the end of 2020, Viet Dragon Securities recorded total revenues of VND456 billion ($19.83 million), up 45 per cent against the initial plan. The firm's after-tax profit reached VND144 billion ($6.26 million), equal to 400 per cent of the yearly plan and 424 per cent of the figure from 2019. This was also the highest profit that it had achieved since its establishment.
Meanwhile, Saigon Securities Corporation, Vietnam's largest brokerage in terms of market share, reported 43.4 per cent higher revenue growth in 2020 than the year before. Its pre-tax profit also rallied by 54.4 per cent, reaching VND1.565 trillion ($68.04 million)
After several COVID-19 vaccines proved effective in recent months, almost the entire stock market started showing signs that an economic recovery is on the way.
As the State Bank of Vietnam remains firm on keeping a low interest rate to help the economy weather the storm, investors vigorously seek for higher returns from riskier assets, such as stocks or corporate bonds. In addition, both Vietnamese and foreign brokerages have provided customers with attractive margin lending rates, as well as low or zero commission fees.
Vu Nam Huong, CFO of VNDIRECT Securities, said the company has achieved positive results for its core revenue segments like transaction fee collection, margin lending, proprietary trading, and derivative securities. In the fourth quarter of 2020, VNDIRECT generated revenues of VND721.6 billion ($31.37 million), up 96 per cent against the corresponding period in the previous year. Its after-tax profit reached VND242.9 billion ($10.56 million), an increase of 73 per cent on-year.
Elsewhere, VPS Securities JSC achieved revenues of VND1.22 trillion ($53 million) and after-tax profit of VND133.5 billion ($5.8 million) in the fourth quarter of 2020 alone, slight increases of 0.62 and 15.03 per cent on-year, respectively. This has led to VPS recording stable income from securities brokerage in the quarter, especially in derivative securities.
Saigon-Hanoi Securities JSC also posted positive performance. According to its fourth-quarter financial statement, the company achieved operating revenues in 2020 of VND683.8 billion ($29.73 million), more than three times the figure of 2019. Meanwhile, its after-tax profit reached VND348.6 billion ($15.16 million), more than 9.6 times than a year earlier.
Ho Chi Minh City Securities Corporation recorded a net revenue of VND514 billion ($22.35 million) and after-tax profit of VND137 billion ($5.96 million) in the fourth quarter, up 54 and 8 per cent, respectively. In 2020, the firm achieved VND1.59 trillion ($69.13 million) in revenues, an increase of 26 per cent compared to the whole of 2019.
Agribank Securities JSC (AGR) also achieved more than VND120 billion ($5.2 million) of profit, equalling 140 per cent of its initial forecast. Along with that, AGR shares also surged by more than 300 per cent since the furious fall into a bear market in March, making it one of the five stocks with the strongest increase during the year.
VietinBank Securities JSC meanwhile recorded a profit of VND128.18 billion ($5.57 million) for the whole year thanks to a sudden bump in the final quarter.
Elsewhere, an influx of foreign-invested brokerages, especially from South Korea and Taiwan, has also pushed the expansion of international know-how and standards as demand increased dramatically. For instance, Mirae Asset Securities Vietnam is currently the largest margin-trading brokerage, the second-largest firm in terms of charter capital and total assets, and among the top 7 in terms of market share. Its profit in 2020 reached VND500 billion ($21.7 million), from VND376 billion ($16.3 million) in 2019.
KB Securities Vietnam – a subsidiary of South Korean financial behemoth KB Group – reported its profit in 2020 reaching VND168 billion ($7.3 million), up around 60 per cent on-year.
Meanwhile, KIS Securities from South Korea also achieved VND207 billion ($9 million) in profit last year, equivalent to a nearly 63-per-cent-increase compared to 2019.
Kwangju Bank also plans to raise JB Securities Vietnam's charter capital to VND 600 billion ($26.1 million). In 2019, the South Korean lender Kwangju Bank purchased Morgan Stanley's Vietnam-based subsidiary Morgan Stanley Gateway Securities JSC for VND382.4 billion ($16.63 million).
After acquiring An Nam Securities, Shinhan Vietnam Securities also boosted its activities with a capital hike to VND812.6 billion ($35.3 million). Shinhan is now planning to raise more funds to capitalise on the Vietnamese market. Experts said ultra-low interest rates in South Korea have pushed brokerages to find another promising land.
Steel, mechanical firms in struggle for survival amid COVID-19
Vietnamese steel and mechanical enterprises have felt a critical impact from the COVID-19 pandemic, with a gloomy market and sharply declining orders, and are in need of further support from the Government.
A wide range of steel companies reported sluggish manufacturing and low transaction numbers due to project delays as a result of social distancing measures.
The Vietnam Steel Association (VSA) said that steel consumption has fallen as the construction sector has cooled, while the transportation of goods and materials to northern localities like Hai Duong, Hai Phong, Hung Yen, and Quang Ninh has faced challenges from new virus epicentres in Hai Duong and Quang Ninh.
Preparations for pandemic prevention and control and the arrangement of logistics at steel plants, particularly the Hoa Phat steel complex in Kinh Mon district, Hai Duong province, are costly and have affected production.
Meanwhile, Chairman of the Vietnam Association of Mechanical Industries Dao Phan Long said auto makers are manufacturing at a moderate pace as they have received fewer orders than previously but are paying more for transportation.
In a bid to remove bottlenecks facing local manufacturers, VSA recommended that the State Bank of Vietnam and commercial banks provide credit support to companies, such as extending payment deadlines or cutting loan interest rates.
Along with helping business owners with quarantine costs for foreign experts, Long suggested the Government create the conditions necessary for companies to bid on domestic projects so they can expand markets and gain more orders during these tough times.
General Director of Hyundai Thanh Cong, Le Ngoc Duc, said registration fees on locally-manufactured and assembled cars should be cut until the end of this year.
Car sales plummeted 35 percent when COVID-19 hit Vietnam during the first half of 2020, he added, but sales then bounced back in the second half following a Government move to halve registration fees.
Most recently, the Ministry of Finance recommended the Government consider allowing the cost of COVID-19 prevention and control to be deductible for tax purposes.
It is evaluating measures introduced and studying suitable tax and fiscal solutions to carry out the Government's dual task of pandemic prevention and control and economic recovery while ensuring balance in the macro-economy./.
HCM City Tet consumption slumps
The resurgence of COVID-19 has hit demand for consumer goods and services in HCM City, with revenues in February falling by 6.4 per cent, according to Government data.
The Tet (Lunar New Year) holidays, usually the most lucrative period for the consumer market, were in February.
Retail sales of consumer goods and service amounted to VND110.6 trillion (US$4.78 billion), a year-on-year increase of 4.7 per cent, a report by the city Department of Industrial and Trade said.
Sales of consumer goods were estimated at VND69.9 trillion ($3.02 billion), a rise of 10.3 per cent compared to the same period last year but a decline of 5.9 per cent from the previous month.
Catering, accommodation and travel services took a big hit from the pandemic.
The resurgence of outbreaks in the city in late January with lockdown orders in some residential areas and fears of infection discouraged consumption.
In the first two months retail sales rose by 3.6 per cent year-on-year to VND 228.9 trillion ($9.9 billion), the report added.
Kien Giang has 18 more star-rated OCOP products
Eighteen more local specialties have been recognised as three- and four-star "One Commune, One Product" (OCOP) products in the Mekong Delta province of Kien Giang.
Ten have received four-star rating, namely Kim Thien Loc-branded Nang Huong rice and two types of unhusked rice produced by Rach Gia organic farming cooperative, two fish sauce products by Khai Hoan Trading JSC, and five kinds of grey sedge woven baskets and bags by Toan Tuyen handicraft workshop and Phu My women's cooperative.
Eight others were rated three stars including rice paper, fermented snakehead fish, wine made from sticky rice and guava, Eucalyptus essential oil, and black pepper coarse.
The recognition and ratings are valid for 36 months.
Kien Giang has earmarked more than 326 billion VND (14 million USD) to implement the OCOP programme, which aims to develop at least one staple product in each commune around the country, between 2019 and 2025.
OCOP products are commercial products and services like food and beverages, medicinal herbs, handicrafts and home decoration, and rural tourism services and sales.
The programme ranks them on a scale of five stars, with a five-star being the highest.
The province wants to have 25 to 30 OCOP products meeting provincial five-star standards and five qualified for national five-star standards by 2025./.
KITA inks contract to operate new convention centre in Vietnam
The Korea International Trade Association (KITA) and its arm Convention & Exhibition Centre (COEX) said on March 8 that they have signed a contract with Vietnam's Becamex IDC to run the World Trade Centre Binh Duong New City Expo in the southern province of Binh Duong.
With a combined area of 22,000 sq.m, including 11,679 sq.m for indoor space and 7,935 sq.m for outdoor area, the New City Expo is the largest convention centre in Vietnam.
Its construction ended last month, and the centre currently awaits opening this month. It is expected to contribute to linking economic, cultural and tourism activities between the Republic of Korea and Vietnam.
About 25km distant from the centre of Ho Chi Minh City, Binh Duong lies in the southern key economic zone. It is now the largest industrial city of Vietnam with over 800 Korean enterprises.
A COEX representative said the centre will connect Korean firms with countries in the RoK's New Southern Policy./.
Small investors oppose expanding trading lot
Ho Chi Minh City Stock Exchange (HOSE)'s proposal to raise the minimum trading lot to 1,000 shares is receiving mixed opinions from market experts and investors.
The proposal was initiated by newly-appointed General Director of HOSE Le Hai Tra as a solution to reduce system overloads which have troubled traders recently.
A 1,000 minimum trading lot will limit the participation of small investors, while the stock market is moving towards fairness and equality, said a budding investor.
"My friends and I, when joining the stock market, only have a few tens to several hundreds of millions of dong, raising the minimum trading lot to 1,000 shares will directly affect our investment capacity," said individual investor Diep.
"With expensive stocks, we may have to spend hundreds of millions of dong to buy the minimum 1,000 shares," she said.
According to Diep, the stock market has never had such a chance for growth. New cash flow into the market pushed liquidity to a record high level. However, the new proposal may not only prevent new investors from entering the market but also discourage existing investors.
"The plan to raise the minimum trading lot to 1,000 shares could quickly reduce the number of orders delivered daily on HOSE. However, it will cause frustration among small investors who are directly affected by the plan as they think they are not protected," said Do Bao Ngoc, Deputy General Director of Kien Thiet Securities Vietnam (CSI).
"This plan, if in place, will affect the rapid development of the stock market under the current favourable conditions, one of which is great interest from global investors," he said.
"Under the new plan, the most affected are the investors whose trading accounts have VND1 billion or less," said Nguyen Hoang Hai, Vice Chairman of Viet Nam Association of Financial Investors (VAFI)
According to VAFI statistics, investors whose trading accounts have VND500 million or less account for about 30 per cent of individual investors. Among them, the number of investors participating in the market for the first time (F0 investors) with VND300 – 500 million is numerous.
"Last year, the boom of the stock market was great thanks to the participation of new investors, also known as F0 investors. The market always needs new cash flows but raising the minimum trading lot to 1,000 shares could hinder the investment capacity of investors and cause them to lose money," Hai said.
Chairman of SSI Securities Corporation Nguyen Duy Hung on his social media account recently gave a more positive view on HOSE's proposal, saying the trading system would be on the brink of collapse without appropriate measures.
"Raising the minimum trading lot to 1,000 shares is necessary at the moment to keep the system running," he said, adding when the system upgrading process is completed, the minimum trading lot could be reverted to 10.
Hung said the overload of orders that forces the stock exchange to halt market trading is the result of a rapid-growing stock market that outpaces the processing capacity of the stock market, as such, "a long-term solution is a must," he said.
Both before and after the Tet holiday, the overload occurred repeatedly on HOSE whenever liquidity in a trading session hit around VND14-17 trillion (US$608-738 million).
The SSC attributed the overload issue on the HOSE to the transaction processing capacity of the stock exchange that limits the number of transactions per day, while a recent surge of orders has exceeded the expectation of the market.
Source: VNA/VNS/VOV/VIR/SGT/Nhan Dan/Hanoitimes
VIETNAM BUSINESS NEWS MARCH 9 have 8582 words, post on vietnamnet.vn at March 9, 2021. This is cached page on Talk Vietnam. If you want remove this page, please contact us.