Some provinces have failed to meet the Prime Minister's deadline for site clearance for the eastern part of the North – South Highway.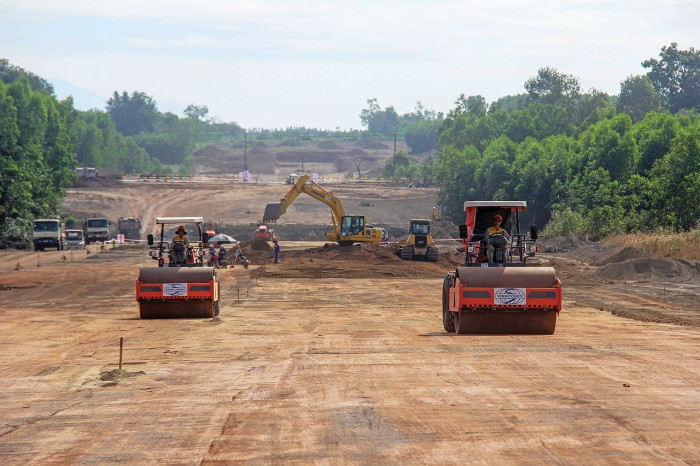 Some provinces have failed to meet the Prime Minister's deadline for site clearance for the eastern part of the North – South Highway.
Six out of 11 sections of the eastern part of North-South Highway for the period of 2017-2020, which were converted to public investment, have started. Two other sections that are also invested by the State are expected to start in May.
According to the Ministry of Transport, site clearance has been far from expectations. The Prime Minister requested that it be generally accomplished in 2020. Nevertheless, by mid-Feb 2021, all 11 sections were struggling with site clearance. As many as 624 out of 652 kilometers of the Highway, 95.6%, have been handed over. The site handover in Ninh Binh, Thanh Hoa, Nghe An, Khanh Hoa provinces is much lower, 79.2%, 94.9%, 92%, and 91.5% respectively.
Around 80% of 11 resettlement areas are complete. Technical infrastructure has been slowly carried out. Only 30 – 38% of power, water, and telecommunication networks have been relocated.
The Transport Ministry planned to discuss directly with each province solutions for the required completion of site clearance.
Only 55.64 out of 63.37 kilometers of the Mai Son – NH45 expressway have been cleared and handed over to contractors. The section runs through three districts of Ninh Binh and eight of Thanh Hoa province. More than 8 out of 14.41km in Ninh Binh were handed over. The figure in Thanh Hoa was 47.46 out of 48.96km.
The main cause for delayed clearance in Ninh Binh is that Tam Diep district has failed to finalize the compensation price for different land types, identify persons qualified for job adjustment incentive scheme, and allocate resettlement area to a number of households.
Thanh Hoa has been facing difficulties in site clearance. It has the longest section of the Eastern part of North-South Highway, including Mai Son – NH45, NH45-Nghi Son, and Nghi Son – Dien Chau.
Mr. Nguyen Duc Trung, Deputy Director of Thanh Hoa Transport Department, said that the province has cleared 97% of the site. The slow progress was mainly due to some households' requirements and demands beyond compensation regulations.
Inspecting the Mai Son – NH45 site with the Transport Minister Nguyen Van The on February 22, Mr. Mai Xuan Liem, Thanh Hoa Vice Chairman, said it would hand over the remaining site to contractors before March 15.
The Cao Bo – Mai Son section of the North – South Highway is expected to complete in 2021
Hard to find material sources
Apart from the slow site clearance, most contractors have faced a shortage of formation level materials (mainly soil).
Specifically, there is a lack of 1.6 million m3 of soil for Cam Lo – La Son section which passes through Quang Tri and Hue. Though there are 17 soil mines for Vinh Hao – Phan Thiet section, the supply is far below demand. The material shortage is also a problem for other sections namely Mai Son – NH45 and Phan Thiet – Dau Giay.
An additional 7 million m3 of soil and 400,000 m3 of crushed stone are needed for Nghi Son – Dien Chau section which is scheduled to launch in May.
According to some contractors, high demand for materials for the North – South Highway and section construction is being carried out simultaneously, which has led to mine owners' increasing material prices, deepening difficulties for contractors.
Furthermore, provincial leaders have to review soil and stone mines for their approval, licensing and adjustment process. This takes a long time, affecting highway progress and quality.
Speaking about soil mine issues in his trip to inspect Mai Son – NH45 site on 22nd February, Minister Nguyen Van The demanded that provincial leaders review project and design documents to avoid the highway construction setbacks.
Vu Diep
North-South Highway: slow site clearance and material shortage have 744 words, post on vietnamnet.vn at March 1, 2021. This is cached page on Talk Vietnam. If you want remove this page, please contact us.