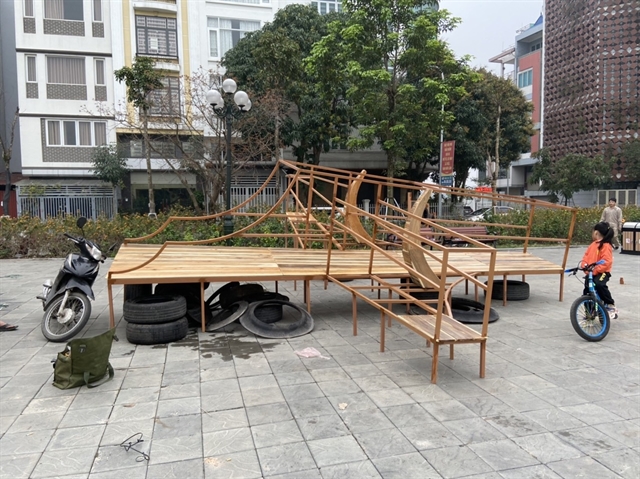 During the design process, local residents helped develop ideas for the Sân Chơi Nỏ Thần playground. Photo courtesy of Think Playgrounds
HÀ NỘI — A playground for children will open in Đông Anh Town today with support of the European Union and the British Council (BC).
The project, Sân Chơi Nỏ Thần , or Magic CrossBow Playground, is implemented by the BC and the Việt Nam National Institute of Culture and Arts Studies.
The playground is built 5km from the ancient Cổ Loa Citadel with the magic crossbow legend that has been woven into the history of Vietnamese people.
"Ruins, history, legends of kings and his men, prince and princess, trust and betrayal, the rich history of Đông Anh is the source of  limitless inspiration," said artist Trần Nguyễn Ưu Đàm who came up with the project's artistic concept.
"We play to live a richer and more fulfilled life. The combination of those two ideas is the realisation of this Magic CrossBow playground.
"Life is a big playground where we are constantly moving in and out of history, living with, playing in, hiding and seeking in those ruins and myths," said the artist.
The image of a giant Magic CrossBow in four parts scattered around like a ruin reflects the reality of Cổ Loa Citadel, parts hidden and parts visible at different places in the area.
When climbing in and out of the Magic Crossbow, the creators hope the history of the Âu Lạc Kingdom and its lessons will be kept alive.
This playground was created with the collaboration of Think Playgrounds Social Enterprise, artist Ưu Đàm,  the Đông Anh Women's Union and the community of Neighbourhood 3 in Đông Anh Town.
During the design and construction process, local residents contributed their ideas.
They have also contributed financial resources and will manage the playground going forward.
Think Playgrounds builds playgrounds, community gardens and improving public spaces that are friendly and safe with communities throughout Việt Nam.
Since 2014, Think Playgrounds has built nearly 200 public playgrounds and community gardens and organised more than 30 campaign events to raise awareness of the community about the role of play for the comprehensive development of children. — VNS
New playground set up in Đông Anh Town have 504 words, post on vietnamnews.vn at March 6, 2021. This is cached page on Talk Vietnam. If you want remove this page, please contact us.