The Taiwan Food and Drug Administration (TFDA) has announced a list of 697 Vietnamese seafood enterprises permitted to export their products to Taiwan, reported the Vietnam Association of Seafood Processors and Exporters (VASEP).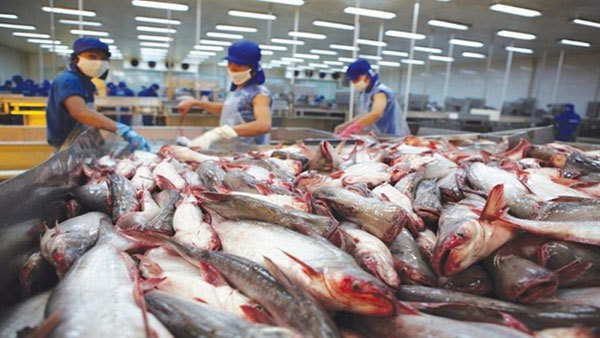 Taiwan has mainly imported from Vietnam frozen/fresh tiger and white-leg shrimp and frozen pangasius fillet. Photo baodansinh.vn
This list of eligible Vietnamese seafood enterprises is valid from February 23, 2021, according to the TFDA's announcement sent to the Vietnam Economic and Cultural Office in Taipei, the association said.
The VASEP said Taiwan is not among the top 10 seafood export markets of Vietnam. But this market also has a relatively stable seafood import value from Vietnam with more than US$100 million per year, accounting for 1.3 to 1.8 per cent of national total seafood exports in recent years.
This market mainly imports frozen/fresh tiger and white-leg shrimp, frozen pangasius fillet, processed shrimp, surimi, squid and octopus from Vietnam.
However, due to the COVID-19 pandemic, seafood export turnover to this market in the first half of 2020 decreased by 14 per cent compared to the same period the year before, reaching $50.5 million. Of which, the export value fell by 18 per cent for shrimp to $27 million, 27 per cent for pangasius to nearly $10 million and 4 per cent for other seafood products to $22 million.
According to the General Department of Customs, in 2020, Vietnam's seafood export value to Taiwan was $120 million.
Before the pandemic, Nam Viet Joint Stock Company gained an export value of between $5-6 million each year from exporting pangasius to Taiwan.
However, since due to the worldwide COVID-19 outbreak, the company's seafood exports to Taiwan have declined. Therefore, it has focused on key markets such as the US and the EU or potential markets in Asia like Thailand and Malaysia that have similar value exports and are also members of the CPTPP agreement, Do Thi Thu Thuy, Nam Viet's business manager, said.
The Thuan Phuoc Fishery and Trading Joint Stock Company has also faced a reduction in seafood exports to Taiwan due to lower purchasing during the pandemic.
The company will focus on larger markets and ignore this Asian market, said Tran Van Linh, Thuan Phuoc JSC chairman.
According to experts, it is completely reasonable for local seafood enterprises to focus on major markets. The attraction from the EVFTA makes more and more businesses in the seafood industry concentrate on exploiting the European market.
However, although the export value of seafood to Taiwan is not high, the demand for seafood in this market is increasing. This is an opportunity for Vietnamese businesses.
The VASEP also noted that to export to Taiwan, the businesses' products need small packaging, nice design and full instructions for use. In addition, when entering the Taiwanese market, they need to pay attention to advertising.
The experts say that besides the large markets, local enterprises should still maintain smaller markets. Diversifying markets will help them to achieve the long-term goal of sustainable development.  VNS
Hundreds of Vietnamese seafood firms permitted to export to Taiwan have 571 words, post on vietnamnet.vn at March 3, 2021. This is cached page on Talk Vietnam. If you want remove this page, please contact us.