Ho Chi Minh City's Transport Department has proposed to ban rudimentary transport vehicles in two phases by 2025.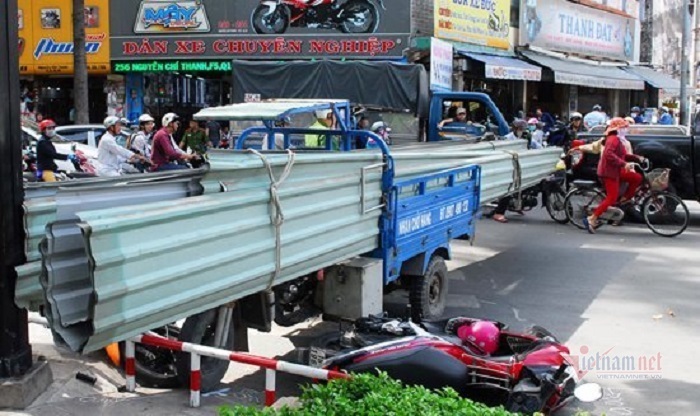 Accident involving a three-wheeled vehicle at Nguyen Tri Phuong roundabout, District 10 H City in 2017. Two people were injured and hospitalized.
The Department has submitted to the HCM City People's Committee a plan to regulate traffic flows of motorized 3 wheeled and homemade 3-4 wheeled vehicles before totally banning them after 2025.
By 2022, all rudimentary vehicles will be banned in the city center within the boundaries of streets Hai Ba Trung – Ton Duc Thang – Ham Nghi – Pham Ngu Lao – Nguyen Thi Nghia – Cach Mang Thang Tam – Dien Bien Phu – Hai Ba Trung.
The vehicles will also be banned on other streets, Phan Dinh Giot (between Nguyen Van Troi to Truong Son), Truong Son (from Phan Dinh Giot to Hong Ha), Nam Ky Khoi Nghia (from Nguyen Van Troi to Dien Bien Phu), Vo Van Kiet (from Lo Gom to Ton Duc Thang) and the streets Tran Quoc Hoan, Hoang Van Thu, and Nguyen Van Troi.
The Department also proposed restricting vehicles into the city from 5am – 1pm and 4pm-10pm. The area is bordered to the North and the West by national highway 1 (from the NH1- Xa lo Hanoi intersection to NH1-Nguyen Van Linh intersection), to the East by Xa Lo Hanoi (from NH1 – Xa lo Hanoi to Cat Lai intersection), Mai Chi Tho, and Dong Van Cong (upto Vo Chi Cong), and to the South by Vo Chi Cong (from Dong Van Cong to Phu My bridge) – Phu My bridge – overhead road (from Phu My bridge to Khu A Nam Sai Gon intersection) – Nguyen Van Linh (from intersection of Khu A Nam Sai Gon to NH1).
During peak hours of 6am-8am and 4pm-7pm, they will be banned on some sections of eight routes, namely NH1, 1K, 13, 50, 22, Xa lo Hanoi, Nguyen Van Linh, and Nguyen Luong Bang.
For the phase from 2022 to 2025, the belts and routes will remain unchanged. The time restrictions will be from 5am to 10pm.
Reasons for termination
According to the Transportation Department, Ho Chi Minh City People's Committee has banned or restricted rudimentary motorized 3-wheelers and 3-4 wheelers into the city since 2013. But the scale was smaller and the restriction timeframe shorter than current proposals.
This elimination has improved city traffic. The maximum exclusion of these vehicles in the city center brought significant outcomes.
According to data from the HCM City Traffic Safety Committee, since 2017, there have been 39 accidents related to these vehicles. The number of accidents declined: 13 cases in 2017, 12 in 2018, and 14 for 2019 and 2020.
The Department said that violations of rudimentary vehicles have not been treated seriously and that there has not been an appropriate vehicle to replace them.
On the other hand, it is difficult to control this as the majority of commuters and drivers are low income people with low level of education and traffic awareness. And their living demands further promote vehicle usage to sell food along streets and to transport construction materials and goods.
Once charged, they leave the vehicles and run away. Hence, it is difficult to detain the drivers and move the vehicles to already overloaded warehouse. In spite of obstacles, the Department is concerned about accident risks and the city's beauty. Therefore, an adjustment is necessary to deal with potential traffic accidents and congestion.
Under the Government's Resolution No. 32 of 2007, many vehicles, including homemade 3-4 wheeled ones, have been suspended since 2008. The vehicle owners have been helped with vehicle replacement and job change.
Since then, HCM City has collected and destroyed nearly 29,000 homemade 3-4 wheeled vehicles and spent nearly 160 billion dong to support affected people. However, there remain about 30,000 vehicles left.
Tuan Kiet
HCM City to ban rudimentary vehicles after 2025 have 723 words, post on vietnamnet.vn at March 3, 2021. This is cached page on Talk Vietnam. If you want remove this page, please contact us.