The largest Dutch supermarket chain, a restaurant in Canada, and a US fast food brand have been threatened with a boycott because they have provided nonstandard Vietnamese dishes.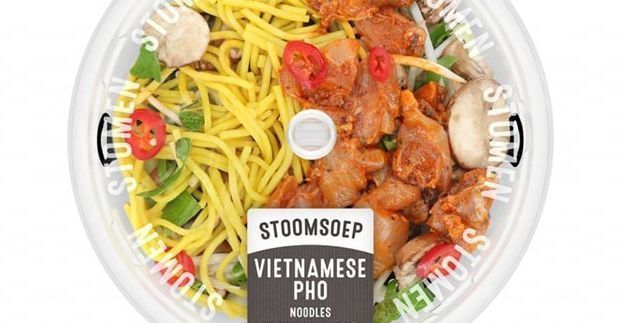 The product labelled as 'Vietnamese Pho' at the Dutch chain
Albert Heijin (AH), the largest supermarket chain in the Netherlands, had to remove products labelled as 'Vietnamese Pho' from its shelves after negative backlash from customers.
A customer said the supermarket provided chicken thighs, while the ingredients of the "authentic" pho are sliced beef or chicken. She wrote a letter to the AH board of directors and expressed her feelings about the "so-called Vietnamese pho".
Vietnamese pho is a dish famous all over the world and people, if wanting to learn about it, just need to look it up on the internet.
In 2020, Pho King Bon, a well known restaurant in Montreal, Canada also triggered anger among netizens when naming some dishes in a way that outraged Vietanm.
The pho dishes in its menu had the names 'Pho Kyu', 'Pho Kme', 'Pho Kit', 'Pho King Good', which, if misread, could make people think of swearing in English. The restaurant guided customers to spell 'bun thit nuong' (vermicelli with grilled meat) into a phrase which means genitals in the French language.
After facing criticism, Guillaume Boivin apologized, saying that the naming was not intended to offend anyone and the restaurant will change the names that led to the misunderstanding.
Vietnamese banh my has also been counterfeited. The word 'Vietnamese banh my wrap' was seen on the package, but the shape and materials used to make this product are different from the original Vietnamese banh my.
What made people angry was the way the banh my was processed and shaped. Its crust was very thin, rolled into an oval shape, covering the stuffing of pickled carrots, soya cheese and brown rice.
In another case, Peja Krstic, the chef of a restaurant serving Vietnamese style dishes in the US, faced strong criticism from netizens when misspelling the word 'banh my' into 'bahn mi' when introducing the Vietnamese dish in the menu.
Burger King apologized and removed the ad thought to mock Vietnamese culinary culture with images of a western man struggling to eat 'Vietnamese Sweet Chili Tendercrisp Burger' with chopsticks.
Banh my and pho are well known dishes favorite by many foreigners .
Pho was officially included in the Shorter Oxford English Dictionary published on September 20, 2007 in the US and UK. In 2011, banh my was added to the Oxford dictionary as a proper noun.
Thu Ky
Foreign food chains threatened with boycott because of phony Vietnamese dishes have 549 words, post on vietnamnet.vn at March 2, 2021. This is cached page on Talk Vietnam. If you want remove this page, please contact us.