Young people join hands to keep Central Highlands green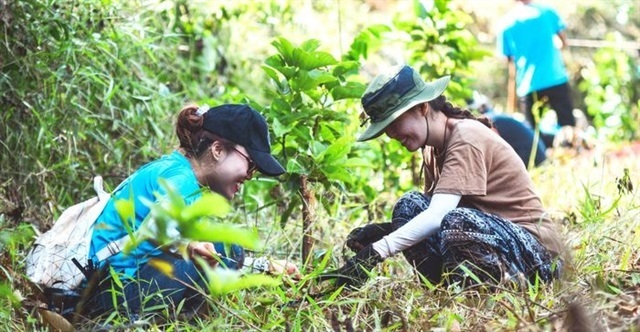 Young people in HCM City take part in a project to plant trees in Đắk Nông Province. — Photo sggp.org.vn
Tree-planting projects to protect the environment have become increasingly popular among young people from HCM City.
Their projects have not only contributed to increasing forest coverage on barren hills but also brought economic benefits to local people.
The project 'Garden-Forest' was launched by JOY (Journey Of Youth) – a volunteer group in collaboration with the group named 'Planting one million trees per year' and Bù Gia Mập National Park to plant trees on farmers' land in Central Highlands provinces.
The volunteers have also worked with agricultural experts to teach organic farming techniques to farmers, helping them have a stable income.
Before planting trees, the young people studied the local climate and soil to choose suitable trees and lived with the farmers to understand the steps for planting.
Trúc Nguyên, a 19-year-old member of the project from Bình Thạnh District, told Sài Gòn Giải Phóng (Liberated Sài Gòn) newspaper: "This is the first time I know how to start a tree nursery and plant trees. It was quite hard work for the first time gardening but we are happy."
Volunteers chose the rainy season to run the project to reduce the need for irrigation water.
During a field trip, they also visited Gia Ân mangosteen farm, which has been granted a Global Good Agriculture Practices (GlobalGAP) certificate in Đắk Nông Province and listened to an agricultural expert who has worked at the farm for 20 years.
"I know many green and afforestation projects but I still have not participated. These projects have just been rolled out once and don't have a long-term plan or seedlings management," said Đặng Khải An, a 21-year-old volunteer from Phú Nhuận District.
"I decided to join this project because I not only want to contribute to planting more trees, but I also want to learn how to garden. Planting trees is very interesting."
Hồ Thắng, the founder of the group 'Planting one million trees a year', said the group was established last year and has planted 15,000 trees in Đắk Nông Province.
"The trees are more than 2m high and grow well. The number of dead trees accounts for about 1 per cent only," said Thắng.
"In 2021, the group will plant vetiver grass in bare hills. This plant helps to stabilise the soil and protect it against erosion and also provides moisture to other plants."
With support from Gia Ân farm and Bù Gia Mập National Park, the volunteers have chosen a number of suitable plants that can be planted in local families' gardens.
No one understands the forests better than the local farmers.
Afforestation brings economic efficiency and it will help farmers maintain and replicate this model, according to Thắng.
In addition to the support of friends and online communities, the main source of funding for the group is helping young people start a business from agriculture and using some of the profits to buy seedlings.
"I just want to contribute a part of my efforts to planting trees for the land in the Central Highlands, returning the green that was lost due to deforestation for cultivation," said Thắng.
Ministry helps the poor and policy beneficiaries enjoy Tet
Various activities to support the poor and policy beneficiaries have been instigated by the Ministry of Labour, Invalids and Social Affairs during Tet.
Minister of Labour, Invalids and Social Affairs Dao Ngoc Dung said they had done their best to ensure that no one would be left behind despite the on-going pandemic. The ministry issued an official document in January asking localities authorities to have plans to visit and provide support to needy people.
Decision 7 issued by the state president on January 11 stated that over 1.6 million people who had contributed during the wars will be given VND300,000 (USD13) to VND600,000 each. According to the ministry, besides this financial support, localities would also use their own budgets to help.
Hanoi spent VND106bn (USD4,600) to help policy beneficiaries. VND383bn in HCM City, VND86bn in Thai Binh, VND60bn in Thanh Hoa and VND90bn in Quang Nam. And Quang Tri VND1.2trn was provided to support disadvantaged children, Long An spent VND2.4bn, An Giang spent VND1.3bn, Ca Mau and Bac Ninh spent a total of VND1.2bn and VND838m respectively.
The Ministry of Labour, Invalids and Social Affairs worked with the Central Committee of the Fatherland Front, Vietnam General Confederation of Labour and Vietnam Red Cross to send 12,000 gifts worth VND14.1trn (USD611m) to poor and policy beneficiaries to help them celebrate the Tet Holiday.
HCM City expands testing to find more community cases
The authorities in HCM City have started testing the employees working at bus stations, shopping centres and rental areas after the outbreak at Tan Son Nhat Airport was controlled.
The tests were immediately carried out on February 11. Deputy Minister of Health Nguyen Truong Son said that the outbreak in HCM City was different from the outbreaks in other provinces and cities.
"We have F1 patients whose tests are negative but F2 patients whose tests were positive. It's possible that the F2 patients weren't infected from F1 patients but from other undetected cases in the community," he said.
After meeting with the Department of Health and the Steering Committee for Covid-19 Prevention, Son agreed to carry out tests in vulnerable areas. They want to make sure that there will be no more major outbreaks like the Tan Son Nhat Airport cases. Any new outbreak needed to be found and controlled in time to prevent further spreading.
Antibody tests have been started to be implemented by HCM City CDC and HCM City Pasteur Institute. 30,000 quick test kits will be provided to HCM City soon.
Nguyen Tan Binh, director of the Department of Health said a suspected case was detected after tests were carried out among the families of the employees at Vietnam Airport Ground Services Company Limited on the last day of the lunar December.
"After the expanded testing we'll have more data to analyse the potential risks in the community. Antibody and gene sequencing analysis will reveal which virus variant is spreading in HCM City," he said.
The Steering Committee for Covid-19 Prevention said they had basically controlled the outbreaks. Expanded testing will help make a better picture and lead to the most suitable solution.
Vietnam to raise rate of trained workers to 40% by 2030
Vietnam targets raising the proportion of trained workers to 35-40 % by 2030 under a support programme for labour market development newly issued by Prime Minister Nguyen Xuan Phuc.
Overall, the programme aims to provide a strong premise for comprehensively developing the labour market; effectively mobilising, distributing, and utilising resources to boost socio-economic growth; shift to a modernised labour structure; and promote links between the domestic labour market and those of the region and the world.
Its objectives are to increase the number of workers with labour market-relevant skills and raise the number of trained workers to 30 % by 2025 and 30-45 % by 2030.
Under the programme, Vietnam expects to be among the top 60 countries in the Knowledge Workers sub-pillar of the Global Innovation Index (GII) by 2025 and among the top 55 by 2030. The country also sets having 80 % of its workforce possess IT skills by 2025 and 90 % by 2030, while reducing the rate of young adults unemployed or untrained to below 8 %.
To this end, the country plans to improve the relevant legal framework to bolster the development of the labour market; support the development of labour supply and demand, a labour market database, social welfare and insurance, and a specialised labour market; and promote links between the domestic and foreign labour markets.
It will also develop a set of indicators measuring the development of the labour market compared with the regional and global markets, and evaluate the labour gap between regions.
PM pays Tet visit to Da Nang armed forces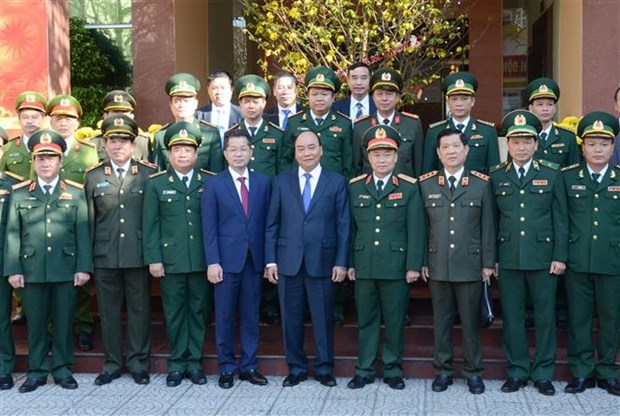 Prime Minister Nguyen Xuan Phuc and leaders of the armed forces in Da Nang pose for a picture
At the Da Nang Border Guard High Command, the Government leader extended Lunar New Year (Tet) wishes to the force, the municipal military high command, the police, and Military Zone 5. He also offered incense to President Ho Chi Minh at his statue in the city.
After listening to a report on the performance of the armed forces of the city in 2020, PM Phuc lauded the efforts that the forces made amid difficulties from complicated development of COVID-19 pandemic and natural disasters.
Highlighting the engagement of soldiers and public security officers in search and rescue activities during the devastating natural disasters last year, he stressed that thanks to the strong endeavours of the forces, the local living conditions have been ensured with no one left behind.
As Da Nang is an area of national strategic significance, local armed forces should remain vigilant and prepare specific plans to respond any circumstance, he said, asking the forces to modernise themselves in the time to come.
Last year, the armed forces in Da Nang showed strong performance in protecting national security and defence, social safety and order, safeguarding the borderline and combating trans-border criminal as well as trade fraud, while supporting locals in overcoming consequences of natural disasters. Local public security officers successfully protected security during the 13th National Party Congress and before the upcoming general election.
Also on February 12, PM Phuc visited and presented Tet gifts to officials at the People's Committee of Hai Chau district and the People's Committee of Thuan Phuoc ward./.
Daffodil dazzles Hanoians in Tet holiday
Flower arrangement has long been popular among Vietnamese people on the occasion of Lunar New Year (or Tet) holiday.
Besides the renowned peach blossoms, daffodils are also popular among Hanoians for home decoration during Tet holiday.
Not as radiant as other flowers, daffodils, have an elegant look with a lovely scent.
It is widely believed that if they bloom during New Year's Eve, daffodils will bring owners good luck. Some people spends hours enjoying the flowers on the last night of the year.
Enjoying daffodils has been Hanoians' custom for a long time. For many living in the capital, daffodil pruning is like a ticket to the past, letting them enjoy the atmosphere of Tet holiday from years ago.
For ancient Hanoians, daffodil symbolises luck and longevity. On Tet holiday, the flower's flavour mingled with the scent of aloes wood incenses creates a cozy atmosphere.
Daffodils' swaths of yellow, white and orange trumpets brighten every corner of flower markets and dazzle both shop keepers and customers./.
Lao top legislator pays Tet visit to Vietnam's officers, soldiers working at Laos' NA House
Chairwoman of the Lao National Assembly (NA) Pany Yathotou paid a visit on February 11 to officers and soldiers of Army Corps 11 of the Vietnam People's Army who are working on the construction of the Lao NA House, on the occasion of the Lunar New Year (Tet) festival.
On behalf of the Lao NA Standing Committee and the Steering Committee for the new NA House project, Lao NA Vice Chairman Somphanh Phengkhammy extended New Year wishes to all officers, soldiers and staff of Army Corps 11 involving in the building of the NA House.
He appreciated their efforts to overcome difficulties, particularly impacts of the COVID-19 pandemic, to fulfill the political task assigned by the two Parties, States and peoples, thus contributing to consolidating the great friendship, special solidarity and comprehensive cooperation between the two nations.
He also congratulated the success of the 13th National Congress of the Communist Party of Vietnam, which, he said, set out new guidelines and plans for Vietnam to continue implementing its goal of becoming an industrialised and modernized country.
Pany Yathotou presented a basket of flowers to Deputy Commander of Army Corps Col. Nguyen Chien to welcome the Year of the Buffalo.
On behalf of officers and soldiers of Army Corps 11, from Hanoi, Commander Maj. Gen. Nguyen Quoc Dung expressed his thanks for the consideration of leaders of the Lao NA.
He affirmed that the army corps will ensure the quality of the Lao NA House to make it deserve to be a symbol of the great friendship, special solidarity and comprehensive cooperation between Vietnam and Laos./.
Standing member of Party Central Committee's Secretariat pays Tet visit to soldiers
Politburo member and standing member of the Party Central Committee's Secretariat Vo Van Thuong made a visit to Division 9 of IV Corps on February 11, just one day before the Lunar New Year (Tet), to extend Tet wishes to the officers and soldiers.
The Party official commended Division 9 for completing well not only their regular tasks but also extra missions in the past year, including organizing Party congresses at its units thus contributing to the success of the military's Party Congress and the 13th National Congress.
He especially noted that the division has effectively kept the COVID-19 pandemic at bay despite its complicated developments in the country.
Thuong stressed the important role of the military when the country enters the year 2021 which is full of opportunities as well as difficulties and challenges. He required the military to uphold combat readiness and build a strong and pure army, ready to stamp out any schemes of enemies and hostile forces.
He asked Division 9 to pay special attention to Party building work, adding that all officers and commanders must be exemplary models for their soldiers. The division should also coordinate with Ho Chi Minh City in the fight against the COVID-19 pandemic, he said.
Political Commissar of the division Colonel Vo Phuoc Vy pledged that officers and soldiers of the division will uphold the glorious tradition of the division, which has twice been conferred with the title of Hero of the Armed Forces./.
Deputy Health Minister inspects COVID-19 treatment in HCM City
Deputy Health Minister Nguyen Truong Son led a special task force for COVID-19 prevention and control to inspect the treatment of COVID-19 patients at the Cu Chi hospital in Ho Chi Minh City on February 11.
The hospital is treating 43 COVID-19 patients, including 32 cases related to the cluster at the luggage handling company in Tan Son Nhat airport.
Director of the hospital Nguyen Thanh Dung reported that since the pandemic first broke out in Vietnam one year ago, the hospital has treated 177 COVID-19 patients and quarantined more than 800 F1 cases. Staff members are mobilized from other hospitals in HCM City, and work in shifts, with 40 people for each shift lasting five weeks.
Deputy Director of the municipal Health Department Tang Chi Thuong praised the hospital for excellently fulfilling its tasks, helping reduce the workload for other hospitals in coping with COVID-19.
Deputy Minister Son hailed the great contribution of medical workers of the hospital, who are working hard to care for patients during the Lunar New Year festival. He wished them a happy new year, and asked them to stay prepared for any circumstances even though the number of new COVID-19 cases in the city has begun to drop recently.
Vietnamese Ambassador delivers online Tet greetings to detained fishermen in Indonesia
Vietnamese Ambassador to Indonesia Pham Vinh Quang on February 10 held a consular visit in the form of teleconference and delivered Lunar New Year (Tet) greetings to Vietnamese fishermen who are being kept in a detention centre in Tanjungpinang.
Earlier, the Vietnamese Embassy also made virtual pre-Tet meetings to Vietnamese fishermen detained in Ranai and Pontianak centres.
Ambassador Quang informed the fishermen that he had worked with Indonesian authorities and asked the detention centres to allow them to buy necessary things and celebrate the Vietnamese traditional festival ensuring pandemic prevention regulations.
The fishermen thanked the Vietnamese Embassy and wished that the Government will coordinate with the Indonesian authorities to organise repatriation flights for them to return to the home country.
Last December, Quang had a virtual working session with leaders of Tanjung Pinang detention centre on December 16 to discuss the situation of Vietnamese fishermen detained there.
Quang thanked officers at the detention centre for their cooperation with the Embassy of Vietnam in Indonesia in recent years and asked them to help improve living conditions for the fishermen.
He proposed the centre to provide the fishermen with more healthy and hygienic meals and space for exercising activities along with timely health care and face masks to prevent the spread of COVID-19./.
COVID-19 remains biggest challenge for Southeast Asia in 2021: survey
The COVID-19 pandemic and its impacts remain the largest challenges for the Southeast Asian region in 2021, according to the State of Southeast Asia 2021 survey report announced by the ASEAN Studies Centre at ISEAS-Yusof Ishak Institute on February 10.
A total 1,032 respondents from ten ASEAN member states participated in the online survey which drew from five categories of affiliation: academia/research, business/finance, government, civil-society/non-governmental/media and regional/international organisations.
In terms of COVID-19 fight leadership, respondents vote almost equally for Singapore (32.7 percent) and Vietnam (31.1 percent) for providing best leadership to ASEAN.
ASEAN continues to express concerns over the East Sea issue, and regional people said the issue should be settle based on respect of international law.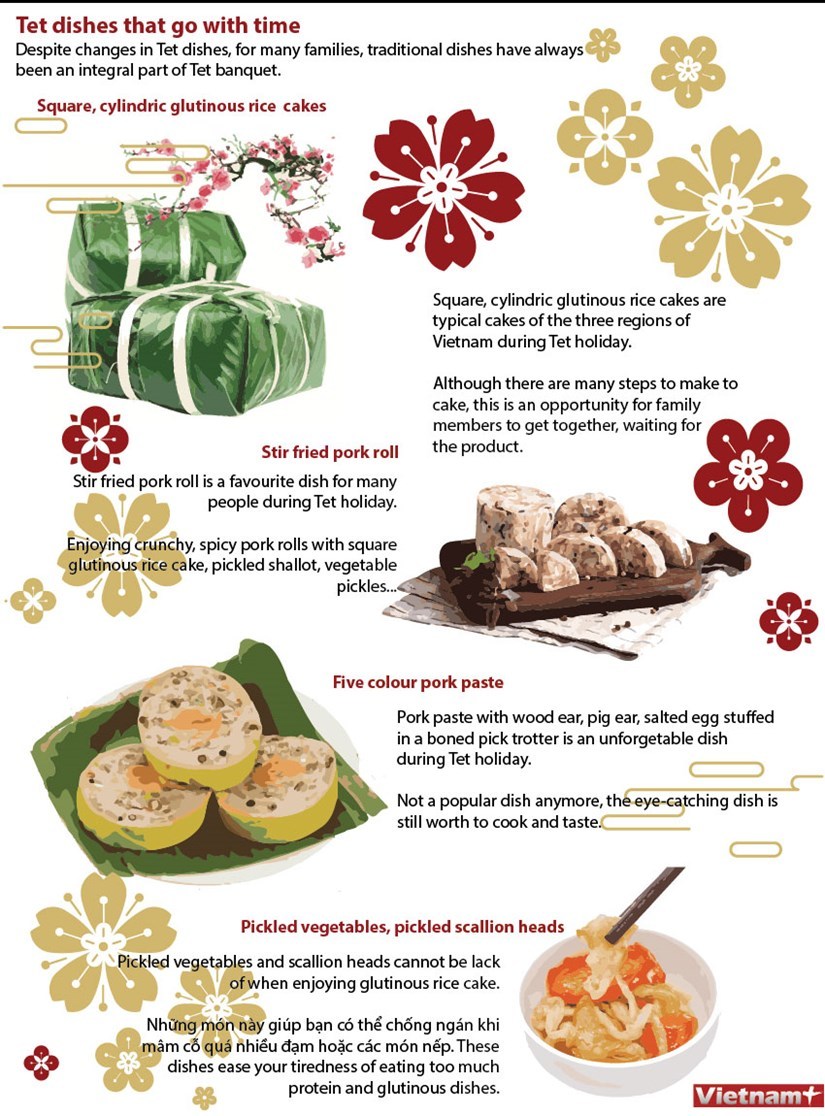 Vietnamese expats in Laos preserve traditional Lunar New Year
Vietnamese expatriates in Laos have rushed off their feet those days to prepare for the traditional Lunar New Year (Tet) holiday since they could not return to their homeland due to the COVID-19 pandemic.
They gathered to make chung (square glutinous rice) cake – the soul of Tet that reflects the quintessence of heaven and earth through the skilled hands of humans.
Busy with washing 'dong' leaves, marinating the meat, wrapping and boiling the cakes, the Vietnamese expats recalled the old memories in the homeland, and felt the warm Tet atmosphere is around the corner.
Do Van Nam and Vu Thi Tam, who have lived in Laos for more than ten years, said they always come back home to enjoy Tet holiday with their families, and although they have to stay here due to COVID-19, they enjoyed a truly traditional Tet with the chung cake making activity.
The expats hoped that the pandemic is put under control soon so that they can return to their homeland, meet their relatives and friends, and visit famous tourist destinations in the country./.
Hà Nội boosts 'One Commune, One Product' programme
Hà Nội authorities plan to accelerate trade promotion to drive 'One Commune, One Product' (OCOP) product consumption domestically and for export, said Chu Phú Mỹ, Director of Hà Nội Department of Agriculture and Rural Development.
He said doing so would be vital to improving the lives of rural people.
Đỗ Thị Kinh Thông, director of Kim Thông Trade, service, tourism, import and export Cooperative, said in the past, few people knew about the co-operative's products.
However, after being certified for OCOP and supported by authorities in terms of communication work, they have won the trust of many consumers who are willing to use the products.
"When our new products are brought to the market, authorities support the co-operative to introduce them at conferences and fairs. Thereby, many retail stores and those selling safe food as well as supermarkets want to sign contracts on product consumption."
"We expect to soon approach and bring products into major supermarket channels in Việt Nam," Thông said.
The co-operative is aiming to have their peanuts labelled with five stars – the highest quality certification of the OCOP programme – and export them.
To achieve this, along with the preparation of high-quality raw material areas, the co-operative is aiming to satisfy the standards of import markets, especially choosy ones.
"Currently, the material area of ​​the co-operative is planted in Chanh Thôn Village, Phú Xuyên District's Nam Tiến Commune. We plan to set up a material area spanning ​​several hundred hectares to build safe peanut growing areas in Việt Nam, especially in Phú Xuyên District, where our workshop is located," Thông said.
Nguyễn Văn Thiêng, head of Đông Anh District's Economic Office, said in 2019-2020, the district certified more than 100 products as OCOP and elevated the rank for another six.
The OCOP programme is effective, he said.
The programme has helped motivate OCOP participants to focus on building high-quality products, ensuring safety, and continuing to affirm the brand of OCOP products.
With nearly 1,000 products certified as meeting OCOP standards, equivalent to 35.52 per cent of total OCOP products in the country, Hà Nội is one of the leading localities in implementing the programme.
To bring OCOP products to consumers, it is necessary to hold small-scale trade promotion fairs specialised in the OCOP products of a district or locality, according to Thông.
"The smaller the trade fair is, the faster products will reach the market," she said.
To enhance the effectiveness of OCOP products after receiving certification, Thiêng said it was a must to enhance the quality of the products.
More favourable policies should be issued to support participants in building brands and to meet the standards of not only Việt Nam but also the region and world.
Nguyễn Văn Chí, Deputy Chief of the Hà Nội Office of New Rural Development Programme Coordination, said the development of OCOP products still faced many difficulties.
Products tend to be made on a small scale and most of the labourers have not been professionally trained, he said.
Chí also said the market for many of the products is not stable while many products are mainly in a rudimentary form.
To remove obstacles for OCOP products, the department wants municipal authorities to create favourable conditions for producers who participate in the programme, particularly on branding and certification, according to Mỹ.
Over the next five years, Hà Nội hopes to have at least 400 products certified as meeting the OCOP standards each year.
Heading to COVID-19 hot spots, doctors welcome new year far from home
When the new community cases of COVID-19 were reported in the Central Highlands province of Gia Lai last month, Võ Ngọc Anh Thơ, a doctor of HCM City's Chợ Rẫy Hospital, dropped everything and headed to the area on a mission.
With Tết (Lunar New Year) just a few weeks away, Thơ didn't know when she would return to welcome the new year with her family.
This year might be the second Tết she would welcome the new year far from home.
Last year she stayed at the hospital throughout the holiday to treat a Chinese father and his son, the first two COVID-19 patients in Việt Nam.
This year Thơ is a member of the medical quick-response team of Chợ Rẫy Hospital which is responsible for assisting other localities.
The team was mobilised to support Gia Lai after the province saw a surge in the number of COVID-19 cases linked to the cluster in northern Hải Dương Province.
Lacking experienced healthcare experts and medical equipment with poor treatment capacity, the Central Highlands province was in urgent need of assistance from national hospitals.
The medical quick-response team of Chợ Rẫy Hospital has three doctors – Dr Phùng Mạnh Thắng, head of Infection Control Unit; Dr Nguyễn Lý Minh Duy from the Intensive Care Unit and Dr Thơ, deputy head of the Tropical Disease Unit, the only woman in the team.
Before boarding a flight to Gia Lai, Dr Thơ said two hours after receiving the mobilisation call, doctors in the team prepared for their mission.
"I am expecting to welcome the new year far from home one more time," she told plo.vn.
Dr Thơ's duty in Gia Lai is to follow up patients' disease development.
"The new coronavirus variant is strong and has a high speed of infection," she said.
With one-year experience fighting against the virus, Thơ felt calm this time but not negligent.
Dr Phùng Mạnh Thắng, who is in charge of infection control, said the team didn't know when they would be able to return.
"The team will support quarantine work at the Gia Lai General Hospital. Depending on the outbreak development, we might support doctors there to treat COVID-19 patients," he said.
30,000 rapid diagnostic tests to quickly identify sources of COVID-19 transmission in HCM City
The Ministry of Health will provide HCM City with 30,000 rapid diagnostic tests to help the city quickly trace contacts and identify transmission sources of COVID-19.
The ministry agreed to provide the tests following a request by the head of the HCM City Department of Health at a meeting on Wednesday between Deputy Prime Minister Vũ Đức Đam and the HCM City People's Committee.
Deputy Minister of Health Trần Văn Thuấn said the ministry would provide additional assistance to the city in the upcoming time.
The standing team for COVID-19 prevention and control in HCM City is headed by Deputy Minister of Health Nguyễn Trường Sơn.
Nguyễn Tấn Bỉnh, head of the city's Department of Health, said the health sector is giving rapid diagnostic tests to more than 1,600 staff of VIAGS Company which provides cargo service at Tân Sơn Nhất International Airport, where an outbreak has occurred.
Eight employees of the company tested positive for the coronavirus that causes COVID-19.
Because some people, designated F2, who had contact with COVID-19 patients, designated F1, tested positive, all of VIAG (Vietnam Airport Ground Services) company staff and others working at Tân Sơn Nhất airport were being tested, he added.
Nguyễn Trí Dũng, head of the city Centre for Diseases Control and Prevention, said the rapid tests will be used to supplement PCR tests, which are considered the most accurate tests and give results only six hours later.
Deputy Prime Minister Vũ Đức Đam, head of the National Steering Committee for COVID-19 Prevention and Control, said that HCM City should also screen and take testing samples from people at bus stations and coffee stores in areas near factories and near the city gateways.
Đam said that the city should not miss any transmission source and should monitor and provide tests at bus and train stations. The city should also try to identify all locations of outbreaks in the community, he added.
He noted that sources of transmission could also come from people illegally entering the country.
HCM City is the first in the country to set up criteria on "giving scores" for COVID-19 prevention and control activities at health facilities, schools, factories and bus stations, he said.
The city and other provinces have given instructions to these public places about preventive measures and have also provided updates to the "Map of Safely Living with COVID-19" which can be found on the website www.antoancovid.vn.
The city has quickly traced F1 and F2 contacts, and has zoned and locked down 33 sites that contain locally transmitted cases.
On February 10, the standing team for COVID-19 prevention and control in the city checked the lockdown area in Gò Vấp District and Military Hospital 175.
The team also checked the field hospital and quarantine area at Military Hospital 175.
Nguyễn Hồng Sơn, director of the Military Hospital 175, said that after the new COVID-19 patients came to the hospital, all of the hospital staff were tested.
The quarantine area at the field hospital was set up to admit medical officials who have had close contact with COVID-19 patients.
Deputy Minister of Health Sơn instructed the Military Hospital 175 to prepare to admit COVID-19 patients if other designated hospitals become overloaded.
Elsewhere, the Central Highlands province of Gia Lai on February 10 recorded four more people testing positive for COVID-19, increasing the total number of COVID-19 patients in the locality to 26.
The four new patients, who were F1 contacts, have been isolated in quarantine areas.
Cao Bang people engaged more in forestation
Forestation has been seen as an effective way for people in the northern province of Cao Bằng to increase income as well as helping to protect local forests.
Hoàng Thị Nga, a grower in Bản Mới Hamlet, Khâm Thanh Commune in the province's Trùng Khánh District said that her family grew pine trees on an area of nearly 3ha.
"I have just sold pine timber grown on about 2 hectares for more than VNĐ 80million" Nga said, adding that forestation now helps her generate quite stable income.
She said that her family started planting trees in 1998 when the Government allocated nearly 2ha of forest land for them to take care of.
Nông Văn Quỳnh, another farmer in a border commune of Ngọc Khê said 20 years ago, his family started growing more than 5,000sq.m of pine trees. His family has also harvested pine timber.
Quỳnh said he planned to grow about one hectare of acacia as the tree's growth time was shorter and would generate wood quicker.
Hoàng Thị Hằng, vice chairwoman of Ngọc Khê Commune People's Committee said the commune had about 1,000ha of forest land including nearly 700ha of natural forest.
For the last few years, local authorities called on households to take part in forestation projects.
"When the forest is grown along border area under the care of the local households, the forest is better cared for and border security is better ensured," she said.
About 400ha of forest were grown during the years, notably in hamlets of Ta Nay, Pác Peo, Pác Thay, Đoỏng Dọa and An Hỷ, Hằng said.
There are more than 35,000ha of forest land in Trùng Khánh District, of which, natural forest areas cover over 33,000ha, accounting for 50.9 per cent of total the district's area.
According to the district's Forest Protection Division, sloped mountains and a dense network of creeks make it difficult to plant, take care of and protect the forests.
Authorities and forest rangers found that the participation of local people in forestation would help expand forest areas and improve forest protection in the district, particularly in areas which border China.
Since 2016, 230ha of production forest, 115ha of protected forest and 60ha of replacement forest were grown. Around 550ha of protection forest was allocated to local households who are responsible for maintaining.
Until now, local people exploited nearly 5,600cu.m of timber in the production forest, which helped increase the forest value and income for residents.
La Đức Toàn, head of Quây Sơn River Protection Forest Management Board said when local households received forest to take care of, they would be instructed in forest fire prevention and control and forestry technique.
Forest carers also signed commitments not to violate Forestry Law, particularly those related to timber exploitation, Toàn said.
Kiên Giang aims for 24% growth in marine aquaculture
The Cửu Long (Mekong) Delta province of Kiên Giang targets an average annual growth rate of 24 per cent for marine aquaculture from now to 2030.
With a coastline of more than 200km and many large and small islands, Kiên Giang has the largest number of floating cages for breeding marine aquatic species in the delta.
It aims for an annual output of 113,530 tonnes for marine fish and other aquatic species by 2025 and 207,190 tonnes by 2030.
The province targets having 7,500 floating aquaculture cages on a total of 7,000ha by 2025 and 14,000 floating cages on a total of 16,000ha of sea surface by 2030.
Both traditional and high-tech breeding methods will be used.
The province also plans to breed pearl oysters on 200ha and bivalve mollusks on a total area of 25,000ha by 2030.
To meet the targets, the province needs VNĐ12.7 trillion (US$550 million) for marine aquaculture in the 2021- 30 period. The investment money will be come from central and local budgets and marine aquaculture breeders.
The province will also provide farmers breeding techniques and help near-shore fishermen switch to breeding marine fish to reduce overfishing in the area.
Marine fish like groupers, cobia, sea bass, lobsters, mantis shrimp, blue swimmer crabs and pearl oysters will be bred on islands in Phú Quốc City, Kiên Hải District, Hà Tiên City's Tiên Hải Commune and Kiên Lương District's Sơn Hải and Hòn Nghệ communes.
Coastal areas in Hà Tiên City and the districts of Kiên Lương, Hòn Đất, An Minh and An Biên will breed bivalve mollusks like blood cockles, green mussels and ark clams.
The province plans to develop its marine aquaculture sustainably on an industrial scale to serve domestic consumption and exports, and create linkages among stakeholders to improve production value.
The Trấn Phú Trading and Import- Export Co., Ltd, for example, is breeding marine fish in floating cages with Norwegian techniques in Phú Quốc City. And the Mavin Group is investing in breeding marine fish in 2,000ha of water off the coast of Kiên Hải District for export.
High profits
Kiên Giang has about 4,500 floating cages on the sea for marine aquatic species breeding, mostly near islands, according to the province's Department of Agriculture and Rural Development.
Breeding marine fish in floating cages offers high profits for households living in coastal areas and islands.
In Kiên Hải Island District, farmers who breed grouper, cobia and other marine fish species in floating cages in An Sơn, Nam Du and Lại Sơn communes earn a profit of hundreds of millions of đồng a year.
Marine fish are bred in floating rafts that often have 4 – 6 fish cages each.
Nguyễn Văn Năm, who has eight floating fish cages in Kiên Hải's Lại Sơn Commune, said farmers can earn a profit of VNĐ50 million ($2,160) for an 18-month fish crop in a floating fish cage.
"If using proper breeding techniques and having quality fish-fry, farmers can earn a profit margin of 100 per cent," he said.
In Lại Sơn, more than 100 households breed marine fish in about 700 floating cages, with an annual output of more than 1,000 tonnes.
Lại Sơn commune has the highest density of floating cages in Kiên Giang.
Lại Sơn, An Sơn and Nam Du communes have offered breeding training for farmers and regularly provide them with information about weather and diseases.
The commune has encouraged farmers to set up co-operatives to improve production value and income. The Tiến Đạt Co-operative in Lại Sơn, for instance, has 10 members who breed marine fish in floating cages and offer tourism services on their floating cages.
Local authorities and farmer associations have supported farmers with soft loans and breeding techniques.
The Hòn Nghệ Commune Farmers Association in Kiên Lương District, for example, has encouraged households that have financial capacity to invest in breeding marine fish and join with other less financially capable households and share the profits.
The model, begun in 2016, has worked effectively, according to the association. Less financially capable households have earned a profit of VNĐ250-300 million ($10,800 – 13,000) a year.
The association has worked with the province's Fund for Support Farmers to provide soft loans worth a total of VNĐ1.3 billion ($56,300) to 46 marine-fish breeding households in Hòn Nghệ since 2016.
HCM City to switch from pork production to pig breeding
HCM City plans to move its pig farming industry away from breeding for pork and increase the number of pigs raised for breeding purposes in the next five years.
It will develop nuclear farms for producing high-quality piglets for supply to farmers in the city and elsewhere.
It will seek to expand household pig farms into large–scale farms that breed operate on an industrial scale, use high–tech breeding techniques to ensure safety and achieve Vietnamese good agricultural practices (VietGAP) standards.
It has 2,280 pig farming establishments with more than 200,000 head.
It plans to sustain this size until 2025.
Most of the farms are in the five outlying districts of Củ Chi, Hóc Môn, Bình Chánh, Cần Giờ, and Nhà Bè.
The number of farms that do not comply with safety standards, especially those that feed their animals food residues, will be reduced this year.
The city targets 60 – 70 per cent of households farming pigs to VietGAP standards this year and 90 – 95 per cent by 2025 and 90 – 100 per cent of them meeting environmental protection regulations this year and 100 per cent by 2025.
A digital map for managing pigs and pig diseases will be ready by this year.
The city wants more than 10 per cent of farming households to be members of co-operative groups or co-operatives this year and 20 per cent in 2025.
To meet the five-year targets it will encourage farming households to invest in farms with closed processes, adopt advanced breeding techniques and raise pigs either for meat or producing piglets and not both.
It will implement bio-safety measures for disease prevention to develop farms that are safe from outbreaks and ensure the use of pig feed with clear origins.
The pig farming districts in co-operation with relevant departments and agencies will support the development of pig co-operative groups and co-operatives and linkages among stakeholders to increase the incomes of farming households.
The Department of Industry and Trade will establish a pork trading floor.
An average of 10,000 pigs are traded daily in the city.
There are 24 pig slaughterhouses.
Nguyễn Ngọc Hòa, chairman of the HCM City Finance and Investment State Owned Company and a member of the steering committee for setting up the trading floor, said it would help pig farmers directly access consumers and provide clear information to all stakeholders.
The floor would also meet the demand for modernising pig farming and hygienic and safe meat, stabilise pork prices and develop exports via official channels, he added.
Source: VNA/VNN/VNS/SGGP/VOV/NDO/Dtinews/SGT/VIR
VIETNAM NEWS FEBRUARY 13 have 6472 words, post on vietnamnet.vn at February 13, 2021. This is cached page on Talk Vietnam. If you want remove this page, please contact us.