Vietnam receives foreign cargo ships on first day of Lunar New Year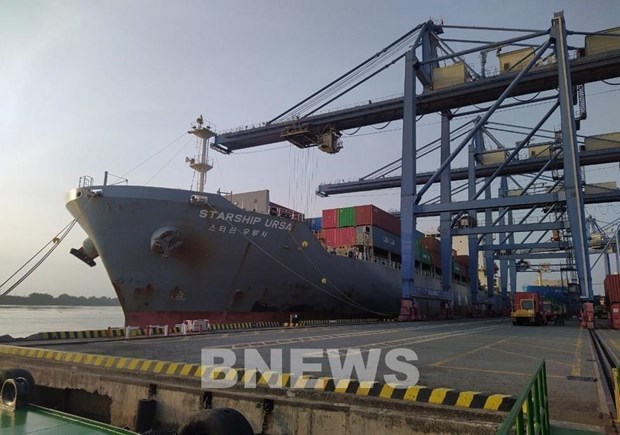 The STARSHIP URSA of Marshall Island
Vietnam welcomed two foreign commercial vessels, STARSHIP URSA of Marshall Island and CMA CGM J. ADAMS of Malta, to ports in Ho Chi Minh City and the southern province of Ba Ria – Vung Tau on February 12, the first day of the Lunar New Year, according to the Vietnam Maritime Administration (VINAMARINE).
A representative from the authority said in the first months of 2021, the maritime industry has recorded strong growth.
Despite difficulties posed by the COVID -19 pandemic, Vietnam still recorded impressive growth in trade, especially exports to Europe and America, because of the high demand from these markets.
The increasingly modern and comprehensive seaport infrastructure and transport system have also created a momentum for the maritime industry's development.
The operation of deep-water seaports will promptly replenish container berth infrastructure to serve the growing demand of customs clearance
In order to meet the increasing cargo transportation demand in recent times, VINAMARINE has directed sea port authorities to coordinate with State management agencies to speed up the processing of administrative procedures for ships.
It has also worked with management agencies of ports and shipping companies to develop marine safety plans to allow port calls by large ships./.
First dragon fruit lot exported to China in new Lunar Year
Some 190 tonnes of dragon fruits were shipped to China through Kim Thanh II International Border Gate in the northern province of Lao Cai on February 12, the first day of the lunar New Year.
According to the Lao Cai Border Gate Customs Sub-Department, the lot, the first to be exported to China in the lunar New Year, was worth 2.8 billion VND (121,512 USD).
Departing from the Mekong Delta province of Long An, the lot was transported through the border gate in a safe manner with quick customs clearance and strict implementation of preventive measures against COVID-19 pandemic.
In 2020, 1.15 billion USD worth of goods was transported through Kim Thanh International Border Gate, including 606 million VND worth of exports. In the year, 337 million USD worth of dragon fruits were exported to China through the gate./.
Vietnam maintains stable exports to Israel in 2020
Vietnam earned an estimated 700 million USD from exporting goods to Israel in 2020 despite difficulties and obstacles posed by the COVID-19 pandemic, according to the  Vietnamese Trade Office in the Middle East country.
The figure showed a slight reduction from 774 million USD reported last year. This is said to be a positive result in the context that the Israeli market witnessed fluctuations, disturbances and difficulties amid political instability and negative impacts from the pandemic.
Notably in November last year, Vietnam's export value to Israel surged by 27.2 percent compared to the previous month, reaching 51.04 million USD.
Turnover of most key export items rose strongly in the month, with coffee up 108.6 percent, footwear (35 percent), phones and accessories (31 percent), and textiles and garments (21.4 percent) cashew nuts (16.9 percent), and seafood products (3.3 percent).
Israel, with a population of only 9.3 million, is the third largest export market of Vietnam in the Middle East, after the United Arab Emirates (UAE ) and Turkey./.
Khanh Hoa's tourism sector looks forward to rebound in 2021
The COVID-19 pandemic has costed Khanh Hoa province a negative growth of 10.5% and budget collection shortage of over 25%. Tourism is the hardest hit sector in the locality. The locality has sped up several stimulus programmes to rock the market in the coming time.
In the coming time, Khanh Hoa province looks to introduce stimulus tourism packages and new tourism products and services to attract visitors. In the instant future, it has deployed a contest for new logo and slogan for Khanh Hoa's tourism sector to renew the province's image in visitors' eyes.
COVID-19 vaccines have sparked hope of economic recovery globally, especially in tourism industry. Khanh Hoa province, whose spearhead economic sector is tourism, is also looking forward to a big rebound in 2021./.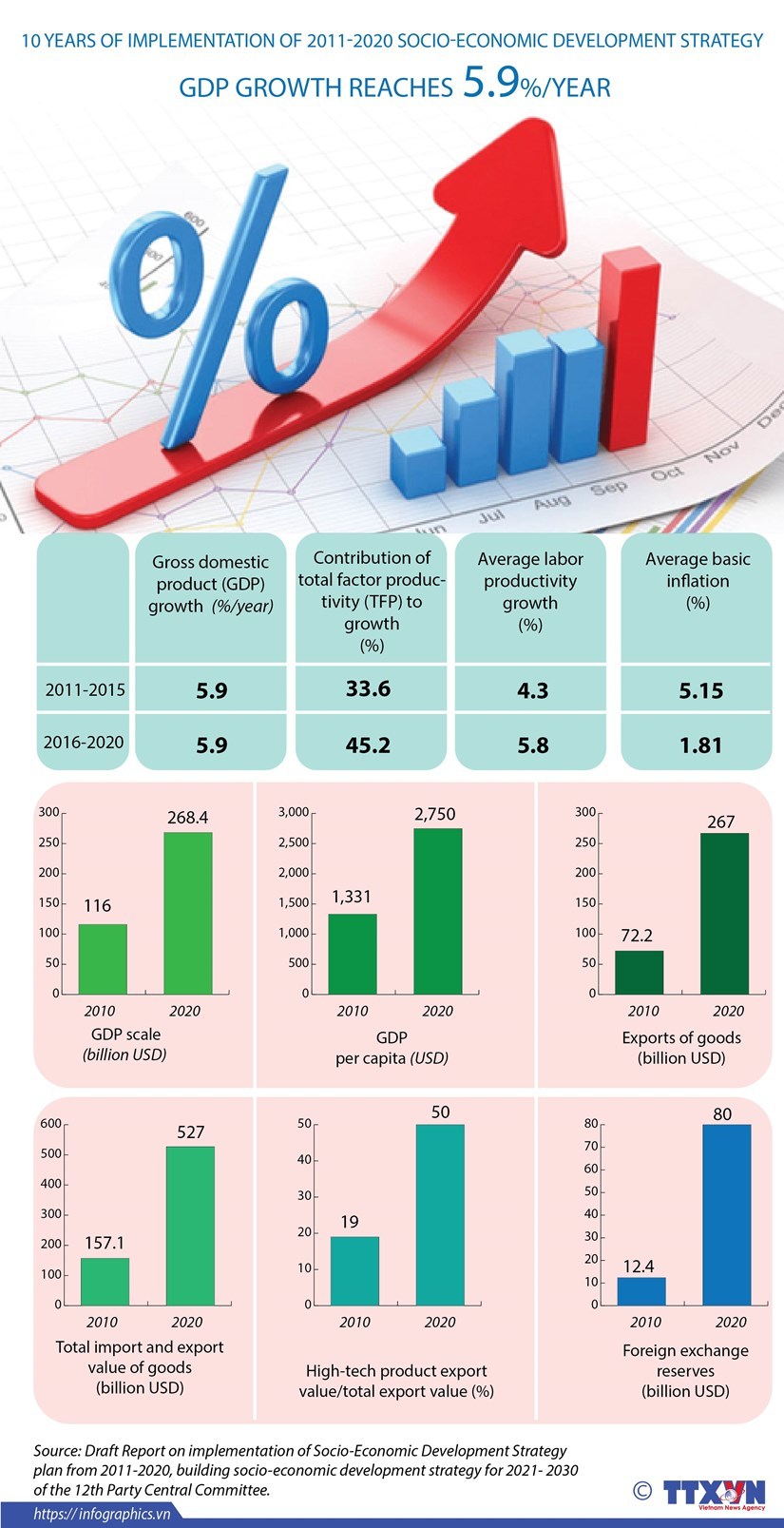 Bamboo Airways announces pre-tax profits of over 17 million USD
Bamboo Airways has recently announced its pre-tax profits of over 400 billion VND (17.38 million USD) in 2020, up 34 percent year-on-year.
The airline attributed the profit to the favourable conditions thanks to the Government's drastic and effective pandemic prevention and control measures, and its own proactive and prompt solutions to overcome difficulties.
It is currently operating nearly 30 aircraft, including the most modern types such as Boeing 787-9 Dreamliner, A321NEO ACF and Embraer E195. The fleet is expected to reach 50 this year.
Last year Bamboo Airways transported a total of over 4 million passengers, up 40 percent in the numbers of flights and passengers against those of 2019.
HCM City aims for 33 million tourists in 2021
The southern largest economic hub of Ho Chi Minh City has set a target of welcoming 33 million tourists with total revenue of more than 4.3 billion USD in 2021.
Some notable events include the 8th HCM City Ao dai Festival and HCM City Tourism Day, along with tours at old Sai Gon's relics.
Last year, the city's tourism market suffered greatly from the COVID-19 pandemic. The total number of international visitors to HCM City in 2020 was 1.3 million, down 84.8 percent year on year, while the number of domestic travellers to HCM City was 15.8 million, a decrease of 48.4 percent year on year.
Total tourism revenue was estimated at nearly 3.7 billion USD, down 39.6 percent compared to 2019./.
Vietnam gains cassava export growth in 2020
Vietnam gained growth in the export of cassava chips and cassava-made products in 2020 despite the COVID-19 pandemic, according to the Department of Agricultural Product Processing and Market Development.
Exports last year reached 2.76 million tonnes, earning 989 million USD, an increase of 9 percent in volume and 2.4 percent in value compared to 2019. However, the average export price of those products reduced by 6 percent to 358.3 USD per tonne year on year.
In December alone an estimated 330,000 tonnes with a value of 118 million USD were exported.
Impacts of the COVID-19 pandemic did cause problems for the cassava production industry according to the department under the Ministry of Agriculture and Rural Development, but it was still one of the few agricultural products with a positive growth in export value.
The exports of cassava chips in 2020 reached 640,000 tonnes, earning 139 million USD, up 60 percent in volume and 75 percent in value over the same period last year. The average export price for this product reached 217 USD per tonne, up 10 percent.
Tapioca export was estimated at 2.1 million tonnes with a value of 850 million USD, down 1 percent in volume and 4 percent in value over the same period in 2019. Its average export price reached 401 USD per tonne, down 4 percent.
According to the department, China was the largest export market with the total volume of cassava chips and cassava-made products reaching 1.9 million tonnes, earning 772 million USD. That's an increase of 11.5 percent in volume and 2.7 percent in value compared to 2019.
Taiwan and Malaysia were also two other largest export markets of Vietnamese cassava with the growth in export value of 15 percent and 3 percent year on year, respectively, in the first 11 months of 2020.
In China market, Vietnam is currently the second largest supplier of both cassava chips and tapioca, according to China's General Department of Customs./.
Online trade promotion helps businesses adapt to COVID-19
The spread of COVID-19 around the world created difficulties for businesses in promoting their products and seeking new customers but many were prompted to change trade promotion strategies and adapt.
Bui Thi Thanh An, Vice Director of the Trade Promotion Agency at the Ministry of Industry and Trade, said nearly 50 national-level trade promotion programmes were cancelled or postponed last year due to the pandemic.
This had a major effect on export activities and the economy in general, she said.
To address the situation, the agency has sped up the introduction of information technology (IT) and changed how trade promotion activities are held.
Since March when COVID-19 spread globally, the agency has changed all trade promotion activities to online. More than 500 international online trade conferences have now been organised, along with more than 1 million online trade exchanges.
These events helped connect more than 2,000 businesses with foreign partners in different markets, An said.
The agency has also coordinated with foreign customers based in Vietnam, such as AEON and Central Group, to organise special "weeks" featuring Vietnamese products, through which many goods have been selected for sale in foreign-owned supermarket chains around Vietnam and then headed to foreign markets.
It has also made use of social networks and Vietnamese trade offices abroad to support businesses seeking markets, An added. Such efforts contributed to maintaining export growth and speeding up economic recovery, while helping enterprises remain updated on market developments, trends, and demand, she added.
Though online trade promotions have become more common since the pandemic broke out and were initially considered just a temporary solution, experts and enterprises agree that they will now become a key part of the trade promotion ecosystem.
Vietnam's economy is heavily reliant upon exports, so the country must adapt to sudden disruptions to international trade. Taking advantage of IT platforms to seek trade opportunities is considered the most feasible option at this time.
Zacharie Blondeau, Sourcing Director at Source of Asia, said business-to-business (B2B) is the most effective method of connection, but in certain contexts, such as pandemics and travel restrictions, businesses should actively connect online.
An underlined that even after COVID-19 is fully brought under control, online trade promotions will continue to be organised.
The Trade Promotion Agency is developing digital technology-based platforms to create a new promotion ecosystem comprising of online trade fairs and exhibitions and online databases and origin tracing, creating the conditions necessary for enterprises to access trade promotion programmes at the lowest cost and with the greatest efficiency.
She advised businesses to regularly participate in online and direct trade exchanges, conferences, and workshops, while actively digitalising their operations by improving websites and joining large and reputable e-commerce platforms./.
Fresh impetus could spur on Vietnamese economic growth in 2021
Vietnam is capable of achieving a higher GDP growth rate than the set target of 6% in 2021, providing it accelerates reforms and draws up proper plans for economic recovery in the post-COVID-19 period, according to economist Nguyen Dinh Cung, former Director of the Central Institute for Economic Management.
Cung, who is also a member of the Prime Minister's economic advisory think-tank, underlined the need to immediately launch stimulus packages in an effort to bolster the economy, promote the development of new sectors, and mobilise all resources for a more dynamic economy.
The country's successful containment of COVID-19 in 2020 coupled with its recent socio-economic development achievements indicate the resilience of the national economy, especially the business resilience shown by local firms during this challenging period.
It's the Government's prompt response and timely support for local firms that helped the country to record several major economic achievements last year, the economist told VOV.
Cung also pointed out that while the global economy slipped deeper into recession due to COVID-19, Vietnam was one of few economies that enjoyed positive growth last year.
"The 2.91% growth rate in 2020 will create the prerequisite for the country to even beat the 6% target as set by the National Assembly for this year should the government continue with radical reforms and a thorough economic recovery plan," said the economist.
According to Cung, 2021 is the first year Vietnam starts implementing the freshly-concluded National Party Congress's resolution and the new socio-economic development strategy ti;ll 2030. Therefore, he expressed his belief that this year's breakthroughs will lay a solid foundation for future socio-economic development.
The economist went on to underscore the importance of facilitating the sustainable development of the private economic sector, accelerating efforts of institutional reform, and launching new stimulus packages aimed at aiding the economy.
"Institutional reform must be stronger and more comprehensive with a focus on simplifying administrative procedures, improving the business climate, and carrying out radical reforms to raise the market level of the economy, especially the allocation and use of resources in an effective manner," he noted.
As part of efforts to help the private economic sector develop steadily and become an important driving force for Vietnamese economic development, Cung stressed the need to make stronger transformations, liberalise the domestic market, reduce costs for enterprises, and re-allocate resources towards building a wealthy and strong nation.
The economist also called for the removal of barriers faced by businesses, whilst protecting their legitimate rights and interests, along with fine-tuning the legal system and facilitating the application of science and technology for further development.
It is essential to form and develop large private economic groups that can boast great potential and stringent competitiveness in both regional and international markets, he suggested, anticipating with the goal of having at least two million enterprises by 2030, the private economic sector can contribute between 60% and 65% to the country's GDP by this date.
Local businesses increase production capacity for Tet
An array of local businesses have devised plans in which they offer promotions and ramp up communication activities in an effort to serve people before, during, and after the Lunar New Year festival or Tet.
A wide variety of food and beverage products at stable prices will be distributed to supermarkets, shops, traditional markets, and e-commerce channels, with an abundant supply of goods.
According to the Department of Industry under the Ministry of Industry and Trade, at present most firms operating in the processing and manufacturing industries have temporarily halted production ahead of Tet, with the exception of a few enterprises involved in the paper and cement industry. Indeed, a handful of companies will maintain a certain output throughout the holiday period due to the specific characteristics of production lines that require regular operation.
Furthermore, some businesses in other industries such as electronics and car production will still maintain operations as a part of their production lines, although they will not complete any new products.
As a labour intensive industry, garment and footwear enterprises must employ many workers from different localities throughout the country, meaning that they have to give their employees time off for the Tet holidays, according to the Government's announced schedule. Despite being impacted by the novel coronavirus (COVID-19) pandemic, the industry still recorded positive growth compared to the same period from last year.
Most notably, the textile production index and garment production index recorded respective increases of 16.6% and 9.9% compared to the same period from last year. Indeed, textile and garment export turnover in January was estimated to be US$2.6 billion, an annual rise of 3.3%, while footwear export turnover of all kinds in January hit an estimated US$1.8 billion, up 26.4% over the same period from last year.
Electronic businesses are therefore catching up with the trend of shifting production from multinational electronic corporations, thereby opening up plenty of opportunities to participate in the global supply chain.
By January, the domestic electronics industry had grown by 38% compared to the same period from last year. As such, local electronic businesses will take Tet holidays according to the schedule announced by the Government and will not have to maintain continuous production over Tet.
With regard to fertilizers, due to the preparation for cultivation in the Winter-Spring crop over the first days of the Lunar New Year, the price of various fertilizers tends to increase. Providing that the total amount of fertilizer meets demand and there is no shortage of goods, there will also be no price hike.
Moreover, the power supply to the national power system has come up with a plan to ensure that there are no problems in the power source and grid, especially before, during, and after Tet.
Milk consumption to grow by 7% this year: securities brokerage
Milk consumption is expected to increase by 7 per cent this year, analysts at SSI Securities Corporation have said.
They said it is based on a baseline scenario that assumes the pandemic would be controlled by mid-year and there would be no more social distancing.
They also forecast the prices of existing SKUs (stock keeping unit) would not increase this year.
But they admitted demand among low-income consumers could be impacted given the fact that COVID-19 has hurt them, and companies like Vinamilk and Vinasoys have seen downtrading in the first nine months of last year.
In contrast, premiumisation would continue as middle- and high-income groups are less impacted, and are more open to consuming higher quality dairy products, they said.
"We assume dairy raw material prices will increase by 4 per cent in 2021. Also, higher oil prices in 2021 are likely to affect packaging and shipping costs."
The study also found that investors are paying more attention to environmental, social and governance criteria when investing in dairy companies.
As a result, the sector has begun to diversify its products, including shifting to plant-based beverages.
According to market research company Euromonitor, the dairy industry was worth VND135 trillion (US$5.84 billion) last year, an increase of 8.3 per cent from 2019, thanks to the rapid growth in the yogurt and fresh milk segments.
Currently, modern distribution channels only account for 10-15 per cent of dairy sales, but analysts expect it to outpace traditional channels.
Recognising the trend, companies are now focusing on the former, they said.
But according to SSI, it would mean lower profit margins due to the fierce competition between a multiplicity of brands.
The dairy industry is expected to see more M&A deals this year after a number of them involving leading companies took place last year, such as Vinamilk's acquisition of a controlling stake in Moc Chau Milk and the acquisition of IDP by investment consultant Blue Point and asset management firm VietCapital.
Both acquired companies saw profits skyrocket after the deal.
Moc Chau's net profit grew by 68 percent year-on-year in the first nine months of 2020 and IDP's was up nearly 34 per cent.
There is fierce competition in the market with the appearance of new players, the SSI report said, adding that Masan Group has recently launched new dairy products, B'fast cereal milk, while Vitadairy has been expanding rapidly in the powder milk segment.
Saigon Hi-Tech Park seeks to attract investment in tech, supporting industries
The Saigon Hi-tech Park will create favourable conditions to attract investment in the tech and supporting industries this year, its head has said.
Dr Nguyen Anh Thi, head of the board of management of Saigon Hi-tech Park (SHTP), said the park has this year set an FDI target of US$200 million.
It recently issued investment registration certificates to two major hi-tech projects.
They include $19.5 million by US company Arevo to manufacture 3D-printing machines and carbon fibre and nanotube-reinforced polymers for 3D printing and provide software services.
Korea's SNST and Finger Vina have invested $1 million to produce high quality integrated circuits.
Last year Hong Kong company TTI, Inc., a wireless industrial electrical equipment manufacturer, invested $650 million in the park and is looking for local suppliers to increase its use of local parts.
It plans to set up a plant and an R&D centre with the intention of making Viet Nam its new manufacturing base.
It wants to increase investment in manufacturing for export, while simultaneously developing German-standard training schools to improve the quality of the Vietnamese engineering workforce.
It is set to encourage companies to relocate to Viet Nam to join its supply chain.
The plant will manufacture hand-held power tools with integrated technology for designing and manufacturing control devices, electronic transformers, mechanical engineering products, and others.
As part of its efforts to attract investment, the park has organised high-tech supporting industry development programmes to help local firms link up with lead firms, through business matching activities between foreign and Vietnamese enterprises, and with export processing zones and industrial parks around the country.
The park has also developed 162,000sq.m of high-rise factories for local firms in supporting industries, according to Thi.
Hua Quoc Hung, chief of the HCM City Export Processing and Industrial Zones Authority (HEPZA), said his agency has set an investment target this year of $550 million in industrial parks and export processing zones.
Science and Technology Park
Speaking at a recent meeting Thi said the park would focus on building a 'world-class' science and technology park.
It has a vision of laying the foundation for development of high-tech industries in HCM City, he said.
"We aim to create an environment to improve the quality of human resource training as this is the most important factor in production."
He said it is important to enhance links between educational institutions, businesses and the park.
In the last 20 years various types of science and technology park models have sprung up globally such as innovation centres, incubation centres, innovation towns, and public science and Al technology urban areas.
In 2011 the city began consulting experts for building the park at a cost of more than VND4.3 trillion ($185 million).
The new park will tie up with educational and research institutes as part of a city programme to improve the quality of human resources, especially in new technologies.
Central city to develop hi-tech supportive industries
Plans are in the pipeline to build an industrial park in Da Nang dedicated to supportive industries.
It is part of the Government's master plan of industrial park development from 2030-2045.
It will be built on the edge of the Da Nang Hi-Tech Park.
Head of the city's Hi-Tech park and the Industrial Zones Authority (DHPIZA), Pham Truong Son said the decision was signed by Deputy Prime Minister Trinh Dinh Dung, and the 58.5ha supportive industries park will offer investment for domestic and foreign businesses.
Son said the supportive industry park, which is sandwiched between the Hi-Tech Park and Da Nang Information Technology Park in Hoa Vang District, has completed 85 per cent of infrastructure since 2016.
He said Da Nang has yet developed supportive industries – one of the disadvantage factors of the city in luring investment from domestic and foreign investors.
Son said the city wants to boost the development of supportive industries over the next decade.
The city has been building a development plan on three new industrial zones – Hoa Cam, Hoa Nhon and Hoa Ninh on total 880ha – for approval by the Prime Minister.
According to DHPIZA, the construction of the three new IZs would be soon commenced in 2021.
The city has called for investment for infrastructure works on the three new IZs in 2020-23 with an estimated investment capital of VND13.8 trillion (US$604 million).
The new IZs have been designed as 'green' and 'clean', and hopes to attract hi-tech and environmentally-friendly industries.
The Da Nang-based Sunshine Aerospace components manufacturer plant, which was invested by the Universal Alloy Corporation from the US worth $170 million, began operation after one year of construction in March of 2020.
Da Nang's industrial infrastructure projects offer advantage location for investors as it boosts connection of key traffic routes including the Da Nang-Quang Ngai Expressway, the Chan May Economic Zone in Thua Thien-Hue, the Chu Lai Economic Open Zone in Quang Nam and Dung Quat Economic Zone in Quang Ngai Province.
The Hi-tech Park and IZs would be a magnet for global industrial firms and producers, offering flexible land rent, land clearance, income tax and import tax policies.
Investors with projects valued at more than $133 million will enjoy a 10 per cent tax rate for 30 years, according to DHPIZA.
Struggling shopkeepers at HCM City traditional markets learn to sell online
With traditional markets in HCM City struggling amid the COVID-19 pandemic, more and more of their shop owners are looking to sell their goods on online channels such as delivery apps and social media.
According to the management of Ben Thanh Market in District 1, most stalls except those selling fresh produce have few customers, especially handbag, clothing and handicraft shops.
Demand has dropped by 80 per cent compared to the same time last year, and around half the stalls remain closed.
An Dong Market in District 5 is suffering a 90 per cent drop despite a recent renovation that has greatly improved its appearance.
Nguyen Thanh Chau, head of the management of Thai Binh Market, said sales were down by half and some stalls that closed down had not even reopened for Tet.
Traders learn online selling
Traders in markets have been looking at selling online. Truong Thi Hue, who sells clothes at An Dong Market, said for the past two months her daughter had been showing her how to use Facebook and Vietnamese social media Zalo to sell her products.
Nguyen Thi Thai Trang, another clothes seller in the same market, said after she took part in an online Cho Lon Market fair last September, she was able to network with many businesses, including Co.opmart, which greatly benefited her business and her employees.
She has asked An Dong Market also to organise online market fairs.
Foodstuff, fruit and vegetable traders in Ben Thanh Market are selling their products via delivery service Grabmart.
Duong Thi Thanh Thuy, a confectionery seller there, said while her family business had been relying on customers and tourists over the last 60 years, she now had to make use of technology.
According to Nguyen Thi Ngoc Anh, a beo (water fern) cake seller in the market, doing business through food delivery service Now.vn boosts her income by around 30 per cent helping it survive COVID-19.
Some traders said selling online had not been profitable so far since it was still new to them, but, nevertheless, these were new channels and in the long run could be more profitable.
Ben Thanh Market is working with the District 1 Information Technology Centre to improve its website to help traders sell their goods online.
Tran Huy Cuong, director of District 5's Centre for Economic Development and Labour Supply Assistance, said the district had organised online fairs to help traders get used to using online channels. They were also being taught how to use social media to sell their goods, take photos and write about their products, he added.
According to Associate Professor Pham Khanh Phong Lan, head of the city Food Safety Management Board, many Tet food items are being sold online, a low-cost method that limits close contact during the pandemic, but safety risks are involved since there are no checks.
While traders on large online platforms are monitored, small ones that operate on social media such as Facebook are not well monitored, and so customers should look for trustworthy sites to shop.
The city reduced shop rents in traditional markets by half for the last six months of 2020.
Pandemic reveals enterprises' view of responsibility
The unprecedented challenges arising from the COVID-19 pandemic have highlighted more than ever the importance of responsible crisis management and sustainable development at enterprises.
Viet Nam's successful containment of the virus significantly helped leverage the image of the country and its enterprises globally, according to Vo Tri Thanh, director of the Institute of Branding and Competition Strategy. It also confirmed the importance of corporate social responsibility (CSR) efforts, associating enterprises' brands with social responsibility and sustainable development, he said.
"Many enterprises, not only large ones but also small and medium-sized enterprises, shared the burden with the Government and citizens during the time of crisis," he said.
"Their sense of responsibility towards the community and society will certainly be recognised and be a very good basis for post-pandemic recovery and development.
"We saw Vietnam Airlines bringing Vietnamese abroad home, while Viettel, VNPT, and FPT lowered telecommunications fees. Electricity of Vietnam cut power prices, Hapro and Co.op Mart stabilised prices, and many other companies joined hands in the fight against COVID-19."
In August, Vingroup gave the Ministry of Health DrAidTM software and attached devices to provide prognosis assistance in novel coronavirus treatment. The first AI software introduced helps to rapidly identify abnormalities based on upright chest X-rays in less than five seconds and adds to the accuracy of test results, reduces false negatives, and assists in enhancing treatment consistency and knowledge transfer from central-level doctors to grassroots-level doctors.
The country's leading real estate conglomerate also donated 3,200 ventilators to the Ministry of Health to help combat COVID-19 and sponsored chemicals for 56,000 COVID-19 PCR tests in Da Nang City, Hai Phong City, and Bac Ninh Province.
Towards sustainable development
Developing sustainably, contributing to growth, and ensuring social welfare would be at the core of enterprises' development, said Vu Tien Loc, chairman of the Viet Nam Chamber of Commerce and Industry.
"Never in history have we seen the world change so quickly and considerably," Loc went on. "The world is changing constantly, requiring that every government, every economy, and every enterprise be resilient and innovate to keep up with the speed of change and develop sustainably.
"It is in the historic challenge of the COVID-19 pandemic that we see enterprises' efforts to maintain jobs, restructure and prepare for recovery, and work with the Government and the community to fight the virus."
According to Nguyen Xuan Duong, vice president of the Viet Nam Textile and Apparel Association, CSR contributes significantly to resolving social problems like the pandemic.
CSR proves that when a business cares about social issues, there will be a positive impact on its profitability, which will help increase its value and sustainability.
Hoang Ngoc Hai from the Academy of Politics Region 1, in an article published in Tap chi Tai chinh (Finance Journal) wrote that CSR should not be seen only as an action to resolve social problems for charitable and humanitarian purposes.
"CSR should be understood as a way in which a business strikes a balance between economic, environmental, and social requirements, and at the same time meets the expectations of shareholders and partners," Hai wrote.
"It can help support enterprises' brands and bring benefits, which contribute to creating humanistic value and building a corporate culture as well as increasing competitiveness in the context of rapid international integration."
Still, many enterprises do not fully understand the importance and benefits of CSR, as exhibited through many committing business fraud, producing poor-quality products, and causing environment pollution to maximise profits.
According to Tran Thi Tra My from Thuong mai University (Commerce University), to have an appropriate action plan, enterprises must understand pressing social issues.
She pointed out that, in recent years, Viet Nam had faced increasing challenges in climate change and environmental pollution, which were threatening social welfare and human health as well as the sustainable development of the ecosystem. There were also difficulties in providing education and building a future for the young.
My cited a survey by the Institute of Labour Science and Social Affairs carried out on 24 garment and footwear enterprises, which found that revenue was up around 25 per cent for those with a CSR programme.
During international integration, the implementation of CSR has become a must, according to My, and will not only bring benefits to enterprises and to society but also help improve the competitiveness of enterprises and the country as a whole.
"It is necessary to develop mechanisms and policies to support enterprises in implementing CSR initiatives," she said.
Construction firms urged to apply technology to improve efficiency
The impacts of the COVID-19 pandemic and Industry 4.0 required construction firms to invest in technology to improve efficiency.
According to the Ministry of Construction, more than 1,500 enterprises operating in the construction industry completed dissolution procedures in 2020, demonstrating that the COVID-19 pandemic had negative impacts on the operation of these companies, although the Government lowered banking interest rates last year to aid enterprises.
Another problem was that input costs increased significantly while real estate prices did not see a corresponding increase, which also affected operation efficiency.
The ministry said that the real estate market was showing signs of recovery but the recovery was not taking place as rapidly as expected. In addition, legal problems at a series of property projects were causing stagnation in construction.
Large firms also encountered difficulties.
Nguyen Xuan Dong, general director of Vinaconex Corporation, said that the company's revenue in 2020 fell by 42 per cent against the previous year, in which construction revenue dropped by 45 per cent and real estate business by 86 per cent.
Economic expert Can Van Luc said that the Vietnamese economy expanded at three per cent in 2020 despite the impacts of the COVID-19 pandemic, higher than the world's average.
The gross domestic product (GDP) growth rate in the 2018-19 period averaged around 6.8 per cent, forecast at 6.5-7 per cent in 2021 and seven per cent on average in the next 10 years. The positive economic prospects would fuel the development of the real estate market and provide opportunities for construction enterprises to expand operation and enhance efficiency in the future, Luc said.
According to Cao Van Ban from the Viet Nam Association of Construction Economy, the macroeconomic situation and the positive prospects for real estate market recovery were opening new opportunities for construction companies to develop but also bringing challenges and new requirements.
Ban said that constrution firms must raise solutions to speed up construction progress, lower costs and improve quality.
"The most important thing to construction companies at the moment is to take advantage of science and Industry 4.0 to create breakthroughs," Ban stressed.
For State-owned construction enterprises, it was necessary to strengthen restructuring and renovation through privatisation to improve efficiency, he said.
Renovating technology is an unavoidable trend, not only for construction enterprises.
The Prime Minister in late January issued a national technology renovation programme to 2030 which set the target that the number of enterprises renovating technology increases by 20 per cent per year on average.
Investment booms as Soc Trang improves business climate
Soc Trang Province's efforts to improve its business climate is paying off with more and more investors, both domestic and foreign, coming since 2016.
It has worked with hundreds of potential investors seeking to invest in areas where the province has strengths like hi-tech agriculture, tourism and wind and solar power.
It approved 116 projects with a total investment of VND27.3 trillion (US$1.18 billion) in 2016-20, 5.5 times the amount in the previous five years.
Nine of them are FDI projects.
Soc Trang authorities have been making efforts to improve the investment climate and provincial competitiveness by focusing on infrastructure and providing lands for projects.
They are keen on projects that are sustainable and environment-friendly.
Nguyen Thi Thuy Nhi, deputy director of the province's Department of Natural Resources and the Environment, said her department had been reforming administrative procedures, boosting the province's competitiveness in terms of attracting investment and business climate.
One key infrastructure project is the upgrade of Tran De deep-water port, which will reduce logistics costs for exports from the Mekong Delta.
The recently approved Chau Doc – Can Tho – Soc Trang highway will connect to the port, aiding goods transportation and improving links with the rest of the country.
The province is also creating a start-up eco-system with development assistance, incubation programmes and sponsorship for creative small and medium-sized businesses.
In the last five years 1,900 new businesses were set up, a 47.2 per cent increase from 2011 – 15. Many companies have invested in manufacturing in the An Nghiep Industrial Park, creating tens of thousands of jobs.
In 2021 – 25 Soc Trang seeks to further improve its business climate and competitiveness, focusing on business assistance services, labour training and helping investors start projects smoothly.
There are 3,300 registered businesses in the province with a total charter capital of VND33 trillion.
Soc Trang's economy grew by 6.75 per cent in 2020.
Source: VNA/VNN/VNS/SGGP/VOV/NDO/Dtinews/SGT/VIR
VIETNAM BUSINESS NEWS FEBRUARY 13 have 6136 words, post on vietnamnet.vn at February 13, 2021. This is cached page on Talk Vietnam. If you want remove this page, please contact us.