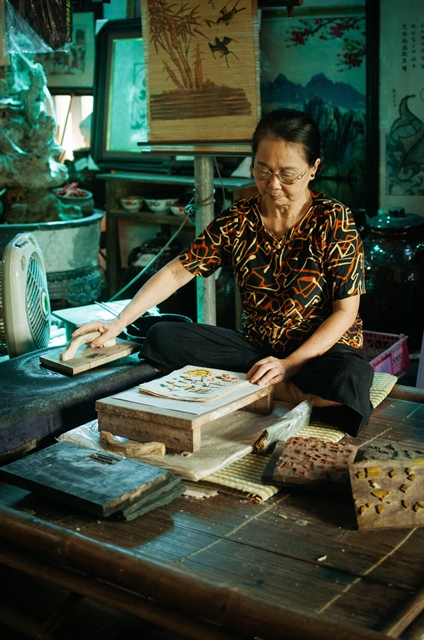 by Hà Hiền and Lương Hương
The only female artisan to have pursued Đông Hồ folk painting in the northern province of Bắc Ninh, Nguyễn Thị Oanh was recently honoured with the title of "Meritorious Artisan" by President Nguyễn Phú Trọng.
Such titles are presented to artisans making significant contributions to preserving and promoting national traditional crafts and also acknowledge those developing Việt Nam's handicraft brand and introducing products to the world.
The 60-year-old Oanh is also the daughter-in-law of late artist Nguyễn Hữu Sam, who was the first recognised artisan in Đông Hồ Village.
"There used to be 17 families in my village making folk paintings, but then, gradually, there were only two clans, led by Nguyễn Hữu and Nguyễn Đăng, each of which has only one family still keeping the art," Oanh said.
She was introduced to Đông Hồ paintings when she was just 14 and has been charmed by their beauty ever since. She is the sixth generation in a family of seven generations creating the folk paintings.
"I used to practise painting when I came home from school, so the steps to take and tips on making a complete artwork are engraved on my memory," she said. "It has been my main source of income throughout my life and, coincidentally, I became the daughter-in-law of late artisan Nguyễn Hữu Sam."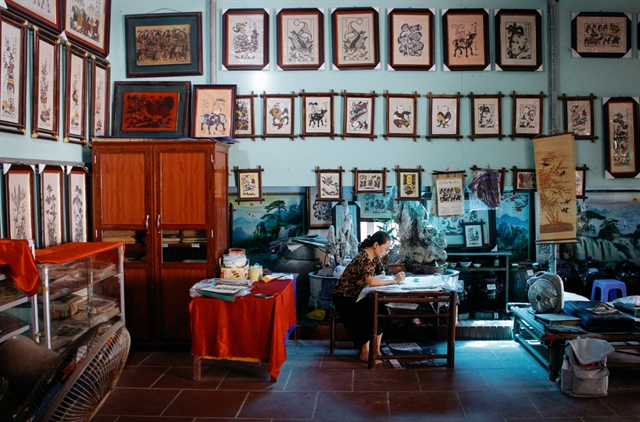 Due to his old age, her father-in-law handed over the entire facility for making Đông Hồ paintings to Oanh in 2010. She now manages efforts collecting the artworks and practising the unique style of painting.
As well as traditional subjects, she has modernised the art form by integrating new themes into images and diversifying products featuring Đông Hồ folk paintings to attract more customers, for example replicating them on notebooks, calendars, and even wooden prints.
Prior to receiving the title of Meritorious Artisan, Oanh's contribution to the traditional art was recognised with the titles "Artisan of the Vietnamese craft village" and "Artisan of Bắc Ninh Province", presented by the Ministry of Culture, Sports and Tourism.
"It is a great source of happiness and honour to have my efforts recognised," she said.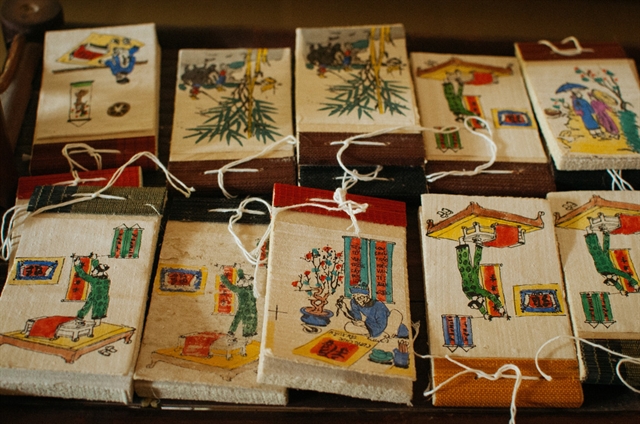 Upholding the tradition
First created in the 16th-17th centuries in a small village in Bắc Ninh's Thuận Thành District, Đông Hồ paintings are one of the most famous art genres in Việt Nam, combining cultural beauty and values that represent the country's national heritage.
Paintings depict subjects found in everyday life and reflect people's dreams for a prosperous and happy life.
A special feature of this woodblock printing art is that all materials are natural and found locally. Black colour, for example, is taken from burned bamboo or straw, while white colour comes from ground shells of scallops.
The visual language used is simple and easy to understand and so tends to leave an everlasting impression on viewers.
According to Oanh, each colour in a painting has its own wood printing block. The painting Đám Cưới Chuột (Mouse Wedding), for instance, has four colours and so four wood blocks.
"Colours need to be done in order," she explained. "First is red, then blue, yellow, and finally black."
It takes an artisan one or two days to complete one simple painting with little in the way of detail. More sophisticated works take longer, sometimes running into weeks.
The impact of the COVID-19 pandemic has hit most businesses and Đông Hồ folk paintings have not escaped the fallout. The village has scarcely welcomed any foreign tourists since the first outbreak.
"We still have plenty of calendars in stock, while normally they sell like hot cakes," she said.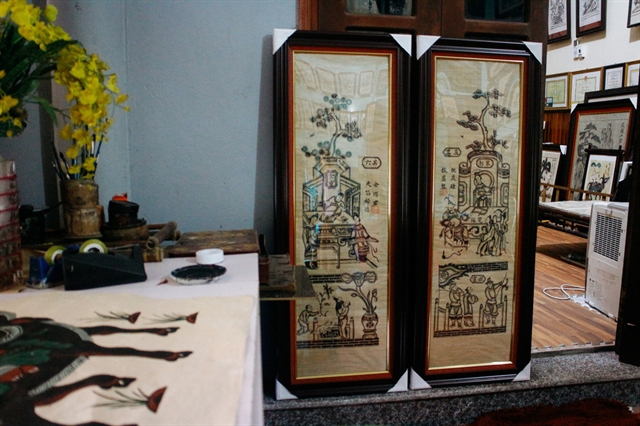 Oanh's greatest aspiration, having dedicated more than half of her life to the traditional art, is passing on her passion to the next generation.
"I can only hope that Đông Hồ folk paintings will always exist, because they reflect the cultural essence and unique values of Vietnamese people," she said.
She is indeed passing on her expertise, to her son and daughter-in-law, and still introduces visitors to the folk art and explains how to make a complete work, in the hope that this will help spread an understanding and appreciation of Vietnamese folklore. VNS
Life and times of a Đông Hồ artist have 946 words, post on vietnamnews.vn at January 17, 2021. This is cached page on Talk Vietnam. If you want remove this page, please contact us.