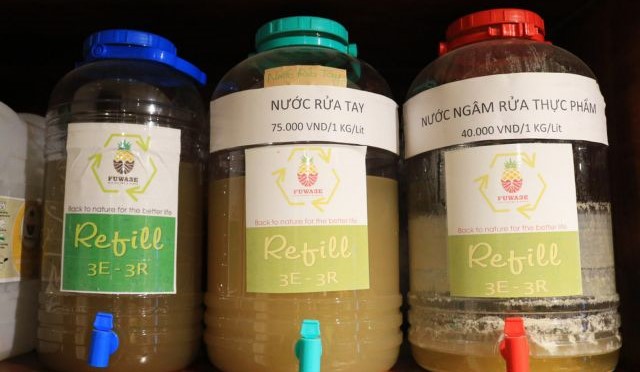 HCM CITY — Trạm Xanh (Green Station) located on a small alley on Nguyễn Thái Bình Street in HCM City's District 1 is a special green space that aims to inspire love for the environment.
At Trạm Xanh, launched by a group of young women, visitors have a chance to practice a green lifestyle with many items made of environmentally friendly materials.
The Green Station aims to promote a stable lifestyle by using 'green' products that do less damage to the environment.
Many visitors are impressed by the venue, which displays recycled products like handbags made of old jeans, blankets made of pieces of cloth, bamboo brushes, bamboo straws, bags made of lotus leaves, and more.
Visitors can also taste herbal teas made of natural ingredients and learn about natural detergents made from orange and pineapple peels.
Every month, Trạm Xanh organises film screenings about plastic waste, ecological agriculture, plants and the earth to provide visitors with more knowledge about the environment and promote a devotion to nature. — VNS
Learn how to love the environment at Trạm Xanh have 311 words, post on vietnamnews.vn at January 23, 2021. This is cached page on Talk Vietnam. If you want remove this page, please contact us.