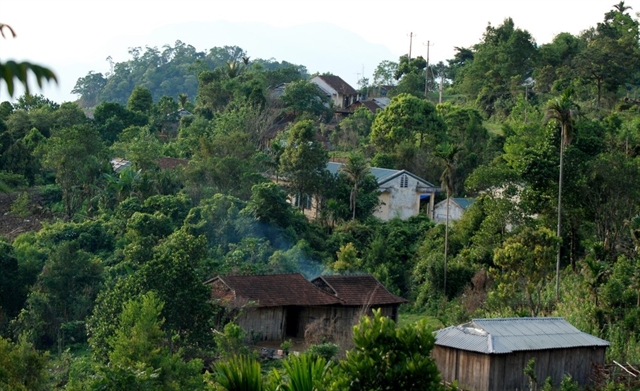 QUẢNG NGÃI — Located 1,400m above sea level, Cà Đam mountain in Trà Bồng District, Quảng Ngãi Province is home to many rare and precious herbs, plants and animals.
They have been protected for hundreds of years by the Cor ethnic people in Quế Village.
The village on Cà Đam mountain is named after a precious tree species in the forest with a very characteristic fragrance – cinnamon, according to Hồ Văn Thiết, 62, an old villager.
Growing for hundreds of years, the forest had been the treasure of Quế villagers through generations, Thiết said, adding that it was considered the pharmacy store of villagers.
"So the villagers also made an oath to keep Cà Đam forest at any costs," Thiết told Sài Gòn Giải Phóng (Liberated Sài Gòn) newspaper.
According to Hồ Quang Tạo, head of Quế Village, the village has its own law to keep the forest.
Local residents who illegally fell trees can be warned, fined, forced to plant new trees or even expelled from the village.
Cattle are forbidden to enter the forest and locals who fail to keep their cattle out of the forest will face punishment.
"Thanks to the very good awareness of keeping forests of the whole village, Cà Đam forest is still intact and home to types of ginseng and cinnamon," Tạo said.
There are 98 households of Cor ethnic people living in the village. They have found about 40 types of ginseng and medicinal herbs in Cà Đam forest and preserved them.
There is no official study on the potential and advantages of Cà Đam forest and ginseng species as well as medicinal plants.
"The value of the trees is assessed based on the experience and knowledge of the villagers," said Tạo.
More than a decade ago, most of the ginseng and medicinal plants in the forest were only used by the Cor community.
In recent years, many species of ginseng have been sought by traders for high prices, especially seven-leave ginseng.
According to Hồ Ngọc Lâm, Party secretary of Quế Village, seven-leave ginseng is a precious plant and must be preserved as it is at risk of fading away.
Many villagers in Quế village grow ginseng to preserve the native source of the plant and Tạo is one of them.
He grows many types of ginseng in his 3,000sq.m garden and also plants cinnamon and tea trees to create a canopy and cover for the ginseng.
Tạo and some households have raised more than 3,000 ginseng plants of all kinds, including 300 native seven-leave ginseng plants in Cà Đam forest.
Huỳnh Thị Thanh Thúy, head of the Agriculture and Rural Development Department of Trà Bồng District, said the Cor community protects hundreds of hectares of forest to live with and benefit from ginseng and other medicinal plants.
The local authorities will submit a proposal to the district and province for the future development of Quế Village, according to Thúy.
In 2017, the People's Committee of Quảng Ngãi Province approved the biodiversity conservation plan for 2025-2030, aiming towards the protection and sustainable development of natural ecosystems of the province as well as improving the management and public awareness of forest protection. VNS
Cor ethnic people dedicated to protecting the forest have 725 words, post on vietnamnews.vn at January 26, 2021. This is cached page on Talk Vietnam. If you want remove this page, please contact us.