Vietnamese, Chinese Party officials hold talks virtually
Head of the Communist Party of Vietnam (CPV) Central Committee's Commission for External Relations Hoang Binh Quan and head of the International Liaison Department of the Communist Party of China (CPC) Central Committee Song Tao held online talks on November 30.
Quan took the occasion to thank the Chinese Party and people for their sympathies over the human and property losses caused by natural disasters in Vietnam's central region.
He congratulated the 19th CPC Central Committee on the successful organisation of its fifth plenary session, which approved the committee's recommendation on the 14th five-year (2021-2025) socio-economic development plan and future targets for 2035.
The Vietnamese official highly valued the sides' maintenance of high-level exchanges as well as all-level discussions and cooperation this year amid COVID-19 complicated developments.
For his part, Song briefed on key contents of the fifth plenary session.
He said the two nations are close neighbours and their people boast a long-standing friendship, adding that the sides have supported each other since the coronavirus disease broke out.
He affirmed that the CPC is willing to join hands with the CPV in holding strategic exchanges, increasing political trust, learning from each other, and responding to difficulties and challenges, thus propelling the bilateral relations.
The Chinese official said he believes under the CPV's leadership, Vietnam will reap greater achievements and will successfully organise its 13th National Congress.
He backed the sides' further coordination in flexibly implementing high-level exchanges suiting the pandemic developments, and building the two Parties' cooperation plans. The official also welcomed efforts by party organisations in the two nations' localities to carry out exchange activities./.
Vietnam-Laos annual meeting reviews border management
Vietnam and Laos agreed to propose their governments allow the resumption of the clearance of goods at main and secondary border gates during the 30th annual border meeting in Vientiane on November 30.
Deputy Foreign Minister and Chairman of the National Boundary Commission, Le Hoai Trung, led the Vietnamese delegation to the meeting, while the Lao side was led by Foreign Minister and Deputy Head of the Lao National Border Committee, Saleumxay Kommasith.
Participants reviewed the implementation of the agreement on land border and border gates management regulations, as well as the minutes of the 29th meeting.
They also discussed orientations for cooperation in the time to come, focusing on measures to further promote socio-economic development in each country and ensure security and defence in shared border areas.
They also proposed measures to address the difficulties posed by COVID-19 for border management and protection.
Both sides shared the view that the two countries' authorities have worked closely on border management, contributing to the success in preventing the spread of COVID-19 and encouraging cooperation and exchange in border areas.
They said they will continue to coordinate on implementing agreements on border management signed in 2016 and other relevant agreements.
Efforts made by the two sides have contributed to strengthening the friendship, special solidarity, and comprehensive cooperation between the two countries.
Heads of the Vietnamese and Lao delegations also signed the minutes of the meeting, agreeing to organise the 31st meeting in Vietnam in the fourth quarter of 2021./.
Vietnam hosts 5th ASEAN Young Entrepreneurs' Carnival
The 5th ASEAN Young Entrepreneurs' Carnival was held on November 30 by the Vietnam Young Entrepreneurs' Association (VYEA), as Chair of the ASEAN Young Entrepreneurs' Council in 2020.
This is the first time the carnival has been held in-person in Vietnam and via videoconference with the young entrepreneurs' associations of ASEAN countries.
In his welcome remarks, Vietnamese Deputy Prime Minister Truong Hoa Binh said that ASEAN's young entrepreneurs should intensify international cooperation and seek more customers in the region and the world.
It is necessary for them to promote their dynamism and creativity, step up the application of scientific and technological advances, support youths in disadvantaged areas, and develop the digital economy, the Deputy PM said.
Stressing the importance of connectivity, he affirmed that the Vietnamese Government pledges to take action to step up connectivity between young ASEAN entrepreneurs.
Speaking at the event, VYEA President Dang Hong Anh said this year's carnival is of special significance amid the COVID-19 pandemic.
Participants discussed the business ecosystem and alliances among young ASEAN entrepreneurs and the roadmap to a digital future.
The VYEA also handed over the ASEAN Young Entrepreneurs' Council chairmanship to the association in Brunei at the carnival.
The ASEAN Young Entrepreneurs' Council was set up in November 2015 at the 27th ASEAN Summit in Malaysia, with the aim of promoting the common voice of the bloc's young entrepreneurs in boosting regional solidarity, and socio-economic and cultural cooperation in the ASEAN Community./.
NA Chairwoman visits families of rescuers who died in central region flooding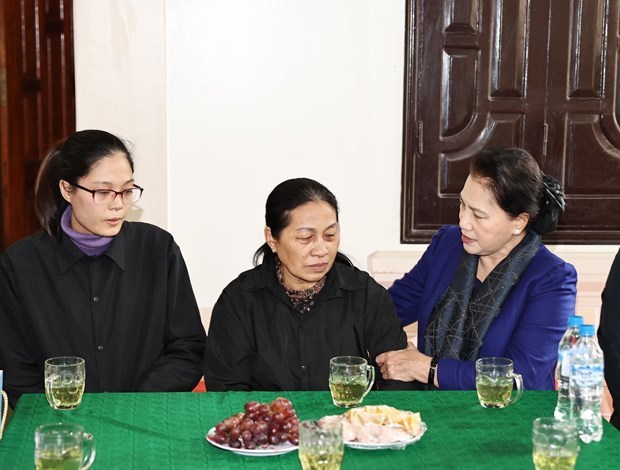 National Assembly (NA) Chairwoman Nguyen Thi Kim Ngan (first, right) visits the family of martyr Nguyen Canh Cuong in Nghi Lien commune of Vinh city, Nghe An province, on November 30
National Assembly (NA) Chairwoman Nguyen Thi Kim Ngan on November 30 visited the families of two soldiers in the north-central province of Nghe An who lost their lives during a recent flood rescue operation in the central region.
The top legislator offered incense to martyrs Nguyen Canh Cuong in Nghi Lien commune and Dinh Van Trung in Ben Thuy ward, Vinh city, who were among the 13 who lay down their lives in the early morning of October 13 while on duty in a rescue mission at the landside-hit Rao Trang 3 hydropower plant in Thua Thien-Hue province.
On the same day, Ngan also met with relatives of those who died in other rescue efforts, including representatives of bereaved families in Thua Thien-Hue, Quang Binh, and Quang Tri provinces.
The Chairwoman noted that 35 officers and soldiers of Military Region 4, which covers the central provinces of Thanh Hoa, Nghe An, Ha Tinh, Quang Binh, Quang Tri, and Thua Thien-Hue, had lost their lives while assisting local people, describing their deaths as a heavy loss that the Party, State, and people will never forget.
She offered her deep condolences to the bereaved families and expressed her hope that they will overcome the pain.
The leader also asked Military Region 4 to continue actions to ease the losses suffered by the martyrs' families.
For their part, representatives of the families said they appreciated the timely support of the Party, State, Military Region 4, and people nationwide, adding that they will strive to deserve the sacrifice of their beloved./.
Vietnam sees three new imported cases of COVID-19
The COVID-19 tally in Vietnam now rises to 1,346 after three new imported cases, all Vietnamese, were recorded between 6pm on November 29 and 6pm on November 30.
Among the new patients, the 21-year-old woman from the US had transited the Republic of Korea before boarding Flight VN431 that arrived at Da Nang Airport in central Da Nang city on November 23, said the National Steering Committee for COVID-19 Prevention and Control.
Another woman, 22, entered the country via Noi Bai Airport in Hanoi on Flight VJ7837 from Japan on November 27.
Meanwhile, the 25-year-old man returned from Japan on Flight QH4913 to Noi Bai Airport on November 28.
All of them have been quarantined upon arrival.
There have been 1,179 recoveries from COVID-19 in the country so far.
Six of those still under treatment have tested negative for the coronavirus once, seven others twice, and 12 thrice.
The number of related deaths is still kept at 35 while no patients are in critical condition at present, according to the sub-committee for treatment.
As many as 16,204 people having close contact with confirmed cases or coming from pandemic-hit regions are under quarantine now, including 179 in hospitals, 15,149 in other quarantine sites, and 876 at home or accommodation facilities./.
VNA General Director honoured with Spanish Order of Civil Merit
The Spanish King's Order of Civil Merit Encomienda was bestowed upon General Director of the Vietnam News Agency Nguyen Duc Loi at a ceremony held by the Spanish Embassy in Hanoi on November 30.
The order honours individuals with distinct contributions to Spain and to its relations with other countries.
Also Chairman of the Vietnam – Spain Friendship Association, which was established in May 2004, Loi and other leaders and members of the association have contributed significantly to boosting mutual affection and understanding between the two countries' people as well as their friendship and cooperation.
Expressing his gratitude and happiness to receive the order, the VNA General Director said the invaluable reward acknowledges his small contribution to fortifying the increasing Vietnam – Spain solidarity, friendship, and development collaboration.
He pledged his further efforts to enhance the bilateral ties.
Also on the occasion, the order was also presented to three other Vietnamese and Spanish citizens, including Nguyen Xuan Son, the embassy's official Vietnamese interpreter during 1998 – 2003 who has contributed greatly to the popularisation of the Spanish language via numerous classes. The others are two Spanish nationals, Diego Cortizas and his wife Laura Fontán, who founded the Chula Fashion brand. Chula Fashion shops established in a number of Vietnamese localities has introduced Spanish culture to locals.
Congratulating the four recipients, Spanish Ambassador Pilar Méndez Jiménez stated they represent the best things in the Vietnam – Spanish relations.
Expressing her thanks to Loi and members of his association in helping the embassy reinforce the bilateral ties, she mentioned the friendship association's donation of medical equipment to the Spanish people in the fight against COVID-19, saying it encouraged them to overcome the most difficult period of the nation in decades.
Prime Minister Nguyen Xuan Phuc receives outgoing Cuban Ambassador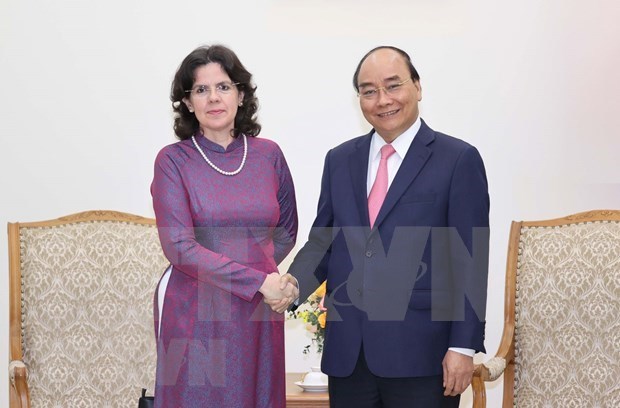 Prime Minister Nguyen Xuan Phuc receives outgoing Cuban Ambassador to Vietnam Lianys Tores River
Congratulated the ambassador on excellently completing her term in Vietnam, the PM affirmed that the Vietnamese people always remember President Fidel Castro's immortal statement "For Vietnam, Cuba is willing to devote blood." He also expressed his gratitude to the Cuban Government for sending medical experts to help Vietnam cope with the COVID-19 pandemic.
Cuban Ambassador Lianys Tores Rivera thanked the Vietnamese Government for providing rice to her country, saying during the COVID-19 period, Vietnam organised flights to bring its citizens home as well as deliver aid goods to Cuba.
She congratulated Vietnam on its successes in controlling and preventing the COVID-19 epidemic, assuming the role of ASEAN 2020 Chair and organising many conferences. She also suggested the two countries soon hold the 38th Intergovernmental Committee meeting to create favourable conditions for coordination between their businesses in technology transfer, ship repairing and building.
As a non-permanent member of the United Nations Security Council for 2020-2021, Prime Minister Phuc said that Vietnam has always affirmed its consistent stance of supporting an end to the economic-financial embargo against Cuba. He asserted that the Government of Vietnam always backs Cuba in the development of food and  aquatic products.
He also expressed his wish that Vietnamese and Cuban businesses will tighten their cooperation, especially in the fields of oil and gas and telecommunications.
On this occasion, the Vietnamese leader said he hopes that in any position, the ambassador will continue to serve as a bridge between the two nations and continue to make positive contributions to the development of Vietnam-Cuba relations./.
Young people enthusiastic about developing traditional crafts
Young people are often taken by surprise by do-it-yourself (DIY) souvenirs like woven sedge mats. This is one of many craft experiences that have been turned into a tourism product within the framework of a cultural heritage festival in Da Nang.
In addition to creatively turning experiential activities into tourism products at traditional craft villages, young people continue to increase product value with the application of modern machinery and equipment. The products' core values, however, remain.
There are many traditional craft villages in Da Nang that have existed for hundreds or even thousands of years. Over time, traditional occupations have been significantly affected. Whether traditional villages and products thrive is in the hands of young people – the successors of craft villages.
With advantages in tourism development, traditional craft villages help preserve cultural heritages and develop the local economy. The human factor, especially the younger generation, play an important role in preserving traditional values for future generations, helping traditional occupations thrive./.
Vietnam, Cuba strengthen defence cooperation
The Ministry of National Defence held a meeting in Hanoi on November 30 to celebrate the 60th anniversary of diplomatic relations between Vietnam and Cuba.
Addressing the event, Senior Lieutenant General Tran Don, Deputy Defence Minister, reviewed the 60-year journey of the brotherly solidarity and comprehensive cooperation between the two countries' Parties, States, armies and people. During the resistance war against the US, Cuba stood shoulder to shoulder with the Vietnamese people as a sincere friend and a trusted comrade. Today, the two countries always come together in their cause of national building, development and defence.
Don said that along with State diplomacy and people-to-people diplomacy, defence relations between the two countries have become increasingly intensive, practical and effective. This is one of the main areas of cooperation in the bilateral relationship, reflected through the two armies' signing of many important cooperation agreements, maintenance of regular high-level delegation exchanges, dialogue mechanisms, and implementation of many aspects of cooperation that the two sides need and have strength in, contributing to consolidating each side's military potential and national defence capacity.
Through defence cooperation, the two sides continued to affirm the commitments of the two countries' senior leaders to enhancing prestige and mutual trust, and facilitating the expansion of cooperation to other potential fields.
Thanking Cuba for supporting Vietnam in COVID-19 prevention and control, the Deputy Defence Minister said that such support has showed the two sides' consistent comradeship, sharing and solidarity. He affirmed the determination of the two countries' Defence Ministries not to let the pandemic affect bilateral defence cooperation.
To commemorate the 60th anniversary of bilateral diplomatic relations, Vietnam and Cuba have jointly carried out key activities such as publishing a set of documents on 60 years of Vietnam-Cuba defence relations; promoting exchanges between veterans and officials who contributed to the bilateral defense relationship; and signing new cooperation agreements. These activities contribute to promoting the bilateral defence ties as well as educating the Vietnamese and Cuban young generations about the special traditional friendship between the two countries and their armies.
For his part, Senior Colonel Juan Miguel Garcia Montano, Cuban military attaché to Vietnam, expressed his delight at the development of the solidarity and cooperation between the two countries during the past 60 years, affirming that the Vietnam-Cuba relationship has been tested through wars and overcome many ups and downs of history. He emphasised that promoting this relationship is a prerequisite obligation in the foreign policies of the two countries.
On this occasion, Miguel thanked the Vietnamese people for their sincere sentiments toward Cuba, especially in the most difficult times. He affirmed that Cuba will continue to make more contributions to promoting the fine friendship and cooperation between the two countries, including defence cooperation.
Top leader sends congratulations on UN International Day of Solidarity with the Palestinian People
Party General Secretary and State President Nguyen Phu Trong has sent his message of congratulations to UN Secretary-General Antonio Guterres on the occasion of the International Day of Solidarity with the Palestinian People of the UN.
He also cabled congratulations to Cheikh Niang, Chairman of the United Nations Committee on Exercise of the Inalienable Rights of the Palestinian People, and President of the State of Palestine Mahmoud Abbas.
In his messages, the top leader affirmed the Vietnamese State and people' support for and solidarity with the Palestinian people in the righteous struggle for basic national rights. /.
Nearly 240 Vietnamese brought home from Philippines
Nearly 240 Vietnamese citizens were repatriated from the Philippines on a VietJet flight on November 30.
The passengers included pregnant women, the elderly, those under 18, students without accommodation, workers with expired contracts, and others with special disadvantages.
The Vietnamese Embassy in the Philippines sent its staff to the airport of the archipelago nation to assist them with boarding procedures.
In-flight safety and COVID-19 preventive measures were seriously enforced to protect the passengers' health and prevent the spread of the disease.
Upon arrival at Can Tho International Airport in the Mekong Delta city of Can Tho, all the passengers and crew members on the flight received medical check-ups and were sent to quarantine in line with regulations.
The repatriation of overseas Vietnamese in disadvantaged circumstances will continue to be arranged basing on their wishes, developments of the pandemic, and domestic quarantine capacity./.
VSIL's efforts in gathering support for East Sea stance appreciated
Permanent Deputy Prime Minister Truong Hoa Binh appreciated the efforts made by the Viet Nam Society of International Law (VSIL) in gathering support for the country's stance on the East Sea and other issues over the past five years.
Speaking at the 2nd VSIL Congress on Saturday, Binh, who is a Politburo member, said Viet Nam is joining various international institutions and increasingly integrating into the global economy, which means that the country shall have to implement its international commitments.
From that perspective, the establishment of the VSIL has met the demands and aspirations of numerous international law researchers and practitioners in Viet Nam to share and exchange knowledge and experience in order to stimulate the development of international law and contribute to the national protection, development and international integration.
As the world is now facing unpredictable challenges, particularly since the emergence of the Covid-19 pandemic, Binh expressed his belief that international law and multilateral institutions will become increasingly important role in international cooperation and maintenance of the order of international relations.
He urged the VSIL to further engage in formulation of the country's development guidelines and policies in accordance with its international commitments and global development trend of international law.
The VSIL was asked to assist agencies, organizations, businesses and people in protecting their legitimate rights and interests, particularly at international adjudicative bodies.
Founded in 2016, the VSIL is a social-professional society of Vietnamese citizens and organizations who have been or are practicing international law.
It operates nationwide based on principles of voluntariness, democracy, autonomy, self-finance, and not for profit./.
US$639 million Ring Road No 2 investment up for approval
Investment for two sections of the Ring Road No 2 project, with total capital of VNĐ14.6 trillion (US$639 million), is expected to be approved by the HCM City Council soon.
The two sections are part of a 14-kilometre stretch that has yet to start construction. The first section will cost VNĐ9.2 trillion (US$397 million) and run from Phú Hữu Bridge in District 9 to Hà Nội Highway in Thủ Đức District, at 3.5km long and 67m wide.
It will have six lanes and an overpass under Metro Line No 1 that is still under construction.
The second section will start from the first section to Phạm Văn Đồng intersection in Thủ Đức District and will be 2km long. It will cost VNĐ5.6 trillion (US$242 million), and have six lanes and an overpass.
For the remaining eight kilometres of the Ring Road, the city is making plans to raise funds and divide it into two more sections, completing the sixty four kilometres of the Ring Road through the districts of Bình Chánh, 7, 9, and Thủ Đức.
According to the city's Department of Transportation, the entire Ring Road No 2 will be more than 64km long. Around fifty kilometres has received investment so far.
Ring Road No 2 is expected to reduce traffic congestion and the number of vehicles entering HCM City. As the road is linked to the HCM City-Long Thành –Dầu Giây Expressway and Ring Road No 3 and Ring Road No 4, this essential road will help form a connecting route between neighbouring provinces and minimise congestion in the city's entrances.
The waiting time for site clearance for the project has been two to three times longer than expected, according to the transport department.
Ring Road No 2 was scheduled to be completed in 2015. The delay has contributed to worsening traffic congestion in the city as well as between the city and southern provinces.
Municipal authorities are determined to speed up this project this year to its completion.
The People's Committee of Thủ Đức District is cooperating with related units to fulfill the site clearance tasks and offer guidance about accommodations to concerned citizens who must move to make way for the project.
Landslides badly affect south-central and Central Highlands traffic
Landslide on National Highway 27C
Many roads in the south-central and central highlands regions have been blocked by serious landslides.
Ta Thanh Tinh, head of the Road Management Unit 3 said heavy rain had caused landslides along the National Highway 27C connecting Nha Trang and Da Lat. A landslide occurred at 5 pm on November 27 blocked the traffic in Son Thai Commune, Khanh Vinh District.
According to Tinh, the road was blocked by nearly 2,000 cubic metres of rocks. Employees have been sent to clear the road but the work was hindered by on-going heavy rain.
Water also runs from the mountain to the road, further complicating the situation and threatening traffic safety. The authorities have raised warnings and ordered local people to not travel through this road.
The National Highway is over 120km long. The section that runs through Khanh Le Mountain Pass is 33km long.
Heavy rains also caused landslides and blocked many road sections in the mountainous district of Dong Xuan, Phu Yen Province. La O Hoa, chairman of Phu Mo Commune People's Committee, confirmed on November 29 that the only road connecting the Dong Xuan District and Phu Mo Commune centre was blocked.
"We had heavy rains on November 28 and 29 which caused several landslides. The most severe landslide occurred on the Phu Yen-Gia Lai route, causing congestion. We have raised warning signs and asked residents to avoid these sections," he said.
Many landslides also occurred in Phu Dong and Phu Hai villages, isolating many people.
Noi Bai Airport recognised as safe anti-pandemic airport
Noi Bai International Airport has been recognised by the Airports Council International (ACI) for ensuring safe measures against the COVID-19 pandemic in its operation.
An online ceremony was held at the Airport Operations Control Centre at Noi Bai International Airport on November 27 to grant the Airport Health Accreditation (AHA) certification to the Vietnamese airport.
The ACI Airport Health Accreditation is designed to help airports around the world prove to passengers, their employees, regulators, and governments that they place top priority on the health and safety of passengers through the establishment of specific safeguard measures in the fight against the COVID-19 pandemic.
To be certified by the ACI, Noi Bai Airport was assessed across a number of categories including cleaning and disinfection, physical distancing (where feasible and practical), staff protection, physical layout, passenger communications and passenger facilities.
General Director of ACI Luis Felipe de Oliveira said that Noi Bai International Airport provides the safest airport experiences for all passengers following the ACI guidelines of Aviation Business Restart and Recovery and recommendations for the restoration of aviation operations in the COVID-19 period by the International Civil Aviation Organisation – ICAO Council Aviation Restart Task Force recommendations.
"The AHA certification is the result of the all-out efforts of all the staff at Noi Bai International Airport in the implementation of COVID-19 prevention measures, creating trust among passengers in using the services at the airport," said Director of the Noi Bai International Airport Nguyen Duc Hung.
New resources for forest protection
Vietnam has entered the world's carbon credit trading market after a long period striving for sustainable forest management. This is a major event, marking a positive start in mobilising new resources for forest protection and improving forest quality and sustainable forest management, thereby helping Vietnam realise its climate targets.
The Forest Carbon Partnership Facility pledged to purchase 10.3 million tonnes of carbon dioxide emissions from six northern central provinces of Thanh Hoa, Nghe An, Ha Tinh, Quang Binh, Quang Tri, and Thua Thien Hue, at US$ 51.5 million in total, via the Emission Reductions Payment Agreement (ERPA) in the 2018-2024 period, which was recently signed between the World Bank (WB) and the Ministry of Agriculture and Rural Development.
The Forest Carbon Partnership Facility (FCPF) is a global partnership of governments, businesses, civil society, and Indigenous Peoples' organisations focused on reducing emissions from deforestation and forest degradation, forest carbon stock conservation, the sustainable management of forests, and the enhancement of forest carbon stocks in developing countries, activities commonly referred to as REDD+.
Since its launched in 2008, the FCPF has worked with 47 developing countries across Africa, Asia, and Latin America and the Caribbean, along with 17 donors that have made contributions and commitments totalling US$1.3 billion.
Vietnam's Emission Reductions Programme is designed to address the underlying causes of forest loss in the country's north central region and by so doing reducing emissions from deforestation and forest degradation. The program will also support forest restoration.
The north central region was chosen for its critical biodiversity importance and socio-economic status. The program area covers 5.1 million hectares of land (16% of the land area of the country), of which 3.1 million hectares are currently forested, and include five internationally recognised conservation corridors.
According to Ha Cong Tuan, Deputy Minister of Agriculture and Rural Development, Vietnam's programme follows a preparation phase for the country's readiness to engage in an emission reduction payment agreement of this kind and is a step towards full implementation of forest carbon services in Vietnam.
This agreement also highlighted the collaboration between Vietnam, FCPF and the World Bank to meet international climate targets laid out in the Paris Agreement, he said, adding that the programme will mobilise important additional financing to invest in Vietnam's forests and reduce forest degradation while generating income for forest owners and improving sustainable development in the north central region.
Vietnam is the first country in the Asia-Pacific region and fifth globally to reach such a milestone agreement with the FCPF. ERPAs are innovative instruments that incentivise sustainable land management at scale and help to connect countries with other sources of climate financing. The resources from the FCPF provide new opportunities to conserve and regenerate forest landscapes and biodiversity while simultaneously supporting sustainable economic growth, which is critical for Vietnam's development going forward.
"Vietnam has shown tremendous leadership in developing robust programs to deliver forest emission reductions on a large scale," said Carolyn Turk, World Bank Country Director for Vietnam.
The agreement is an important event of Vietnam's forestry sector. The ERPA will bring practical benefits while opening opportunities to realise the implementation of payment for forest environmental services in Vietnam. The ERPA contributes to generating income for forest owners, people and businesses through selling carbon credits, increasing forest productivity, and improving sustainable livelihoods.
It will also help to raise awareness of authorities, management agencies, forest owners, communities, households, and the private sector of forest carbon services as well as benefits and economic and environmental values of forests.
The agreement will help to increase the existing forest area and improve the forest coverage in the north central region; support forest restoration, and mitigate impacts of climate change. The ERPA also illustrates Vietnam's vision and responsibility in working together with the international community in a joint effort to adapt to climate change and protect forest resources for the peace and prosperity of the world.
AI should be used in all fields: Deputy Minsiter
Speaking at the Vietnam Artificial Intelligence Day yesterday in Ho Chi Minh City, Deputy Minister of Science and Technology Bui The Duy said AI should be used in all fields including governmental management, policies, legal framework, resources, infrastructure.
Being a part of the 2020 Ho Chi Minh City Innovation, Startup and Entrepreneurship Week, the Vietnam Artificial Intelligence Day themed "AI in pandemic: Adapting to the new normal" kicked off.
Deputy Minister Duy added that the coronavirus pandemic has brought challenges and opportunities in the future. For instance, it had taken Vietnam 10 years to promote online learning but it just took one month ( in March) all Vietnamese students from primary students to university students learned online.
Director of the Department of Science and Technology in HCM Nguyen Viet Dung affirmed that HCMC authorities wants to listen to people's opinions and experience in the field of AI for the smart city building.
Disabled Quang Ngai teacher honoured for social contributions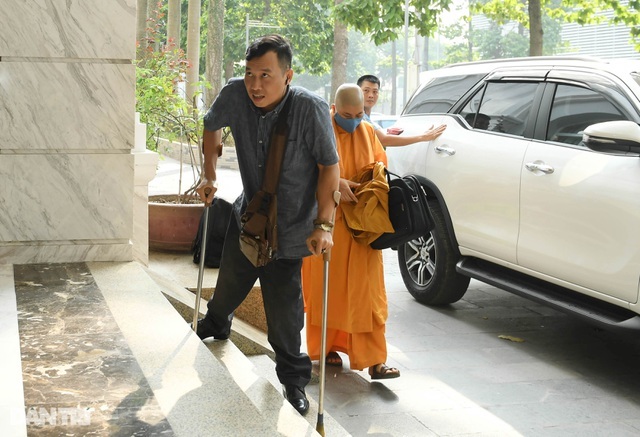 Tran Tuan Kiet arrives in Hanoi for the ceremony on November 27.
A disabled teacher in Quang Ngai Province has been honoured for his great efforts in teaching disabled children over the past 10 years.
Tran Tuan Kiet, 37, became unable to walk after a fever at the age of three. Despite his disability, Kiet was determined to study hard and he graduated from three local prestigious universities including the Danang University for Teacher Training, the Industrial University of Ho Chi Minh City, and the Hue University of Sciences.
At present, Kiet is working as a teacher in his hometown and he is also chairman of the Quang Ngai Provincial Association of People with Disabilities.
Kiet said that from his own experiences, he has a deep empathy with disabled children.
"With my classes, I just want to help them prepare for a better future and become helpful people," he said.
According to the teacher, teaching disabled children is not just giving them knowledge. Teachers must try to help these special students to overcome their own problems and weaknesses.
The young teacher shared that he is now having to hire space for his free classes.
"Now I just want to have a proper facility for my classes," he said. "I'm also working on some projects and asking for more funds to help disabled people in our area."
Tran Tuan Kiet was among 400 people nation-wide honoured for their contributions to social works and charity activities at a ceremony held by the Ministry of Labour, Invalids and Social Affairs on November 28.
90 percent of residents in HCMC to have electronic health record by 2025
The health sector in Ho Chi Minh City aimed that 90 percent of city dwellers will have electronic health records managed by medical clinics in districts where patients live by 2025, said Deputy Director of the municipal Department of Health Associate Professor Tang Chi Thuong.
He made the statement at a yesterday meeting between a delegation from the Ministry of Health and the Department upon implementation of electronic health record software in health stations in districts connecting with the Ministry's portal.
Touring around the city, inspectors dropped by a health center in ward 15 in Tan Binh District where is managing 300 electronic health records. The center is one of 110 first grass root medical stations in the city applying the e-health record software for over one year.
Head of the center Dr. Chau Quang Khai said that the software has facilitated staffs in the center much. Staffs have no more wasted their time searching for patients' paper records.
dministrative staffs find it easy in keeping patients' medical records after applying the e-health record.
It is scheduled that the city will finish e-health record software synchronously in 319 grass root medical facilities after one year implementation.
Ha Anh Duc from the Ministry of Health said that some 11,600 of grass root medical clinics in the country have been using the e-health record software.
Electronic health records contain a patient's medical history, diagnoses, medications, treatment plans, immunization dates, allergies, radiology images, and laboratory and test results; allow access to evidence-based tools that providers can use to make decisions about a patient's care and automate and streamline provider workflow
Fishermen in Khanh Hoa Province enjoy bumper catch of skipjack tuna
Many fishing vessels using gillnetting to catch skipjack tuna in Khanh Hoa Province landed on November 26 and 27.
Fishermen in Khanh Hoa Province enjoy bumper catch of skipjack tuna. (Photo: SGGP)
Similarly, the fishing vessel with the registered number of KH-99171-TS captained by Huynh Phuoc Diem in Vinh Phuoc Ward in Nha Trang City has just returned to dock at Hon Ro Port. Mr. Diem said that he went fishing at Truong Sa fishing ground this sea voyage, catching 10 tons of skipjack tuna. Thanks to the high quality of fish, the prices were high. He earned over VND300 million.
The representative of the Hon Ro Fishing Port Management Board said that the skipjack tuna fishing vessels are returning ashore, selling fish to traders. On average, each ship has a production of 7-8 tons. A few fishing vessels met a large flock of skipjack tuna, so their output was much higher.
Hanoi to realize Red river zoning plan to serve smart city development
The Red river zoning plan is one of Hanoi's priorities to improve efficiency in master planning to ensure the city's rapid and sustainable development in the next five years
The area on the north bank of the Red river, in its section through Hanoi, will be planned into a smart city in line with the river's zoning plan, Hanoi Party Committee Secretary Vuong Dinh Hue said in a working session with the municipal Party Committee on November 28.
This is one of Hanoi's priorities to improve efficiency in master planning to ensure the city's rapid and sustainable development in the next five years, Mr. Hue said.
In the Fourth Industrial Revolution era, investing in smart cities is not only a trend but also a new driver and solution for sustainable urbanization. Smart city development along the Red river will play an important role in Hanoi's future.
Since the expansion of Hanoi's administrative boundaries in 2008 (by merging Ha Tay province and a part of Vinh Phuc province into it), the zoning plan of the spacious riparian areas of the Red river remains unfinished, so if completed, it would help further develop the city's urban areas and improve living conditions of local people.
Therefore, drastic actions are needed to put the plan into motion, including the plan on both sides of the Red river and making full use of the land resources in the riparian areas along the river banks, the Party chief stressed.
Besides, the city will focus on investing in infrastructure projects, including the construction of more bridges spanning the Red river and road development linking provinces in the capital region, and the Hoa Lac satellite urban area, Mr. Hue added.
He also noted a number of economic indicators did not reach the targets. Among them are the sizable bad debt, insufficient job creation and vocational training, unemployment which is higher than the same period of last year, little improvement in the solution of traffic congestion, environmental pollution, and waste. The municipal Party chief also requested improvements in social security and order.
Concluding the working session, the Hanoi Party Committee set the targets for 2021 as follows:
– Enhancing construction, planning management, urban development.
– Strengthening resource management, environmental protection, disaster prevention, and climate change response.
– Raising capital for investment and development in the city.
– Striving to achieve a GRDP growth rate of 7.5%; increase social investment capital by about 12%, export turnover by 5%; reduce the number of poor households by 20% in accordance with the city's new standards.
– The city will allocate funding to investment and development, effectively manage public assets, especially land funds.
– Notably, the municipal government will accelerate the auction of land use rights and build up a land use right auction plan for the next five years.
Vietnam pushing forward with world-class marine tourism centers
In order to concretize the plans and goals in the Sustainable Development Strategy of Vietnam's marine economy to 2030, with a vision to 2045, the Ministry of Culture, Sports and Tourism strives to turn Quang Ninh and Phu Quoc into world-class marine tourism centers.
At the same time, the government aiming to build and develop Phu Quoc into a strong international marine eco-tourism service and tourism center and develop major tourist centers in the Central Coast region. To achieve this goal, in the period 2021 – 2025, the Ministry of Culture, Sports and Tourism will organize activities to promote marine tourism associated with promoting the value of natural resources, unique nature, culture, as well as the history of coastal and island regions./.
Cambodia closes all private schools in two weeks to prevent COVID-19
Cambodia has closed all private education facilities across the nation in two weeks as part of its efforts to prevent the spreading of the COVID-19 pandemic.
The Ministry of Education, Youth and Sport announced the decision on November 29 after the discovery of the first COVID-19 case in community on November 28.
As of November 29, the Ministry of Health reported 315 cases in the country, with 301 recovered and no death.
Also on November 29, Minister of Interior Sar Kheng directed all officials having direct or indirect contact with head of the General Department of Prisons Chhem Savuth to quarantine while waiting for a mass testing on all officials and staff of the ministry.
On November 28, General Chhem Savuth and his wife as well as four other members of his family were tested positive to coronavirus SARS-CoV-2.
Minister Sar Kheng said that he has been on 14-day quarantine after having a meeting with Chhem Savuth on November 24 which gathered dozens of officials.
8th Vietnam Summer School of Science held in Binh Dinh
Students attend the 8th Vietnam Summer School of Science
The Rencontres du Vietnam, a non-profit organisation and an official partner of UNESCO, is organising the 8th Vietnam Summer School of Science (VSSS) at the International Centre for Interdisciplinary Science Education (ICISE) in the central province of Binh Dinh.
The event, held from November 28 – December 1, attracts the participation of 180 young graduates, researchers, lecturers and students from across Vietnam and Vietnamese researchers learning and working in the US, the UK, Japan and Australia.
The lectures given at the VSSS this year include impacts of the COVID-19 pandemic, climate change and the environmental quality, and AI presence in production.
Participants have chances to exchange scientific knowledge with researchers and lecturers graduated from prestigious universities such as Cambridge University, Birmingham University and Lancaster University (UK); Paris-Sud University, Marseille University (France); Kyoto University (Japan); University of New South Wales (Australia); and Vietnam Academy of Social Sciences.
VSSS is an initiative of a young group of Vietnamese scientists working oversea and nationwide who wished to inspire young students in their home country. It aims to inspire courage and support young Vietnamese who are keen on pursuing research as a career.
To date, the school has trained nearly 1,000 students, of whom 150 are learning and working at leading universities in the US, the UK, France, Japan, Canada, the Netherlands, Italy, Singapore./.
Vietnam enjoys big haul of honours at World Travel Awards Grand Final 2020
Vietnam has won various awards, including "World's Leading Heritage Destination," at the 27th World Travel Awards' Grand Final Gala Ceremony 2020 held virtually and broadcast live from Zaryahye Park in Moscow, Russia.
HCM City-based Vinpearl Luxury Landmark 81 was honoured with "World's Leading City Hotel," "World's Leading Conference and Wedding Hotel," and "World's Leading Riverfront Hotel."
Da Nang's Sun World Ba Na Hills mountain resort was awarded with "World's Leading Iconic Tourist Attraction," "World's Leading Iconic Tourist Bridge" for its Golden Bridge and "World's Leading Cable Car Ride" for its cable car system.
Sun World Fansipan Legend in Sa Pa, Lao Cai was named "World's Leading Cultural Tourist Attraction" and "World's Leading Natural Landscape Tourist Attraction."
InterContinental Danang Sun Peninsula Resort won "World's Leading Green Resort;" JW Marriott Phu Quoc Emerald Bay was named "World's Leading Luxury Wedding Resort;" and Premier Village Danang Resort Managed by AccorHotels became "World's Leading Family Villa Resort."
National flag carrier Vietnam Airlines brought home the "World's Leading Cultural Airline" title, Vietravel, "World's Leading Group Tour Operator" and Quang Ninh's Van Don International Airport, "World's Leading Regional Airport."
The World Travel Awards were established in 1993 to acknowledge, reward and celebrate excellence across all key sectors of the travel, tourism and hospitality industries. Today, the WTA brand is recognised globally as the ultimate hallmark of excellence.
Each year, the World Travel Awards covers the globe with its Grand Tour – a series of regional gala ceremonies to recognise excellence within each continent – culminating in a Grand Final at the end of the year.
Economic loss from natural disasters amounts to US$1.7 bln over past 11 months
Generally for 11 months of 2020, the total economic loss from natural disasters was estimated at VND38,400 billion (US$1.7 billion), of which storms and floods caused a significant damage of VND31,700 billion (US$1.4 billion).
According to the General Statistics Office of Vietnam, deadly rainstorms, floods and landslides hit some localities across the country in November, leaving 104 people dead and missing, 388 injured. Additionally, the natural disasters damaged more than 249 thousand houses, 5.6 thousand cattle and 1.5 million poultry, 66.7 thousand hectares of agricultural land and 35.4 thousand hectares of vegetable crops with the total loss of VND18,700 billion (US$807 million).
In addition, there had been 12,985 traffic accidents in many provinces and cities nationwide, including 7,495 cases of less serious or more and 5,490 traffic crashes, leaving 6,048 people dead, 3,948 injured people and 5,704 people with minor injuries.
Viet Nam named as World's Leading Heritage Destination 2020
Viet Nam has been named the "World's Leading Heritage Destination 2020" by the World Travel Awards (WTA) at its ceremony in Moscow on November 27.
The Southeast Asian country won the category after surpassing other nominees, namely Brazil, Egypt, Greece, Moscow (Russia), Porto and Northern Portugal, and Saudi Arabia.
This is the second consecutive year the nation was rewarded this ward.
Meanwhile, InterContinental Da Nang Sun Peninsula Resort gained recognition for tis eco-credentials with "World's Leading Green Resort".
In early November, Viet Nam had been named as Asia's leading destination at three categories of culinary, culture and heritage at 2020 World Travel Awards ceremony for Asia.
Established in 1993, WTA's mission is to acknowledge, reward and celebrate excellence across all sectors of the tourism industry.
Each year, WTA covers the globe with a series of regional gala ceremonies staged to recognize and celebrate individual and collective success within each key geographical region./.
Flights bring citizens home from Europe, America, Africa, and Indonesia
Nearly 350 Vietnamese citizens were brought home from 20 countries in Europe, America and Africa on a flight operated by national flag carrier Vietnam Airlines on November 29 and 30.
On board the flight are children under 18, the elderly, people will illnesses, pregnant women, students who finished their study, guest workers whose visas or labour contracts had expired and others in extremely difficult circumstances.
Vietnamese missions in these countries instructed the passengers to complete required procedures and cooperated with local competent authorities to facilitate their travel to the airport in Paris, France.
Staff of the Embassy of Vietnam in France were also sent to the airport to assist them with pre-departure procedures before they boarded the flight.
A similar flight was operated by low-cost carrier Vietjet Air to fly home close to 90 Vietnamese citizens, including pregnant women, the elderly, and children under 18, from Indonesia on November 29.
In-flight safety and preventive measures against COVID-19 were rigorously enforced by the two airlines to protect the passengers' heath and prevent the spread of the coronavirus.
The first landed in HCM City-based Tan Son Nhat International Airport while the latter at Can Tho International Airport in the Mekong Delta city of the same name. Upon their arrival, all passengers and crew members received medical checkups and were sent to quarantine establishments in line with regulations.
More semi-commercial flights will be arranged in the future based on citizens' demands, the developments of the COVID-19 pandemic, and quarantine capacity in Vietnam./.
Young activists plant trees to prevent floods, landslides
Young people from the border district of Mường Lát in Thanh Hóa Province have been planting protective forests to limit the increasing risk of landslides.
The project has both brought economic benefits to growers and contributed to increasing forest coverage on barren hills.
The volunteers have so far planted 200ha of forest, and many households have benefited with incomes of VNĐ80 million (US$3,400) -VNĐ200 million ($8,620) per year.
Hà Văn Điệp, a Thai ethnic minority man living in Lát Village, Tam Chung Commune, was born into a poor family. After leaving high school, he had to work as a labourer just to get by.
In 2016, the Mường Lát District Youth Union told him about an economic development plan for the forest, and he decided to sign up.
He started off by borrowing VNĐ40 million from the Social Policy Bank in Mường Lát District and from friends to import different varieties of plants and trees. He also turned unused land into a forest for breeding pigs, chickens and cows which earns him tens of millions of đồng per year.
He said he realised that if the trees kept falling, the forest would disappear – and that natural disasters, like floods and drought, could become worse.
"Floods, especially flash floods, happen frequently in this area," he said. "Afforestation on the bare hills is contributing to regulating water sources and limiting soil erosion and flash floods."
His work is carefully planned. He plants different trees in layers so the high trees create shade for the fruit trees.
His forest is growing day by day with a current area of about 8 hectares. He now has five cows, 20 pigs, 15 goats and numerous chickens.
His family's income has reached VNĐ200 million/ per year.
Besides his business, Điệp is also an active member of the local Youth Union. Together with local youths, he lends a hand to help families upgrade their houses before storms hit the region.
He also shows young people how to start their own businesses and alleviate poverty.
Hà Văn Tình, another Thai ethnic minority man living in Chiền Cống Village, Mường Lát Township, was also a pioneer in the local afforestation movement.
Born into a poor family living on the banks of the Mã River, Tình spent his childhood in poor conditions and constantly hungry.
In 2018, realising that afforestation contributed to mitigating climate change and combating flash floods and landslides, Tình decided to plant large trees for economic development and natural disaster prevention.
He spent the money he borrowed from Mường Lát District's Social Policy Bank to buy seeds and seedlings of trees such as xoan and lát.
His plan to cultivate large trees combined with breeding cows and pigs has been developing day by day, bringing him a high and stable income of VNĐ170 million per year.
He also teaches young people about science and protecting the forests.
During the COVID-19 pandemic, he has encouraged people living in border areas to wear masks, wash their hands and disinfect their homes to prevent the spread of the pandemic.
Secretary of the district's Youth Union Lâu Văn Phía said since 2017, Thanh Hóa's  Department of Agriculture and Rural Development had been donating seedlings and organising technical training courses.
The local Youth Union plans to continue its support for its members and young people to develop economic afforestation, especially among the H'Mông and Khơ Mú ethnic groups.
National radios help nurture Vietnam-Indonesia friendship
Radio The Voice of Vietnam (VOV) and Radio Republik Indonesia (Radio of the Republic of Indonesia, or RRI) held an interactive radio dialogue on November 30 to celebrate the 65th anniversary of the Vietnam-Indonesia diplomatic ties (December 30, 1955-2020).
The 60-minute programme provided the audience with an insight into the two countries' friendship, cultural identities, histories, and religions as well as their cooperation potential.
Vietnamese Ambassador to Indonesia Pham Vinh Quang said the bilateral relationship has developed in all fields ranging from politics, diplomacy, economics, trade, tourism to culture and education, with the most outstanding achievements seen in the political and diplomatic aspects.
The two countries are currently reliable strategic partners and have maintained regular meetings at all levels.
Indonesian Ambassador to Vietnam Ibnu Hadi said that the COVID-19 pandemic is posing global challenges, but on the other hand opens up more cooperation opportunities for Indonesia, Vietnam and other ASEAN countries.
Indonesia and Vietnam should boost post-pandemic economic collaboration, and step up connectivity to promote people-to-people exchanges and fully tap their potential, he added.
In the dialogue, the audience had an opportunity to raise questions and interact directly with the speakers regarding issues of concern./.
Assistance comes for flood-hit residents in Thua Thien-Hue
President of the Vietnam Fatherland Front (VFF) Central Committee Tran Thanh Man and State Vice President Dang Thi Ngoc Thinh on November 30 presented aid packages to people of the central province of Thua Thien-Hue, to help them surmount consequences of recent storms and floods.
Extending his sympathies over storm-triggered losses to local authorities and residents, Man expressed his belief that they will soon overcome the difficulties and stabilise their lives.
The VFF has to date received more than 350 billion VND (15.07 million USD) in cash and kind to support flood-hit central localities, of which 325 billion VND has been presented to the needy, he noted.
The official requested prompt distribution of the aid to rebuild houses and evacuate people in high-risk areas of landslide to safer places, especially as the Lunar New Year (Tet) holiday draws near.
He handed over 2 billion VND to support local residents while Thinh presented 1 billion VND from the National Fund for Vietnamese Children to orphans and disadvantaged children in the province.
Aid packages worth a total 325 million VND donated by domestic businesses were also given to flood-hit households and five families of soldiers who died while carrying out search and rescue operations at the province's Rao Trang 3 hydropower plant.
Chairman of the provincial People's Committee Phan Ngoc Tho said the locality has rolled out measures to overcome aftermaths of floods and help locals stabilise their lives, pledging that the aid will be used for the right purposes and promptly distributed to those in need.
Thua Thien-Hue reported a death toll of 31, while 11 others went missing out of the 249 victims of the recent disasters. In addition, it lost over 1.5 trillion VND to storms and floods since this September./.
About 1.5 million Filipinos to get COVID-19 vaccine next year
Some 1.5 million Filipinos will receive the AZD1222 coronavirus disease 2019 (COVID-19) vaccine following an agreement between the Philippine government and AstraZeneca, a UK-Sweden pharmaceutical joint venture, last week.
Under the 600 million peso (12.5 million USD) deal, which ensures that 2.6 million doses of the vaccine are delivered to the country in May and June next year.
National Task Force against COVID-19 Chief Implementer and Vaccine Czar Carlito Galvez Jr said the vaccine would be subjected to evaluation by the country's panel of vaccine experts and the Food and Drug Administration.
Half of the doses will be for government frontliners, and the other half for regular and contractual employees in private companies, he said.
The Philippines was the only country in Southeast Asia where AstraZeneca had chosen to test its vaccine. The firm requested each person to take two doses of its vaccine to ensure efficiency.
The local authorities said they are negotiating with AstraZeneca to purchase an additional 1 million COVID-19 vaccine doses./.
Laos live-fire exercise marking National Day
The Lao Ministry of National Defence on November 30 held a large-scale live-fire exercise in Vientiane province to mark the country's 45th National Day (December 2).
Party General Secretary and State President Bounnhang Vorachith, Prime Minister Thongloun Sisoulith, Vice President Phankham Viphavanh, and Defence Minister General Chansamone Chanyalath were present at the exercise.
At the end of the event, Bounnhang Vorachith congratulated the soldiers on their outstanding performance, and expressed his belief that the Lao army will grow further, contributing to the protection of the country's sovereignty and territorial integrity.
A delegation from the Vietnamese Ministry of Foreign Affairs led by Deputy Minister Nguyen Quoc Dung has also visited the Lao Embassy in Hanoi to offer greetings on the occasion of its neighbour's 45th National Day./.
Congratulations extended to Laos on 45th National Day
A Ministry of Foreign Affairs delegation led by Deputy Minister Nguyen Quoc Dung visited the Lao Embassy in Hanoi to offer greetings on the occasion of the country's 45th National Day (December 2, 1975 – 2020).
Talking to Lao Ambassador Sengphet Houngboungnuang, Dung lauded Laos' significant achievements in national construction, development and defence over the past 45 years.
He expressed his delight at the continuous fortification and development of the two countries' special solidarity amid COVID-19, adding that this year they have flexibly organised a number of important diplomatic activities and achieved practical outcomes.
Dung took the occasion to praise the ambassador's contributions to strengthening bilateral cooperation, and said he hopes the embassy will work closely with the ministry in preparing for key events in December. The events include ceremonies celebrating Laos' 45th National Day and the 100th birthday of late President Kaysone Phomvihane (December 13), as well as the 43rd meeting of the Vietnam – Lao intergovernmental committee.
For his part, the Lao ambassador pledged to continue cooperating closely with Vietnam's Foreign Ministry in enhancing the two nations' great amity, special solidarity, and comprehensive cooperation./.
Good learning models should be replicated: Top legislator
Outstanding learning models should be rolled out on a larger scale in order to build a learning society, Chairwoman of the National Assembly Nguyen Thi Kim Ngan said on November 30.
At a meeting with delegates to a congress honouring learning models nationwide, to be held on December 1, the top legislator stressed that the Party and the State have considered education and training and science and technology as leading policies and drivers to reach targets in socio-economic development and national construction and defence.
Apart from State management, it is necessary to continue building learning models with higher quality and to encourage people, families, agencies, and businesses to engage in life-long learning, she said.
She asked all-level study promotion associations to work harder in order to raise the operational quality of their chapters, especially those at educational institutions, agencies, organisations, enterprises, and units of armed forces.
The leader also ordered improvements to communications work to raise public awareness about the significance of study campaigns, thus attracting more resources for such activities.
Study promotion associations have been set up in all villages, communes, wards, districts, and cities and provinces, with more than 21 million members, she said, lauding their contributions to reducing poverty, ensuring political security and social order and safety, and building new-style rural areas.
The Party and State always pay attention to promoting life-long learning and building a learning society, she reiterated.
The national congress will bring together 294 delegates representing more than 16 million families, over 84,000 clans, 89,000 communities, and 48,000 learning models around the country.
Among them, the oldest delegate is 86 and the youngest 30. Ten percent of delegates are ethnic minorities./.
Source: VNA/VNN/VNS/SGGP/VOV/NDO/Dtinews/SGT/VIR
VIETNAM NEWS DECEMBER 1 have 9365 words, post on vietnamnet.vn at December 1, 2020. This is cached page on Talk Vietnam. If you want remove this page, please contact us.