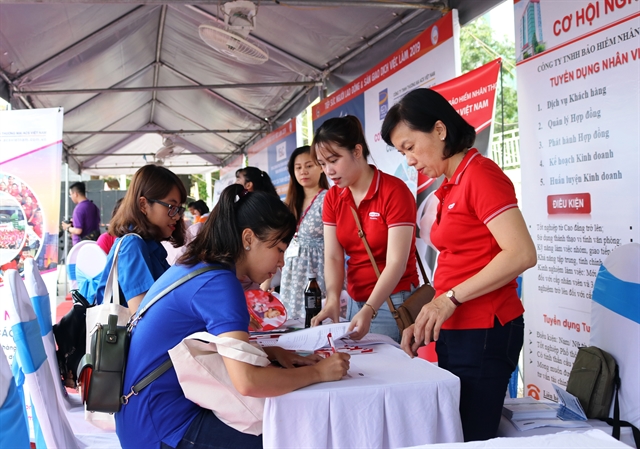 HCM CITY - Enterprises in a number of sectors in HCM City need to recruit a large number of employees but are finding it difficult to fill positions despite numerous job losses amid the COVID-19 pandemic.
Phan Minh Thông, director of Phúc Sinh Company, said his company was looking for quality assurance staff, salespeople and accountants. "We are willing to retrain new employees and also help the disadvantaged to find suitable jobs, but we still cannot recruit enough employees."
Many unemployed people are becoming choosier, comparing their previous salaries to new ones. 
Lê Thị Huệ, 22, who lost her job at Huê Phong Footwear Company in May due to a lack of orders, is still looking for a job. Many companies need garment workers, but Huệ wants to work at a leather and footwear company.
"Some companies offer a low salary but a heavy workload," she said.
Lê Thị Kiều Phượng, director of the Job Service Centre under the city's Department of Labour - Invalids and Social Affairs, said that connecting unemployed workers with employers has been difficult.
Many people who have lost jobs have social welfare support and other unemployment allowances, and are waiting until COVID-19 is under control. Many unemployed want to relax for a few months instead of finding a new job.
Labour demand
The labour market has seen fluctuations in demand this year, according to the city's Centre of Forecasting Manpower Needs and Labour Market Information (FALMI).
At the beginning of the year, enterprises focused on business and production activities to meet consumer needs for Tết (Lunar New Year 2020), so there was a rising demand for part-time and seasonal workers.
Recruitment demand from mid-February, however, declined compared to the same period last year due to the COVID-19 outbreak.
In the first six months of the year, demand for labourers decreased by 28 per cent year-on-year.
In July the centre organised a job exchange fair to provide 15,000 jobs to job seekers.
Nguyễn Văn Sang, deputy head of the HCM City Youth Employment Service Center under the HCM City unit of the Hồ Chí Minh Communist Youth Union, said the centre had asked youth unions to compile a list of working age people and the kind of jobs they prefer. The centre would help connect them with a company in need of employees.
According to Lê Xuân Dũng, director of the HCM City Student Assistance Centre, more than 300 units and enterprises are offering more than 2,000 jobs for students.
Some part-time jobs need students to work immediately, with incomes ranging from VNĐ22,000 to VNĐ50,000 (US$0.95-2.17) per hour. There are also permanent jobs such as receptionist, accountant, programmer, and technical staff, with a monthly salary of VNĐ4-6 million ($175-260).
The centre said that 4,000 enterprises in the city were expected to cut or lay off about 120,000 employees in September due to a lack of orders and raw materials amid the pandemic. The cuts would occur mainly in tourism, accommodation services, transportation, construction, garments, and footwear.
Lê Minh Tấn, director of the department, said that people who want to attend a vocational school in order to change jobs or develop new job skills would be supported by the department.
Labourers would receive loans for vocational training from the National Employment Fund and the Capital Aid Fund Employment for the Poor (CEP) under the HCM City Labour Union.
In the southern province of Bình Dương, enterprises in industrial parks are looking again for more workers. According to the province's Employment Service Centre, nearly 1,000 foreign-invested and domestic enterprises last month said they needed more than 13,000 workers.
Of the jobs needed, the number of unskilled workers in August increased by more than 26 per cent compared to July. Most enterprises need workers in textile and garments, leather footwear, and electronics.
The SNP Co.,Ltd, a sportswear manufacturer based in the Việt Nam-Singapore Industrial Park (VSIP II), needs 3,000 employees, at an average monthly salary of VNĐ8-11 million 345-475).
Master SoFa International Co., Ltd, a foreign-invested company in VSIP IIA Industrial Park, is recruiting 1,000 workers, at a monthly salary of VNĐ7-12 million ($300-520). Youngin Vina Bình Dương Co., Ltd in Thuận An City needs garment workers at an average monthly salary of VNĐ10 million ($430).
Đặng Thị Ngọc Thiên Hương, director of the province's Employment Service Centre, said the labour market was frozen in previous months because a number of enterprises were dissolved or temporarily stopped operations due to the impact of the pandemic. That led to an increase in the number of unemployed during the period.
"The increase in recruitment demand in August showed that factories are ready to gradually restart and stabilize their production," she said.
Newly established enterprises in the province this year have totalled nearly 4,000, with total registered capital of nearly VNĐ27 trillion ($1.17 billion).
Local companies will have to recruit more than 46,000 employees this year, mostly manual workers in garment, footwear, wood processing and electronics.
More than 50,000 workers in the province have lost their jobs due to the impact of the pandemic. Most of them have received unemployment benefits. — VNS
Recruitment demand rises, but employers can't find enough workers have 982 words, post on vietnamnews.vn at September 14, 2020. This is cached page on Talk Vietnam. If you want remove this page, please contact us.