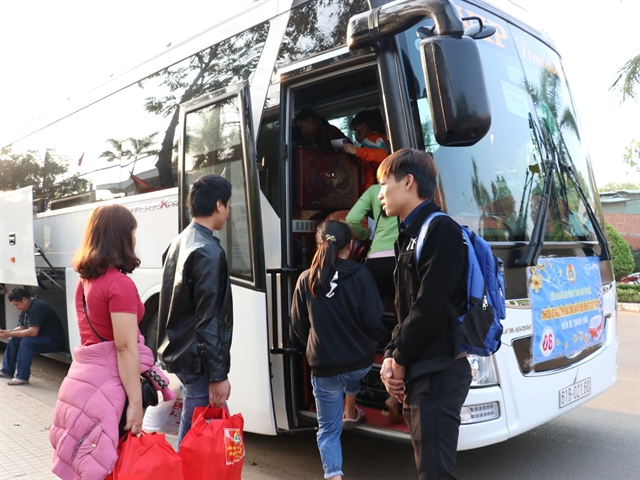 HÀ NỘI — Provinces and cities across the country have offered free-of-charge travel to bring poor workers and patients back to their hometowns to enjoy Tết (Lunar New Year) holiday in recent days.
In the central city of Đà Nẵng, the provincial hospital and other sponsors helped more than 200 poor patients go home to nearby provinces such as Quảng Nam and Quảng Ngãi.
Trần Kim Dương, a patient, said she was very happy to be helped to return to her hometown.
"Receiving warm love and sharing from society, I'm really moved and grateful," she said.
Doctor Trần Thị Khánh Ngọc, deputy director of the hospital, said it was the third time the hospital had allocated vehicles to help poor patients to return home.
Nearly 1,000 workers in the southern province of Bình Phước were also taken to their hometowns for free on Monday.
The vehicles were allocated by the provincial Labour Federation.
Seeing off the workers, Nguyễn Văn Lợi, Bình Thước Province Party Committee secretary, wished the workers a happy new year and expressed his hope that they would return to work on time and contribute to the province's development.
More than 10,000 workers in the southern province of Đồng Nai were also taken to their hometown in free-of-charge vehicles assigned by the provincial Labour Federation in recent weeks.
Nguyễn Thị Như Ý, chairwoman of the federation, said it was the first year the province had organised free travel for workers.
In HCM City, the municipal Labour Federation announced that this year, trade unions at different levels in the city presented more than 27,500 train and coach tickets for workers to go home for Tết holiday. The tickets were worth nearly VNĐ20 billion (US$869,500) in total.
The HCM City unit of the Hồ Chí Minh Communist Youth Union has provided free air travel to more than 1,000 outstanding workers in HCM City and Đồng Nai and Bình Dương provinces for returning home.
The workers were acknowledged for their outstanding contributions and achievements last year, according to a representative of the union.
Of them, 900 left by five charter flights from HCM City, one to Hà Nội and two to Quy Nhơn City on January 20 and one each to Vinh City and Đồng Hới City on January 21.
The remaining 100-odd people received tickets to travel by regular commercial flights to Hà Nội.
Vietnam Airlines offered them an extra allowance of five kilogrammes of baggage on top of the standard 23kg.
The HCM City chapter of the Việt Nam Red Cross Society and the HCM City Youth Cultural House gave Tết gifts worth more than VNĐ21 billion (US$908,500) to 33,000 disadvantaged people in the southern and central regions.
They included 19,000 in HCM City who are beneficiaries of State policies, poor households, Agent Orange victims, people with disabilities, old people living alone, and poor students while the rest live in remote areas in Long An, Tiền Giang, Vĩnh Long, Bến Tre, Cà Mau, Lâm Đồng, Đắk Lắk, and Bình Thuận provinces.
The Red Cross also provided free health checks and medicines to more than 2,000 people, repaired houses for poor families, gifted bicycles and wheelchairs, and organized entertainment activities in many localities. — VNS