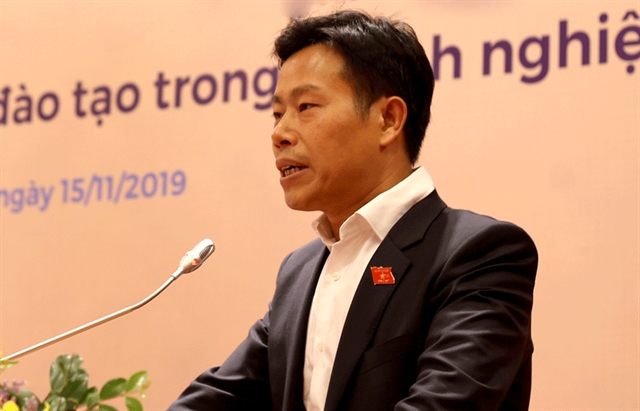 Lê Quân, Vice Minister of Labour, War Invalids and Social Affairs talks to Viet Nam Net online newspaper on his ministry's efforts to raise job training quality
What percentage of students who take vocational courses find jobs following graduation?
The quality of vocational training courses in Việt Nam has improved considerably. It has switched from the traditional practice of supply to demand with content based on actual job demands in the labour market, particularly from foreign direct investment enterprises.
According to reports from the 63 provincial Departments of Labour, Invalids and Social Affairs, in 2018, up to 85 per cent of graduate students from colleges and secondary vocational schools nationwide got jobs immediately following graduation.
Recently, Prime Minister Nguyễn Xuân Phúc approved a proposal on the Development of High Quality College. Việt Nam now has 100 high quality colleges where the students will learn theories in school and go to factories to practise working. 
At present, Việt Nam has 45 vocational schools which offer 12 courses at Australian standards and 22 courses at German standards. More importantly, tuition fees for attending these courses are low, yet, the diplomas they receive will be issued by either the Australian or German counterparts.
In addition, graduates from these vocational schools will have more opportunities to go to work in Japan, South Korea, Australia, Germany, New Zealand and other countries.
How do you respond to complaints from some enterprises that many graduates from vocational schools have not been able to perform in the workplace? Does the Ministry of Education and Training plan to solve this problem?
According to a survey conducted by the Vietnam Chamber of Commerce and Industry, some 50 per cent of interviewed enterprises said they were basically happy with the students' skills. Meanwhile, according to the Global Competitiveness Index (GCI) of the World Economic Forum, Việt Nam's occupation index in 2018 increased by 13 spots compared to 2017.
To raise enterprises' satisfaction with graduates, in my opinion, enterprises should work with the schools to train and recruit students.
The Ministry of Education and Training has developed a plan to allow vocational schools to be proactive in their training programmes which will be based on the needs of enterprises.
More recently, the Ministry of Education and Training has worked with agencies nationwide to develop a plan to either merge some 50 job training colleges and secondary vocational schools while about 30 per cent of public vocational schools will be restructured.
In 2018 alone, the Ministry of Education and Training slashed more than 60 per cent of the administrative procedures and conditions in the vocational education sector to give more power to enterprises in offering job training courses to job seekers.
In the meantime, the ministry has drafted a decree to encourage enterprises to get involved more in job training courses for vocational students. According to our plan, the draft decree will be submitted to the Prime Minister in December.
Can you talk about the acceptance of job training certificates between occupational training schools?
Under Circular No.34/2017 issued by the Ministry of Labour, War Invalids and Social Affairs, all job training certificates awarded by authorised agencies in Việt Nam by either Vietnamese or foreign based agencies are acceptable.
Two years ago, the Prime Minister signed the approval of the Vietnamese Qualification Framework. And that Qualification Framework has been accepted by all countries in the ASEAN, the EU and elsewhere.  VNS