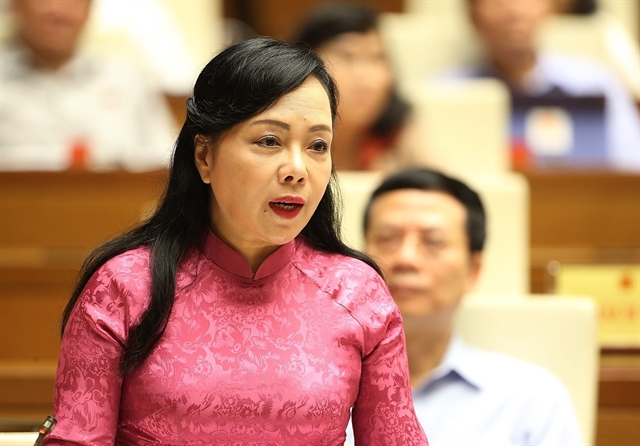 HÀ NỘI — With 82 per cent approval, the National Assembly on Friday afternoon agreed to remove the incumbent health minister Nguyễn Thị Kim Tiến from her post as she has reached the legal retirement age of 60.
Nguyễn Thị Kim Tiến, born in 1959 in the central province of Hà Tĩnh, is the only female minister serving in the administration of Prime Minister Nguyễn Xuân Phúc.
She took over the role as health chief in 2011 – a position frequently deemed to be a 'hot seat' along with education and transport.
She was receiving increasing votes of confidence by the National Assembly through the years as the NA gauged the assessment of the lawmakers on cabinet members.
Her reform efforts included raising hospital fees, a controversial decision but many said helped to uplift the dreaded state of public hospitals in the country – suffering from crumbling infrastructure due to lack of funding, bad attitude from doctors and staff towards patients, and feeble medical services – issues that persisted long before her tenure.
In an interview with local media, she said during the eight years in the position, the achievements she was proud of the most was having been able to raise patients' satisfaction and improving healthcare for the poor, with policies such as providing 100 per cent subsidies on health insurance cards for the poor households.
Lưu Bình Nhưỡng, deputy from Bến Tre Province's delegation, praised Tiến in the making of important draft laws concerning health examination and treatment and private medical practices.
Đặng Ngọc Nghĩa, a deputy from Thừa Thiên-Huế Province, expressed sympathy for the health chief, saying that "health sector concerns too many issues, even if you do good no one might notice but once something goes wrong, be prepared to face unpleasant condemnation, especially in the social media era."
He noted that under Tiến's helm, Việt Nam's health sector had flourished with medical achievements rivalling that of the world's developed nations.
After she retired from the health minister post, Tiến will assume the prestigious role of leading the department tasked with providing health care for senior officials.
Previously, the Politburo has assigned Deputy Prime Minister Vũ Đức Đam to hold the position of the Secretary of the health ministry's Party Committee as well, effectively making him accountable for the ministry's activities.
The selection process for Tiến's replacement is not included within the agenda of this session of the National Assembly but the Government could assign a successor. — VNS