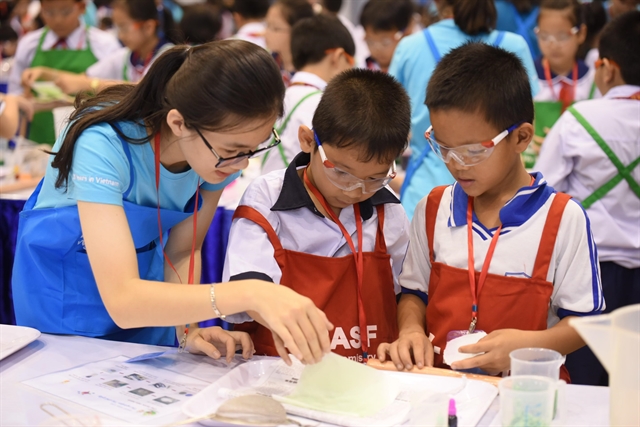 HCM CITY — Some 650 children from six primary schools and the Ánh Linh Charity House in HCM City are taking part in BASF Kids' Lab, an interactive science programme that opened last Friday in HCM City.
The two-day event features two experiments in waste recycling that can contribute to effective waste management and the responsible use of natural resources.
The children are working together to learn about plastic classification, the various ways to sort plastics and discovering the density of plastics using a saline solution.
They also learn more about major resources used to make plastics, including petroleum and renewable materials such as corn starch.
In another experiment, children will learn how waste paper can be recycled into colour paper.
They will take part in various games and a quiz to increase their understanding of the 3Rs (reduce, reuse, recycle) of waste management.
The event is being held at the Hồ Xuân Hương Stadium in District  3.
BASF Kids' Lab is a global programme that aims to develop children's interest in natural sciences from an early age.
German chemical company BASF has been implementing this programme in partnership with the Department of Education and Training since 2011.
It also offers five online experiments in Vietnamese in its Virtual Kids' Lab, an online platform that allows children to take part in a variety of interactive chemistry experiments. —VNS