Beijing's massive new Daxing International Airport is officially open for business – just in time for celebrations marking the 70th anniversary of the People's Republic of China on October 1.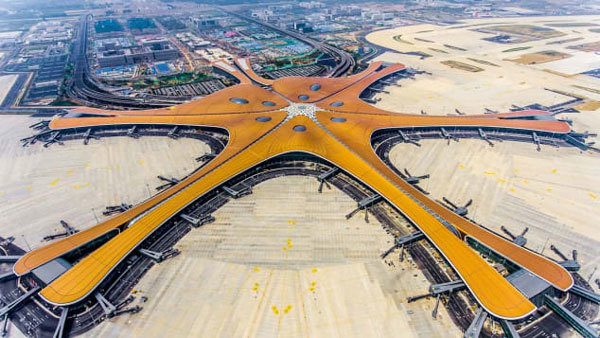 Beijing Daxing International Airport: An aerial view of the striking new Beijing Daxing International Airport, dubbed "starfish" by Chinese media.
On Wednesday morning, press, dignitaries and airline representatives waited in place for more than four hours for the arrival of President Xi Jinping, who entered the main concourse of the glistening gold and glass mega terminal just before noon, where he was greeted by airport officials.
Xi sat through a brief highlight reel of the airport's design and construction followed by speeches filled with praise for the president. The Chinese leader was the last to speak, offering a brief, formal baptism.
"I declare Beijing Daxing International Airport open," he said.
Later that day, the crowd watched as the airport's maiden flight took off from one of the airport's four runways — an honor that fell to Daxing's main tenant, China Southern, which deployed an Airbus A380, the world's biggest airliner.
Flights from other airlines due to move to the airport, with a three-letter code PKX, were also scheduled for later in the day. Initially, the only flights making use of the airport are domestic. Customs and immigration are not yet operational, their booths currently empty and free of computer screens.
Flights from Daxing will cover 112 destinations around the globe by next spring.
An airport built for the future
Designed by the late architect Zaha Hadid and her Chinese partners, the airport is built for the future, boasting a terminal the size of 97 soccer pitches — as well as customer-service robots that provide travelers with flight updates and airport information.
Nicknamed "starfish" by Chinese media for its shape of five concourses connected to a main hall, Daxing aims to reduce walking for passengers, long a complaint about many new mega-hubs. CNN
Beijing's Daxing International Airport now officially open have 477 words, post on vietnamnet.vn at September 27, 2019. This is cached page on Talk Vietnam. If you want remove this page, please contact us.