Hanoi Creative City is the largest creative complex in Hanoi. Launched in September 2015, it brings together organisations, businesses, individuals, products and services as well as creative activities.
Hanoimoi's Weekend interviews architect Doan Ky Thanh, who is one of Hanoi Creative City's founders.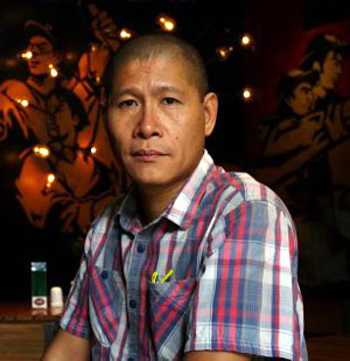 Architect Doan Ky Thanh.
How do you assess the creative industry in Vietnam?
The creative industry has prevailed in the world for a long time, while in Vietnam this concept is still quite new. In fact, the creative industry is not something that is far away. What people imagine is turned into a product through their hands. It is creative industry.
But to be creative it is necessary to create an environment for creativity to grow and develop. That environment requires transparency in intellectual property rights. Certain creators must be protected for the products they create. That is the motivation to encourage and acknowledge the efforts and talent of creative people.
The creative industry has been showing its great contribution to the GDP of nations. In developed countries, the creative industry even accounts for the largest proportion. Innovative industries in countries such as Japan or Singapore contribute greatly and have high growth rates.
The creative industry only appeared in Vietnam recently. Compared to other countries in the region, we have been delayed by one step.
Recently, the Ha Noi Committee's Commission's for Publicity and Education organised a workshop to assess and re-examine the benefits of creative spaces in urban areas and the role of creative activities in socio-economic development.
This recognition shows the changing perception of managers about the role of creative spaces in socio-economic development and their contribution to the creative industry.
What is the most important thing for creators?
It is tolerance. In the office of Hanoi Creative City, we put the word "tolerant" at the highest level to remind our colleagues that to be creative, there must be tolerance to accept the 'new'. Only tolerance makes people accept the difference of others. Then the difference and tolerance will be the cornerstone of creativity.
So where should we start?
The first thing that can be done right now is to create hubs that connect resources together.
The Vietnamese game Flappy Bird was very successful. To be like that people need to create, write music, graphics, sales and marketing, communications, etc. There must be a lot of capacity to be together to create a product that can convince the market.
For that, first, there must be creative hubs, infrastructure, which are hubs for people to share with each other.
This is very suitable for the knowledge economy that our country and the world are pursuing. Sharing resources, opportunities or legal issues and governance will create an entrepreneurial ecosystem.
A business that starts will cost a lot but if it joins hubs it can reduce costs and spend resources investing in innovation and development.
Hanoi should create creative hubs. It can be seen that the benefits of innovative hubs are to connect the resources that inspire society and those who inspire creativity, attract tourism, and promote trade and production.
All these are socially beneficial when people; tourists and the youth in particular enjoy and consume innovative products. It also contributes to the economy. These hubs will create many other opportunities.
What role does traditional cultural heritage play in creative hub development?
In fact, creators always consider cultural heritage as an asset, an inspiration, and a material to create from.
Selling products is just a normal business. We need to sell cultural products and sell "joy". To sell cultural products people must know how to exploit and use culture appropriately.
So what role does the creative hub play in developing the creative industry?
The art district is a place where young people have a place to play, enjoy art and interact with artists. Hanoi does not have such art districts.
Art districts are where artists show, experiment and commercialise their art products and bring them to the public faster and more efficiently.
Hoan Kiem District seems to form a creative hub with cultural heritage spaces such as book streets, walking streets or mural streets.
In addition to creating creative spaces and cultural spaces, these creative hubs also contribute to preserving heritage spaces and developing tourism.
Hanoi used to have Zone 9. It once attracted many tourists. Tourists could watch, drinking coffee, buying some items and painting and watching artists work.
In your opinion how should we connect traditional culture to youth?
Many artists around the world and in Vietnam have done that. There needs to be creative hubs or art districts to have space for the creators show their artworks.
Young people today do not have or have very few opportunities to access and transform traditional values. They don't see and they are not inspired to get to know and like traditional culture.
I believe that if there are spaces for artists to perform surely young people will love traditional culture. VNS
Bao Khanh
Creative centre promotes development have 1008 words, post on vietnamnet.vn at August 13, 2019. This is cached page on Talk Vietnam. If you want remove this page, please contact us.