For lifetime Hanoian Thanh Van, days filled with fresh air and walks down the cool, tree-shaded streets of the capital are few and far between.
Hanoi to focus on air quality monitoring Hanoi residents worry about air pollution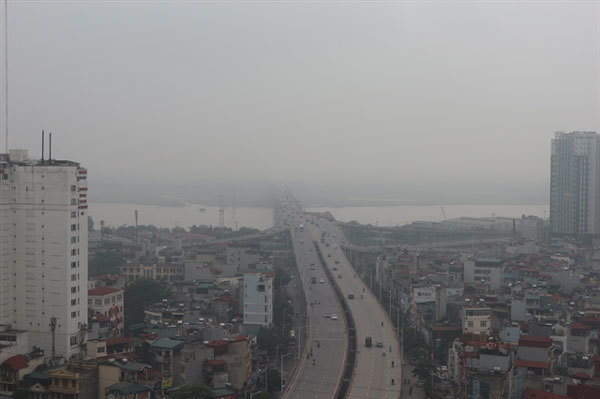 Thick haze engulfs Vinh Tuy Bridge connecting Hai Ba Trung and Long Bien District.
The woman born and raised in the Old Quarter is more used to a thick blanket of haze on her daily commute.
Some 7 million people living in the city suffer the same ordeal.
Hanoi's air quality has worsened dramatically in the last few years, remaining at unhealthy to very unhealthy levels almost year-round, according to air quality forecast app AirVisual.
A report released by Greenpeace in early March listed Hanoi as the second most polluted city in Southeast Asia, following Indonesia's Jakarta.
"There's an estimated global cost of US$225 billion in lost labour, and trillions in medical costs. This has enormous impacts, on our health and on our wallets," noted Yeb Sano, Executive Director of Greenpeace South East Asia, on the effects of air pollution.
Air pollution reduces global life expectancy by nearly two years, research by the Energy Policy Institute at the University of Chicago found.
Hanoi's heavy concentration of particulate PM2.5 in the city's air has also raised concern.
At monitoring stations in areas with high traffic density such as Pham Van Dong Street, Hang Dau Street or Minh Khai Commune in Bac Tu Liem District, PM2.5 concentration is usually measured at 300-400 micrograms, far exceeding the World Health Organisation's safety limit of 25 micrograms.
PM2.5 refers to tiny dust particles, also known as fine particles, that are about 30 times smaller than a human hair, which allow them to intrude the lungs and blood.
Exposure to fine particles can lead to reduced lungs function, respiratory and heart-related diseases.
Be careful
Despite visual indications used by monitoring apps, tracking air quality is tricky.
"It depends a lot on which location you put a sensor. Simple activities like cooking can also lift the index, implying the air quality is worsening," said Do Van Nguyet, director of NGO Live&Learn Centre for Environment and Community.
The declining air quality in Hanoi has been blamed on inner city pollution sources including rapid rise of vehicles, constructions and daily activities like using coal-stoves or burning waste.
The city's sunken terrain and poor urban planning along with temperature inversions also foster pollution spikes, according to researcher Nguyen Thi Anh Thu from Green ID.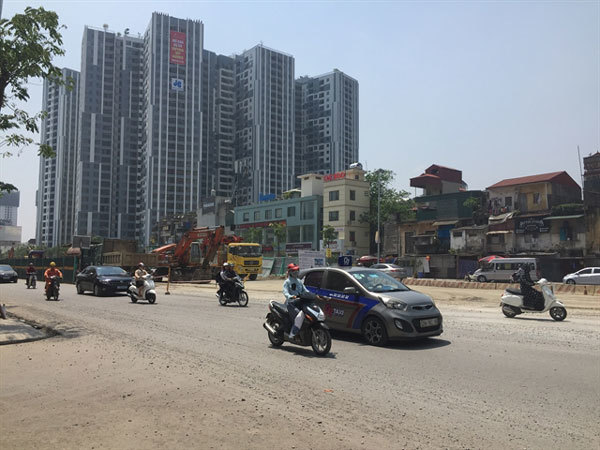 Hanoi is being choked by high-density construction. Photo taken on Minh Khai Street. VNS Photos Khoa Thu
There are several causes of air pollution so to tackle the problem, Hanoi needs to determine its major causes, Thu stressed.
"Unfortunately, there has been no completed report on what triggers the city's air pollution, making people blame traffic as the biggest pollutant."
Meanwhile, according to a report by International Energy Agency, the total CO2 emissions of Vietnam in 2016 were 187.1 million tonnes, of which thermal power plants, mostly coal-fired, accounted for 40 per cent, followed by manufacturing industries and construction with 33 per cent.
Transport contributed 35.7 million tonnes, equivalent to just 19 per cent.
Most of nearly 30 operating coal-fired plants in Vietnam are located in the northern provinces of Hai Duong, Quang Ninh and Thai Binh.
Urgent intervention
In early April, Deputy Minister of Natural Resources and Environment Vo Tuan Nhan rejected the 2018 World Air Quality Report by Greenpeace and AirVisual's report, saying Hanoi ranking as the second-worst polluted city in Southeast Asia was inaccurate.
According to Nhan, the report just showed pollution results of 20 cities of four among 11 nations in the Southeast Asia.
"It was a baseless conclusion", he said.
For Thu Thuy, an apartment resident on Minh Khai Street, Hanoi's ranking is not important.
"I do not care whether Hanoi is the second most polluted city in the region or not. What I want to know is how we can take action to improve the situation, not downplay it. Air pollution is real. I can feel it, I can see it without anyone telling me the city's air quality is declining," she said.
Pham Huyen, a NGO officer in Bach Mai Street, said she was not put at ease by the deputy minister's statement.
"Frequently travelling to Southeast Asian countries, despite having no data, I still feel Bangkok's air is much more breathable than Hanoi's," she said.
"The authorities need to give instructions on how to protect our health and urge companies and people to use eco-friendly materials and energy in construction, transport and daily lives," Huyen added.
Meanwhile, data provided by Ha Noi Air Quality Monitoring Network at moitruongthudo.vn is updated slowly.
"We need air quality to be forecasted, just like weather so that people can take measures to protect them when going out," said Nguyet.
While authorities seem to be passive in responding to polluted air, NGOs have launched several initiatives.
Clean Air – Green Cities, a project by USAID and Live & Learn, is working with the Center of Multidisciplinary Integrated Technologies for Field Monitoring (FIMO) to install low-cost air sensors in Hanoi's schools and offices.
Data collected from these sensors is updated at fairnet.vn for students and parents easily tracking air quality at where they are studying.
A bulletin on air quality is also published weekly, focusing on air pollution challenges and community-based solutions.
The systematic problem of air pollution needs a systematic solution, according to experts.
"Hanoi authorities need to specify major pollutants and promptly take action to reduce and manage them," said Thu. "Regulations on construction dust control should be tightened along with reducing vehicle emissions."
Collaboration between Hanoi and neighbouring provinces in monitoring toxic air is key, she added.
To tackle bad air quality, Hanoi has mulled banning motorbikes by 2030, aiming to accelerate public transportation use.
"In the recent three years, the PM2.5 concentration recorded at the US Embassy's air quality monitoring station has slightly reduced yet remained at a high level. Therefore, we need more commitments to improve the situation as well as more sensors and shared data to fully portrait the city's air quality," said Thu.
As all these efforts take time to alter Hanoi's air quality, Van is looking for help from nature.
"Sometimes, rain can wash away all dust and give back Hanoi's clean sky, even for a short moment," she said.
Lucky for her, summer rains are forecasted for the next few days.
Information on Hanoi's air quality can be found at:
VNS
Hanoi chokes on filthy air have 1343 words, post on vietnamnet.vn at May 4, 2019. This is cached page on Talk Vietnam. If you want remove this page, please contact us.